Push strategy is the most common in B2C as well as in B2B market. Push strategy typically stands for generating more sales from the market. There are many different tools which altogether help in building up the push strategy for an organization. For example these tools are
1) Sales – The most prominent tool
2) Sales promotions
3) Pricing discounts
4) Coupons etc
Above are the major tools which can be used in a push strategy to achieve the desired objective. The typical objective of a push strategy is to increase market share and to reach more potential leads thereby converting them to customers.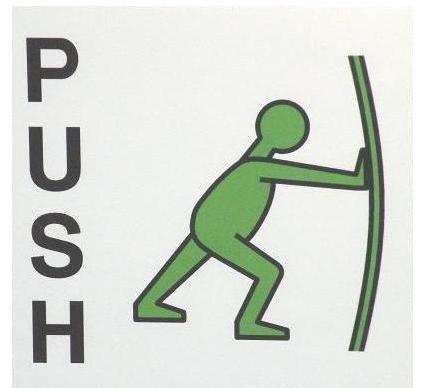 How to execute a push strategy?
1) Use a CRM software –
A customer relationship management software is the first step in a push strategy. This is because, to call customers, you need to have the database of customers. A CRM can help you create an organized database of existing as well as new customers. And hence, in sales., the first step starts with creating an amazing CRM which helps you organize your sales pipeline.
2) Gather references –
When you are visiting customers or calling customers, the customer might not be interested in the product. But he will definitely have some reference who is interested for the product. Collect these references. An existing customer can also be a good source of references.
3) Recruit good sales people –
Experienced sales person who know the right people in the industry can make a huge difference to your sales figures. Their pitch, presentation and knowledge of the product can help convince customers immediately. Hence, you need the right person for this job. Some one who gets disheartened quickly is not useful when executing a push strategy.
4) Train your sales people –
Before you start executing the push strategy, you need to ensure that your sales people are thoroughly trained and have knowledge of the product. When you are meeting the customer, he can ask any question and he expects a fast answer. If you answer fast, the customers trust level increases and hence conversion can happen faster too. Thus, you need to train your sales people for better product knowledge and better confidence in front of the customer.
5) Actively build a sales pipeline –
You have the CRM in place and you have trained sales executives also now. So now is the time to actively start building a sales pipeline. Depending on your preferable method of contact, each of your sales executive should have a daily target to touch minimum level of customers.
Remember that in push strategy, there is a lot of rejection. And closure rate should be optimum. The average sales of all sales executives combine should be considered as the average closure rate. This average closure rate will also tell you which executive is under performing and who is performing excellent.
This in turn, will help you slowly and steadily build the sales pipeline. More sales executives will contact more customers, and build in more potential leads which can be converted to customers. Thus, actively building a sales pipeline is important in the execution of push strategy.
6) Have the process in place –
Who do you target? What is the best time to target these customers? Where can they be found and where to meet them? Should we do cold calling or take an appointment? All these questions vary from industry to industry.
You should accordingly segment your market so that you know which kind of strategy works on which type of customers. B2B customers are more likely to need push as compared to B2C customer. And hence taking appointments is appropriate for B2B. But in B2C, direct cold calling brings better results. Thus, depending on your industry and sector, it is better that you have the right sales process in place.
7) Below the line tactics –
Besides sales, the second most important tactics of Push strategy and below the line marketing tactics. These include
a) Sales promotions – Giving discounts to end customers to increase sales
b) Trade promotions – Giving discounts to traders and agents for better push in the market.
c) Coupons – Giving coupons for returning customers
d) Offers – giving offers like one plus one for end customers to promote more then one product
The above below the line push tactics will also help the visibility of the brand and in the long term increases the overall sales of the brand when these tactics are executed again and again. It so happens, that once a brand gives repeated offers, the customers then eagerly wait for the offers to purchase the product.
8) Use channel dealers / agents –
In B2B, a push strategy is most effective when using a channel network. For example, in ACC cements or any cement industry for example, the sales happens much better when you have the right channel dealer in place. This channel dealer then taps corporates and residential customers to sell the product far and wide.
Similarly, in the B2C market, everyone is well aware of the notorious insurance agents as well as the real estate agents who help you sell your product in the market. Thus, these channel dealers and agents can become an extended arm of your company and can help you push your products to end customers.
9) Use online medium –
Nowadays, most customers are present online 24 x 7. The combination of facebook, whatsapp, twitter is irresistible (even to me). So when i hear a friend talking about a new product, liking a new page or even recommending a new product, i am sure to check out this new product.
Advertising on social networks also helps bring in more customer and the investment is very low for social advertising. Thus, an online medium can be another below the line marketing example to convert customers to your brand. Plus, the online medium can also help you build your CRM.
10) Follow up –
The major difference between push and pull strategy is the fact, that push strategy needs far more follow ups and pushing and cajoling as compared to the pull strategy. But the ROI of push strategy can be obtained only when you regularly follow up with a potential lead.
This happens to everyone of us. We are so busy in our lives that we even forget to make purchasing decisions. But when the vendors assistant or sales person calls, then we look at the follow up they are doing and then finally take a purchase decision. Many customers dislike follow ups, but some customers NEED follow ups to get converted.
11) Cross selling –
Cross selling can best be observed as a push strategy observed in the banking segment or the FMCG segment. Do you know, that due to wide popularity of Amul butter, you also have to keep Amul chocolates in stock so that you can get butter also? This was a push strategy applied by Amul so that their stockists will also sell Amul chocolates.
Similarly, in banks, once you purchase a savings account, they automatically link the RD account, the FD account, loan sanctions, trading accounts to your savings account. So that you are tempted to use either of them from the same bank and you dont shift to a competition bank when you are comfortable with the current bank. Thus, cross selling, when executed quietly, can be an excellent asset to the company.
Overall, the above 11 steps can help you execute a fantastic push strategy. At the same time, ensure that you have a sales plan in place so that you execute the strategy in an organized manner.
Your CRM should be built first, and your sales people trained simultaneously. Once you have a pipeline and channel dealers in place, you can execute below the line marketing tactics to get more customers and convert them to your brand. Thus, like any strategy, planning is most important in push strategy as well.