RFM analysis is a crucial marketing tool used to identify and segment customers on the basis of their recency, frequency, and monetary value. The three RFM components are used to measure customer loyalty and engagement. By analyzing these components, businesses can better understand their customers and design targeted campaigns that result in higher conversion rates and more sales.
It analyzes consumer behavior and various purchase patterns and segments customers into groups based on these patterns. This model can be used to find the best customers for the company. RFM is a data-driven approach that takes into account 3 main factors of customer behavior –
Recency: How recently has the customer made a purchase from the company
Frequency: How frequently does the customer make a purchase from the company?
Monetary value: How much money does the customer spend on each purchase?
What Is RFM Analysis?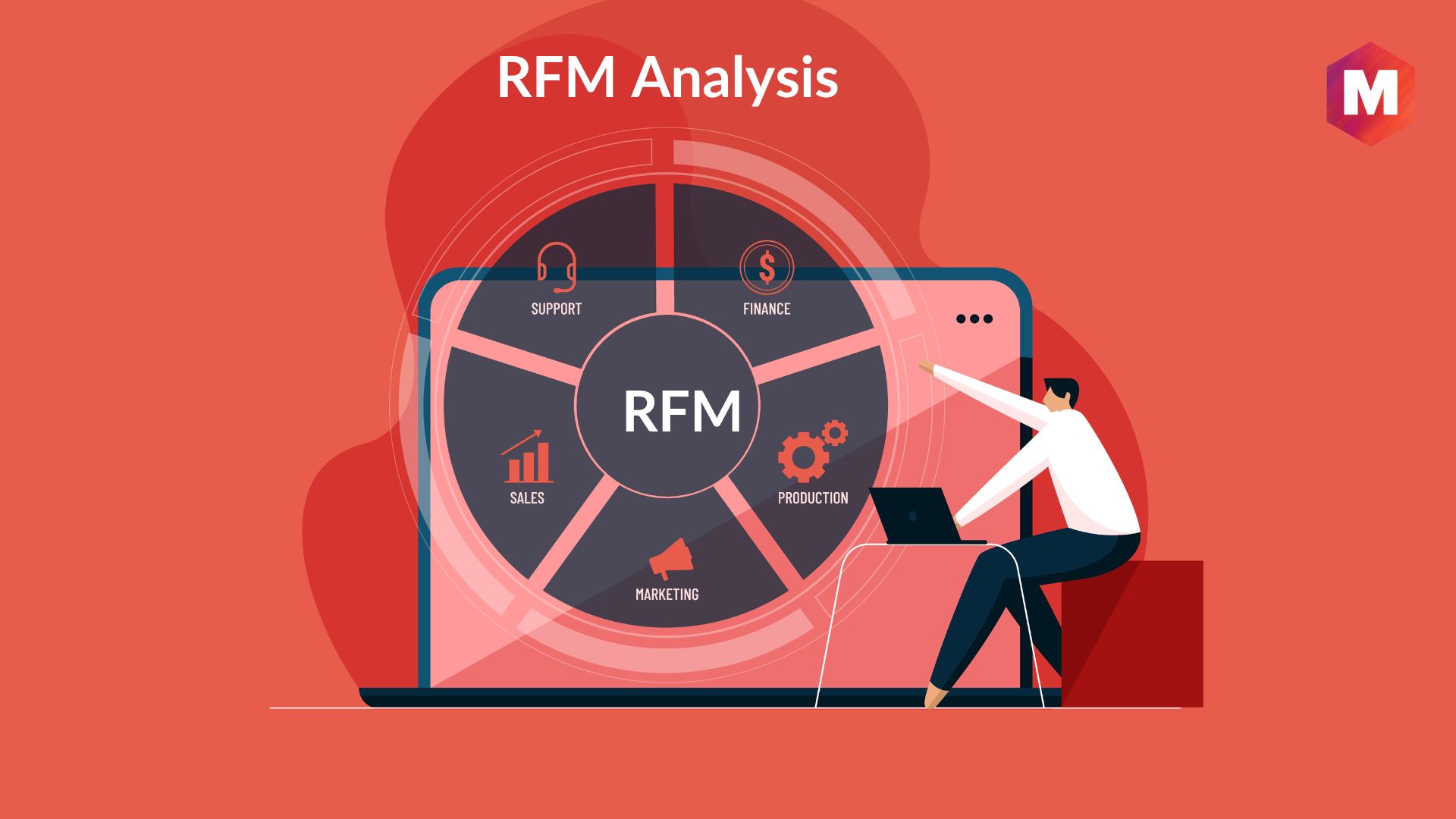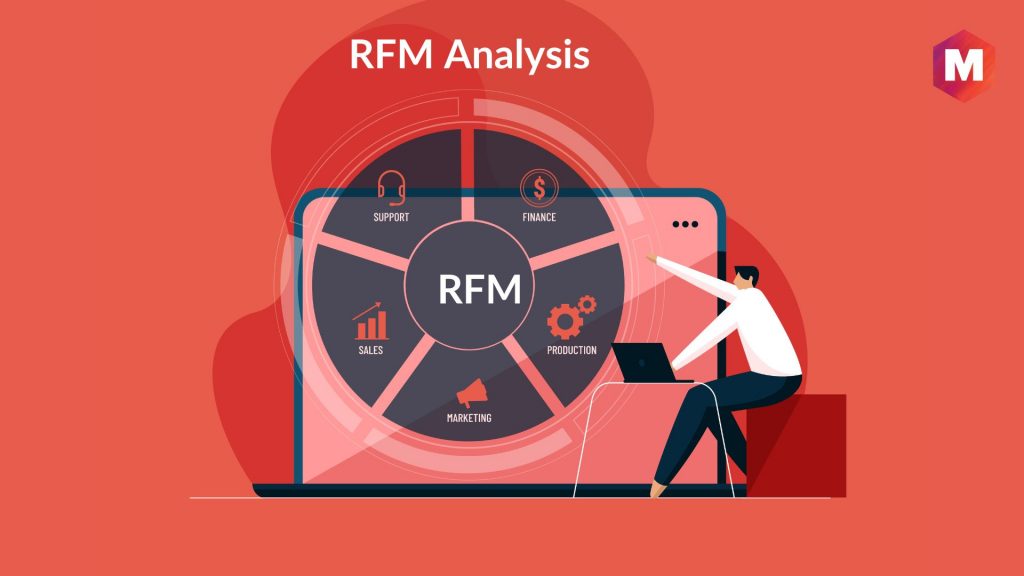 RFM Analysis is a behavior-based segmentation and targeting by categorizing customers based on purchasing behavior, using the Recency, Frequency, and Monetary value of their past purchases. This allows businesses to create more personalized campaigns for each segment that will result in higher customer loyalty, engagement, and ultimately more sales.
An example of RFM analysis can be found in a retail setting. Here, the recency measurement could determine how recently customers have made purchases, while the frequency can be used to identify how often they shop with you. Lastly, monetary value helps measure the amount of money spent per visit or per purchase.
Using RFM analysis, businesses can design marketing campaigns that cater specifically to their target audience.
For example, businesses can offer discounts to customers who have recently purchased a product or service. Similarly, they can reward customers with loyalty points for frequent purchases and offer exclusive promotional offers to those who spend the most on their products or services.
Meaning of Recency Frequency Monetary Value
Recency, Frequency, and Monetary Value (RFM) are three key metrics used by businesses to measure customer behavior. Recency is the time elapsed since a customer's last purchase while frequency refers to how often a customer makes a purchase. Finally, the monetary value looks at the amount of money spent in each transaction.
When combined, these three metrics provide businesses with valuable insights into their most valuable customers. By segmenting and targeting each customer based on their RFM scores, companies can create more personalized campaigns that maximize the value of their customer relationships.
By using RFM analysis, businesses can optimize their marketing, and increase sales and revenue, while simultaneously increasing customer retention and employee satisfaction. Let us understand the importance of each metric.
1) Recency (How recently customers have made a purchase)
Recency is the amount of time that has elapsed since the customer's last purchase from the business. We need to measure recency because it tells us how engaged the customer is with the brand. If the customer is more engaged, they are likely to make further purchases with the brand.
In essence, the more customers you have who have made recent purchases, the more loyal customers your company has which is a very good metric for your business.
Companies can look into the customer database and calculate the recency score by looking at the number of days or weeks that have passed since customer interaction. Those who have purchased recently will have a higher recency score and those who have not made purchases recently will have a lower recency score.
Companies can use personalized promotions or discounts to keep customers with high recency scores engaged with the company.
Customers with low recency scores can be sent general marketing messages to initiate brand recall and repeat purchases.
2) Frequency (How often customers have purchased from a business)
Frequency is the number of times a customer has repeatedly purchased or engaged with your brand in a given period of time. For example: If customer A has bought 10 times in the last 1 month from your brand, and customer B has bought 5 times, then customer A is a more frequent customer.
Frequency measurement is important in the RFM model because it indicates how loyal or engaged the whole customer base is with the brand. You can take any length of period and find out your most frequent customers and then focus on those customers who are less or more frequent and increase marketing to them accordingly.
To find out frequency, extract data of customers who have purchased products in the last 6 months (Or more) and find out those customers who have purchased most frequently. Customers who have made more repeated purchases have a high-frequency score, and customers who have made less repeated purchases have a low-frequency score.
The frequency score segmentation can give valuable insights to help businesses tailor their marketing and customer service accordingly. Similar to recency, you can offer discounts and loyalty programs to customers who are more frequent to keep them engaged. Whereas you can send reminders and make marketing efforts to engage with those who are less frequent.
3) Monetary value (Amount of money spent in each transaction by the customer)
Monetary value is the money a customer spends on your brand. If a customer spends more money he is known to have more monetary value, whereas if a customer spends less money, he is known to have less monetary value.
For example- Decathlon is a sports goods company. If someone is regularly hiking or playing sports, they will have a high monetary value to Decathlon because they come once and buy a larger number of products. On the other hand, if someone is unfit and doesn't do much exercise, they have lower monetary value for Decathlon. So Decathlon as a company will focus its marketing and customer service efforts towards the higher monetary value buyer.
To find out the customers with the most monetary value, extract data of a specified amount of time and find out the customers with the most spending. If you take historical data and link it with frequency, you have invaluable data on who is your key customer and who needs to be focused on.
Similar to other data analyses, you can focus on customers who spend a large amount on your brand. However, monetary value is not always an indication that a customer will keep spending. Thus, you should not alienate frequent customers by focusing exclusively on monetary spenders.
How does RFM Analysis Work?
This method collects the customer data from your database and then categorizes customers into groups based on how recently they purchased something (Recency), how often they purchase (Frequency), and how much money they have spent (Monetary).
RFM Analysis operates on the principle of customer segmentation, dividing customers into distinct categories based on their purchasing behavior. This robust marketing strategy begins by pulling data from your company's customer database. The three variables: Recency, Frequency, and Monetary value are used as the basis for this segmentation.
'Recency' refers to the time elapsed since a customer's last purchase. The rationale is that customers who have made a purchase recently are more likely to make additional purchases in the future.
'Frequency' measures how often a customer makes a purchase. Regular customers are more likely to be loyal to your brand, thus, the goal here is to identify and engage these repeat customers.
'Monetary' value quantifies the total amount of money a customer has spent on your brand. Customers who spend more are typically considered to be of higher value to your business.
Once these variables are defined, RFM Analysis assigns a score to each customer for each of these three categories. The higher the score, the higher the customer's value to the company. This allows businesses to prioritize their marketing efforts, targeting those customers most likely to generate the highest return on investment.
Learn How to Calculate RFM Score with a Practical Example
Calculating RFM scores involves a simple yet systematic approach –
From your customer database, assign each customer a score of 1-5 for Recency, Frequency, and Monetary value — with 5 representing the highest value.
Let's consider an example. Imagine we have a customer, John, who made his last purchase 20 days ago, has made a total of 10 purchases, and has spent $500.
If you rank Recency on a scale where 1 is over 90 days and 5 is within the last 30 days, John would score a 5 for Recency.
For Frequency, if 1 is for a single purchase and 5 is for more than 9 purchases, John scores a 5 again.
Finally, for Monetary, if 1 is for spending under $100 and 5 is for spending over $400, John receives a 5.
Therefore, John's RFM score would be 555 — the highest possible score, marking him as a highly valuable customer.
What are the Steps of RFM Analysis?
1) Collecting Data and Dividing Customer Segments
The first step in RFM analysis is to collect data from your customer data platform. Information on the recency, frequency, and monetary values of your customers' purchases is required. Divide your customers into segments like existing customers and new customers for more detailed insights.
2) Building the RFM Model
The second step involves building the RFM model using the collected data. Utilize customer relationship management software to organize and analyze your data, making it easier to identify patterns and trends.
3) Assigning Scores
Third, assign each customer a score for Recency, Frequency, and Monetary values. Typically, a score between 1 and 5 is assigned with 5 representing the highest possible value.
4) Labeling Segments
Once scores are assigned, the fourth step is labeling the segments. Customers with the highest RFM scores are deemed most valuable, while those with the lowest scores are identified as least valuable.
5) Crafting Personalized Marketing Strategies
Finally, use the findings from RFM analysis to craft a personalized marketing strategy. For instance, direct mail marketing could be used to target high-value customers with special offers, enhancing customer satisfaction and fostering loyalty. These personalized strategies can significantly improve your business's success.
Advantages of RFM Analysis
RFM analysis provides invaluable insights into customer lifetime value, customer communications, and customer value. It allows you to identify your most valuable customers and create tailored marketing campaigns that will drive sales.
By better understanding the behaviors of your customers and their preferences for products and services, you can offer more relevant offers and a better overall experience. Additionally, RFM segmentation helps businesses to focus their resources on customers who are most likely to make a purchase. Some of the notable benefits are-
1. Increased Efficiency: By using RFM analysis, businesses can effectively allocate their marketing resources. This means spending less time and money on unresponsive customers and devoting more effort towards those who have shown a high customer lifetime value.
2. Enhanced Customer Engagement: With better customer data platforms, businesses can craft more personalized and relevant communications targeted to specific customer segments, thereby increasing engagement and brand loyalty.
3. Improved Retention: RFM segmentation helps in identifying customers at risk of churn, allowing businesses to implement timely retention strategies.
4. Optimized Customer Value: RFM metrics enable businesses to understand customer value better, helping them to devise strategies that maximize this value over time.
5. Benchmarking: RFM analysis can be used to compare and contrast different customer groups (other customers) over different periods, providing valuable insights into changing customer behaviors and market trends.
Problems of RFM Analysis
RFM Model and its segmentation approach is a straightforward and powerful method for customer segmentation. But the RFM Model only looks at three specific factors meaning that the method may be excluding other variables that are equally important such as products purchased, previous purchase history, campaign responses, and other crucial demographic details of the customers.
The RFM Model is a historical method by nature and looks at past customer behavior that may or may not precisely specify future activities, preferences, and responses to at-risk customers. The other advanced customer segmentation methods are based on predictive analytics technologies that are far more accurate at segmenting customers and predicting future customer behavior with the firm.
Conclusion!
RFM Analysis is a powerful tool that provides valuable insights into customer behavior, enabling businesses to enhance customer engagement, improve retention, and optimize value. However, it is crucial to understand its limitations.
The model focuses on three specific factors, potentially overlooking other important variables like purchase history or demographic details. Additionally, since RFM Analysis is based on past behavior, it may not always accurately predict future activity.
Therefore, it is essential to complement RFM Analysis with other predictive analytics techniques for more comprehensive and accurate customer segmentation.
Frequently Asked Questions (FAQs)
What is RFM Analysis?
RFM Analysis is a behavioral segmentation tool that stands for Recency, Frequency, and Monetary value – key indicators of a customer's behavior.
How to do RFM Analysis?
RFM Analysis is conducted by first looking at the data that is available about customers, such as their purchase history and demographic details. This data can then be used to segment customers into distinct groups based on their recency (how recently they made a purchase), frequency (how often they make purchases), and monetary value (the total amount spent). These three factors are all taken into consideration in order to create a better understanding of customer's behavior and preferences. This information can then be used to tailor marketing campaigns accordingly.
What is the purpose of RFM Analysis?
The purpose of RFM Analysis is to enable businesses to better understand their customers and target them with relevant campaigns, offers, and discounts. By segmenting customers into distinct groups based on their past behavior, businesses can create more personalized experiences for their customers. This helps improve customer engagement and retention, and ultimately optimize value.
Liked this post? Check out the complete series on Marketing