What Is Commoditization?
The term "commoditization" refers to a product or service becoming a commodity. Commodities are goods or services that are interchangeable with other goods or services of the same type.
In other words, commoditization occurs when there is no significant difference between one product or service and another for example when one brand of toothpaste is seen as being the same as any other, or when one type of mobile phone is seen as being the same as any other.
Commoditization can make it difficult for companies to differentiate their products or services from those of their competitors, and this can lead to lower prices and margins. Hence, commoditization often leads to price wars.
Definition
Commoditization is the process by which a product or service becomes a commodity, meaning it is indistinguishable from other products or services in its market. Commodity markets are ones in which the products or services being traded are very similar, if not identical.
Examples of Commoditization in Different Industries
You can notice it all around you in different industries such as –
1. Oil Industry- When the average consumer fills up their car with gasoline, they do not think about the brand of fuel they are using.
2. Air Travel- There was a time when people use to get excited about air travel. But now, it has become so common that people take it for granted.
3. Food Industry- With the advent of supermarkets and big box stores, food has become commoditized. Whether you are buying a gallon of milk or a can of soup, the product is pretty much the same no matter where you buy it.
4. Clothing or Apparel Industry- With the rise of fast fashion, clothing has become commoditized. Brands like H&M and Zara can mass-produce clothing quickly and cheaply, making it difficult for other brands to compete on price.
5. Technology Industry- With the proliferation of smartphones, tablets, and laptops, many types of technology have become commoditized. For example, there is not a lot of difference between an iPhone and an Android phone, or between a Dell and an HP laptop.
6. Hotel and Restaurant Industry- With the rise of online booking, hotels, and restaurants have become commoditized. Consumers can easily compare prices and amenities on these sites, making it difficult for individual businesses to stand out.
7. Retail Industry- Retail is becoming increasingly commoditized as more and more stores open up with similar products at similar prices. This has made it difficult for smaller retailers to compete on price and quality.
Commoditization Effects
Commoditization can have both positive and negative effects. On the positive side, commoditized products are often more affordable and accessible to consumers. This is because Commoditized products are often cheaper than differentiated products.
On the negative side, commoditization can lead to lower profits for companies selling Commoditized products, as margins are squeezed by competition. It can also lead to less innovation. Companies may be less likely to invest in R&D if they know that their products will quickly become Commoditized.
Commoditization is a natural process that happens as markets become more competitive. While it can lead to lower prices and less innovation, it can also lead to new opportunities for companies that can differentiate their products.

When a product or service becomes conventional and interchangeable with other similar goods or services, it is said to be commoditized. When companies offer the same product or service, prices usually go down because of competition. Commoditization can also happen when a product evolves and becomes more standardized, such as when high-speed internet became available from multiple providers.
One way companies try to combat commoditization is by focusing on the company's strategy. For example, a company might focus on offering premium prices for its products or services, or it might focus on being the market leader in terms of product offerings. Another way to combat commoditization is by differentiation, which is when a company differentiates its core product from that of its competitors.
Commoditization can also affect government agencies and information technology. For example, government agencies may be less likely to invest in knowledge spillover if they believe that information technology will become commoditized. Commoditization can also lead to more loans being made available to companies, as lenders see Commoditized products as less risky.
The Commoditization Process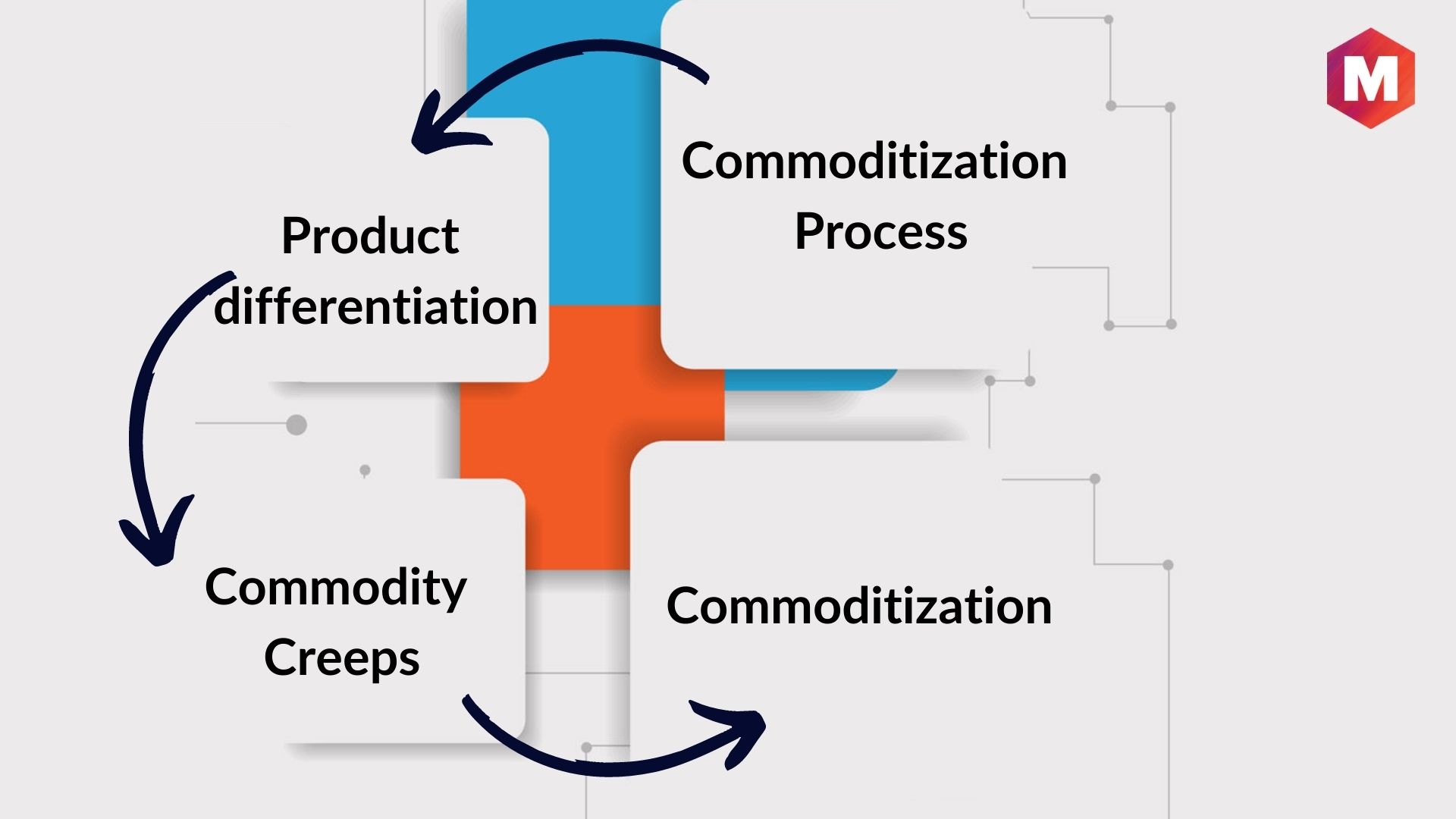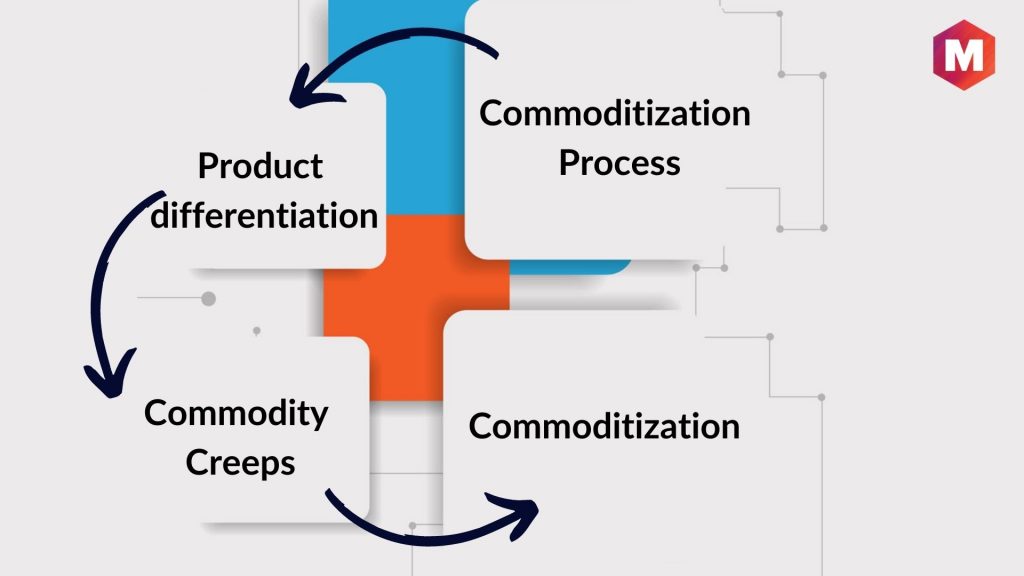 The commoditization process usually happens in three stages
1. Product differentiation- In the early stages of commoditization, products are still differentiated from each other. This is because there are only a few competitors in the market and each one offers a unique product.
2. Commodity creeps- As more and more competitors enter the market, product differentiation starts to disappear. This is because companies are now offering similar products and it becomes difficult for consumers to tell them apart.
3. Commoditization- In the final stage of commoditization, products become indistinguishable from each other. This is because there are so many competitors in the market that all the products are pretty much the same.
Commoditized Technology
One of the most notable examples of a commoditized market is the commoditization of technology. This is because technology products tend to become Commoditized very quickly.
For example, when the first smartphone was released, it was a very differentiated product. But now, there are so many different types of smartphones on the market that they have all become Commoditized.
This is because there is not a lot of difference between an iPhone and an Android phone, or between a Dell and an HP laptop.
The commoditized technology has led to a lot of price wars between different companies. For example, Apple and Samsung have been locked in a price war for years, and this has led to lower prices for consumers.
Commoditized Services
Another area where it is happening is in the area of services. This is because more and more services are becoming Commoditized.
There was a time when people only traveled by horse and buggy. But then the Wright brothers invented the airplane, and suddenly travel became much faster and more accessible. However, as air travel has become more common, people have started to take it for granted.
The same thing is happening with other types of services, such as hotel rooms, cars, and even food. This is because there are so many different companies offering the same service that it has become Commoditized.
For example, when Uber first came out, it was a very differentiated service. But now, there are so many different ride-sharing companies that the service has become Commoditized.
Causes behind increased Commodities
1. Globalization of markets
This is because globalization has led to more and more companies entering new markets. As a result, there is more competition in the market, and products are Commoditized more quickly.
2. Advancement of technology
This is because technology has made it easier for companies to enter new markets. For example, the internet has made it very easy for companies to sell their products online.
3. Increase in the number of buyers
This is because the number of buyers in the market has increased. This is because of the increase in population and the rise of the middle class.
4. Government Pressures to Share Technology
This is because the government has been pressuring companies to share their technology. The Russian government requires technology companies to disclose their source codes before the companies can do business in Russia, as revealed by a 2017 Reuters investigation.
5. Copying of Intellectual Property
Intellectual property (IP) theft is a serious problem, since it may turn a unique product into something ordinary. IP theft can happen in many ways, such as when a company reverses engineers a product, or when an employee steals trade secrets.
Pros
Increased competition among telecom companies drives down prices and forces companies to be more efficient in their operations.
System development can bring a competitive advantage to a company, allowing it to charge a premium price.
Chinese companies are often able to undercut their competitors on price, due to lower labor costs.
Government regulations can level the playing field for telecom companies, preventing any one company from having an unfair advantage.
Cons
Continuous improvement can be expensive, and may not always be possible.
Government regulations can also be a barrier to entry for new telecom companies.
The financial contract between a company and its customers can limit the ability of the company to change its pricing or operations.
How to Address Commoditization
1) Product Niche Narrowing
As the commoditized market advances, product niches narrow. This means that companies can focus on offering a unique value proposition to their customers. This can include developing products with features or services that are specific to a particular market segment or providing added value through customer service and support.
2) Using Creative Pricing Strategies
Creative pricing strategies can help companies stand out from their competitors and manage the increasing customer price sensitivity. Companies can offer different tiers of service at different prices, or bundle services together to create more attractive offers. Companies can also try offering discounts for customers who bring their business, or loyalty programs that reward customers for repeat purchases. Some premium brands prefer using premium pricing as well to differentiate themselves from other brands offering similar features in their products. Instead of using a more complex pricing structure, they should use creative pricing.
3) Investing in Brand Voice
One of the most important ways to differentiate from competitors is through a strong brand voice. Companies should focus on creating a unique and memorable identity, which can be achieved through creative marketing campaigns and engaging content. A strong brand voice can help companies stand out in an increasingly crowded marketplace that will help in pulling in more consumer interest.
4) Investing in Innovation
Companies should invest heavily in research and development to create unique products that offer added value to their customers. Investing in innovation can help companies stay ahead of the competition and develop a long-term competitive advantage.
5) Leverage the latest trend of your Target Market
Markets nowadays are constantly changing, and companies need to be able to adapt quickly. Companies should take advantage of the latest trends in their target market and create innovative products or services that capitalize on them. This could include developing apps or services that capitalize on new technology developments or creating products that meet customer needs in a unique way.
6) Focusing on Customer Experience and Feedback
Providing excellent customer service should be a top priority for any company. Focusing on the customer experience is one of the most important ways to win over customers and keep them coming back. Companies should pay close attention to customer feedback and use it to continually improve their products and services.
Best Ways to Differentiate Products
Some of the ways to differentiate products to avoid them being a commodity are-
Emphasizing Quality over Quantity
Expanding on Social Media Presence
Adopting Eco-friendly Practices
Creating Personalized Customer Experiences
Utilizing AI Technology for Better Services
Pushing for Continuous Product Improvement
Exploring New Market Opportunities
Building Strategic Partnerships
Establishing Community Engagement Programs
Launching Exclusive Limited Edition
Conclusion!
Commoditization is a process where products or services become more alike and interchangeable. This can happen over time as new technologies and competitors enter the market. It can be good as well as bad.
It can lead to increased competition and lower prices, but it can also lead to decreased innovation and decreased customer loyalty. A commoditized market is something companies need to be aware of and manage carefully.
When a product or service becomes commoditized, companies need to focus on differentiating themselves in other ways. This can be done through branding, customer service, or product innovation. It is a challenge, but it can also be an opportunity for several companies to find new ways to stand out in the market.
What do you think about it? Is it a good or bad thing? Let us know in the comments!
Liked this post? Check out the complete series on Marketing