Indirect marketing is a type of marketing strategy that lets companies reach new customers without doing any direct advertising. It involves using indirect methods to suggest the value and benefit of products or services, such as word-of-mouth referrals, social media posts, influencers, and more.
This indirect approach helps build an audience's trust without coming on too strong with a sales pitch. It's a great way to gain new customers without being overly aggressive in your marketing efforts. Additionally, indirect marketing strategies are cost-effective and can be incredibly successful if executed properly.
Overall, indirect marketing is a unique way to grow an audience base and engage with potential customers on their own terms. With the right strategy and execution, indirect marketing can be an effective tool to help your business grow.
What is Indirect Marketing?
Indirect marketing is a way of promoting a product or service without directly addressing the customer. Rather than relying on a direct approach, indirect marketing is about winning the trust of your customers. Its goal is to help you build brand recognition and cultivate potential customers until they are ready to purchase from you.
It usually involves subtle promotion tactics like content marketing, influencer marketing, word-of-mouth campaigns, and more. By taking an indirect marketing approach, you can create a more powerful and lasting impression on your target audience.
There are several indirect marketing tactics that you can use to promote your business. Social media platforms, web pages, and direct mail are all popular indirect marketing types that can be used to connect with customers. You can also use corporate social responsibility initiatives like charity work and awareness campaigns to promote your business while still helping others.
No matter what indirect marketing strategy you use, the key is to create something that resonates with your target audience. By speaking to their needs and interests, indirect marketing can be a powerful tool for your business.
Types of Indirect Marketing Campaigns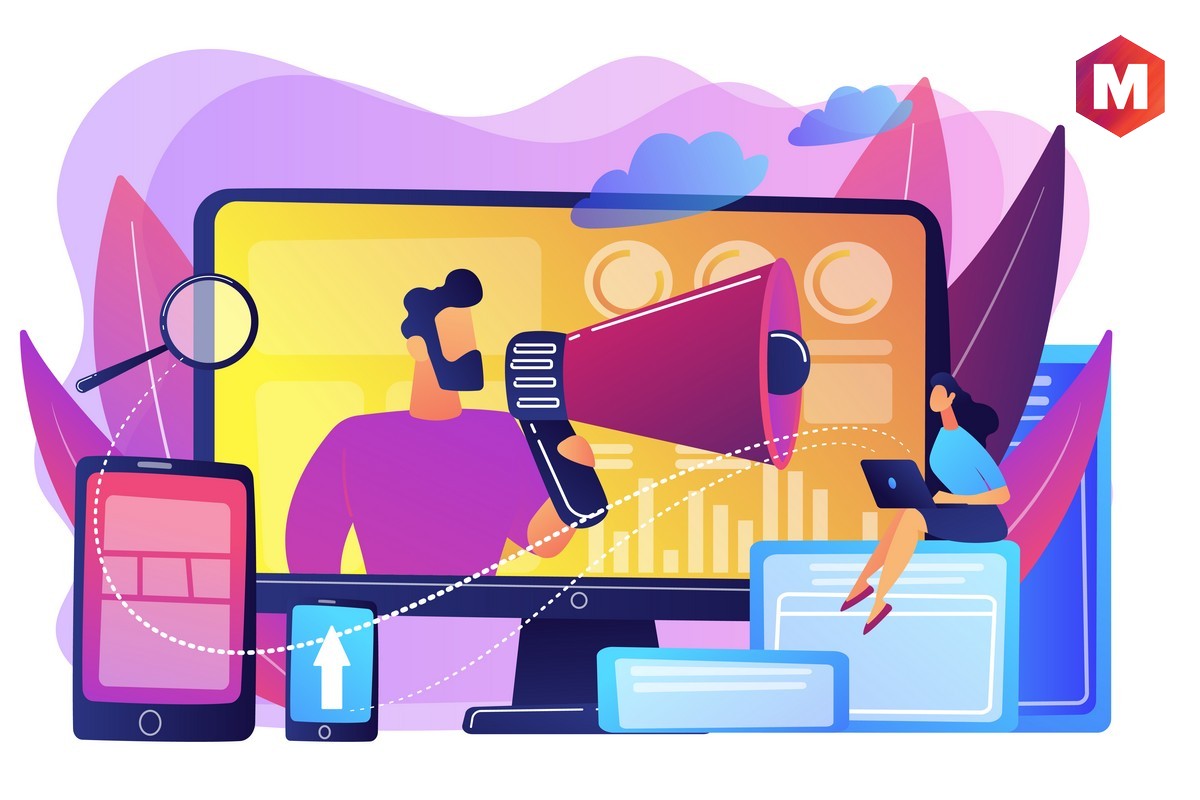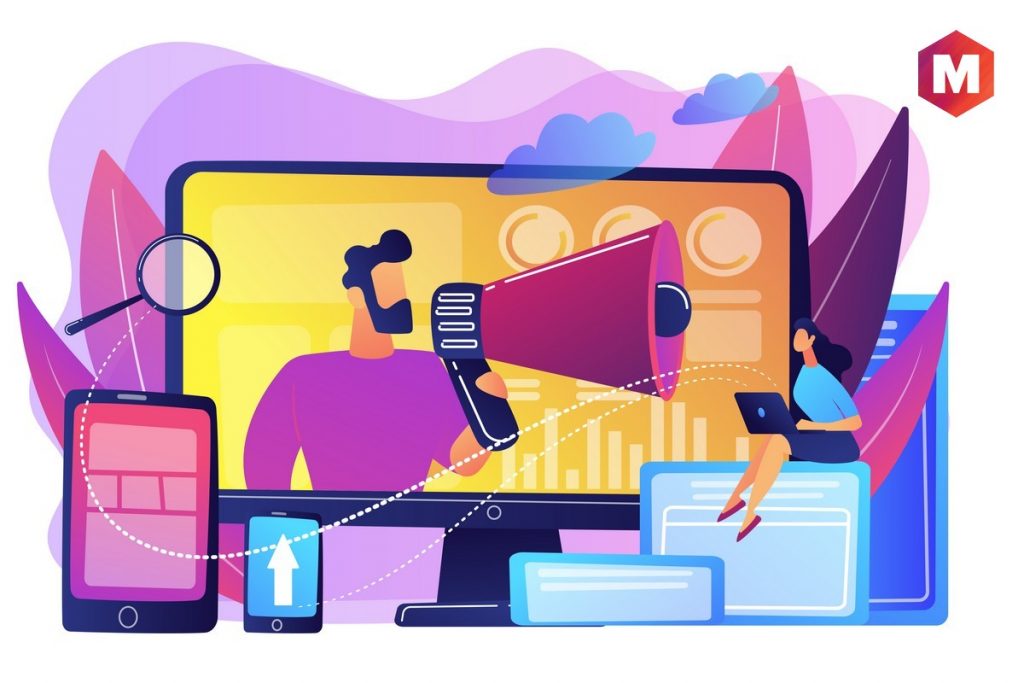 Content marketing
Content marketing is the indirect marketing strategy of creating and distributing content to attract customers. This type of marketing involves writing blog posts, newsletters, articles, or ebooks that contain useful information related to a company's industry and its products or services. This content can be shared by other websites that may link back to your website, which increases awareness about your brand, as well as provides valuable links for SEO purposes.
Search engine optimization (SEO)
SEO is an indirect marketing technique used to improve the visibility of a website in search engine results pages. On-page Search Engine Optimization focuses on optimizing individual web pages by improving the title tags, meta descriptions, internal linking structure, and copywriting that appears on each page. Off-page Search Engine Optimization involves building backlinks from other websites that link to yours. This strategy helps improve your website's search engine rankings and drives more traffic to your website.
PR
Public relations use the media and public opinion to create a positive impression of a company or brand. Through press releases, radio and TV interviews, product reviews, online articles, etc., PR can generate awareness about a company or its products to attract customers.
Social media marketing
Social media platforms such as Facebook, Twitter, Instagram, and YouTube are indirect marketing channels used by companies to reach their target audience. Companies use these platforms to share content, start conversations with customers and promote their products or services.
Referrals and loyalty programs:
Referral and loyalty programs are used to reward customers for their repeat business. This indirect marketing tactic encourages customers to recommend your products or services to their friends, family, and followers.
Link building
Link building involves getting other websites to link back to yours. These links help search engines understand the collective value of your website, which improves its search engine ranking and drives more traffic.
Influencer marketing
Influencer marketing is a strategy in which influencers – people with large online followings – promote a company's products or services on social media platforms like Instagram and YouTube. Companies work with influencers to connect with potential customers who may have never heard of them before.
Reviews
Reviews are a type of indirect marketing that involve customers writing their opinions about a company's products or services on sites such as Amazon and Yelp. These reviews can be beneficial to your indirect marketing tactics, as potential customers often make purchase decisions based on these reviews.
Sponsorships and product placement
Sponsorships and product placement are indirect marketing methods used by companies to gain exposure to their brand. Companies use sponsorships to pay for ads in television shows, radio programs, magazines, etc., while product placement refers to placing a company's products in movies or TV shows. Both strategies help create awareness and promote the company's brand indirectly.
How to Do Indirect Marketing Right?
Indirect marketing is a powerful tool to help you reach potential customers. It involves leveraging indirect channels, such as word of mouth and referral programs, to get the word out about your product or service. But it can also be a tricky beast – you must do it right.
Here are some tips for doing it right. A sound digital marketing strategy is essential when using indirect marketing techniques. Make sure to include blog posts, social media campaigns, and email newsletters in your toolkit. This will help you reach potential customers and make sure that your indirect marketing efforts have maximum impact.
A wise strategy should also include tactics to engage existing customers and encourage them to spread the word about your product or service. Offering referral incentives, such as discounts for their friends, can be an effective indirect approach that activates word-of-mouth marketing.
Finally, when executing indirect marketing tactics, make sure to target customers that are likely to refer to your product or service. Identifying influencers in your industry or target market can help you ensure that indirect efforts are reaching the right people.
By following these tips and understanding how it works, you can effectively reach potential customers without spending a ton of money on traditional advertising methods.
Best Indirect Marketing Examples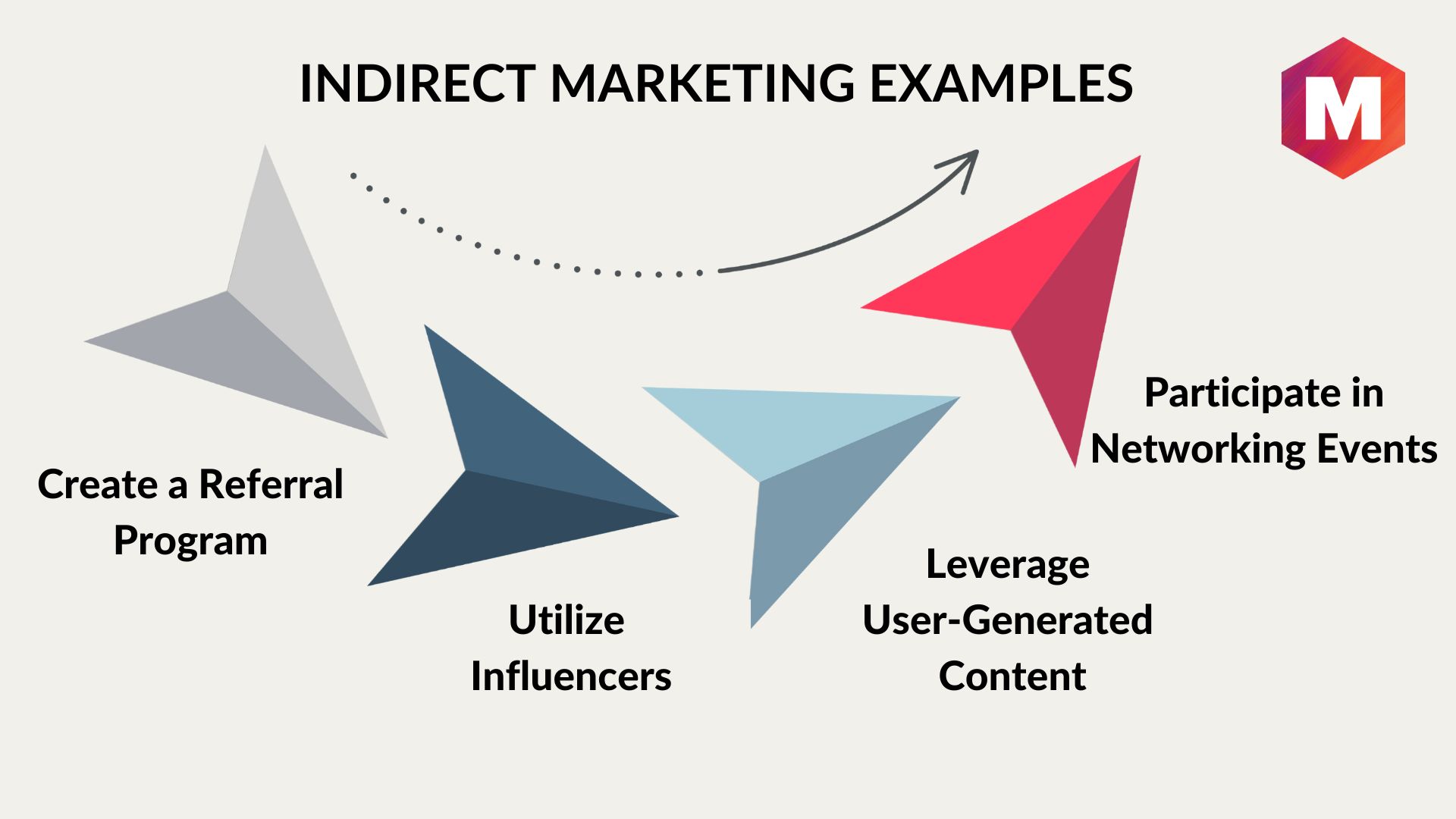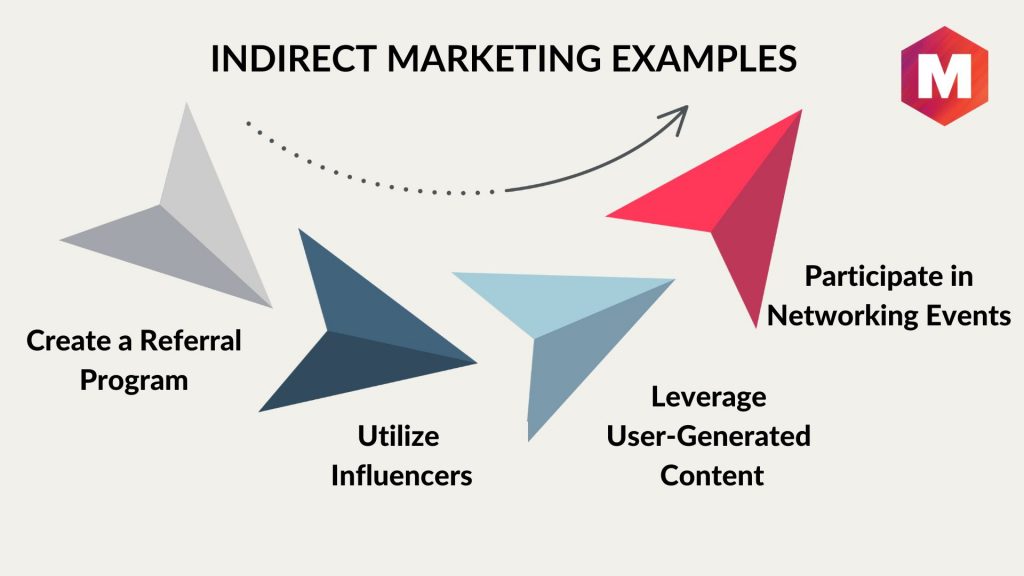 1. Create a Referral Program
This is an indirect marketing tactic that encourages your customers to refer their friends and family in exchange for rewards.
2. Utilize Influencers
Partnering with influencers and having them post about your product or service can help you reach a larger audience. This indirect marketing strategy can be a great way to promote your business.
3. Leverage User-Generated Content
Asking customers to post about their experience with your product or service is a great way to engage them while also marketing indirectly.
4. Participate in Networking Events
Joining networking events and industry-related conferences is a great indirect marketing opportunity. Doing so allows you to get in front of potential customers and gain new leads.
Difference between Direct and Indirect Marketing
When it comes to direct vs indirect marketing, the key difference between these two types of marketing is how customers are reached. Direct marketing involves communicating directly with your target audience through specific channels such as emails and ads. Indirect marketing uses indirect ways to reach potential customers, such as social media posts or referrals from existing customers.
Indirect marketing strategies
Indirect marketing is more indirect than direct marketing. It relies on indirect methods to reach potential customers, such as word of mouth, referrals from existing customers, and social media posts.
Direct marketing strategies
Direct marketing involves using specific tactics to target your customers. Examples of direct marketing tactics include email campaigns, cold calling, advertising, and direct mail. These tactics are designed to reach a particular audience to drive sales or generate leads.
Advantages of indirect marketing
The indirect approach is often less expensive than the direct approach and can be more successful in terms of achieving desired results. It also offers a greater chance of word-of-mouth marketing since your message will be shared more often if it is indirect.
Advantages of direct marketing
Direct marketing is often more effective in terms of generating leads and driving sales. It also allows you to target specific audiences based on their interests, demographics, or behaviors.
Indirect Marketing Tips
When using indirect marketing strategies, focus on building relationships with potential customers. Create content that is relevant to their interests and engage with them through social media channels. Additionally, offer incentives for referrals and develop a loyalty program to reward returning customers.
Direct Marketing Tips
Be sure to personalize your direct marketing campaigns so they stand out from the competition. Utilize customer data to create laser-focused campaigns and send messages that are highly targeted to your audience. Additionally, A/B test your campaigns to measure their effectiveness to optimize results.
When it comes to direct vs indirect marketing, the best approach depends on your goals and your target audience. Both indirect and direct marketing have advantages that make them effective, so use the appropriate approach to reach your customers. Keep in mind these tips when planning your campaigns to ensure success!
Conclusion!
In conclusion, indirect marketing is a powerful tool for reaching new audiences and expanding the customer base. It is particularly effective when combined with other traditional forms of marketing like PR and advertising. Ultimately, indirect marketing can help you achieve your goals while keeping costs low.
To get the most out of indirect marketing, it's important to take a comprehensive approach. Research your target market and develop a strategy that leverages indirect tactics with other traditional or digital marketing methods. A well-crafted indirect campaign can help you reach new customers, tell unique stories and drive sales on an ongoing basis—all without taking up a lot of time or money.
Liked this post? Check out these detailed articles on
Topic of Marketing
Alternatively, check out the Marketing91 Academy, which provides you access to 10+ marketing courses and 100s of Case studies.