Market segmentation is a key process in any marketing strategy. With more and more competition arising each day, the segmentation process has become critical to the success of the company. As more competition is coming up, people are also becoming product conscious and that is where lies the opportunity for Benefit segmentation.
Imagine a market where there are 10 different styles of shoes. There is no brand, there is no description, you just have to try on the shoes and decide on the one shoe that you are going to buy. How blank you will be!! You will only be able to take a decision, if its only design you are looking for.
But now, I am not looking for design, I am looking for a fitness shoe. So the shoe salesman tells me, "Sir, that X shoe is the one for fitness. All its ads, and its marketing claims that it is the best shoe for fitness". Immediately, out of the 10 shoes available, I decide on that on shoe because it is giving me the benefit that I desire. That's Benefit segmentation.
Define Benefit segmentation
Any segmentation that is done on the basis of the benefits offered to the end customer is known as Benefit segmentation.
Example of Benefit segmentation
More and more, this type of segmentation is cropping up. Take laptops for example. For eras the desktops dominated the PC market. However, as laptops offered the benefit of portability, the consumers soon start picking up laptops instead of desktops. Then came the Apple MacBook which really shook the market with its design and capability. Suddenly, other competitors also started giving more and more targeted benefits to customers. And due to this, more and more benefit segments were created. Ultimately, we know that the desktop market is only a shadow of what it was a decade ago.
Below is also a diagram of how colleges can make use of Benefit segmentation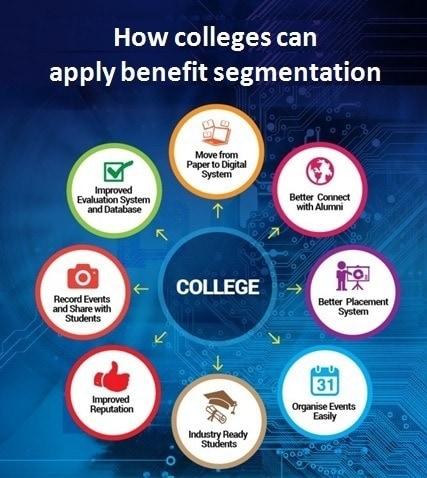 Let us talk about the how Benefit segmentation plays a role in value addition or production expansion.
Benefit segmentation + Value addition + Product expansion
Suppose that Lenovo starts manufacturing a mass segment laptop. It then realizes, that there is a specific demand for Day long battery level laptops (known as ultra books), even if the configuration of these laptops is light weight. Now this is a value addition which Lenovo can do in its existing range of laptop, or start a complete new product range with this benefit segmentation in mind.
If it adds the same value to its existing range of laptop, the high configuration of Lenovo laptops does not allow the battery to run whole day. You have to recharge in 5 hours. Hence, Lenovo ultimately goes for a complete new product range targeted towards the benefit segment who wants to purchase high battery laptops.
The important point to take away from the above example is – how many benefit segments are there which your company is not covering? How many such segments are there, where you might get 5% of customers, but you are not covering such segments? Remember that Adidas and Nike are themselves benefit segments – they offer the fitness benefit in the mind of their customers.
So if you under estimate the power of benefit segmentation, you are wrong. A simple benefit segmentation can give a huge line of customers. Look at Nokia vs. Samsung. Samsung provided the Android benefit to its customers, which Nokia could not provide. And Samsung is thriving nowadays whereas Nokia is closed long back (or taken over by Microsoft to be more precise).
Thank you for reading our article about benefits segmentation in marketing to reap benefits.