Gucci is an Italian Luxury fashion brand owned by the French company "Kering". It was founded by Guccio Gucci in 1921. The Brand is known for its high-quality products, impeccable design style, and its craftsmanship.
It has a very interesting history wherein Guccio Gucci himself worked in luxury hotels, and looking at the high-value luggage, wanted to launch something of his own which was premium in quality.
Gucci's products include a wide range of products such as leather goods like handbags, wallets, belts, shoes, accessories like jewelry, watches, and eyewear, various perfumes and fragrances, as well as home décor products. Gucci is a powerful brand that is synonymous with luxury and exclusivity. It has had a consistent brand identity over the years which is the reason for its success in the Luxury Market.
Here are some Gucci statistics in 2023
Industry: Luxury
Founded: 1921
Headquarters: Florence
Country: Italy
CEO: Marco Bizzari
Rank: 31 as per Forbes
Website: Gucci
Revenue: €10,487 million as of 15 February 2023.
Employees: 20,711 Employees
Stores: 528 Directly Operated stores (181 in Asia-Pacific, 107 in North America, 103 in Western Europe, 73 in Japan, and 64 in the rest of the world)
Products that drive revenue: Leather goods (52%), Shoes (21%), Ready-to-wear (15%), Watches and jewelry (5%), and Others (7%)
Areas of Distribution: North America (29%), Asia-Pacific (36%), Western Europe (22%), Japan (6%), Rest of the world (7%)
Sales by Channel: 91% directly operated stores and 9% Wholesale and royalties
Gucci SWOT Analysis
The Gucci SWOT analysis discusses the strengths, weaknesses, opportunities and threats of Gucci which is one of the topmost fashion brands. Gucci is known for its iconic designs, commitment to craftsmanship, and diversified product portfolio. It has a huge cultural impact due to its global presence. Let us now deep dive into the strengths, weaknesses, opportunities, and threats of Gucci.
Gucci Strengths
Brand equity: Gucci has fantastic Brand equity and valuation. As of 2022, the Gucci brand was valued at a whopping $18.1 Billion. A fashion brand which is selling at premium prices requires very strong brand equity. Gucci is Italy's topmost luxury fashion brand and is ranked 37th per Forbes.
Craftsmanship: Gucci has a long history of Beautiful designs and craftsmanship. The brand uses high-quality materials and makes the finest products that reflect Gucci's Commitment to excellence.
Luxury Image: Gucci is the 3rd most luxurious brand as per a report by Brandirectory. Its brand is valued at $18.1 Million as of 2022.
Global Presence: Gucci has a global presence mainly through its directly operated stores. There are 528 stores of Gucci out of which 181 are in Asia-pacific, 107 are in North America, 103 are in Western Europe, 73 are in Japan and 64 are in the rest of the world.
Product Diversification: Gucci caters to many different customer segments and preferences. The product portfolio of Gucci includes clothing, footwear, accessories, wearables, fragrances, and other products.
Creativity: Gucci pushes all boundaries when it comes to trend settings. The designs are known to be bold and fresh. The brand is famous in the fashion world and notable magazines like Vogue, birdie, and others cover the brand's latest launches.
Social and cultural initiatives: Gucci contributes to social and cultural development and has a Gucci museum which is called Gucci Osteria in Florence. It has also financed the restoration of various museums. Besides this Gucci regularly undertakes social initiatives by contributing funds and helping various causes.
Focus on Diversity, Equity, and Inclusion: In today's world, focusing on these social values is paramount. As per Marco Bizzari, the president and CEO of Gucci, creativity, and diversity are interlined in the Fashion Industry. He believes that the more you are exposed to different views, the more you can fuel the company's creativity, culture, and growth. Thus, this focus on diversity, equity, and inclusion is a key strength of Gucci.
Collaborations: Being a premium fashion brand, Gucci ventures into various different industries via collaborations. Gucci has designed for Ferrari's, Lamborghini and different top automobiles in the world. Similarly it does a lot of design work for leading brands.
Focus on Sustainability: Gucci has taken a massive sustainability target of reducing its environmental footprint by 40% by the year 2025 and decreasing greenhouse gas emissions by 50% by 2025.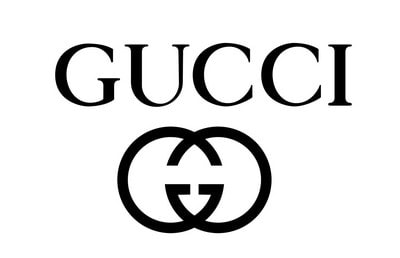 Gucci Weaknesses
High Price Points: Being a luxury brand, naturally Gucci has high price point. This however, affects the sales volumes of the brand. Gucci will be unable to expand in any price conscious market segment.
Dependency on Luxury Market: Gucci is terribly dependent on the luxury market. What this indirectly means is that Gucci is also dependent on external environmental conditions like business and economy as they influence the purchase of luxury goods.
Sexuality in Advertising: A major point where Gucci faces flak is in its advertising. It regularly uses sexual innuendos and shows the female in bad form due to which it has repeatedly faced criticism over the years. However, many marketers feel that Gucci proves over and over again that "Sex sells". Multiple times, Gucci's ads have been banned for unrealistic depiction.
Complex Supply Chain: Gucci has a complex supply chain due to which it cannot make immediate or any urgent changes in its design. Gucci uses high quality materials and craftsmanship which is why its supply chain is bound to be complex and any changes in it are challenging to make.
Continual change: One of the major weaknesses for any brand in the fashion industry is that there is continual change required. So, some years are good and some are bad.
Gucci Opportunities
Increase in Buying Power: The number of affluent customers is rising in Emerging markets like India and China. Gucci already has a good presence in the Asia Pacific reason and increasing its presence will help it cater to the increase in buying power. In fact, Reliance, One of India's top brands is betting that luxury brands like Gucci will rise in consumption.
Emerging Markets: Emerging markets are rising in consumption of Premium brands. Focusing on its global expansion and physical presence in emerging markets will help the brand to achieve more growth.
Digitalization: With consumers getting more used to Digitalization, the brand's adoption can increase by adopting more channels from which it can sell its products. Investing in Digital marketing, E-commerce, and online customer engagement can help the brand increase its customer experience and reach a wider audience.
Improve Retail Experience: Experiential Retailing is a buzzword and it is all about improving the experience of the customer when he reaches a retail outlet of the brand. Gucci being the pioneer in fashion always has scope in increasing the retail experience and enriching the customers.
Category expansion: Eyewear, wearable tech, and home décor are areas where a lot of expansion is possible in different variants as well as different product categories. Gucci could cater to these segments to capitalize on the opportunity.
AI designs: AI is a very new technology but it has been steeped in our culture and heritage. Gucci can feed its own designs to AI software and get AI designs made which will help it launch more ground-breaking designs very fast. Furthermore, by feeding its own target audience to the AI as a database, it can conduct virtual market research by machine learning and also understand whether consumers will like its new product line or not.
Fashion is an Evergreen Industry: Fashion never ends. It just adapts. And by being adaptable, Gucci can keep conquering more opportunities that come it's way
Gucci Threats
Counterfeits and Piracy: Gucci is one of the most counterfeited products on TikTok as per a study. This goes to show two things. One that Gucci is popular. And two, there are massive counterfeits present in the market for Gucci. In fact, it is one of the top pirated or imitated brands. This consumption of counterfeits in its target markets is a threat to Gucci's brand value and exclusivity position.
External Economy: A Luxury brand is very susceptible to the external economy. Any downturn or recession first affects the Luxury segment. As economic downturns keep happening, Gucci's consistent growth keeps getting hampered. For example, Gucci suffered a huge setback during the Pandemic in its retail segment.
Rivalry and Competition: The Luxury segment has the presence of iconic brands like LVMH, Hermes, and several others. These competitors are well-established brands with good market share. Although competition and rivalry is beneficial for the fashion industry, these rivals keep Gucci on its toes.
Quality Pressure: Gucci needs to continuously innovate and differentiate so that it can stay ahead of its competitors. Besides these pressures, there is the pressure to maintain the consistent quality of the products. This is the reason why Gucci has kept maximum manufacturing near its home town of Florence.
Government and Environmental Laws: Changes in tariffs, policies, and regulations keep happening and the scale is international. Thus, these regular changes in laws by the government and environmental laws hamper the supply chain and operations and increase costs and logistical challenges.
Brand Consistency: Hermes, and LVMH have much better brand consistency as compared to Gucci. This is because of Gucci's presence in multiple different segments. Gucci has still grown a lot over the years and maintained its revenues but its brand image can be diluted.
D2C Brands: D2C brands have lower costs and good quality, and with the rise of digitalization, D2C brands are being better adopted in the marketplace. This is a direct threat to brands like Gucci which have to be experienced in Retail before buying. Nonetheless, at the same time, there is increasing adoption of Luxury brands in emerging markets. Thus Gucci has to just be wary of D2C brands.
In summary, Gucci is a brand well-established in the Fashion and Luxury industry. The brand has very few weaknesses compared to its strengths. Furthermore, there are exciting times ahead when the brand can increase its presence by capitalizing on various opportunities. The threats are there but Gucci is an adaptable brand and will continue to overcome the threats as they come.
Liked this post? Check out the complete series on SWOT