Strengths in the SWOT analysis of Yamaha
Wide Product range – Yamaha Motors product range includes motorcycles, scooters, motorized bicycles, boats, sail boats, personal water craft, swimming pools, utility boats, fishing boats, outboard motors, 4-wheel ATVs, recreational off-road vehicles, go-kart engines, golf carts, multi-purpose engines, electrical generators, water pumps, snowmobiles, small snow throwers, automobile engines, surface mounters, intelligent machinery, industrial-use unmanned helicopters, electrical power units for wheelchairs and helmets.
Excellent reputation – As per Forbes, Yamaha is the 69 highest regarded companies in the world because of its excellent performance over time. It is ranked 658 with regards to its overall sales across the world which touches #14 billion.
The sound – Yamaha motorcycles are absolutely loved for the engine ripping sound they make when someone revs up the accelerator of a bike. In fact, It is a go to bike for motorcycle lovers.
Rigid build – All products from Yamaha are expected to have a rigid build and have a high quality. Yamaha has an excellent quality control team and R&D team to ensure that the products sold out in the market match the performance levels expected of these products.
Market leader in unique segments – Yamaha's Snowmobile, water boats and engines are considered as the world leaders and in such unique segments, Yamaha has a standing equivalent to Honda motors though it may be behind in motorcycles.
Participation in sports – Yamaha has branded itself very well by having regular participation in motorsports especially in motorcycle racing and car racing.
Star in the BCG Matrix – Yamaha may not have a high market share of the worldwide automobile market but it is growing in a segment which has many competitors and yet the potential of the segment is huge too. Thus, Yamaha is clearly a star in the BCG matrix when considering the motorcycle industry.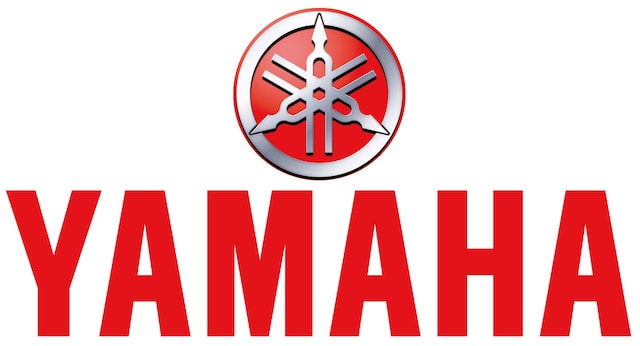 Weaknesses in the SWOT analysis of Yamaha
Marketing & Advertising – Because Yamaha is a star in the BCG Matrix, it needs to have huge expenditure where Marketing and Advertising is concerned. However, compared to other brands like Hyundai or Hero or others, Yamaha does not use television as effectively though it is present in Top magazines and regularly found in the newspaper. A lot more is expected from a brand like Yamaha in terms of Advertising.
Distribution – Another problem which is faced especially in developing countries where Yamaha is present is that the distribution is not up to mark. Even in India, the distribution is quite low and does not match with other prominent motorcycle brands like Honda, Bajaj, Hero or others.
Service – Because the distribution points are less, the service points are less as well. Hence a customer thinks of the service convenience before buying this product and might not purchase the bike itself. Therefore along with sales distribution, service points distribution is also needed. This is probably the weakest point in the SWOT analysis of Yamaha.
Sales is dropping – As per this graph by Statista, the sales of Yamaha is dropping year on year and 2016 is the year when it has dropped the most.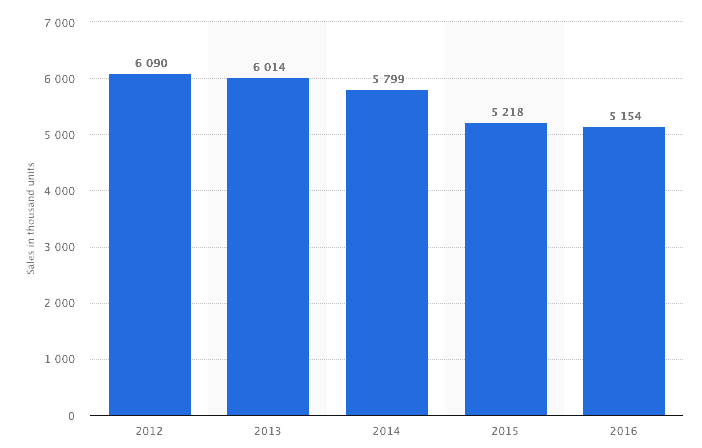 Opportunities in the SWOT analysis of Yamaha
Electric Bikes – Yamaha is already into Electric bikes and this is a product for the future. As more and more people move onto electric cars, bikes will not be left far behind and already the adoption has started in many regions. Regions which are environmentally conscious have made electric bikes mandatory because of the low carbon footprint.
Low tier segment motorcycles – Most of Yamaha's products are positioned as premium whereas Yamaha should be looking at the low tier as well as mid-tier segments. Brands like Volkswagen in cars have proved that a single company can cater to all segments even if it does the same with different brands. With the same concept, Yamaha can concentrate on the low tier and mid-tier segment to have a huge boost to its dropping sales.
Distribution – Having more distribution point and service points are required by the brand. It is a weakness which Yamaha has and covering that weakness can mean an opportunity for the brand.
Expansion – Expansion in International territories and developing markets can help the brand in boosting sales. This expansion will not be limited to motorcycles but it can be applied to its engines and all the other products in the arsenal of Yamaha.
Brand driver products – Like Pulsar in Bajaj or Splendor and Passion in Honda, Yamaha needs products which are the drivers for its brand. A single product or 2 products which are the main products advertised by the brand and which can penetrate the market yet build brand equity, such products need to be marketed by Yamaha.
Rising Disposable income & Emerging markets – Yamaha needs to especially target nations where the GDP is rising and there is more and more disposable income. Such markets will always first prefer bikes and then will move on to cars. Yamaha needs to cover these regions to increase overall sales.
Threats in the SWOT analysis of Yamaha
Lack of Advertising – As we can see that Yamaha sales are dropping which is due to a lack of advertising and the proper positioning for the brand. Yamaha's brand recall is quite lesser than its other competitors and this has affected the brand equity, the recall and the overall sales of the brand.
Competition – The competition in this segment is huge. There are national players in most countries which have captured a large market share and to counter the competition, Yamaha needs either price penetration or excellent marketing. But at all times, the competition effects both – the topline and the bottomline of the company.
Indirect competition – Although all families have one motorcycle, it is observed that scooters and slowly yet steadily replacing motorcycles. At the same time, many families have directly purchased cars instead of purchasing a single motorcycle. This indirect competition rising in demand is also a reason for the dropping sales of Yamaha and it is a threat to the brand.
Liked this post? Check out the complete series on SWOT