Strengths in the SWOT analysis of Hyundai
Hyundai India has such a brand equity that it is almost assumed to be an Indian brand, with lot of good accolades for being India's second most selling brand next to MUL in market share
Hyundai Motor India limited is the largest car exporter from Asian Market which showed a 10% growth compared to last FY
The domestic sales is increasing at an average rate of 19.1%
HMIL is known for its quality products which has better performance and it has constantly been ahead in the race with Maruti Udyog limited in many parameters
The product length includes around 8 cars, starting from new Eon in small car segment to SUV segment Santa Fe
Among the automobile players only HMIL is known for its CSR activities
Hyundai products never fail to win laurels in each segment from various automobile ratings ever since its operations in India
Hyundai , has the largest network of showrooms and service station next to Maruti in India
An article in Economic times quoted that "Hyundai Eon launched , treads on Alto territory" indicated that Eon will act as a threat to reduction in Alto's market share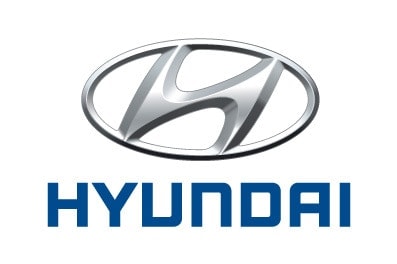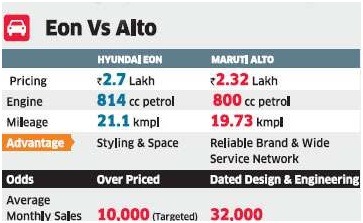 Weaknesses in the SWOT analysis of Hyundai
HMIL took a long time to gain the market share as its not the first mover in India
In terms of most reliable and trusted brand; Maruti is more strong in Indian subcontinent
Spare parts of Hyundai vehicles are comparatively priced higher and spare parts do not have PAN India presence
In SUV segment both Tucson and its next model Santa Fe didnt make a major impact
Increase in commodity prices such as steel, aluminium and ancillary parts has affected margins
Since HMIL concentrates on both domestic and International sales there are higher risks of exchange rate fluctuations
As Hyundai majorly concentrates on quality, most of its product are in premium category in each segment. Hyundai  is still struggling to make a better impact in small car segment in terms of cost efficiency like other manufactures
Hyundai doesn't have any product match to compete in Corporate orders like Tata Indica V2, Tata Sumo, Tata Indigo, Chevy Tavera, Ford Fiesta etc. These vehicles are most preferred in both cab segment and government booking for bulk orders
Opportunities in the SWOT analysis of Hyundai
SIAM – Society of Indian automobile Manufacturers, have stated that there is steady increase in Car sales both Domestic and Indian contributing a valuable share in India's Gdp
The export markets growth rate is 22.30% compared to last fiscal year
The saving consumption pattern of India is an added advantage for any segment doing business in India. This was one of the major reason for Indian market to survive amidst global recession
There is more scope of HMIL to enter into small car segment as its has dedicated R&D plant in Hyderabad, India. Hyundai is one of the very few companies that has widest R&D network across the world located in Korea, Europe, India, US, Japan
Hyundai has very good opportunity in entering into commercial vehicles and Recreational vehicles as they are already doing well outside India. Currently HMIL has its focus only on Passenger car segment
Threats in the SWOT analysis of Hyundai
Though Hyundai claims itself to have no direct competitors other than MUL, there are Indian players like Tata, Mahindra imposing a strong threat for Hyundai Motors India to expand its product category
Foreign Direct Investments flowing in Indian automobile space are not good signs for already existing Giants like MUL and Hyundai.
Almost all major automobile players have started invading India to open up their market and their manufacturing plant in India."Chennai" is referred to as the Detroit of Asia!
Hyundai faced a slight decline in market share due to tough competition from Ford's Figo and Volkswagen- Polo
Many manufacturers have started to concentrate on small car segment as an alternative to Nano. These will slowdown the expected sales of Eon.
Liked this post? Check out the complete series on SWOT