There are many explanations and definitions which tell you what is a marketing strategy. However, it all boils down to one sweet and simple explanation. Marketing strategy basically tells you WHAT you are going to do for the marketing of your product / firm or organization.
Marketing strategy is a small part of Business strategy. Where business strategy deals with manufacturing, operations, procurement etc; Marketing strategy will look towards marketing mix, business environment, distribution and other such marketing related areas.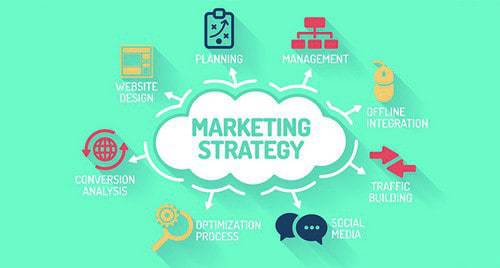 Both, business strategy as well as marketing strategy, are important for a firm to move forward. A firm needs to know what Business strategy it needs to follow? Which businesses will the organization like to be present in? Where is the industry heading? And what moves need to be taken to establish and sustain the business?.
The same way a firm needs to know its marketing strategy. What are the organizations strengths and weaknesses? What products does it have? What segment can these products be sold to? Can we design a new product? Where are gaps present in the system so that an optimum marketing strategy be designed?
After taking all these factors into consideration, a marketing plan is prepared. The marketing plan is nothing but a written document which is a roadmap of HOW you are going to achieve your marketing strategy. This marketing plan is then presented to investors or bankers to get funds for your organization. Or the same can be used as a reference for the management or in any future endeavours of the organization.
What's Marketing strategy?
A marketing strategy usually has the following factors at the core of its formation
1) Long term marketing strategies and objectives of the firm
The vision of the firms plays a crucial role in forming a marketing strategy for the organization. The vision defines where the firm wants to be in the long term.
2) Strategic Marketing Actions which need to be taken and
The mission statement is another important part of the marketing strategy and it defines exactly what actions need to be taken by the firm.
3) Marketing Strategic plans
Exactly how a firm will achieve its mission is known as the strategic plan. This involves various steps such as getting to know the firms strengths and weaknesses, formulating a product strategy, knowing the marketing mix, and then planning resources which will be needed to implement the plan.
4) Marketing Strategies & Tactics
Tactics are generally not included in long term strategic plans, however, tactics are important for the organization to achieve short term goals and hence they can be formulated along with the marketing strategy. Tactics may include giving sales discounts, addition promotional support, or any such support which motivates the customer to buy the product.
The marketing plan plays a role of a reminder wherein it reminds the management again and again of its marketing strategy and the road map to organizations success.
Once all the above factors are in place, your marketing strategy is formed. Forming a marketing strategy is much simpler than actually implementing it.
This is where the marketing plan plays a crucial role.
If you liked this article, we bet that you will love the Marketing91 Academy, which provides you free access to 10+ marketing courses and 100s of Case studies.