In this day and age, it is crucial for businesses to have an effective marketing strategy. With so many brands competing in the same space, having a well-defined strategy is crucial to stand out from the competition.
Marketing strategies are the game plan that businesses use to secure a sustainable competitive advantage. They involve identifying and understanding your target audience and then tailoring your messaging and marketing efforts to appeal to them.
The aim of any successful marketing strategy is to bring customers to your business and increase sales. To do this, you must understand how people think and research about the products they are interested in buying. Once you understand what motivates them, you can create a unique message that delivers value and resonates with potential buyers.
What is Marketing Strategy?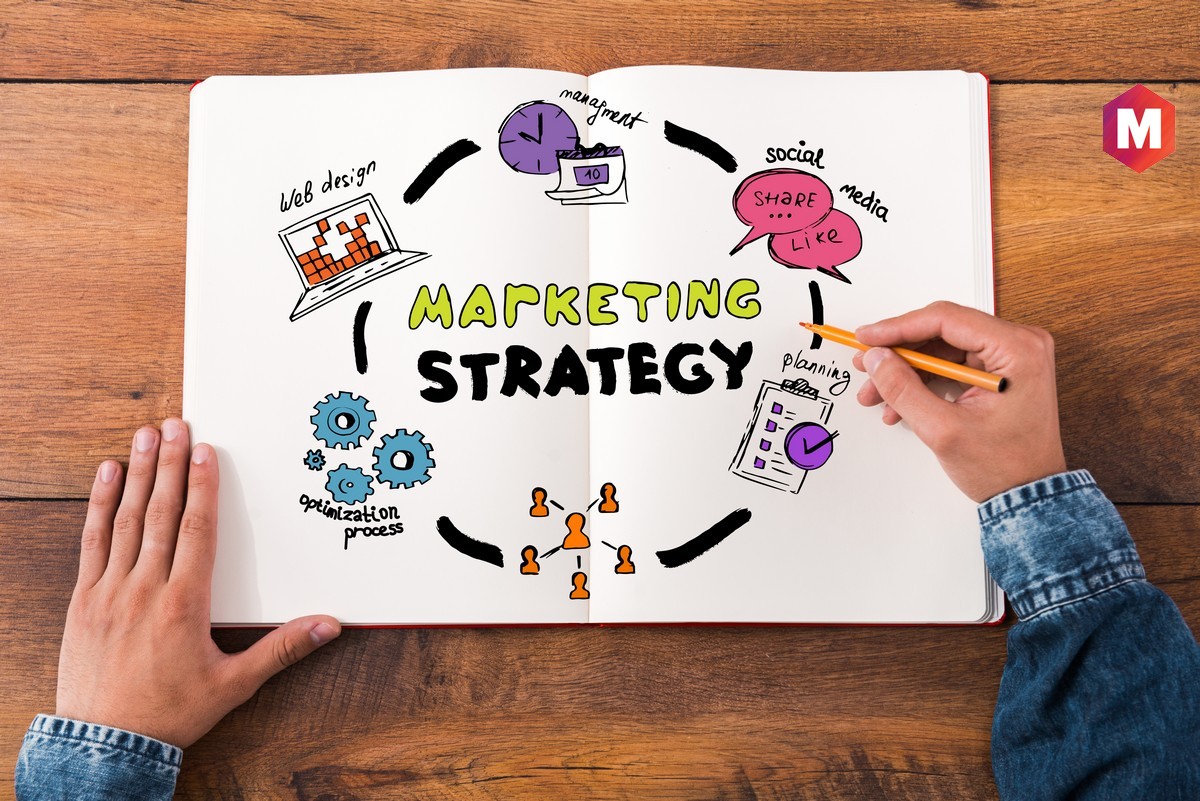 A marketing strategy is a comprehensive plan formulated by businesses to reach out to potential customers, connect with them, and convert them into paying customers. It lays out the company's approach to attracting and retaining customers through effective messaging, branding, and tactical marketing channels.
For example, consider the marketing strategy of the technology giant, Apple, in 2023. Throughout the year, Apple maintained a clear focus on its brand ethos of innovation, simplicity, and premium user experience.
Their marketing strategy revolved around these principles, highlighting the unique features and superior functionality of their products through targeted advertising campaigns and product launches. Coupled with strategic partnerships and an influential social media presence, Apple successfully enhanced its brand visibility, amplified customer engagement, and achieved its marketing objectives.
Key Takeaways!
A marketing strategy is a holistic, long-term plan that allows a business to achieve its marketing objectives by connecting with potential customers and converting them into paying customers.
Marketing strategies are tailored to resonate with a specific target audience, delivering value and creating a unique brand experience to attract and retain customers.
For example, Apple's marketing strategy emphasizes innovation, simplicity, and a premium user experience, which are reflected in its advertising campaigns, product launches, and social media presence.
Why Is Important to Have a Marketing Strategy?
Having a sound marketing strategy is crucial for a number of reasons. It not only helps in identifying and targeting the right customer base but also in shaping the direction and activities of the business. Here are a few reasons why a strong marketing strategy is indispensable:
Understanding the Target Market: Knowing who the customers are, their needs, preferences, and behaviors helps in creating customized marketing messages that resonate with them.
Optimizing the Marketing Mix: A marketing strategy helps in determining the optimal mix of product, price, place, and promotion (the 4Ps of marketing) to satisfy customer needs and achieve business objectives.
Competitive Advantage: A well-defined marketing strategy provides an edge over competitors by leveraging unique selling propositions and optimizing resources.
Sustainable Growth: A strong marketing strategy enables businesses to build lasting relationships with customers, thus ensuring long-term growth and profitability.
What Elements are Included in a Marketing Strategy?
A comprehensive marketing strategy includes several key elements, each contributing to the overall success of the business. Here are the key elements of a robust marketing strategy:
1. Market Research: This involves gathering, analyzing, and interpreting information about a market, about a product or service to be offered for sale in that market, and about the past, present, and potential customers for the product or service.
2. Target Market Identification: This step involves identifying and understanding your potential customers – their needs, preferences, and behaviors.
3. SWOT Analysis: A technique used to identify and assess the strengths, weaknesses, opportunities, and threats in a business or project.
4. Competitive Analysis: Understanding who the competitors are, their strategies, strengths, and weaknesses can help a business create a unique value proposition.
5. Brand Positioning: This refers to the place that a brand occupies in the minds of the customers and how it is distinct from competitors.
6. Target Audience: It's essential to define who your primary customers will be. This demographic is the focus of your marketing efforts and should align with your brand's value proposition.
7. Value Proposition: This is a clear statement that explains how your product solves customers' problems, delivers specific benefits, and tells the ideal customer why they should buy from you and not from the competition.
8. Product Mix: This refers to the total number of product lines a company offers to its customers. It includes various products or services that a business plans to sell.
9. Brand Messaging: This is what communicates your brand's value proposition. It should be consistent across all platforms and reflect the brand's personality, making it resonate with your target audience.
10. Promotional Initiatives: These are marketing tactics that involve the coordinated effort of marketing activities to push a single, unified message out to customers.
11. Content Marketing: This is a strategic marketing approach focused on creating and distributing valuable, relevant, and consistent content to attract and retain a clearly defined audience — and, ultimately, to drive profitable customer action.
12. Metrics & KPIs: These are measurable values used to demonstrate the effectiveness of marketing initiatives in achieving organizational objectives. They help businesses track their progress and make informed decisions.
Marketing Strategy vs. Marketing Plan
It's important to understand the difference between a marketing strategy and a marketing plan.
1. A company's marketing strategy is an overarching idea that guides the planning and execution of all your marketing activities in order to achieve specific marketing goals and business objectives. It includes the core elements outlined above, such as target audience, value proposition, product mix, brand messaging, promotional initiatives, content marketing, and metrics & KPIs.
2. On the other hand, a marketing plan is an actionable document that outlines the specific tactics you'll use to achieve your strategic objectives. It details how you'll implement your strategy, including budgeting, timing, and channels to be used for each element of your campaign.
The key difference between a strategy and a plan is that a strategy outlines what needs to be done, while a plan outlines how it will be done. Having both in place is crucial for any successful marketing campaign.
Benefits of a Marketing Strategy
A well-crafted marketing strategy serves as a roadmap for marketing teams, guiding them toward successful promotion and sales.
It incorporates key brand messaging, ensuring that all marketing efforts align with the overall brand vision. The direction that a marketing strategy focuses on can significantly influence the results of any marketing initiative.
Implementing your own marketing strategy can benefit your organization by:
Ensuring consistency in brand messaging across all marketing channels.
Focusing resources on targeted marketing efforts that align with business goals.
Enabling the measurement of marketing initiatives through defined metrics and KPIs.
Facilitating informed decision-making based on market trends and consumer behavior.
Fostering a competitive edge through strategic positioning and unique value proposition, etc
How to Create a Marketing Strategy?
While creating a marketing strategy, a marketing team needs to pay heed to the following steps –
1) Identify your Goals
Start by defining what you want to achieve through your marketing efforts. These goals could range from increasing brand awareness, driving customer engagement, and growing market share, to improving customer loyalty. Remember, your goals should be SMART – Specific, Measurable, Achievable, Relevant, and Time-bound.
2) Know your Target Audience and Market
Understanding who your customers are and what they want is crucial. Conduct market research to define your target audience's demographics, preferences, and buying behaviors. This will help you tailor your marketing tactics to appeal to them effectively.
3) Focus on the 7 P's
The 7 P's of marketing – Product, Price, Place, Promotion, People, Process, and Physical Evidence should guide your marketing strategy. Each component needs to be considered and balanced to meet customer expectations and business goals.
4) Define Your Unique Value Proposition and key Differentiators
What sets you apart from your competition? Your Unique Value Proposition (UVP) is what makes your product or service uniquely valuable to customers. Coupled with key differentiators, it will make your offer more attractive and compelling.
5) Create your Message
Your message should clearly communicate your UVP and appeal to your target audience's needs and desires. It should be consistent across all marketing channels and resonate with your brand personality.
6) Define your Budget
Determine how much you can afford to spend on your marketing initiatives. Your budget should cover all necessary aspects of your marketing plan, including advertising, content creation, and distribution.
7) Determine your Channels
Choose the channels that your target audience frequents the most. These could be social media platforms, search engines, email, print media, or events.
8) Measure your Success
Finally, you need to track your efforts to understand whether your strategy is working. You can do this by setting Key Performance Indicators (KPIs) and using analytics tools. This will allow you to adjust your strategy as needed to optimize results.
Types Of Marketing Strategies in 2023
1) Brand Positioning Strategy
Brand positioning strategies are critical for establishing a brand's unique value proposition in the consumers' minds. This strategy involves creating a distinct image that separates a product from its competitors.
Identifies unique selling points
Creates a distinctive market position
Enhances brand recall
2) Digital Marketing Strategy
Digital marketing strategies leverage online platforms to connect with potential customers. It encompasses various techniques like SEO, email marketing, and social media marketing.
Increases brand visibility online
Enhances customer engagement
Drives online sales
3) Public Relations Strategy
Public relations strategies manage the spread of information between an individual or an organization and the public. It's about building a positive reputation and relationship with the audience.
Increases brand credibility
Manages reputation
Builds strong relationships with the public
4) Social Media Marketing Strategy
Social media strategies use social platforms to promote a product or service. It involves creating content that is tailored to the social media platform to engage and connect with consumers.
Increases brand awareness
Enhances customer engagement
Drives traffic to your website
5) SEO Content Strategy
SEO content strategy involves creating content designed to rank well in search engines. It's about writing content that people are searching for, thus driving more traffic to your website.
Improves website traffic
Increases visibility on search engines
Enhances user experience
6) Ecommerce Marketing Strategy
Ecommerce marketing strategy involves promoting your online store, driving traffic, and converting visitors into customers. It includes techniques like SEO, email marketing, social media promotions, etc.
Increases online sales
Enhances user experience
Builds customer loyalty
7) Product Marketing Strategy
Product marketing strategy focuses on promoting and selling a product to a customer. It involves understanding the customer's needs and how the product satisfies those needs.
Increases product sales
Enhances customer satisfaction
Builds brand loyalty
8) Inbound Marketing Strategy
An inbound marketing strategy is about attracting customers through relevant and helpful content. Instead of pushing products, it pulls in customers by providing value.
Increases website traffic
Generates quality leads
Improves conversion rates
9) Content Marketing Strategy
Content marketing strategy is about creating and sharing valuable free content to attract and convert prospects into customers. It informs, entertains, and engages with your audience while promoting your brand.
Builds thought leadership
Increases audience engagement
Drives sales
10) Email Marketing Strategy
Email marketing strategy is about sending emails to prospects and customers. Effective emails convert prospects into customers and turn one-time buyers into loyal fans.
Enhances customer retention
Drives website traffic
Increases sales
11) Video Marketing Strategy
Video marketing strategy involves using videos to promote or market your product or service. Videos can be a powerful way to engage with your audience and drive sales.
Increases audience engagement
Enhances brand recall
Drives sales
12) Internal Marketing Strategy
Internal marketing strategy involves marketing your products, services, and brand internally to your employees. It aligns your employees with your brand's values and goals.
Enhances employee engagement
Builds a strong company culture
Increases productivity
13) Search Engine Marketing Strategy
Search engine marketing strategy is about optimizing your website to ensure it appears at the top of search engine results. This helps to increase traffic and generate leads for your business.
Increases website visibility
Generates quality leads
Improves conversion rates
How a Successful Marketing Strategy Works?
A successful marketing strategy works by aligning your business goals with the needs of your target audience. It also involves creating and sharing valuable content, building relationships with key influencers, optimizing search engine results, and leveraging email campaigns to drive sales.
Your marketing strategy should be tailored to fit the unique needs of your business and should be regularly monitored and adjusted as needed. Doing so will ensure that you meet your business goals and maximize the potential of your marketing efforts.
By leveraging a successful marketing strategy, businesses can reach their target audience, build relationships with key influencers, improve search engine visibility, and drive sales. This in turn translates to increased brand awareness and higher revenue for the business.
Marketing Strategy Examples
1) B2B Marketing Strategy
An OEM (original equipment manufacturer) for cars in the US wants to increase sales of their car parts. To do this, they create a B2B marketing strategy that involves targeting automotive repair shops through email campaigns and providing them with discounts for bulk orders.
2) Social Media Marketing Strategy
A fashion retailer wants to increase their online sales. To do this, they create a social media strategy that involves creating engaging content, building relationships with influencers in the fashion industry, and running targeted ad campaigns on Instagram.
3) SEO Optimization Strategy
A health food company wants to increase website traffic. To do this, they create an SEO optimization strategy that involves keyword research, optimizing content for search engine visibility, and regularly updating their website with fresh content.
FAQs
Q. What do you mean by a marketing strategy?
A. A marketing strategy refers to a plan of action for achieving your business goals through the use of various marketing tactics. It involves analyzing the market, creating targeted campaigns, and leveraging multiple channels to reach your target audience.
Q. What are the key steps of a marketing strategy?
A. The key steps of a marketing strategy are identifying your target audience, understanding customer needs and preferences, creating a plan for reaching your audience, setting goals, and tracking results.
Q. What channels are used in a marketing strategy?
A. Channels can include social media networks, email campaigns, SEO optimization techniques, content marketing strategies, and more. Traditional channels such as print advertising and direct mail are also used in some cases.
Q. How do you track the success of a marketing strategy?
A. To measure the success of your marketing strategy, you need to set measurable goals that can be tracked over time. This could include tracking website visits, leads, conversions, or sales. Additionally, it is important to use analytics tools to monitor content performance.
Liked this post? Check out the complete series on Strategy