Strategic planning is a process an organization uses for making its specific business strategies regarding key decisions, priorities, operations, and implementations in a manner that all the stakeholders work towards common organizational goals and ensure favorable outcomes.
Making a strategic plan is a management activity that enables businesses to have measurable objectives and channelize their effective accomplishments. Effective strategic planning would help you in-
Gathering key people and information
Performing effective SWOT Analysis
Formulation of a strategic plan
Execution or implementation of your strategic plan
Constant monitoring of your performance
All in all, strategic planning is inevitable for the success of any business in contemporary times, and this post will unfold all the key idiosyncrasies associated with a results-driven strategic planning process. So, let us get started right away-
What is Strategic Planning Process?
Strategic Planning or Strategic Management is an age-long concept. This process involves the creation of business strategies, implementation, and execution of devised plans that are in harmony with the organization's long-term vision.
Strategic planning involves the accomplishment of various goals and implementation of strategies through an integration of various departments via their specific strategic plans. While it is essential to stay in the present, a firm must lay out future goals with realistic objectives in mind.
Through a clear plan in mind, crucial changes can be made through the company's current action plans. One can look ahead in time, make disruptive changes, and prepare employees for every challenge or opportunity thrown at them.
Any devised plan has to be in full conformation with the budget and resources at disposal, in addition to the dynamic market environment out there. Strategic planning not only alleviates these processes but also empowers them to best utilize organizational strengths and weaknesses by adeptly managing current/future opportunities and threats.
Let us have a look at some of the key benefits of a strategic planning process of an organization-
Benefits of Strategic Planning
Strategic Planning is critical for every organization; it gives one the chance to step back from daily operations and determine the priorities that would eventually decide where the particular business is headed.
A well-designed strategic planning process will help you move towards your mission and vision statements by letting you accomplish different business goals in a well-planned productive manner. The following points highlight the various benefits this practice brings to the table:
1. Strategic planning process lets you be proactive
With a proper strategic plan in mind, one can be proactive, instead of just remaining active in the market. Unfavorable scenes and incidents can be anticipated in advance, and companies can take desired precautions. In addition to this, they can always be one step ahead in their competition.
2. Strategic plan offers the right direction
With a proper destination in mind, it will help the company with a proper sense of direction. With a proper vision and mission charted out in advance, one can effectively establish realistic goals and objectives. Your strategic plan would ease down this process, and therefore, incorporating a strategic planning process in your business maneuvers will optimize your success ratio.
3. Strategic planning process optimizes goal accomplishments
With a proper road-map to follow, the organization's functional decisions can be driven to achieve set goals. Guidance in management discussions will help make fruitful decisions in the allocation of available budget and resources. The strategic planning process will empower your business decisions to be more conversion-driven and hence, your goal accomplishments will be improved.
4. Strategic planning ensures long-term growth and sustainability
With a dynamically changing market and competitive environment out there, companies have to have prior focus and foresight to lay a strong foundation, thereby becoming more durable. The strategic planning process will enable you to incorporate those strategic plans that can ensure a sustainable existence for your organization.
5. Strategic plans optimize profits and market share
In addition to these benefits, strategic planning will help companies increase profits and market share through valuable insights into various domains. Strategic plan approaches can be targeted into optimal marketing and sales for an increased margin of profitability.
Now, after going through all the key short as well as long-term upsides of strategic planning, you must be thinking about how you can make a strategic plan. So, let us delve into seven key steps that can help you make a strategic plan for your business growth.
Here is a video by Marketing91 on Strategic Planning.
7 Steps in Strategic Planning Process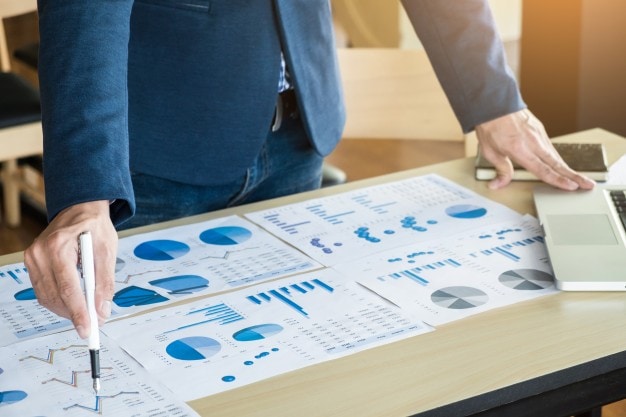 Strategic Planning is crucial. With the future in hand, the upper management f the company has to consider all possible options available.
With proper, thorough, and ample discussion, the management can settle for a strategic plan that proves to be in maximum inclination with the firm's interests. Such a static plan should also be cost-effective and have a high margin of success without financial risk.
Once decided, they can settle for the best layout the strategic planning for the same. Let us go through seven steps of making an effective strategic plan-
Step 1 – Business mission
First of all, the entire process of making a strategic plan is based on a future mission defined by the company. Here, different customers, employees, and managers collectively decide on a reflective mission that is incomplete adherence to the company's goals.
This is the first and the most crucial step in the strategic plan process, giving the organization a sense of purpose and direction. While the company might have a widely defined mission, business units themselves have their specific mission.
For instance, while Facebook focuses on bring the world closer, Instagram (a business unit at Facebook) focuses more on capturing and sharing precious moments with people. So, your business is going to be the base of your strategic planning process.
Step 2 – SWOT Analysis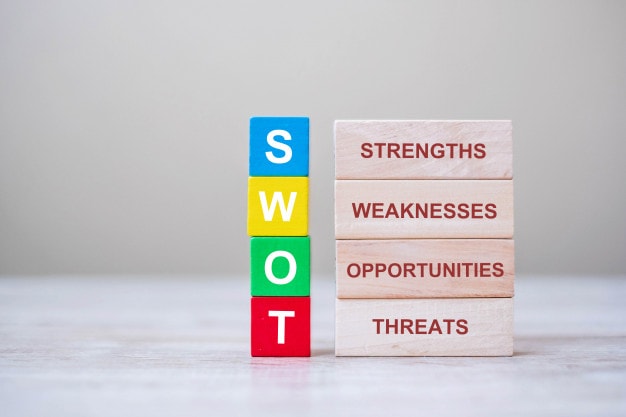 Next, we have the SWOT Analysis in the strategic planning process. These are the various factors that can either play a crucial role in the development or be a hindrance to the same. SWOT analysis revolves around Strengths, Weaknesses, Opportunities, and threats. This analysis is divided into two categories:
The internal environment consists of the strengths and weaknesses that play a part in the industry's micro-level. While strengths are those characteristics that help an organization achieve directions, weaknesses prevent it from achieving those. Once mastered, proper changes can be incorporated.
The macro-level or external aspects consist of opportunities and threats. The organization cannot control these; the former favors the company, while the latter adversely affects its performance.
Step 3- Goal Formulation
In the third set of making a strategic plan for your organization, Goal Formulation comes into play. It has to take place whilst keeping different objectives like profitability, innovation, growth of sales, etc. in mind.
Important criteria include consistency, quantitative evaluation, realistic in nature, and hierarchical nature. The example of IKEA's strategic planning to shift to a circular business by 2030 has been followed by sub-goals to help it achieve this in the stipulated time.
Step 4 – Strategic formulation
Once the goals are set to achieve, the plan of action must be determined through strategic planning. While making a strategic plan around marketing strategy, it revolves around- business strategy planning, technology strategy planning, and Sourcing strategy planning process.
Here, Porter's Generic Strategies have to be kept in mind:
Porter's Generic Strategies role in the strategic plan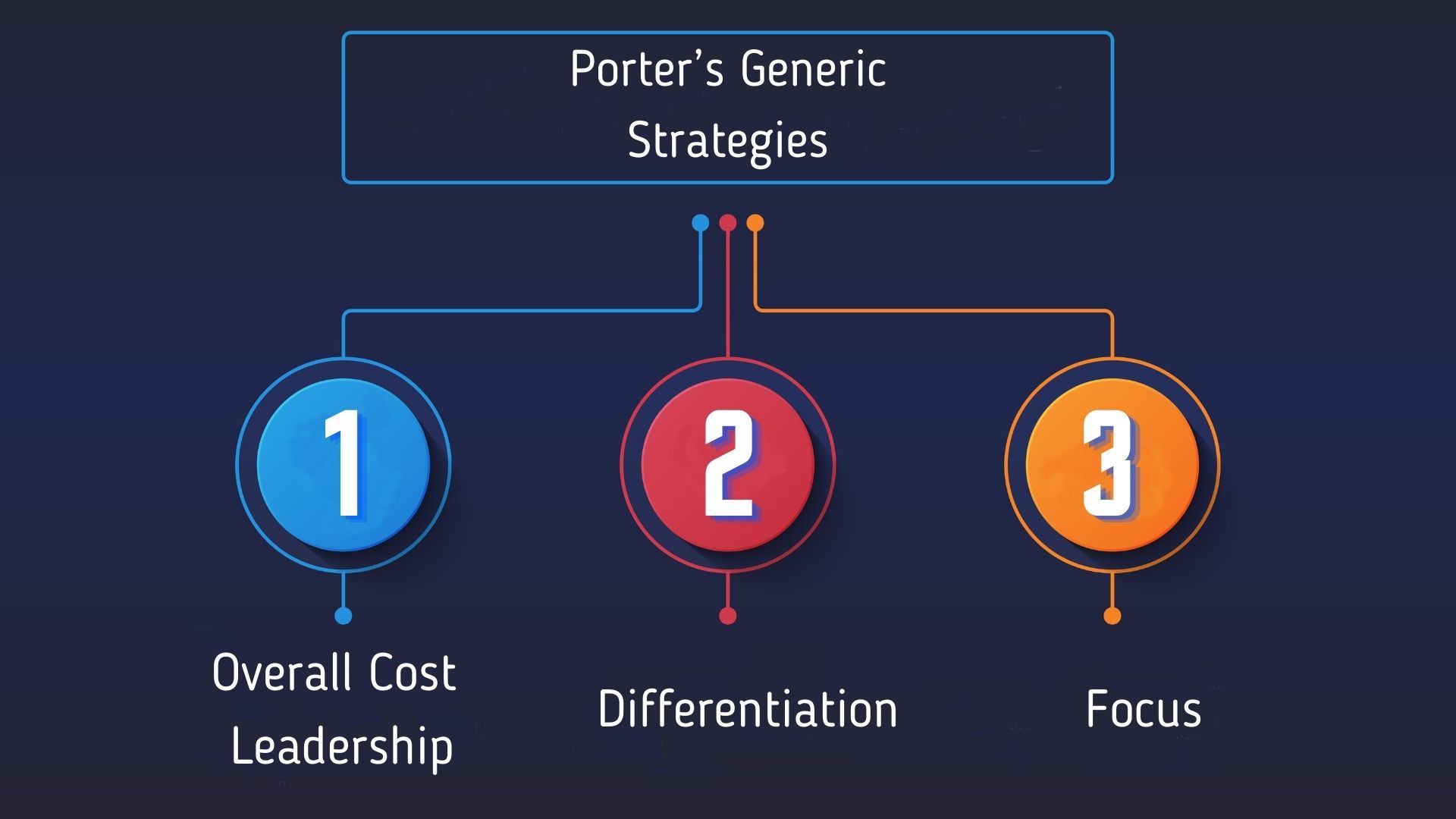 1. Overall Cost Leadership
Through Overall Cost Leadership, businesses look forward to minimizing their production and distribution costs to beat their competitors. Walmart EDLP (Every Day Low Price) is a great example of such a strategic plan.
2. Differentiation
Through differentiation, i.e., businesses target and look forward to high performance in areas that hold importance for customers. Some of the common examples of companies that have quality leadership include Apple and Tesla, as their strategic plan is based upon differentiation strategies.
3. Focus
Businesses look to focus on one or more narrow market segments by making a strategic plan. For example, Marshall, a British designing and manufacturing company that is associated with music amplifiers, speaker cabinets, personal headphones as well as earphones.
Step 5 & 6 – Program Formulation and Implementation
Formulation and Implementation have been clubbed together as one here and they are very crucial in making a result-driven marketing strategy. Despite a good marketing strategy, a brand can be ruined if not implemented properly.
The following elements (Source: MicKensy 7s Model) are instrumental in driving the formulation and implementation of different strategies in the organization:
The McKinsey 7s Model
Shared Values
Structure
Systems
Style
Staff
Strategy
Here, the first three are hard elements that can be easily spotted, defined, and influenced by the management.
The next four elements are soft; they are difficult to influence and are more affected by the culture.
Step 7 – Feedback and Control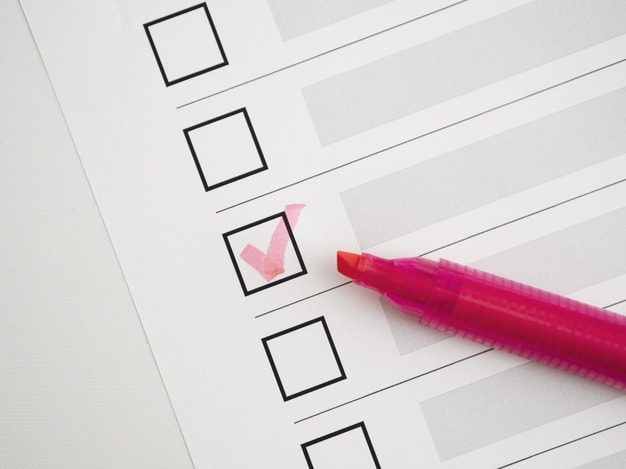 The last step involves monitoring and evaluating the results of new developments after implementing these strategies.
If there are changes in the environment, the organization can review and revise the last set of implementations and strategies, making viable changes. The overall organizational health will depend on the enthusiasm for change and willingness to adhere to new goals and challenges.
Strategic planning made for feedback and control revolves around responses, opinions, surveys, comments, ratings, results, advice, ideas, etc, that a business gets.
Summary
This wraps up the discussion on Strategic Planning which is nothing but an inevitable practice that is being used by an increasing number of companies now, as it is the backbone for the formulation and execution of effective organizational decisions to get favorable outcomes.
While strategic planning requires a significant amount of time, resources, and budget, a laid-out strategic plan results in employee satisfaction, goal completion, and eventual growth of the company.
How important do you consider strategic planning for ensuring the success of a business?
Liked this post? Check out the complete series on Strategy