Behavioral segmentation groups your website visitors together based on their shared, specific behavior patterns, such as their purchasing habits. For example, if you notice that a certain group of customers makes purchases on your website during a specific time each year, you can employ behavioral segmentation to focus on this group by offering them relevant discounts and promotions.
Behavioral segmentation can help you comprehend why some customers don't revisit your website or what kind of content attracts them. You can use behavioral segmentation to aim your customers with ads and promotions that will probably result in conversions. It helps increase customer satisfaction, and customer lifetime value as well as optimize marketing strategy as per each customer journey stage.
What is Behavioral Segmentation?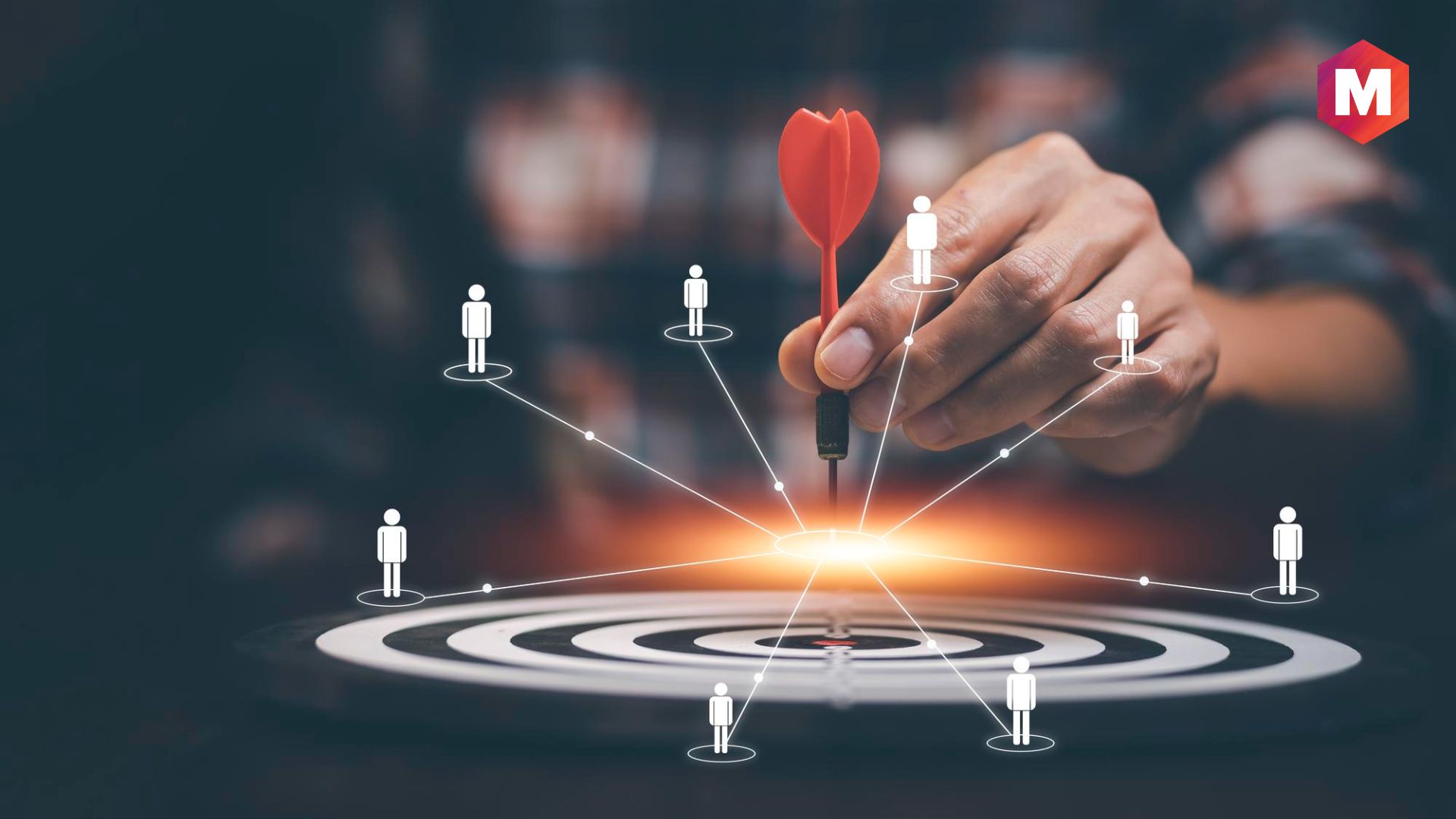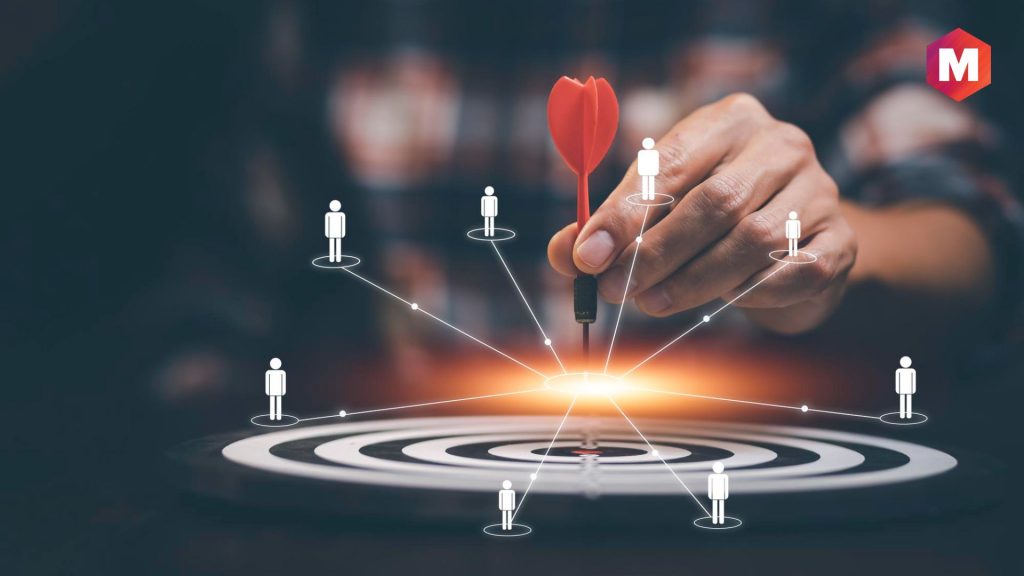 Behavioral segmentation involves categorizing customers according to their exhibited behaviors. Such behaviors may encompass the type of products or content they consume, as well as the frequency of their interactions with a website, app, or business.
As marketers, we have to balance psychology and business by using marketing theories to predict how customers will respond to a campaign. By observing customers' actions, we use customer loyalty behavioral segmentation to send tailored messages.
For instance, mobile marketers have the ability to target specific audiences with tailored messages and campaigns by using customer data based on their behavior. This is a common practice in mobile marketing. By using behavioral data, marketers can also influence future customer behaviors.
Behavioral Segmentation Examples
1) A TV network used behavioral segmentation to identify its most loyal viewers.
The network improved its ability to provide viewers with content that matched their interests by grouping them into categories based on their frequency of watching shows.
2) An online clothing retailer used behavioral segmentation to identify their most frequent shoppers.
The retailer was able to increase sales by creating advertisement campaigns tailored to specific customer purchase preferences.
3) An auto parts manufacturer used behavioral segmentation to identify its most loyal customers.
The manufacturer increased their sales by creating customized product promotions based on customer purchase frequency and the types of items they bought.
4) A restaurant chain used behavioral segmentation to better understand its customer base.
Through the analysis of customers' food orders, trends were identified, and promotions were targeted more effectively.
Why is Behavioral Segmentation Important?
Segmented campaigns have a 50% higher click-through rate than non-targeted campaigns.
By analyzing the behavior of users, mobile marketers can create targeted messages and campaigns that cater to specific audiences. The advantages of using behavioral segmentation are:
Personalization – Behavioral segmentation goes beyond just identifying the preferences of a specific group of customers for a product or service. It aids in comprehending the channels they frequently use and the messaging that resonates with them. This understanding can help increase your conversions.
Budget allocation – By understanding the spending habits of different segments, you can focus your efforts more effectively on targeting those that spend the most.
Forecasting – By analyzing the patterns in each segment, you can recognize trends and make better plans for the future.
What are the types of behavioral segmentation?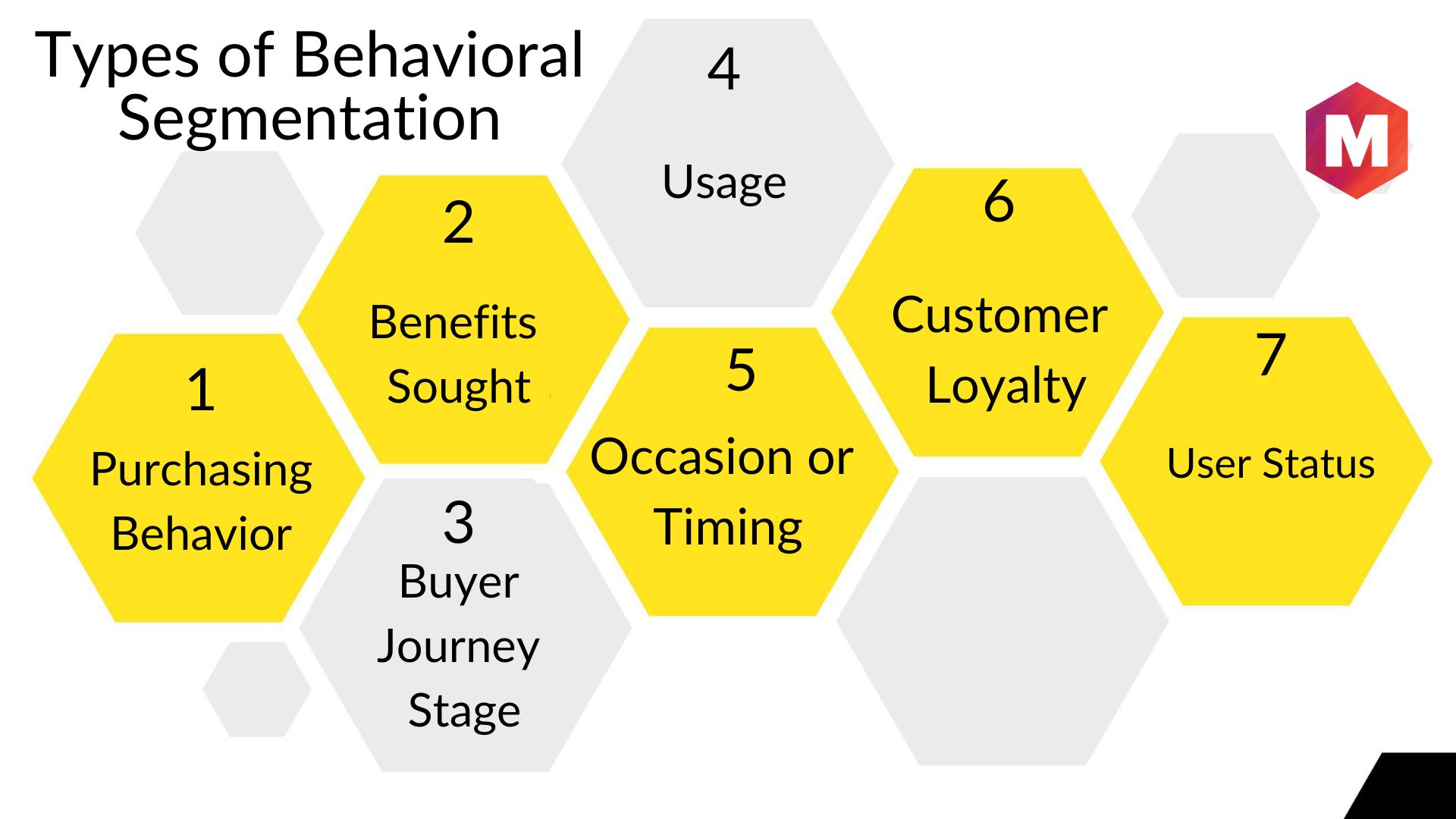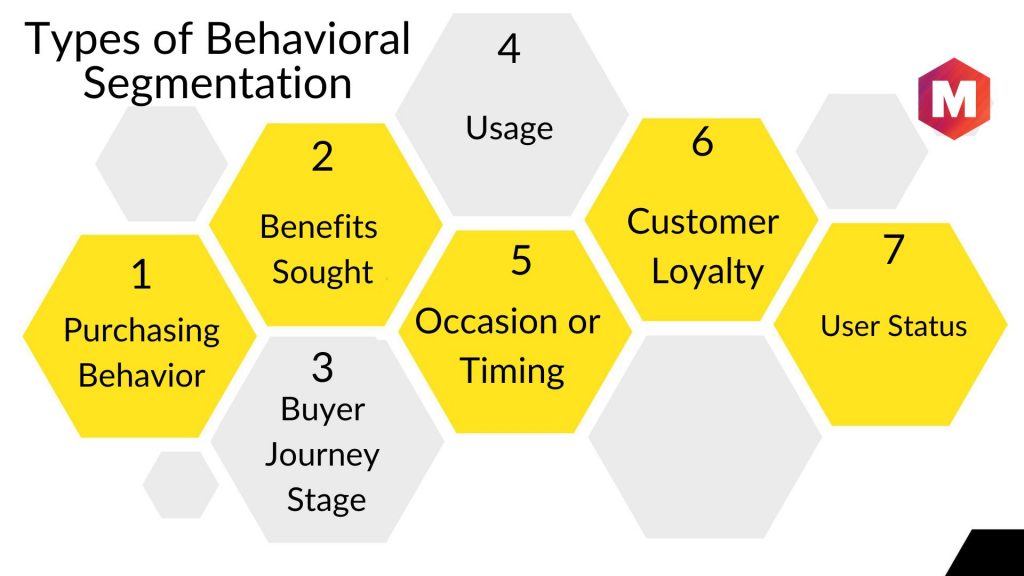 1) Purchasing behavior
The segmentation approach based on purchase behavior examines the distinct actions that customers take during the process of making a purchase decision.
This information assists businesses in comprehending various aspects, including how customers make purchase decisions, the intricacy of purchasing, the role of the customers in the process, obstacles during the path to purchase, and which behaviors are the most and least indicative of purchasing.
Four main categories can be used to classify purchasing behavior-
Complex
Variety-seeking
Dissonance-reducing
Habitual
2) Benefits sought
When people look up a product or service, their actions can give us important information about which features, benefits or problems matter most to them. If a customer cares more about specific benefits than others, those benefits are the main reasons why they're buying.
Two prospects may have the same demographics but different values when it comes to what they consider important benefits and features. Similarly, two VPs of marketing may focus on different aspects depending on their brand's requirements.
If you send the same message to multiple customers who are looking for the same product but for different reasons, your message may not be effective for the majority of customers. This can result in a waste of time and resources.
3) Buyer journey stage
By dividing customers based on their behavior and the stage they are in their purchasing process, you can streamline communication and individualize interactions to enhance the likelihood of conversions. Furthermore, it assists in recognizing any stages where customers may be stuck, enabling you to enhance your marketing strategy in those areas.
It can be challenging to categorize customers by their journey stage as they tend to interact with content from different stages, through various channels, at different times, and without any specific sequence. As a result, it is not sufficient to rely on a single behavior or interaction to determine which stage of the journey a customer belongs to.
It is not accurate to assume a consumer's buyer journey stage based on only one or two of their behaviors. Instead, it is important to consider all of their actions to gain a more realistic view of their behavior and determine their current journey stage.
4) Usage
The category mentioned can strongly predict whether customers will remain loyal or leave, and as a result, affect their lifetime value.
The data analysis includes examining the following factors regarding customer behavior:
The way customers utilize your product or service
The frequency of their usage
How long do they engage with it
Which features they use
The number of users from the same account who uses it.
There are three types of usage-based segments: Heavy users (also known as Super users), Medium users (also known as Average users or Mid-level users), and Light users.
Heavy users are your most dedicated and active customers who spend the most time using your product or service and make the most frequent purchases.
Medium users are customers who use or purchase your products on a semi-regular basis, often based on time or events.
Lastly, light users are customers who use or purchase your product much less than other customers, sometimes only doing so once.
5) Occasion or timing
Behavioral segments based on occasion and timing usually include events that are either relevant to a large group of people or specific to an individual.
Universal occasions — Identify common purchasing behaviors among your customers or target audience within a specific demographic, such as during holidays or seasonal events.
Recurring-personal occasions — Generate a report of a customer's regular purchasing patterns that occur consistently over time, such as purchases made for birthdays, anniversaries, or every month.
Rare-personal occasions — The purchasing behavior of some customers may be characterized by irregular and spontaneous patterns that are harder to predict, such as purchases for weddings or road trips. Output Language Code: EN
6) Customer loyalty
Loyalty among customers is closely linked to purchasing behavior, usage, and timing. Habitual customers are those who consistently require the product or service offered by a business, whereas loyal customers continuously buy that specific product or service.
Segmenting your customers by loyalty is crucial because loyal customers are responsible for most of your revenue, are more cost-effective to retain than acquiring new customers, and have a higher lifetime value. To maximize their value, you should focus on finding more customers like them.
Behavioral segmentation of customer loyalty could provide useful insights into key questions, such as:
Can you identify the important actions customers take that result in loyalty?
Who among your customer base would be the most suitable for loyalty or advocate programs?
What strategies can you use to ensure your most loyal customers remain satisfied?
What methods can you use to extract maximum value from your most devoted customers?
7) User status
One way to categorize customers based on behavior is through user status. Common types of user status include –
Non-users
Prospects
First-time buyers
Regular users
Defectors
Behavioral Segmentation Strategies
1) Retarget Desired Behaviors
Looking at someone's past behavior is usually a good way to predict their future behavior. While it's not a guarantee, understanding what someone has done before can give you ideas about what they might do in the future. This is similar to how economists use past data to make predictions, and marketers use user behavior to learn about trends.
2) Use Location-Based Segmentation
One way to effectively market to users is by utilizing their location data. Geofencing is a tool that sends push notifications to app users when they are within a certain location, such as one mile from your business.
Many ride-sharing applications are popular these days. They analyze the behavior in particular neighborhoods to predict demand and prices. For instance, areas with late-night bars need more drivers when the bars close, and prices go up to match the demand.
3) Price by Device
With reduced face-to-face interactions in business, marketing now heavily relies on gathering clues to determine customer profiles. An example is analyzing device data and comprehending how various audiences buy these devices. Customers who can afford expensive products tend to buy Apple products, while those with less money usually opt for less expensive PC and Android devices.
4) Suggest Complementary Features or Products
Segmenting customers based on their behavior can aid in creating recommendation engines that can effectively predict which products or features individual customers are likely to be interested in. Walmart recommends products based on past behavior and purchase history of similar segments, which comes from behavioral segmentation. This accounts for 35% of sales.
5) Perfect Your Timing
It is important to understand how often users interact with your app, as this can determine the appropriate timing for sending push notifications, email marketing, or other messages to encourage them to return. While some users stick to a strict routine, others are more adaptable.
By analyzing the data on how different groups of people behave, you can find the best times to send messages and uncover helpful information.
6) Get Historical
Using past behavior, even though it may not be completely accurate, can help predict a customer's journey and aid in guiding them toward their end goal more efficiently.
One example of this is Google Drive's "Quick Access" dashboard, which displays frequently opened documents. The dashboard includes both recently opened documents and documents that are typically opened at the time of accessing Drive.
To effectively reach their large audiences, companies like Google or Amazon need to use behavioral segmentation. With the understanding of the definition, strategies and examples, you can now plan how to implement behavioral segmentation into your marketing.
What are the benefits of behavioral segmentation?
1) Improving target marketing accuracy
Companies can customize marketing messages based on behavioral differences among groups. For example, they may create marketing materials specifically for prospective customers and develop a different version for current clients.
Using behavioral segmentation can assist in identifying the target audience based on their interests such as travel enthusiasts, sports fans, or individuals above 25 years old, depending on the products or services offered.
2) Providing a more personalized experience
You can use behavioral segmentation to analyze your target audience or customer base and personalized interactions. Instead of sending generic mass email marketing messages, you can personalize each customer's experience based on their interests, age, or income.
One way to catch consumers' attention and create a positive brand association is by personalizing sales emails with the customer's name or recommending a muffin add-on in an app for a regular coffee order.
3) Identifying engaged customers from those who are uninterested
Using behavioral segmentation can assist marketing teams in identifying their target audience and determining the percentage of engagement with their advertisement. This can ensure that the message is effectively delivered to the appropriate customers.
4) Helping you save money
Behavioral segmentation data helps you understand your potential customers better, resulting in more cost-effective marketing in the future. This approach can help you save time and money by reducing the resources required.
By identifying your employer's target market or generating new leads, it is possible to focus marketing efforts on specific interested audiences who are more likely to make a purchase. This can be beneficial for you and other members of the marketing team.
5) Building brand loyalty
By using behavioral segmentation, you can pinpoint a specific group of people to focus on. This helps you provide them with the necessary assistance, interaction, and gratitude throughout their shopping or client journey, regardless of whether they are buying something at the moment.
By inspiring occasional clients to become advocates for your brand, they can potentially spread their favorable experiences with others. This can generate word-of-mouth promotion to aid in growing your customer base.
Any business can harness the power of its existing customers by utilizing customer loyalty segmentation with accurate data.
Behavioral Segmentation for Your Mobile Marketing
With a clear understanding of behavioral segmentation and its usage, you can now optimize your users based on their exhibited behavior. Marketers must comprehend the distinct customer journey for every individual to ensure effective targeting.
Effectively communicating with the targeted audience at the appropriate moment is a complex process. Mobile marketing strategies involve various components, and to personalize the user experience while reaching a wide audience, successful marketers use behavioral segmentation.
Conclusion!
Ultimately, behavioral segmentation allows businesses to understand their current customers better and customize marketing strategies based on their behavior.
Behavioral segmentation methods help businesses create more personalized experiences, increase customer loyalty, and ultimately drive customer purchases and revenue growth.
FAQs –
1) What are behavioral segmentation methods?
Some of the methods to do behavioral segmentation are –
Purchasing behavior
Benefits sought
Customer journey stage
Average customer's location
Usage
Occasion or timing
Customer Satisfaction
Customer Loyalty
Interest
Engagement-level
User status
2) What are behavioral segmentation variables?
Benefits users get from your product –
The degree of brand loyalty
Customer engagement
User status
Usage rate
Activities, interests & opinions
3) What is the role of behavioral segmentation in marketing?
It provides valuable insights about different customer segments that helps marketers in grouping customers based upon their specific behavioral tendencies that optimizes conversions of target customers.
Liked this post? Check out the complete series on Segmentation