Segmentation generally divides a population based on variables. Thus demographic segmentation too has its own variables such as Age, gender, family size, income, occupation, religion, race and nationality.
The 5 main types of variables used for Demographic segmentation are as below.
Age
Life cycle stage
Gender
income
Religion race and nationality
Each of the above variable is discussed in detail below. Demographic segmentation is one of the most commonly used forms of segmentation amongst the 4 types of segmentation. The variables used for Demographic segmentation help divide a large population into specific customer groups.
Each and every individual has an age, gender, income etc. Thus for mass marketing, this becomes one of the best ways to diversify individuals. Demographic Segmentation also helps in analyzing lots of data in shorter time for market research as well as for promotions.
Market Demographic Segmenting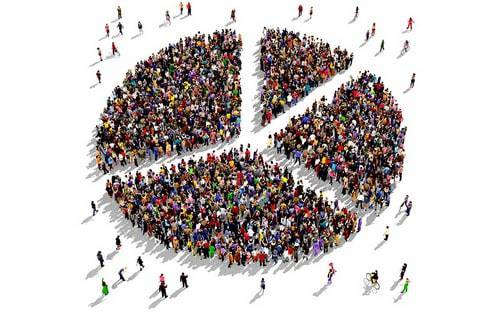 1) Age 
One of the first variable of demographic segmentation is age. This is because consumer needs and wants change with their age. A youngster might want a mobile phone but an earning professional will want a communicator with lots of extra features such as email and file editing support. Thus even though the basic functionality of the product is same, the wants are different. This is the primary reason for using age as a variable in demographic segmentation.
2) Life cycle stage of Demographic Segmentation
Closely connected to age, the life cycle stage of a consumer group defines what will be the need of that particular customer. Example –  a toddler will need infant food, a child will need dolls and toys, a middle age customer will need insurance and investment plans and finally an old age person might need retirement plans. This demographic segment cannot be said as an "Age" segment because these customers are in specific phase of their "Life".
3) Gender
Men are from mars and women are from Venus. So naturally their preferences differ. Where men might want the latest in technology, women might desire the latest in Fashion (point is debatable nowadays) There are several products which are gender focused such as deodorants, clothing, accessories, footwear and even automobiles. Women are gaining acceptance even in under developed economies and this has seen an increasing focus on women along with men as customers.
4) Income
BMW, Mercedes, Ferrari, these cars have customers who are much more quality and luxury conscious then others. So what would be the target group of such products? The high income customer. Similarly, in FMCG, you will see many brands and products which are targeted towards the Sec B and Sec C customers. Thus, income too can be used to define a customer group from a population. These customers are generally divided as Sec, Sec B and Sec C customers depending on their income and purchasing power.
5) Religion, Race, Nationality
Ever seen the advertising of a mass brand like Coca cola or Pepsi. Although these two brands have their own global advertising, but they also have specific advertising in each country which they enter. The messages of these advertisements are completely different and are based on the local customs, religions as well as nationality. With the tremendous increase in international business, there is also an increase in the usage of demographic segmentation on the basis of religion, race and nationality.
How to conduct demographic segmentation?
Identify the demographics of people who will most likely buy your product. If you were selling dresses, you would automatically remove the demographic male from your target market, because males don't wear dresses. Well, some do, but that's beside the point. So that's the first step, identify the basic demographic of people who will most likely buy from you. If you sell an XYZ product, who will buy? Sex, age, income, marital status are some of the common factors to be consider in your Demographic Segmentation.
Identify the second demographic. Within each main demographic, there are sub-demogrpahics. Age, for instance, can be divided into infancy, early childhood, childhood, preteens, teens, late teens, you adults, adults and so on and so forth.
Now you get to do it again and filter even further. Are these young adults classified as students? What kind of student? College? If they are working adults, what are their professions?
Two people live in the same house, are they just living together or actually married? Are both working? Only one working? Any children? If only one works, who is the homemaker? What are their combined incomes and individual incomes? Is their child going to private school?
Do they have partners? Have they adopted any children?
Where do these people live? Suburbia? Gated community? Apartments? Condos?
Do they live in their own homes? Renting? Company-sponsored housing? Halfway house?
Depending on what your product is, you can figure out who will buy it just by looking at all these different factors. It does kind of look confusing; just use some kind of profiling software to make all the calculations for you.
Here is a video by Marketing91 on Demographic Segmentation.
Example
A good example of a business that recognizes its demographic market is the friendly restaurant nearby. At lunch, the restaurant will mostly play host to the business crowd, including executives, young adults to the elderly, male as well as female. At dinner hours, the restaurant will mostly be a dating place or a family eatery including retirees, children, friends, relatives etc.
So here there are two basic demographic segmentation types. Professionals Demographic Segmentation and leisure class Demographic Segmentation. So during work hours, your restaurant should be geared to work faster than normal for service. The business crowd only has an hour to eat, after all. What can be done to manage the rush of work during lunch hour and give optimum service to the working class? Perhaps you can allow people to reserve seats and pre-order their food, along with the added information of the time they should be expected to come in. Being a restaurant for working people, you are probably serving employees who work nearby.
On the other hand, to manage the leisure type of customers, you need more variety that they can experiment with, which might take time to cook as well. They have leisure time in hand to wait for the dishes. Changing the order of how things are done will be a hard thing to swallow mainly because they are used to their own routines and your own set routine.
You can see how useful profiling can be for your business. Compiling all the data, sub-data and then sub sub sub data can be a bit confusing though. Unless you yourself are a statistician, it would ultimately be better for your company, to hire professional researchers to mix and match all that demographic data for you to form a demographic segmentation. A cheaper, and more proactive approach, would be to buy profiling software and let the computer do the compiling. Once you have the data, all you'll have to do is update the demographics from time to time. This will also save quite a bit of money for you, because you do not have to rely on paid consultants every time you need your Demographic Segmentation data
Thank you for reading out article about Market Demographic Segmentation