Beliefs, values, lifestyle, social position, views, and hobbies are just a few of the factors that may be used in psychographic segmentation to divide your consumer base. In contrast to behavioral segmentation, this method focuses on the drivers of behavior rather than the actions themselves.
Moreover, although being distinct, it often coincides with demographic segmentation as both demographics and psychographics may help you learn more about your target audience. Comparatively, psychographic data is qualitative whereas demographic data is quantitative. One of the most crucial ingredients in creating a complete picture of a consumer is an insight into their psychological traits.
What is Psychographic segmentation?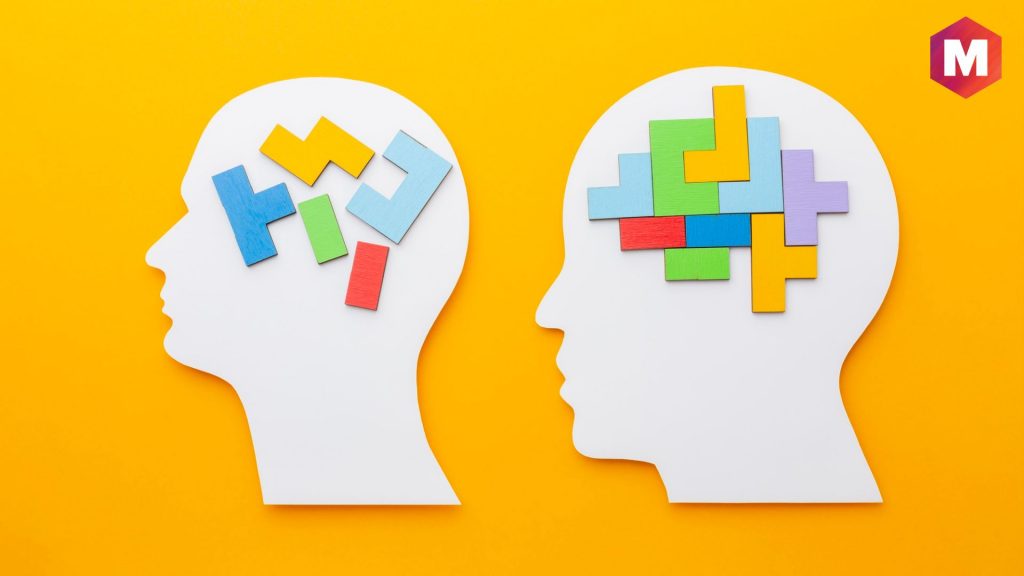 Psychographic segmentation splits consumers into several groups based on internal traits such as personality, values, beliefs, lifestyle, attitudes, hobbies, and social class to sell effectively. It's important to recognize your clients as persons and not just as consumers of your brand.
Segmentation results in a 3 to 5% boost in profits on promotional sales. To achieve revenue growth of up to 760%, companies need to execute segmented campaigns properly.
Therefore, it is important to implement such campaigns to keep up with the competition. By implementing segmentation, companies can increase their understanding of customers' personalities by 60%.
Key Takeaways!
Psychographic segmentation is the process of categorizing consumers based on shared psychological attributes.
It's a strategy that enables companies to tap into understanding customer's personalities, values, attitudes, and lifestyles.
Effective implementation of psychographic segmentation can lead to significant increases in profits and growth.
Psychographic Segmentation Examples
Some examples of psychographic segmentation-based marketing efforts are –
1) Britannia
Britannia appeals to health-conscious parents who want the best nutrition for their kids. By connecting food with brain development and learning, Britannia reinforces its brand in a positive light.
Britannia offers healthy food, delicious snacks, and an array of products that can satisfy all the needs of parents and growing children.
2) Starbucks
Starbucks appeals to people who value convenience and quality. People who enjoy the Starbucks experience appreciate it as part of their daily routine and use it as a way to relax and recharge. Starbucks caters to people who value convenience, quality, and the coffee experience.
The company has taken full advantage of digital to build relationships with its customers. Starbucks uses loyalty programs, rewards, and mobile apps as a way to differentiate its product offerings from competitors.
3) Harley Davidson
Harley Davidson targets motorcycle riders who seek a lifestyle brand that embodies rebellion and individuality. Customers have the option to personalize their bikes and have access to advanced technology at a high cost. The brand is not limited to the US market but is also expanding to emerging markets that appreciate the rebel image and attitude.
The Harley Owners Group (HOG) is a community of people who strongly identify with the Harley brand and the associated lifestyle of love for the open road and a "born to ride" attitude. The target demographic for these bikes is individuals aged 25-40 who have an upper-middle-class status and disposable income. They have a strong passion for bikes.
Why is Psychographic Segmentation important?
When you use psychographic segmentation in marketing strategies, it helps you in finding answers to –
What matters most to your consumers
What kind of issues do they experience
Why do they behave that way?
How to interact with clients in a manner that they will value
To provide your target audience with the most value and establish a more personal connection with them, you may modify your offerings, marketing messaging, and advertising channels based on those considerations. The likelihood of a sale increases when you know prospective consumers better and can provide them with more personalized advertising.
Difference between Demographic Segmentation vs. Psychographic Segmentation
Demographic segmentation categorizes potential audiences based on specific characteristics such as gender, age, and wealth. On the other hand, psychographic segmentation categorizes audiences based on their personality and values. Market researchers use psychographic traits to develop and position their products and marketing messages for specific target markets.
To develop their marketing strategies, marketers conduct market research using demographic and psychographic data. By utilizing both psychographic and demographic segmentation, they can enhance the buyer personas that drive brand positioning, product development, and marketing messaging.
Let's have a look at the table below to understand the difference:
https://docs.google.com/document/d/1R1HES6ih7zkW3i75IEuv1bMcyplF-f5ljd9sPVbN29w/edit
add this table
5 types of Psychographic Segmentation Variables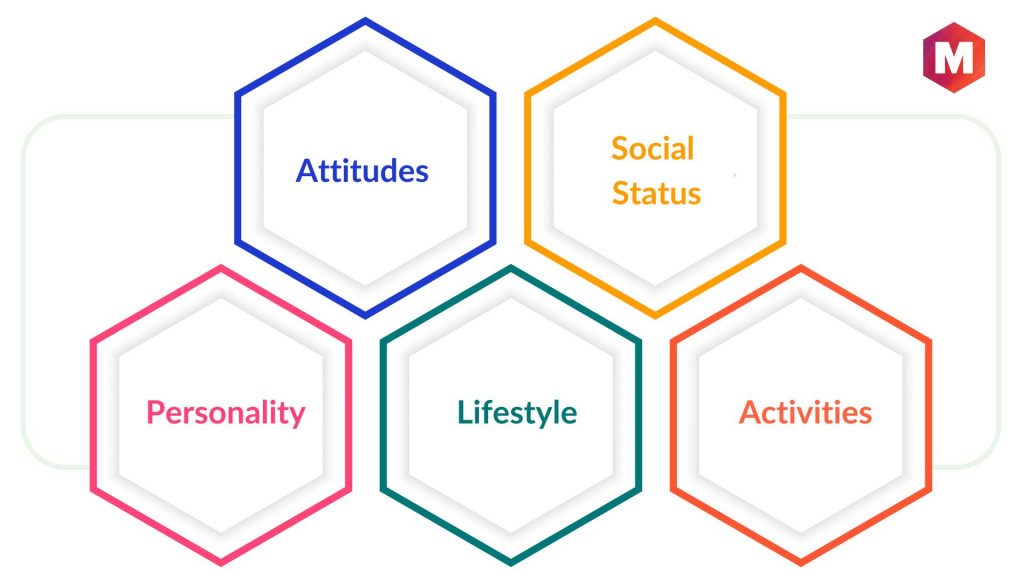 The five psychographic segmentation variables are –
1) Personality
Personality traits influence purchasing decisions, encompassing a variety of attributes such as openness, conscientiousness, introversion, and extroversion.
The personality OCEAN
One of the most commonly used and easy-to-remember ways to describe a personality is through the acronym OCEAN.
The personality trait model known as OCEAN consists of 5 aspects, each with a range describing the trait from high to low. Behavioral research in marketing, known as psychographic segmentation, uses these aspects to analyze how they impact the behavior of buyers.
Openness – Individuals who are highly receptive to novel concepts tend to enjoy discovering and innovating. Conversely, less receptive individuals tend to be less imaginative and resistant to change.
Conscientiousness – This category refers to conscientiousness or mindfulness. Those who score high in this category enjoy organizing and thinking ahead while considering others. Those who score low in conscientiousness dislike schedules or structure and may be less thoughtful of others.
Extroversion – Extroverted people tend to be sociable, seek attention, and enjoy engaging with others, while introverted people prefer to spend time alone, speak less often, and tend to remain in the background.
Agreeableness – Someone who is highly agreeable is characterized by their cooperative and kind nature. Conversely, people who exhibit low agreeableness tend to be distrustful and disinterested in others.
Neuroticism / Emotional Stability – Neuroticism is a trait that describes a person's emotional stability. If someone has high neuroticism, they may be moody, anxious, or irritable. Conversely, someone with low neuroticism would be more stable, relaxed, and experience less stress.
To understand the personality traits of their target audience, marketers utilize methods such as surveys and the OCEAN Five Factor personality test.
2) Attitudes
The attitudes of a buyer can be influenced by their cultural background, family origin, social conditioning, etc.
Although two people may share the same personality traits, their attitudes toward life can greatly differ. These attitudes can influence how consumers behave and are often linked to specific beliefs and values, such as optimism or pessimism.
If you want to evaluate attitudes, you have the option to ask consumers about their beliefs and attitudes, or use a Likert scale to have them rate characteristics on a scale from "not essential" to "very essential."
Although conducting more in-depth research can uncover underlying subconscious motivations, a single survey given to your audience can still provide useful insights that can be promptly utilized.
3) Lifestyle
Marketers gather feedback from individuals to gain a deeper understanding of the challenges they face in their daily lives. From athletes and business professionals to students, race car drivers, and soccer moms, everyone has their own unique set of circumstances and obstacles to overcome.
A person's lifestyle can involve their job, interests, or how they live. This can encompass activities such as volunteering at a church, residing in an apartment, working in an office, or traveling, which demonstrate the things that individuals enjoy doing to enhance their lives.
A person's habits form patterns in their daily life and are therefore part of their lifestyle. Marketers leverage these habits to design products and services that cater to their needs, such as creating healthy meal delivery services for busy professionals or providing gym memberships for health-conscious individuals.
4) Social Status
The income and social status of a person typically affect their purchasing decisions, whether they opt for necessities or luxury items, or something in between. Recognizing the social status of your clientele can guide your marketing strategies, pricing, messaging, and distribution channels.
Individuals tend to associate themselves with a social group, which often includes their social class. One's income plays a significant role in determining their social group and consequently affects their purchasing decisions.
One way to divide people into social classes is by studying demographics such as income level. Typically, people are classified into one of five categories, upper class, upper middle class, middle class, working class, and lower income. Each of these categories has distinct beliefs and behaviors that impact their purchasing preferences.
5) Activities, Interests, and Opinions (AIO)
To better target your customers, it's important to understand their interests and habits. Do they enjoy politics, watching movies, or staying up late?
These factors, along with others, can be used to create distinct customer groups with different psychographic profiles.
Which activities do people engage in and where do they spend their money? This will impact the types of products they purchase.
People engage in various categories of activities such as sports, hobbies, community events, and entertainment. By learning more about your audience's interests, you can identify their needs for products and services, or identify gaps in the market where no current solutions are offered.
One example of this can be seen with the rise in popularity of subscription boxes, which provide customers with curated products or experiences tailored to their interests.
How to collect Psychographic Segmentation Data
The process of collecting psychographic data is a bit different than collecting more objective data, such as demographics. It requires looking beyond the most obvious, obtainable information and digging deeper—to the data beyond the data.
1) Send out surveys
Surveys are the most straightforward method for obtaining segmentable psychographic data. Since psychographic information is qualitative, it is best gathered by employing open-ended questions and open-text responses. You need to keep it brief and to the point. A combination of lengthy open text and multiple-choice questions should be completed in no more than five minutes. This procedure involves two steps:
To start, ask customers what they want from you to make their lives better. Remember to customize the question according to your industry. For instance, you can ask about their biggest challenges and goals in areas related to your brand. This will help you gather valuable insights.
In the refinement stage, the goal is to understand each customer as an individual. You can ask questions such as "If you could only choose one [product or service], which one would you be most interested in?" with a list of options as tick boxes. Another option is to use a Likert scale where customers rate their experiences with your brand or product, ranging from "strongly agree" to "strongly disagree".
2) Interview customers
Talking is beneficial, and doing in-person, phone or video interviews allows you to detect speech or body language signs that written responses miss.
Interview both happy and upset consumers since they often have better insights about what needs to be improved. Positive testimonials may be easily gathered from happy clients.
3) Organize market research panels and focus groups
A broad variety of individuals from all backgrounds and demographics will be available for you to recruit. You choose who to ask and what information you need. A group of individuals who have been chosen to take part in your survey is known as a market research panel or online sample. You may choose them from a pool of respondents who have consented to be contacted by a market research organization to participate in surveys.
In place of conventional techniques like focus groups or interviews, online survey software is being used more preferably. Your company can quickly and easily conduct market research studies for specific target groups, sectors, or demographics using various options. Online samples may have a better response rate compared to other methods, such as using existing customer databases because the respondents have already agreed to be part of a panel.
4) Use digital analytics
To understand the audience engaging with your brand, you can analyze your website's analytics, browsing data, and social media activity, such as likes, retweets, and shares.
Social media listening can also help you determine the sentiment and public opinion about your brand by analyzing text responses.
Brands that have Excelled in Psychographic Segmentation
Great brands excel at dividing their target audience based on their lifestyle, attitudes, and values – this approach is known as psychographic segmentation. Some of the brand examples you should go through to understand what is psychographic segmentation better are-
Microsoft understands the specific needs of professionals in certain industries to achieve success.
Harley Davidson understands and appeals to the mindset of riders, taking into account their appearance, mindset, and desired travel experiences.
Snapchat knows the interests of young people when it comes to posting content that disappears.
Patagonia uses psychographic segmentation to analyze the needs of individuals who enjoy outdoor activities and are concerned about environmental issues.
Pros and Cons of Psychographic Segmentation
Pros
You will gain a better understanding of your customers' needs, wants, concerns, motivations, and aspirations.
Improved communication skills will enable you to speak in a language that your customers can understand better, connecting with them on a personal and emotional level.
Your customer's life is the new focus, and you aim to improve it, rather than just highlighting the benefits and features of your product or service.
The information provided will allow you to understand the way your customers utilize your product or service, as well as the reasoning behind their usage.
You will have the option to personalize your product to cater to specific persona groups.
Attitudes and opinions are included in it, making it more comprehensive than behavioral segmentation.
Cons
The process of psychographic segmentation can be time-consuming and require a lot of resources.
Incorrect interpretation of data could lead to misclassification of customers.
It can be challenging to keep up with changing customer attitudes and lifestyles.
The data required for psychographic segmentation can be hard to gather and analyze.
It may not be as effective for products or services that are not heavily influenced by personal attitudes or lifestyles.
Best Practices of Psychographic Segmentation
Implementing psychographic segmentation is integral to creating marketing campaigns that resonate with your customer base. This process involves the collection of psychographic data, which gives valuable insights into customer personas and aids in the development of personalized marketing campaigns. Some of the practices you need to follow are:
Collect psychographic data and behavioral data to understand customer motivations and create marketing campaigns that are based on personal preferences
Use market research data to create customer personas for a result-driven psychographic marketing campaign
Engage your marketing team in the collection and analysis of psychographic data.
Leverage psychographic segmentation to create tailored marketing campaigns.
Continually update customer personas based on evolving behaviors and preferences.
Conclusion!
Psychographic segmentation helps you in segmenting customers so you can send targeted messages to customers based on their attitudes, personality traits, and purchasing habits. By gaining insight into how your customers think, feel, and shop, you can take action to engage the target market in a more result-driven manner.
By identifying the essential requirements of their customers, brands can customize their marketing strategy to target the appropriate audience. Psychographic segments can result in a boost in sales, stronger brand commitment, and better engagement with clients.
FAQs
1) What does psychographic segmentation mean?
Definition – Psychographic segmentation is a type of market segmentation that involves categorizing a target audience into different groups based on their values, attitudes, and way of life.
2) What to do after you collect your psychographic data?
To move forward, collaborate with your teams in recognizing the customer insights that align with your products and services. Apply these insights to improve your buyer personas, product roadmap, brand positioning, marketing materials, and marketing campaigns. You could also explore testing new concepts for products and services, as you review these insights.
3) What are 5 examples of psychographic segmentation efforts?
Some of the psychographic segmentation examples are:
Personalities
Lifestyles
Activities, Interests, and Opinions (AIO)
Attitudes
Social Status, etc
4) How to use psychographics in the marketing of your business?
To effectively build marketing strategies, it's crucial to understand the different psychographic segments present within your customer base. With insights gleaned from psychographic segmentation, you can tailor your marketing content to resonate more deeply with each segment, leading to better customer response and higher sales conversions.
Here is a video by Marketing91 on Psychographic Segmentation.
Liked this post? Check out the complete series on Segmentation