The top brand of the world, Apple has many more strengths then weaknesses. And at the same time, the threats against Apple are rising because it is obviously in the target radar of a lot of companies. The Apple SWOT analysis presents the analysis of this innovative company and how it is the leading the market in technology.
Let us discuss the SWOT analysis of Apple as a company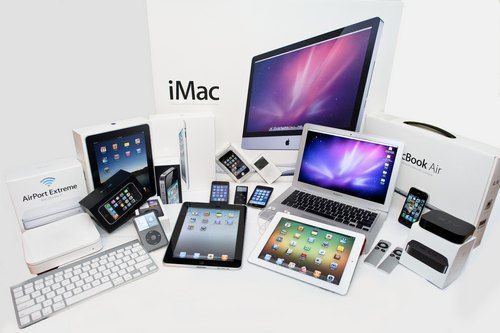 Strengths in the SWOT analysis of Apple
Innovative products – One of the key strengths of Apple over the years has been its innovative product line up. Apple has presented hit products after hit products and that's been the major strength of Apple. Initially it came with the MacBook, then the iPod, the Iphone, the Ipad, the Iwatch. In short, Apple has covered almost everything that an individual "desires".
Leadership position – As per Wikipedia, Apple is the leading technology company in the world with regards to revenue generated. It is also the second largest smart phone manufacturer. It become the first US company to cross 700 billion dollars and in 2014 was the largest publicly traded company in the world. If that does not define leadership, then nothing else can. Apple is far ahead in the leadership game.
Brand equity – Naturally, being in the leadership position requires that your brand equity be high. The brand Apple is the number 1 valued brand amongst all the companies in the world as of 2016. The brand value in 2015 was estimated to be 118.9 Billion dollars!!
Design & Technology – The best part of Apple, and the reason for its fantastic brand equity is its design as well as the technology it uses. Apple has always been suave and elegant in its product design. And at the same time, beneath this exquisite design is a machine powered to give ultimate performance. All this runs on the MacOS which is another software known for its efficiency.
Distribution – Apple swot analysis tells us that Apple has 470 of its own stores across 17 countries. Besides these stores, it sells through trade partners, online channels as well as through other premium retail stores. Entering an Apple owned retail store is a fantastic experience. Additionally, Apple also launched the Apple genius bar to directly solve customer issues within the retail store itself. Thus, the concentration of Apple on its sales and service distribution is legendary.
Steve jobs – One of the key factors and the leader of Apple is also a loved person in the technology Industry. He is an inspiration to all marketers in the way that he led his own people and the way he carried his life and the brand Apple along with him. Since 2011, his departure from this world, Apple has been led by Tim cook who is also showing his genius in growing Apple as a company.
Margins – One of the core advantages of Apple as a company is the margins that it commands over its products. Being a technological leader with a top brand equity, Apple swot analysis results tells us that apple keeps a hefty margin for itself to invest in R&D and brand building. Furthermore, its pricing strategy is such that the price does not break in the market and you will always find Apple selling at the same price in various retail stores.
Consumer focus – Apple always designs its products with a focus on consumers while keeping their mind in the future. They always try to imagine the things which even the consumer has not imagined yet. As per Steve jobs "if you ask the consumer what he wants, by the time you give him the same thing, he will want something else". This ideology is the reason of success for Apple.
Weaknesses in the SWOT analysis of Apple
With a company which is a market leader and innovative, we can expect very few weaknesses. Still, here are 3 weaknesses which Apple might be facing.
Matching Customer expectations – Being a leading company since 1980's Apple has a major market share and the consumer expectation is going through the roof. People expect great things from apple year after year and maintaining these expectation levels is not easy for anyone.
Incompatibility – A key issue in Apple as a company is that many of its products are incompatible with third-party software / accessories. So overall, when you buy a product of Apple, you enter the Apple universe and you have to continue with Apple only. That makes a huge impact on consumer decision making.
Dependency on few products – Apple has only 7-8 products in its portfolio in comparison to the various products that its closest competitors Microsoft and Google have. Hence the dependency of Apple on each of its products is very high. If one product fails, then that is a 10% loss to Apple. Hence, there is a common demand from Apple to increase its product portfolio.
Opportunities in the SWOT analysis of Apple
Apple cars – Naturally, with Facebook expanding with Instagram, Occulus rift, Whatsapp and others and Google expanding in 10 different ways, Apple wanted to find out some new products which Apple could launch. Apple is now fixated on Apple Car which is supposed to be launched in 2020. Like any other product of Apple, we can expect great things from the Apple car as well.
Technological advancement – In the technology industry, technological advancement is always an opportunity. And the one brand we can expect to leverage technology to its best is Apple. We can expect even more advanced MacBook's, Iphones, Ipads and Iwatches in the coming years.
The growing market – Apple is a growing company in a growing market. Equally important to the company is the rising GDP of developing countries, thereby increasing consumption of such premium brands like Apple. Any company which is growing needs a larger market base and the market base is slowly being built via territory expansion for Apple.
Iwatch and Apple TV – Two products which can increase the presence even further are the Iwatch and Apple TV, both of which are aimed at the future, for when the digital presence increases. Apple Iwatch already has a 50% market share of Smart watches in US.
Threats in the SWOT analysis of Apple
Apple as a company does not have any threat. But as products, each of the products is facing strong threats from the competition. Being the number 1 company in the world is not easy and you are going to face competition especially from other brands.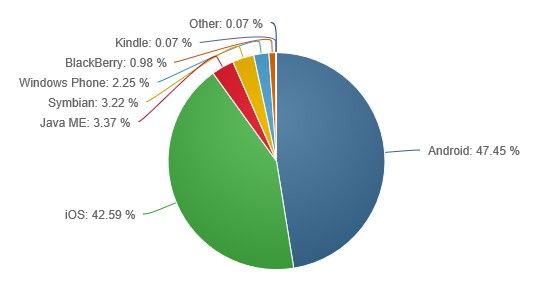 Market penetration in Smartphones – One of the key threats to Apple is the market penetration by other brands in the Smartphone market. Android is eating market share like anything and currently has 47.5% of the market share whereas Iphone is at 42% market share. Android is being used by Samsung, HTC, Lenovo and practically everyone who wants to enter the smart phone market. Naturally Android being of Google (2nd most valued brand), Apple has to be ready for Smartphone competition.
Laptop competition – MacBook is obviously the best there is. But so is Dell, and so is Sony and so is Lenovo. The competition is ever-increasing in the laptop segments. Dell has introduced some beautiful models over the years including the Alienware model. So, although Apple as a brand is loved by everyone, MacBook is facing stiff competition from other brands as well.
Smartphones replacing Ipod – In 2014, Ipod suffered a major decline of 52% in its sale over 2013. Overall, Smartphones have replaced music players altogether because of the various ways that you can utilise music and carry it around. Hence the functionality of Ipod is no more unique. (Other "Only music players" are also finding it hard to exist in the market).
Thank you for reading our article about apple swot analysis
Hope this article helps you to create your own company swot analysis