Apple is the largest brand in the technology industry in terms of its revenue generated as well as its brand ranking. It is not a surprise to many because Apple has time and time again presented products which were ground breaking and which revolutionised the market.
Apple has given us many delights over the years including the Macbook, the Ipod, Iphone, Ipad, Iwatch, Itunes and others. And due to its excellent product and differentiation, it is close to the heart of many techie enthusiasts.
Here is the Marketing strategy of Apple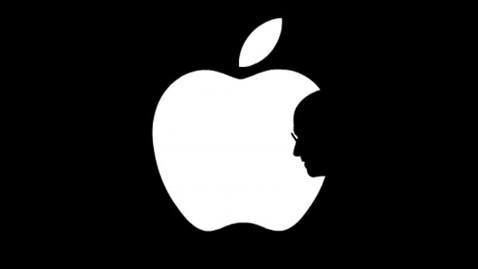 Segmentation targeting and positioning of the brand
There are three major segments which Apple targets. It generally uses lifestyle segmentation as Apple is the most premium brand out there. The segment is usually the urban population with enough buying power for purchasing Apple products. These are people who are early adopters in life but the brand equity of Apple is such that even laggards have started adopting the products.
In the Marketing strategy of Apple, it has three target groups
One is the music lovers who are targeted by the Apple Ipod and Itunes.
Another target the professionals or even teenagers who are targeted for Apple Iphone, Tablets, Macbook and other such gadgets which can be used by anyone, irrespective of age.
And third is the crowd which can use their other products and services like Apple TV and Apple Iwatch. They also use Ibooks, Apple pay etc.
Apple being the world's number 1 brand has the topmost mind positioning and there is no doubt that when someone talks about Smartphones or Laptop or Tablets, Apple is the first brand that comes to mind maximum number of times.
Marketing mix in the Marketing strategy of Apple – Click here to read the Marketing mix of Apple, Apple Iphone and Apple Ipad.
SWOT analysis in the Marketing strategy of Apple – Click here to read the SWOT analysis of Apple Inc as well as SWOT analysis of Apple Iphone.
Mission in the Marketing strategy of Apple
Apple designs Macs, the best personal computers in the world, along with OS X, iLife, iWork and professional software. Apple leads the digital music revolution with its iPods and iTunes online store. Apple has reinvented the mobile phone with its revolutionary iPhone and App store, and is defining the future of mobile media and computing devices with iPad.
Vision in the Marketing strategy of Apple
We believe that we are on the face of the earth to make great products and that's not changing. We are constantly focusing on innovating. We believe in the simple not the complex. We believe that we need to own and control the primary technologies behind the products that we make, and participate only in markets where we can make a significant contribution.
We believe in saying no to thousands of projects, so that we can really focus on the few that are truly important and meaningful to us. We believe in deep collaboration and cross-pollination of our groups, which allow us to innovate in a way that others cannot. And frankly, we don't settle for anything less than excellence in every group in the company, and we have the self- honesty to admit when we're wrong and the courage to change. And I think regardless of who is in what job those values are so embedded in this company that Apple will do extremely well.
Tagline – "Think Different" is one of the best slogans in the tech industry. Many people assume that Apple launched the slogan "Think different" in response to IBM's slogan "Think". However, since 2002, Apple stopped using the slogan in its marketing. But from time to time, the slogan has bounced back on Apple's website or in their marketing and it has never left the mind of Apple loyal consumers.
Competitive advantage in the Marketing strategy of Apple
Apple has several competitive advantages over its competitors
Superior technology products – Macbook and Iwatch are clearly leaders in their market space because of the OS and the technology used.
Brand equity – Apple has repeatedly taken the top spot for its brand equity and has a cult following since ages.
Revenue over time – Apple has deep pockets due to its high margins.
R&D – A major competitive advantage of Apple is the amount it spends on R&D keeping its eyes on the future rather than on the present.
BCG matrix of Apple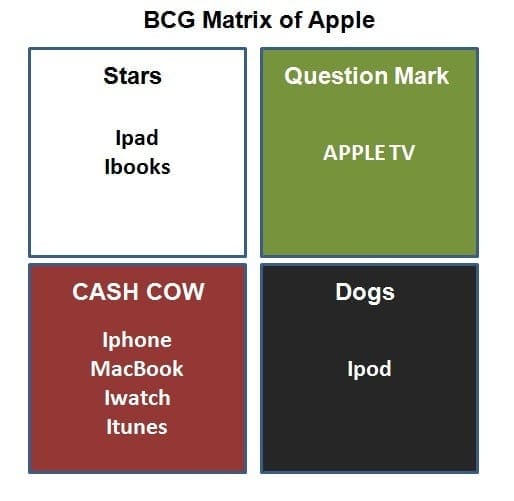 When plotting the BCG matrix of Apple, the product portfolio of Apple is clearly divided into four parts.
The Cash cows are products which are existing since ages and which cannot be challenged in the current market conditions and have a majority market share when the global data is referred – These are Macintosh, Iphone, Iwatch (50% market share in 2015) and Itunes (a solid support service to all Apple products)
The stars are Ipad and Ibooks where there is a lot of competition and Apple has to invest a lot to keep these businesses on top.
The question mark is Apple TV which has low market share in an industry which is showing great potential and might grow at a rapid pace in the future.
The dog is Ipod because although it has a high market share, the industry itself is rapidly degrowing because Smartphones have replaced Ipods.
Distribution in the Marketing strategy of Apple
Apple has a very smart retailing setup. It has around 450 stores within the US. And these retail outlets are such that they are more focused in helping the customer and making him comfortable with using Apple rather then selling the product and stuffing the product down customers throat.
Apple has also introduced the Apple Genius Bar, which is a walk-in service center and can help any customer in problems they are facing in MacBook or Iphone or Ipad. Overall, the company owned Retail and Service outlets are great.
Along with company owned stores, Apple has set trade partners like Ingram Micro and Redington which are responsible for the sales and distribution of the brands. These trade partners will buy in bulk from the brand and then distribute the product in the market. Thus, besides its own retail stores, Apple is found present in other modern and premium retail stores. These stores are covered by its retail partners.
The Online E-commerce presence of Apple is fantastic. Most E-commerce portals promote the brand themselves because they know that the brand is in huge demand. Besides this, there is very less price penetration in Apple, and hence the channel partners and E-commerce portals are happy too as they don't have to fight on price.  from the home page itself. The combination of retail, distribution and E-commerce gives a complete market reach to Apple.
Brand equity in the Marketing strategy of Apple
Apple has the highest brand equity in the world as of 2016 and it is the topmost ranked brand in the world. The brand worth of Apple is 118.9 billion dollars. The brand has done a lot to reach this brand equity, but a major contributing factor was its ability to give hit products back to back, and to reach across the globe with these excellent products. The combination of both with the excellent marketing communications of the brand help Apple reach the highest brand equity possible.
Competitive analysis in the Marketing strategy of Apple
Although on a company level there is very less competition for Apple, on product levels, there is repetitive competition for each of its individual products. Ipad faces competition from Samsung tablets, Iphone faces major competition from Android based phones, Macbook is facing stiff competition from Dell which also has superior products.
The unique services offered by Apple such as Itunes also face competition from other online music players which are cropping up every day. Ibooks faces strong competition from Amazon and even Apple TV faces competition from Fire TV of Amazon. Samsung gear and other smart watches are rising competitors to Iwatch although Iwatch still holds a majority market share.
Promotions in the Marketing strategy of Apple
Apple is one of the most elegant advertisers as can be seen from any of its print ads in newspapers. You will commonly find Apple ads to be clear and crisp in their message. Their background will be white and there will be a splash of colors on the print ad introducing the product or differentiating the product.
And that is one major strength of the brand. Apple has so many differentiation points that it can have a slew of ads, all targeted towards differentiating the products that it is offering. Not only the print ads, even the video ads do the same. They tell you one point which highlights the product features.
Here is a simple image made by Apple to differentiate between PC and Macintosh. Look at the clean and to the point copy.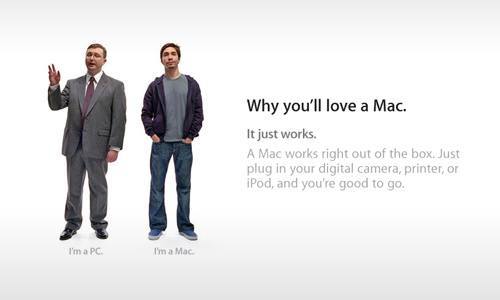 Overall, the advertising and promotions of Apple are used tenfold when there is a new product launch. The hype created is so much that you just can't ignore it. And this hype is continued until the product becomes a success. As the number of products with Apple is less, it is no doubt that it wants each one of its product to be a hit.
This was the Marketing strategy of Apple. The Brand can teach a lot to marketers with regards to differentiation, brand building and most importantly – Innovation.
Liked this post? Check out the complete series on Strategies