Patanjali Ayurved limited is the brainchild of Baba Ramdev who is known for his sermons and his devotee Acharya Balkrishna. Acharya Balkrishna ji is the CEO of Patanjali. Incredibly, Patanjali came into the picture less then a decade back but has taken a huge share of the Indian market due to the large scale following of Baba Ramdev. Patanjali registered a revenue of INR 5000 crores in 2015-16 growing at 150% over the previous year.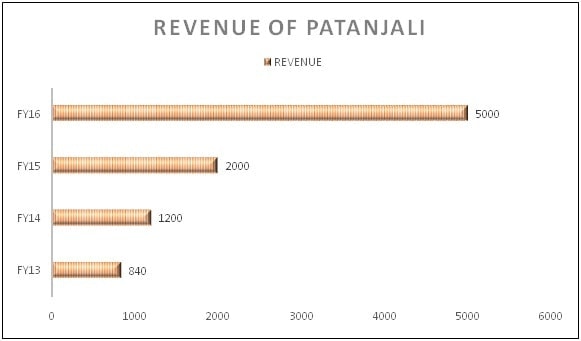 Products under Patanjali:
Patanjali produces about 700 different types of products. It has products in the following categories:
Natural Health Care
Natural Food Products
Ayurvedic Medicine
Herbal Home Care
Natural Personal Care
Some of the Popular Patanjali products are Patanjali Dant Kanti, Patanjali Kesh Kanti, Patanjali Chyawanprash, Patanjali Honey, Patanjali Ghee etc.
Strengths in the SWOT ANALYSIS OF PATANJALI :
Baba Ramdev: The exponential growth of Patanjali can be credited to Baba Ramdev and his popularity. For a newly formed FMCG in India, it would have been impossible to show the kind of growth that Patanjali has shown in such a short period of time. But the fan following and goodwill of Baba Ramdev guaranteed that Patanjali grows quickly and becomes a routine name in the Indian households.
Strong patriotism: Patanjali has used the India card to its advantage and has always marketed that its a brand made in India, for Indians. Most of the brands in India are international brand. Patanjali actively asks Indians to buy India made products to help the economy of the country. Besides this, the quality of the products have helped in the fantastic growth of Patanjali.
Ayurveda and Herbal: The Products that Patanjali offers are made from Ayurveda and Herbal natural components. The Swadeshi products also have played an important role in the success of Patanjali. India has never been low on plants or vegetation and we get a lot of naturally grown medicines in our dense forests. As a result, India is one of the leaders in Ayurveda.
Penetration Pricing: Patanjali products are generally priced at 20-30 % lower than the competitive brands and thus it becomes impossible for the competitive brands to compete with Patanjali on price. The company sources the products directly from farmers and thus cuts on middlemen. Hence, they are able to produce at lower costs. A comparison of prices for some products is given below are given below.
Price Comparison
Patanjali
Other Brands
Chyawanprash
Rs. 115

(500 gm)

Rs. 160

(500 gm)

Honey
Rs. 135

(500 gm)

Rs. 199

(500 gm)

Shampoo
Rs 110

(200 gm)

Rs. 159

(200 gm)
Strong Distribution channels: Patanjali products are sold through medical centres such as Patanjali Chikitsalayas and Patanjali Arogya Kendras, non-medical centres such as Swadeshi Kendras. Patanjali already has 15,000 outlets across India. Patanjali was earlier criticised for its distribution strategy, but it has now improved it by distributing through General retail outlets and has recently tied up with the Future group for distribution through Modern retail. They have now transformed its weakness into a strength.
E-commerce advantage: Patanjali sells very well through the E-commerce companies and has a lot of packages of products which it sells online. So even if people are not nearby a Patanjali store, but they believe in Baba Ramdev or want to purchase Indian products, then they can do so online via E-commerce.
Word-of-Mouth Promotion: For a new company especially in the consumer goods category, a high share of its expenditure goes into advertisements and promotions. Patanjali followed a word-of-mouth promotion strategy initially and did not spend much on promotions and advertising. Patanjali depended on over the Brand loyalty of its customers.
Keeping up with the trends: Owned by Babas and Swamis, Patanjali was supposed to be a conventional Indian company but it has surprised everyone by bringing in various changes required to be at par with its contemporary brands. Be it advertising using celebrities as Brand ambassadors, Entering modern retail or using E-commerce as a platform. Patanjali has also understood the potential of digital media and social media platforms and is also spending on these channels.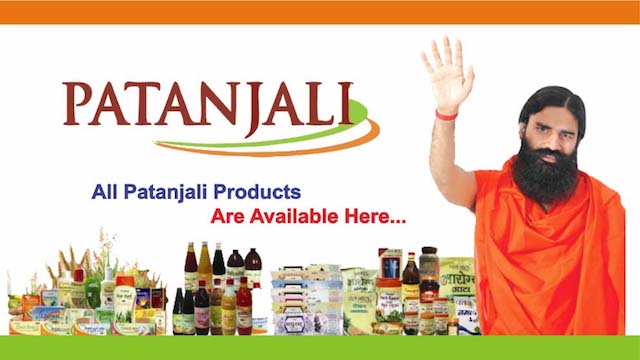 Weaknesses in the SWOT ANALYSIS OF PATANJALI :
Over dependency on Ramdev: For many of its consumers, Patanjali is still synonymous to Baba Ramdev and hence any actions of Baba Ramdev will have repercussions on the brand itself. Baba Ramdev's political affiliations are also well known and hence if at all he is targeted for any political vendetta, Patanjali will also suffer.
A low number of manufacturing units: Patanjali has set itself an ambitious target of INR 10,000 crores for the fiscal year 2016-17. For that to happen, Patanjali would need to set up manufacturing units in different parts of the country which would require heavy investments. It also would have to move from the word-of-mouth strategy to nationwide promotional campaigns.
Penetration pricing is not long term: Patanjali might have to compromise on its pricing strategies if it wants to expand and thus it's a big challenge for Patanjali. It cannot sell at such low costs for a very long term. Any company needs profits to drive more sales and therefore earn more profits. Its a cycle. But if Patanjali does not earn much, then it cannot spend much and cannot expand.
Product Dependence: While Patanjali has many products in its kitty but a major part of its revenues are dependent on 5-6 of its main products such as its toothpaste and shampoo. They need to push the other products more to achieve its ambitious target.
Low margin to distributors: Patanjali offers much lower margins to distributors and retailers as compared to other consumer goods company, since it is playing a game of volume and not margins. That's the reason for it being a demand run company.
Lack of experienced management graduates: Patanjali does not have a large pool of management graduates and thinks tanks which can be a problem when they look for expansion throughout the country or globally.
Opportunities in the SWOT ANALYSIS OF PATANJALI :
Growing organic sector: Patanjali has been successful in creating awareness about the benefits of using herbal and natural products whihavecreated a market for itself. The awareness has spread and the demand is ever growing.
Expand Rural: With the portfolio of products that Patanjali has, it has great potential in the rural market and should look to expand its operations in the vast rural market of India.
Going Global: Patanjali has a great opportunity to expand globally and can look for Middle East and African nation in the beginning. Various other companies such as Dabur have already expanded globally and have been successful.
Tie ups: Patanjali has successfully tied up with Future group and should continue tie up with modern retail chains and increase its E-commerce sales.
Diversify: While Patanjali is now present in retail products, it has not entered clothing which is another area where competitors like Relianc and Aditya birla have expanded successfully. So Patanjali can plan on diversifying its product portfolio even further to Khaadi, making it a fashion statement and being true to the roots of Patanjali being an Indian brand.
Threats in the SWOT ANALYSIS OF PATANJALI :
Increasing Competition: FMCG majors such as HUL, Marico, etc. and new entrants such as Sri Ayurveda are also entering the organic market after the awareness created by Patanjali which increases the competition in the market.
Negative Word-of-Mouth: Any negative word-of-mouth created on social media platforms can affect its position in the market.
Poor reap can affect business: Patanjali is heavily dependent on natural ingredients and products and hence poor agricultural reap can affect its sales.
Price war: A price war is good for consumers but it is detrimental for business. The longer the price war, the more is the effect on the brand. Companies like HUL, Colgate and others have been at the top for long. They have deep pockets and they will naturally respond to Patanjali. Such a price war will have drastic effect on Patanjali's profitability, especially because the brand is already selling at very low margins.