Saint Laurent popularly known as Saint Laurent is a French luxury fashion house founded by Yves Saint Laurent and his partner Pierre Berge in the year 1961. The brand has been considered as one of the world's most prominent fashion house specifically for its modern and iconic pieces such as tuxedo jackets for women.
The brand now has a diverse range of women's and men's ready-to-wear products, leather goods, jewelry and shoes. The brand also has mark able presence in luxury beauty and fragrance market, though this is owned by L'Oréal which holds exclusive licenses for the name. Under its prior creative director Hedi Slimane the company revived its haute couture collection in 2015.
Strengths in the SWOT Analysis of Yves Saint Laurent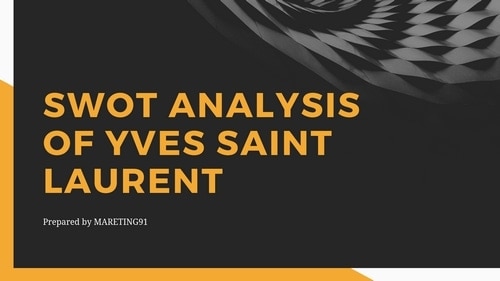 1) Fashion & Style
Saint Laurent's products are timeless and iconic as they are long-lasting when it comes to style but also durability. New image created by Slimane is edgy and rock 'n' roll, this is a trend that is timeless within the luxury fashion industry. Fashions fade style is eternal the famous words spoken by Yves Saint Laurent himself.
The brand should focus on staying on top of their trendy style by making it unique and able to stand out from the other luxury fashion brands that could be seen as competitors Saint Laurent is also successful in two major industries, the fashion and makeup/cosmetic industry. As a brand they have built up a good name for themselves buys selling good quality and beautiful products.
2) Brand Presence
With over 70 stores spread across 3 continents in more than 10 countries, the brand has a strong presence across the globe. It has placed its stores strategically at various locations to optimize its business.
3) Large Portfolio
With a long history, the brand is considered to be the reviver of Couture which lost its glory with time. The brand then went out to diversify its portfolio into various categories and products like footwear, accessories like handbags which has developed their own brand identity with the brand
4) M&A's
The brand has made several acquisitions which includes some of the most famous fashion houses namely Gucci group, a premier group in the fashion industry.
Weaknesses in the SWOT Analysis of Yves Saint Laurent
1) Brand identity
Saint Laurent heavily relies on their logo for recognition. Using YSL and Saint Laurent can be seen as confusing when a consumer is purchasing from the brand. They should focus on promoting the 'Saint Laurent' name on social media platforms like Instagram and Twitter and perhaps have separate accounts for when it comes to the beauty side of the label. Products like accessories and cosmetics the brand should keep the labeling consistent so customers understand the difference between the two
Unlike other brands, a brand hasn't used its logo on its products which have affected the identifiably of the brand. Not using its logo on products can be considered as one of the unconventional steps but it seems to have affected the brand when compared to its competitors.
The brand is currently is also going through a transition stage with the change in some of the key positions recently after its creative director fired after allegations of flouting norms.
Opportunities in the SWOT Analysis of Yves Saint Laurent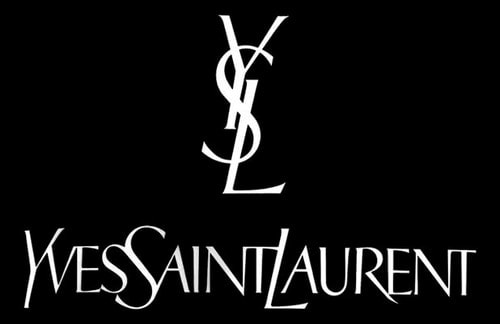 1) Brand awareness
Saint Laurent can easily and successfully do this as vintage clothing is very popular amongst the younger generation and also the label has a lot to account for with its vintage designs.
Saint Laurent could improve informing the public about their CSR. Luxury fashion labels like Stella McCartney are renowned for using ethically sourced products to produce ethical fashion. If Saint Laurent were more transparent, it might attract environmentalists to buy from the label.
2) Rapid Expansion and its vintage collection
The brand is looking for rapid expansion with its entrance into a lot of emerging markets like Asia which are crawling for goods. With the purchasing power of people in Asia improving drastically, the future holds good for the company.
The revival of its vintage collection which has a classical appeal to it and more depth in design when compared to its competitors. This will give the brand advantage over its customers when it comes to those looking for rare vintage collections.
3) CSR Activities
With Saint Laurent not having any significant presence in terms of contributions in CSR activities, the brand should look for taking initiatives in social and CSR activities to give a new dimension to its brand identity.
Threats in the SWOT Analysis of Yves Saint Laurent
1) Availability of cheaper brands
High street, cheaper, knock off brands are an issue when it comes to any luxury fashion label. Primarily because of the dramatic price drop but also the convenience when it comes to purchasing from them. Saint Laurent is only sold in high-end department stores such as 'Harrods' or 'Selfridges' or alternatively online. Saint Laurent could collaborate with a high street store as this would bring more attention to the brand itself, thus gaining more publicly.
2) Changing customer needs
Since brand caters to a comparatively smaller number of customers as it offers products in the premium luxury segment. Going forward brand should look for expansion of its portfolios to keep itself relevant to the market and competitors and remain sustainable.With its main revenue centers been limited to European and American markets, the brand feels the heat of recession when these two markets are hit by any such economic upheaval. To encounter this the company should try and expand itself to new markets.
3) Competition
The brand also faces huge competition from its parent company Gucci which is more identifiable brand as compared to Saint Laurent. The brand should work in the direction of improving its image and increasing brand recognition to get more recall from the customers.
Liked this post? Check out the complete series on SWOT