BPCL is an Indian-controlled refining company. It is one of the biggest corporations in the world. It specialises in refining, processing and distributing petroleum products and exploration of hydrocarbons. Few of its products include petrol, diesel, natural gas, lubricants, CNG, kerosene, highly refined kerosene (aviation fuel).Its chairman and MD is D Rajkumar.
Two of its largest operational refineries are located in Mumbai and Kochi. Its listed 358th on the Fortune Global 500 list. It is headquartered in Mumbai. It is considered to be one of India's most trusted brands.
Strengths in the SWOT Analysis of BPCL :
Brand Recall: Almost everyone knows BPCL because of its strong reach. People can find their fueling stations almost everywhere and many people use their LPG cylinders. Thus they have gained great brand recall and high trust among the customers.
Presence: It has a network of around 1400 retail outlets and much more are in the stages of construction.
Production Capacity: It has huge refineries set up which gives them an extensive advantage over its competitors. This increases reliability and satisfaction of order fulfilment of customers.
Product Portfolio: BPCL has a large product portfolio and due to its R&D, it keeps on adding to the list.
Extensive Research and Development: R&D is a very important part of BPCL and lies at the very core of their business. It requires this to enhance its product portfolio to increase its profits and market share. For this, they continuously keep experimenting with the crude oil if they can extract any other useful products or enhance the performance of the already available ones. Few of their success include performance engine oil, semi-synthetic 4T engine oil, hydraulic oils etc.
Non-Conventional Sources: Apart from the conventional sources they understand that it is important to move away from it. They have taken steps in this direction as well. They are eyeing long-term strategy and gains from many non-conventional sources. They have projects like Project Triple one related to Bio-diesel, Bio-fuel plantation, setting up of bio-diesel facilities, Solar farms, wind farms etc. This shows their strong footing for the future.
High Collaborations: They collaborate with the best minds of the country for R&D department. This gives them an edge. They tie-up with IITs, NITs, IISc Bangalore, Top petroleum universities, etc.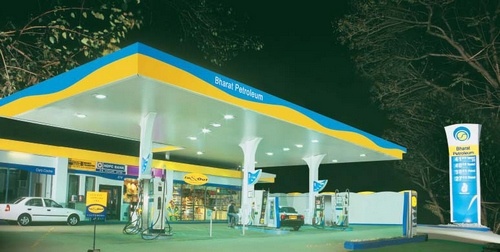 Weaknesses in the SWOT Analysis of BPCL :
Opportunities in the SWOT Analysis of BPCL :
Increasing Demand: As the population is increasing the demand for vehicles and cooking gas are increasing as well. This shows that the market is growing at a very fast rate and BPCL can tap this.
Oil Well discovery: New oil well can be discovered as the prices of the petroleum products is going to increase in the future. This will give provide them more control.
Foreign Markets: They can expand their market on foreign soil and increase their revenues and profits. They can thus expand their petrochemical business overseas or form joint ventures with foreign companies.
Combining PSUs: The GOI in the Budget 2017 announced that they would combine all the public sector companies to make the business run smoother and profitable.
Threats in the SWOT Analysis of BPCL :
The decrease in Conventional Energy Usage: The world is becoming more environmentally friendly and also the conventional energy sources are depleting fast. People have taken this into account and have started to move to non-conventional sources.
High Losses: They have been operating mostly under high losses since its inception.
Fluctuations in the Global markets: The prices of the crude products are decided by OPEC. This makes it difficult to sustain profits for companies having high CAPEX and OPEX.
Competition: They have competition from other homegrown and government owned companies like IOCL, HPCL, ONGC and other private companies like Reliance, Essar, Shell, etc.
Liked this post? Check out the complete series on SWOT