This can be seen as a strategy wherein the company, not out of necessity, but out of sheer want, may undertake Cost Reduction. Unlike Cost Cutting, wherein the company has to resort to that strategy as a final resort, Cost Reduction can be undertaken to enhance productivity and profit percentage. Cost Cutting is something which a company undergoes unwillingly with most of the times the measures being harsh while the company may undergo willingly in case of Cost Reduction. The cost reduction techniques can be more or less as positive rather than negative.
There are few ground rules in Cost Reduction which are :
Cost Reduction should involve reducing and not cutting entirely the costs
The reduction should not affect the processes and product quality
The process of manufacturing may be improvised without affecting the product quality or nature
Features of the product or service may be modified without affecting the quality of the product.
Cost reduction should never be applied as a short-term process and it should rather be implemented as a long-term solution
Cost Reduction vs Cost Cutting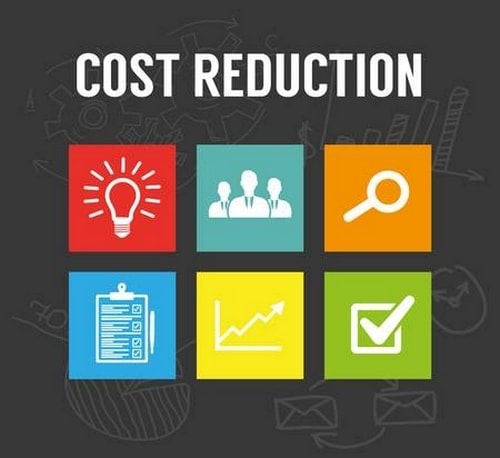 Reduction as the term implies, is about reducing the increasing costs – may be in positive ways or negative at times but Cost Cutting equals desperate times and desperate measures by the company
Cost Reduction techniques involve strategies to uplift the company and help the company to grow while cost-cutting involves strategies necessary to survive
Cost Reduction is carried out as an expansion strategy or growth strategy while Cost Cutting is red signal symbolizing instability in the company
Cost Reduction Strategies :
While many of the strategies of Cost Reduction and Cost Cutting are the same, every technique of Cost Cutting does not apply to Cost Reduction. Here are some Cost Reduction Strategies.
1) Sourcing modifications
Unlike Cost Cutting, time is not a constraint in Cost Reduction and hence the company tries to change the sourcing resources and procurement. This can be switching to cheaper alternatives or sourcing from local produce. Sourcing modifications are undertaken to reduce long-term costs and instead of being tied up with one supplier, the company switches suppliers from time to time for cost advantage
2) Improvising processes
A lot of companies may incorporate processes which may cost them a lot of expenses which can be avoided. Improvising processes in order to eliminate costs can also be a strategy of cost reduction. Little modifications in the manufacturing processes, such as avoiding wastes, waste management processes or environmentally friendly options can help save costs over the long run.
3) Energy saving types of equipment
Corporate offices utilize a lot of energy and this can be cost increases for the company. It can always work on energy saving equipment's or going ahead with alternative sources of energy which will save costs in the long run. Office printers, stationary can always be substituted with cost-saving alternatives like going with digital copies, which will not only save paper but save electricity as well.
4) Hiring processes
An experienced professional would always demand a higher salary while a fresher or intern would go ahead with lower compensation. At the baseline and frontline, there would not be any need for experienced employees and instead, the company could strengthen its training and development team to train fresher's better. This also gives fresher's opportunity and industrial exposure and company save a lot on remuneration.
5) Expense Reduction
Another strategy is to reduce expenses which in turn reduces cost. For example, using video conferencing instead of travel will bring down the travel costs per department considerably since the video conferencing costs are negligible compared to the travel costs. Making changes in the travel policies to reduce expenses or promoting carpooling for work commute brings down per head expenses.
6) Product Alternatives
To appeal to different income segments of the population, the company can also device product alternatives which could be economic, thereby saving the costs and generating mass profits by mass business. However, it should be taken care that the product quality is not sacrificed while developing the alternative economic alternative
Advantages of Cost Reduction :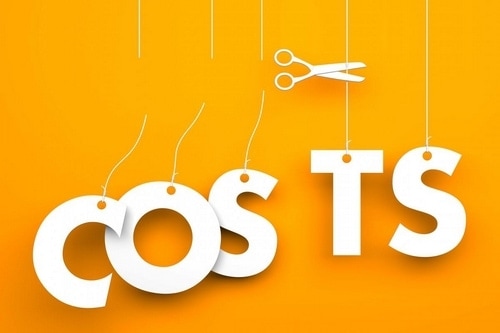 Profits: The baseline of cost reduction increases in profit margins which is the most sought-after advantage. The company would willingly or unwillingly perform cost reduction in order to increase the profits which will be used to invest in other businesses.
Productivity: At some levels, cost reduction increases productivity since the employees who have been in comfort zone for a long time get the signal that company is into micromanagement and right now it would be processed but going ahead it could be micromanagement of employees as well.
Improving Standards: Cost Reduction helps in improving standards of the processes since improvising processes affects the nature of working of current processes which improve standards of formation of the product.
Disadvantages of Cost Reduction :
Although cost reduction is a positive step towards developing and growing the company in long run, it can cause negative vibes throughout the company and amongst the employees. The employees can mistake it for cost-cutting and send a panic alarm throughout the company.
Sometimes Cost Reduction involves changing processes and not every time the change is good. The change can be harmful at times and cause additional losses instead of profits and improvement. For example, the budget model of iPhone, 5C was a fail in the market while its counterpart 5S was a hit. It depends on how company projects the cost reduction to the internal and external stakeholders.
Few steps in cost reduction involve installing one time components like solar panels or green equipment or automatic light saving appliances. Installing these will take down long-term costs but will raise the one-time costs which may not be compatible with every company.
At times, it may so happen that while focusing on Cost Reduction, the quality of the product may be sacrificed and in turn affect the long-term vision of the company by reducing the brand value. Cost reduction is a double-edged sword which should be handled carefully. If done well, it could boost profits without affecting major things while if worked incorrectly, it could backfire and fail miserably.