Who doesn't like to expand their market share? Ask any business man in the world and he will say that he wants more customers. However, ask him how to do that, he will have a good idea but will still be missing some crucial points.
These 3 points are explained in this article and help you understand market share first and then try to expand market share.
1) Market share 
When we are out camping, and we have dinner or lunch in a single plate, everyone divides it to have their own share. That's just how the market is divided. The market is divided by all the players in the market.
We can explain the concept of market share with a simple example of movie theatres. If you had a movie theatre, then everyone in your vicinity is a potential customer. However, if your vicinity has 20 movie theatres, then your market share is the number of people visiting your theatre. Thus, your strategy would be to expand market share by getting more visitors. However, it doesn't end at market share only.
2) Share of customers / Share of wallet 
Continuing the above movie theatre example, when the customer visits your theatre, does he only watch the movie? No, he doesn't. He has some popcorn, some drinks as well as something to eat. So do you benefit only through movie tickets? No. You benefit through anything that the customer buys from your theatre. That's share of customer.
The amount of money that the customer spends on your business vs the amount of money he is spending in the market in the same industry is share of customer. Banks, Membership clubs, services all operate on the same principle of cross selling. The share of customer of Citibank will be much higher then any local bank. Thus, to expand market share, you can also increase your share of customers.
3) Share of opportunity 
Now, you have addressed all the customers who are existing in your market. What about the people who are not visiting movie theatres? What if they are planning to watch the movie on cable or on DVD's? Then these customers are not at all in the equation.
Share of opportunity includes those customer who belong to phantom competition – Or competition which does not exist in our industry. For a gym, people who don't exercise are a share of opportunity. For a library, people who don't read are a share of opportunity. Companies need to spend more money on increasing their opportunities, and getting more customers.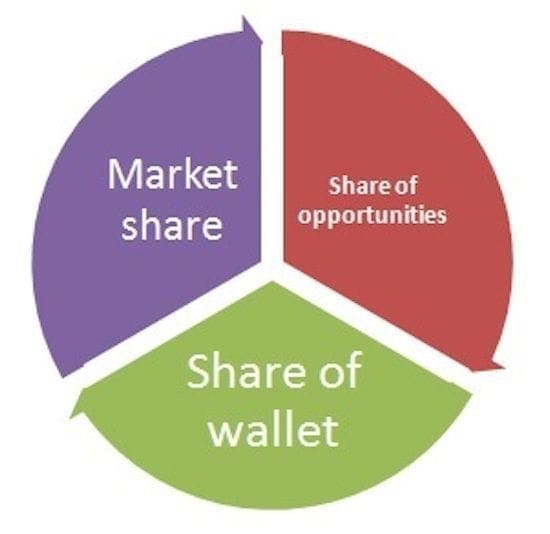 An example of share of opportunity can be the strategy implemented by Coca cola. Coca cola had once done a research in which it calculated that people drink 64 ounces a day and there are 6 billion people on this planet. However, Coca cola's average consumption was two ounce per person. So daily, Coca cola had a share of opportunity of 384 billion ounces. Coca cola then revised their marketing strategies to start covering those people who were not consuming soft drinks.
Off course, no one can claim that they have capitalised 100% of share of opportunity. But even 4-5% is enough, isn't it?
Overall, many business men would look to increase market share. However, the terminology of market share is very vague. It would be better to look at the market as the market share, the share of customer or share of wallet, and the share of opportunity. These 3 factors combined can help you drastically expand market share.