One of the traditional methods of channel distribution is when the company manufactures a product, it goes through the channel and reaches the end consumer. However, since ages there is also one more phenomenon which is known as Reverse flow channel.
Here is the traditional flow of product from company to consumer
Company >> Warehouses >> Distributors >> Dealers >> Consumers.
Now, the perfect business which uses a reverse flow channels is the second hand sale business. You have certain people within your vicinity who buy second hand stuff from you or your house. They will buy paper from you, reusable plastic, metal or whatnot.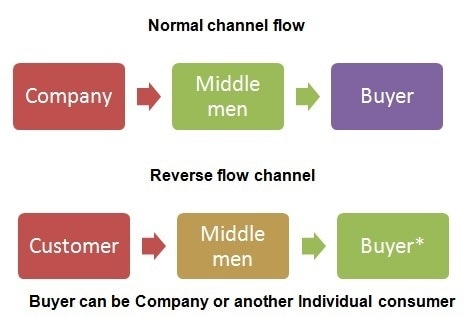 These people use the reverse flow channel to sell waste to companies so that these companies can either recycle these products, or use them to make new products.
The reverse flow channel works as follows
Consumer >> Intermediary >> Company.
A simple point i will present over here. Where do you think your daily garbage goes? Is it disposed just like that in land fills? No it is not. Your garbage is processed at the processing plant.
It is categorised as 2 types of garbage – One which can be recycled or the other which can be processed. Recycled items include paper, cardboard, plastic and others. And processed items include organic garbage which can be used for energy generation.
Thus, you are a daily consumer of reverse flow channel. Here are 4 ways that the reverse flow channel can be used.
Reuse products – Many products like containers, drum or metallic equipments can be reused by other consumers or companies.
Refurbish products – Computers, furniture can be refurbished. A useless computer body can be used and you can repair the parts which are useless and use the other old parts which are working.
Recycle products – Above paper and plastic are the best examples of recycling. In fact, there are many business men who become rich via recycling.
Disposing – As shown in the garbage example above, it is a disposed object and can be recycled into organic waste via the reverse flow channel.
Hence, overall there are many ways to recycle a product. The flow of product from the company to the consumer is the normal distribution channel. But the flow of product from the consumer to another consumer or another company is the reverse flow channel.
Liked this post? Check out the complete series on Distribution