Online communication is how people communicate, connect, transact to send, retrieve, or receive information of any kind via the internet using digital media. All the communication that is carried out via the internet is known as Online communication. Because of our increasing presence online, this type of communication is becoming equally important as offline communication.
What is Online Communication?
Earlier, there was only verbal and non-verbal communication, but now there is another more effective form of communication, which is Online communication. Many people have started to communicate with the help of online communication. In fact, during the recent pandemic of COVID-19, online communication has picked up like anything.
More and more information is being churned out online ever than before. There is a lot of information for the reader to read online. People have started doing everything online, including but not limited to banking, reserving tickets, booking travel, planning travel, purchasing any and every kind of things, teaching, conducting meetings and seminars, one on one or group discussions, dating, sending information.
Every other activity which is possible is being done online. While basic tech literacy is essential for online activities, many can perform activities even with very little knowledge. The growth of online communication is fast and rapidly replacing traditional communication methods.
Paper-based communication has reduced a lot since the evolution of online communication. It is convenient, easy, and does not cause any harm to nature. It is also fast and can be communicated anywhere in the world.
Types of online communication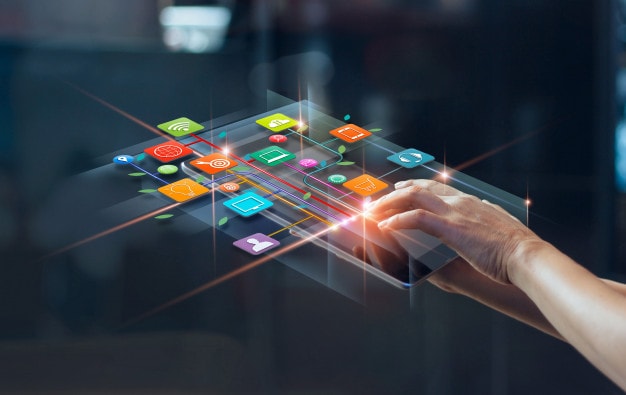 There are multiple forms of online communications that people have been using for the past few years. While the communication started from email, today, numerous methods are used in online communication. Some of them are as follows:
1. Emails
This is arguably the first form of communication developed in an online communication method. This is considered and accused as the sole reason for the decline of postal services across the world. It is one of the fastest ways and is deemed to be professional everywhere.
It saves time and money for both the sender and receiver. Emails work by an online interface and are hosted on the servers.
Usually, various ISPs are used to send emails worldwide. Unlike posts, emails are instant and fast. They are used for personal as well as professional use. Gmail, Yahoo mail, Microsoft Outlook, and Protonmail are a few popular mailing applications and services.
Almost all of them are free of cost except in some instances when you require more massive storage on the cloud.
2. SMS
It is the common abbreviation of Short Messaging service. As the name suggests, it is short and instant, usually with 160 characters. They are typically transmitted from the sender to the receiver via phone or the internet.
It can be considered a shortened mailing service since it is like mail, except less official and more casual. It does not have a subject line like mail, and it has a character limit.
It can be compared to the telegram, an earlier method of sending instant messages across wires. Most of the phone service providers provide
3. Instant messengers
This is a recently evolved, more popular method of communicating. It is more prevalent amongst youngsters and college students since it features alphanumeric characters – pictorial messages known as emojis.
Various pictures of small sizes and dimensions can be pasted in the chat to convey messages to the sender. In this form, unlike others, the receiver is online or is available continuously to receive messages. The sender sends messages, and the receiver simultaneously types and replies to the messages making it an instant messenger. WhatsApp, Facebook messenger, Yahoo chat are a few of the famous examples of the instant messenger.
Almost all the instant messengers are for free of cost. Blackberry messenger was arguably the first one to promote the concept of chatting and showing the receiver online with a green dot.
Later WhatsApp became a hit amongst the younger generation when it was introduced on the Android play store. Since the last few years, Facebook has acquired WhatsApp, making it part of one of the largest social media giants.
4. Forums
Forums are also called discussion boards, and they are usually conducted online. There are multiple users present, and each of the users interacts with each other by posting messages on the same trail of messages.
It is considered useful to have debates on multiple topics. It is yet another format that has been picked up by Facebook and introduced on its social media site.
The users can post a 'status' which acts as a starting point for interactions. The comments below the post are collected and stored below the same post, and it takes the look of a forum.
5. Whiteboards
This application usually works like a physical whiteboard in which one person can be said as a presenter shares the board with other viewers, and he can draw or write while others can see it.
It is prevalent in educational institutes and is excelled for one-way communication. Google has recently introduced its whiteboard by the name of Google Jamboard.
6. VoIP or Voice over Internet Protocol
This is used to denote any transmission between more than one user. Usually, multiple users can use VoIP. It is a viral communication method, and it also captures the subtle nuances of verbal communication.
It is also used to host meetings and conference calls in businesses. It has further evolved into Video conferencing. In video conferencing, both the sender and receiver can see each other and talk simultaneously.
Cameras are required for the process of video conferencing. Many meetings are conducted via video conferencing.
Skills for online communication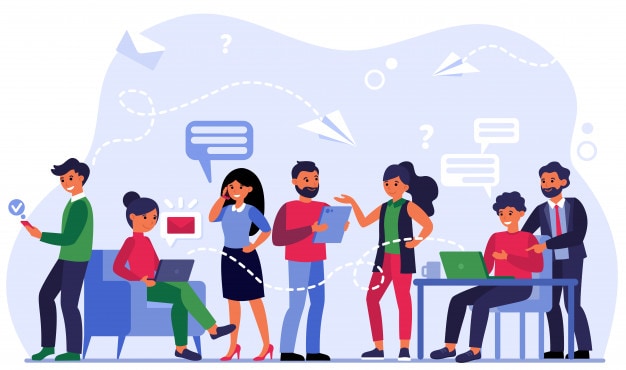 1. Clear and concise language
When it comes to online communication, especially in the website content, you must focus on the language of communication. The written or visual cues should be clear and precise. It should not divert from the topic, and it should be easy to understand.
Technical jargon, while necessary to some extent, should not be used excessively. Wherever possible, it is recommended to use acronyms in brackets. For example, instead of the United Nations, use the UN.
Too many shortcuts would ruin the intention of the message and may not serve all the audiences. Many online communications are customized for their audiences, and it is highly recommended for all companies since it increases the effectiveness of the communication.
2. Tone of the narrative
The tone of your online communication must be what you intend it to be. Most of the time, you may intend something else, and the communication turns out to be something else. Such mismatches can be disastrous for not only business but also personal purposes. For example, humor can be a great icebreaker. It works very well when used in face-to-face communication as well.
However, the tone should be used carefully since humor is usually easy to misinterpret, and you may knowingly or unknowingly end up hurting someone's feelings.
The tone of online communication also matters when communication is for business purposes. Even grammatical accuracy plays a significant role in the tone of your online communication.
A simple grammatical mistake might damage your reputation. On the other hand, when visual tools do communicate, visual accuracy matters the most.
3. Provide complete responses
Whenever you're communicating with your prospects or customers, you should thoroughly address all your issues. These issues usually are the ones that customers have asked, and most businesses or business workers fail to provide complete answers to the inquiries. This may not leave a good impression of the organization on the customers.
The best way to solve a customer's concern is first to understand it. Don't hesitate to ask for clarification if you don't understand the problem. Giving the wrong solution is worse than providing no solution at all. Understand what exactly the customer wants and then prepare a solution accordingly.
Conclusion
Online communication has increased a lot in the last few years and has turned into different methods. It is increasingly becoming an essential part of the everyday lives of all people.
There is very little which cannot be achieved with the help of online communication. Designing communication and using proper channels is as crucial as the message itself. Every message and the intention behind the message necessitates the use of different channels of communication.
Liked this post? Check out the complete series on Communication