Definition: Public Communication can be defined as strategic communication to convey ideas, programs, though, presentations, data, propaganda, etc., to the masses, the public, students, or niche audiences.
In every country, public communication holds an important place in sharing views and messages to the audience. For example, motivational or public speakers use this type of communication to reach the public.
What is Public Communication?
Public communication is strategic communication used when a person or group of people muster and share information to a group of people to deliver a message on a specific topic. It is one of the crucial forms of communication, usually done for a specific purpose.
The information can come from private, government, political parties, academic courses, and many more. In simple terms, the activity of sharing information with the public can be understood as public communication.
When information is shared with one person, it is called interpersonal communication for example talking to one student, whereas when information is shared with more than one person is called public communication addressing students in a seminar.
Importance of Public Communications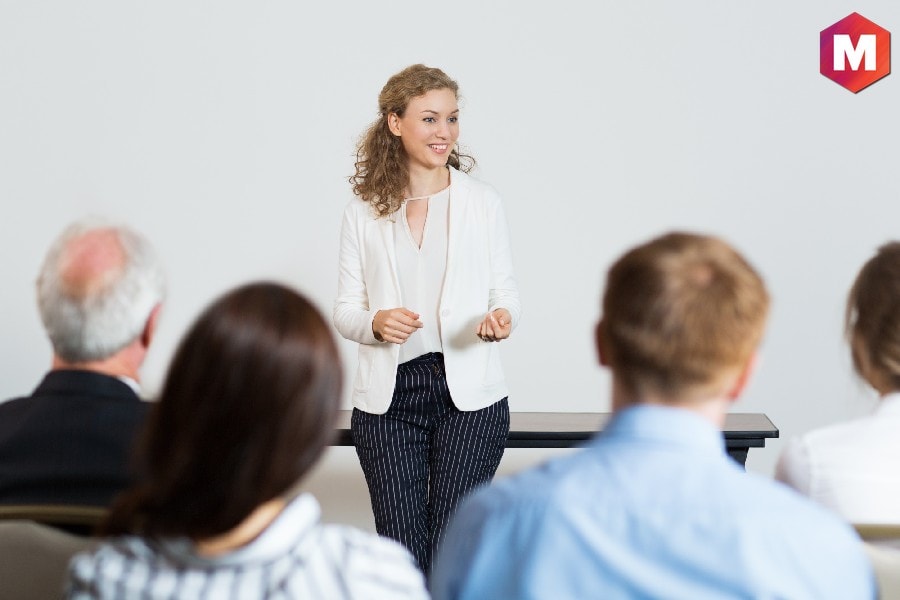 The importance of Public communication is extreme and effective in the public arena. In older times, public communication stood to be a part of persuasion. But in this modern digitalized era, technology has changed the way of public communication.
While talking about political parties, persuasions are a part of it to get the support of the public. From professional events to business and research events, public speaking plays one of the major roles in public relations to connecting and converting groups of people. Some of the reasons why you should master it are-
1. Winning over Public
A critical skill in the arena of public relations is persuading and winning over the crowd. When a speaker speaks with poise and with all the knowledge bestowed in the speech, the public likes to listen to the speeches. It is pretty compelling. Public speaking skills have to be strong to win over the crowd.
2. For Motivating People
An excellent public speaker has the power to motivate his/her audience to reach objectives. Leaders who can inspire lives and make the audience move with their words are very great speakers. No doubt knowledge is one of the crucial factors, but connecting emotionally and arousing passion for motivating is looked after in Public communication. One should relate with the audience and gain their trust. A skilled public speaker can be able to motivate people along with entertaining them.
3. For Informing People
The most important feature of public communication is to inform people soberly. An excellent informative speaker shares knowledge which enhances their thoughts and understanding.
Types of Public Communications
1. Ceremonial
The ceremonial communications consist of speeches that mark special occasions like graduations, weddings, birthday parties, and many more. An emotional connection with a personal touch will be present here.
2. Demonstrative
Demonstrative Communications require an option to speak concisely and clearly about actions. Behind demonstrative communication, the idea lies that the audience should leave learning about how to accomplish something. Science Demonstrations are perfect examples of Demonstrative Communications.
3. Informative
With informative communication, the speaker tries to disclose an idea to the public. College lectures include informative speeches like industry conferences and some officials conveying important information. In this type of communication, information is essential. Disseminating crucial information is an integral part of this communication. Media, TV, Radio can also be considered under informative communication.
4. Persuasive
Persuasive communication requires a practicing voice that convinces the public from a perspective. For example, when politicians need votes for elections, they choose this kind of Public Communication to win the group's confidence with an appeal.
5. Semiotics and Signs
Public Communication can also come in the form of signs and semiotics in any dimension like Traffic signs, signs at airports, and many more. This type of communication uses graphics to convey some information to the public.
New Technology for Public Communications
New technology has opened so many paths for speakers to speak globally at a point in time with so many people. Indeed it has created a broad audience base. In this 21st century, public communication can be physical and virtual. To be specific, virtual ones are too easy to hold.
Be it Facebook, Instagram, Youtube, and such social media platforms help a person speak with ease. Videoconferencing has become part and parcel of speakers to reach a wider group of people.
Though physical appearance cannot be felt, it's an easy way to convey messages sitting at any part of the globe. In this Covid situation, technology is helping public communication a lot to prosper.
How to Improve Public Speaking Skills?
For being an improved public speaker, you need to follow a comprehensive process that top public speakers suggest. Speaking in public is a skill that one can only master by practicing it hard.
By preparing effectively, even those who do not have the natural ability to address the public can do it effectively. It is one of the key skills for marketing, advertising, management, education, public welfare, politics, etc.
So, some of the easy steps that you need to follow for preparing for your public speaking sessions are-
Overcoming your fear of speaking by trying shorter speeches first
Opt for a familiar location to practice your speech
Know your topic well and opt for a topic you are passionate about
Organize your material and prepare presentation or slide designs using tools or templates
Use positive self-talk and write down positive about yourself before you speak
Be fair to yourself and use a power pose
Get speech training and join a speaking group
Conclusion
It is obvious now that public communication is crucial for delivering information, news, message, or speech to the target audience group to inform, motivate, entertain or persuade them for some favorable actions.
It is also highly important in building relations, forming connections, and creating a network of people who are ready to engage with your business, purpose, motivation, or thought process.
What are your thoughts about the importance of public communication skills?