Visual communication is a means of conveying data and communicating information by using various visual mediums, for instance, graphic design, diagrams, text, prints, charts, illustrations, typography, infographic, body language, signs, expressions, gestures, drawings, still images, color, and animation.
What is Visual Communication?
Visual communication is an important concept where two or more people can communicate their thoughts, messages, concepts and ideas effectively. The emphasis of visual identity is on sharing meaningful information and content with the audience through the use of visual elements.
As per recent research, more than 74% of content creators and organizations use visual design in a story to highlight content and evoke emotion. This visual design principles and presentation often helps in understanding the content information and conveying true emotions explicitly to the audience.
Types of Visual Communication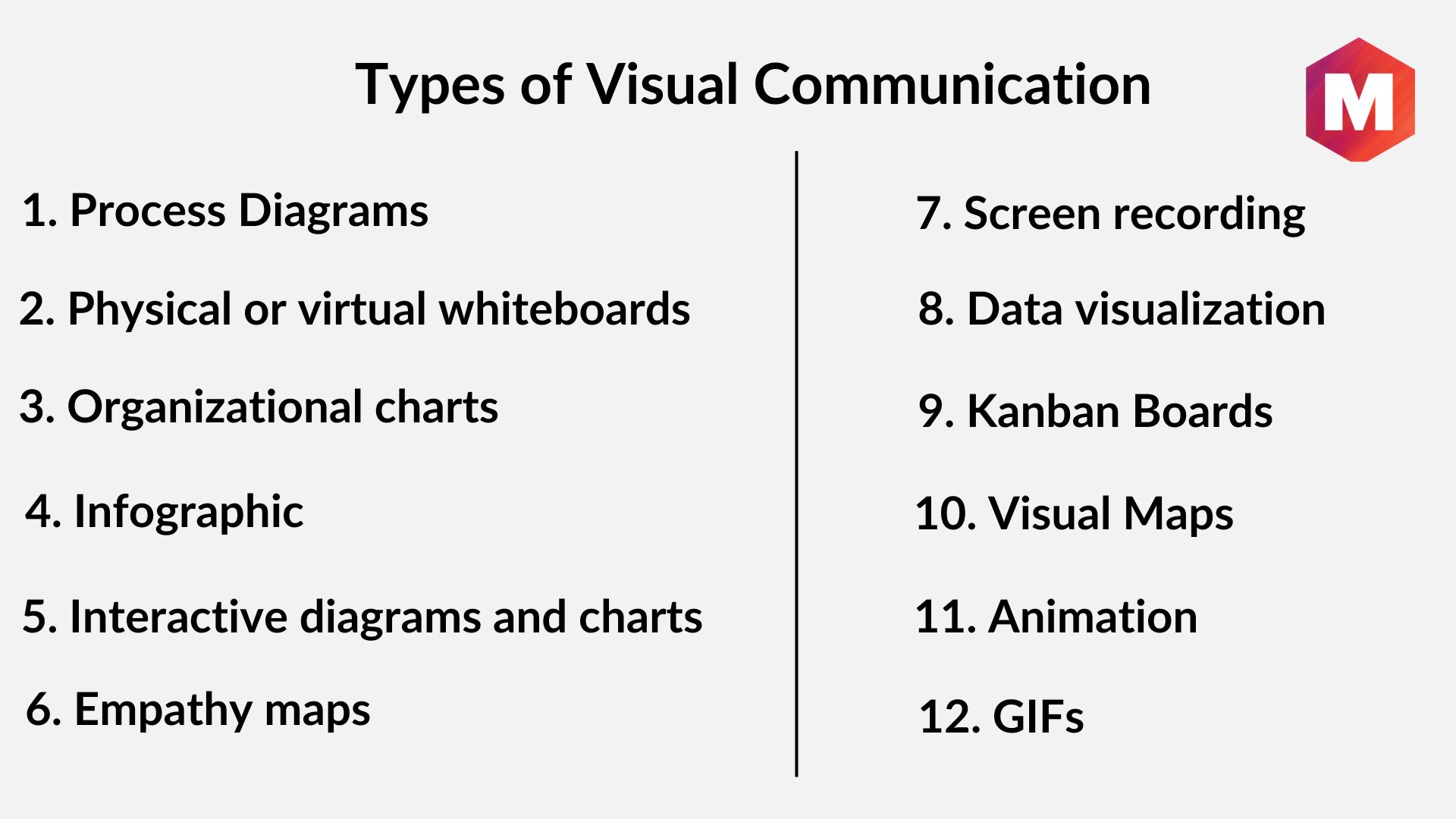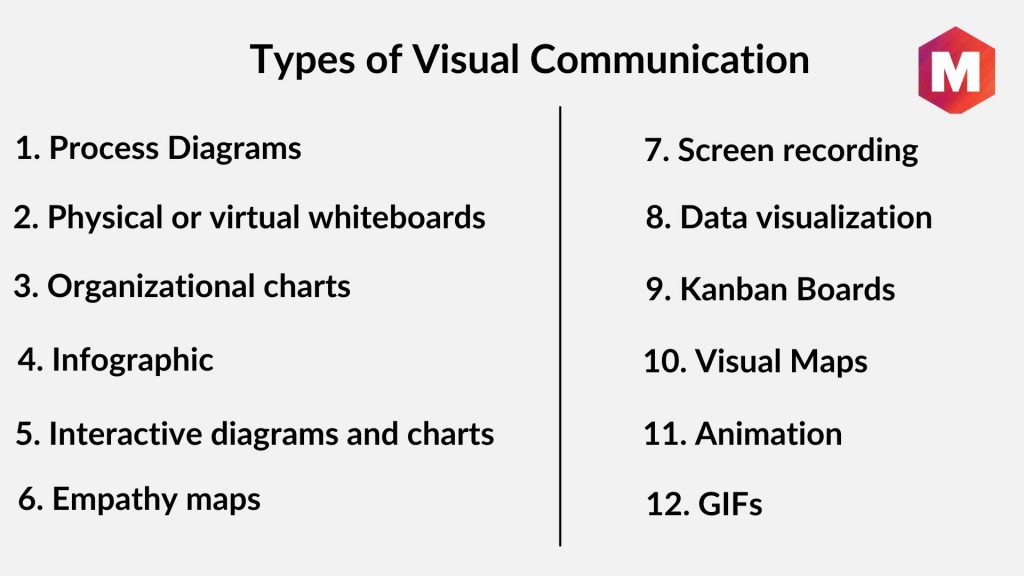 The common types of visual communications are as follows –
1. Process Diagrams
This type of data visualizations of communication data often strengthens alignment across different departments of a company by making sure that tasks are performed similarly over time.
2. Physical or virtual whiteboards
If you want to put across a message succinctly on social media posts, or other visuals media to the targeted audience then take the help of a virtual board. One way is to look for digital whiteboards with unlimited space and a wide range of designs, images and graphics as this type of visual communication will provide many new opportunities.
3. Organizational charts
These pie charts are simple diagrams that visualize different associations in a presentation. It can be used for professional networks, community and personal reasons. Organizational charts are often used during the Onboarding process and mapping out communication lines in a company.
4. Infographic
If you want to show important financial information, in a presentation then an infographic is your go-to tool. This type of visual communication represents the visual representations of important data, with help of colours.
5. Interactive diagrams and charts
These are user-friendly visual communication means to make the information memorable for visual learners. The charts and diagrams are available in various sizes and shapes. Users can take the help of colors and icons to illustrate all the steps distinctly in their presentation.
6. Empathy maps
It is a tool that combines all the important visual elements to convey all of the information about a topic to gain a much deeper understanding and insight into customer needs. The clear use of data and images often makes the message clear and the presentation important.
7. Screen recording
This type of visual communication is a blessing for the user and the audience as it shows how to move around unfamiliar platforms and to make people communicate visually more effectively.
8. Data visualization
This visual communication type helps to process a huge number of data sets, save time and understand relationships and see trends thoroughly.
9. Kanban Boards
This visual communication tool is used to streamline and manage ideas and tasks. Sticky notes and cards are often used to display specific processes and show every stage in that process.
10. Visual Maps
One of the best types of visual communication can be done through visual maps. It is visual storytelling helps the user to brainstorm ideas, create timelines, make viable plans, and outline an effective strategy. The two important examples of visual maps are Mind Maps which are used to convey ideas and encourage free-thinking where you do not have to worry about structure and Idea Maps which help to organize the thoughts and to structure the available information.
11. Animation
Animated images and videos have often proved effective in grabbing the attention of the target audience.
12. GIFs
If you are interested in engaging your customer within the first few seconds then GIFs is your tool. The visuals add humour and make sure the content is relatable and worthwhile.
Importance of Visual Communication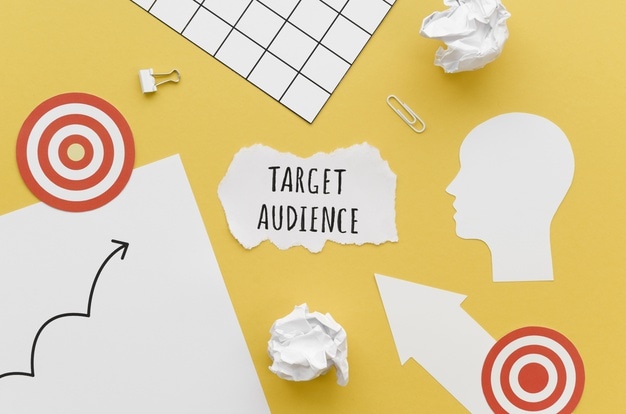 Communication through visual means is considered important for the following reasons-
Sometimes words are simply not enough to put across your point effectively. At such time visual communications help to bridge the distance between words and thoughts so that people standing at opposite ends can understand the true gist
Visuals are necessary for communications as they can inspire change and make sure that visuals help to make the content important
Visual communication educates as well as motivates its target audience by making the content eye-catching, appealing and clear
Visual communication give more meaning and thus helps people to engage, observe, connect, communicate and draw inferences with the subject directly
Visual communication act as an example to provide a better understanding of the target audience
Visual communication arouse emotions and people can relate to the given topic easily
Visual communications help people to retain information. It is a fact that human beings can remember things that they have seen longer than the things they have only heard about
Visual communication is important in an organization as it helps to align employees and team members with various organizational processes.
Visual communication is the best means to remove complexity and simplify information in a process
Visual communication help to save important time as it requires less effort and time to put across ideas and convey major points to the audience
How to use Visual Communication?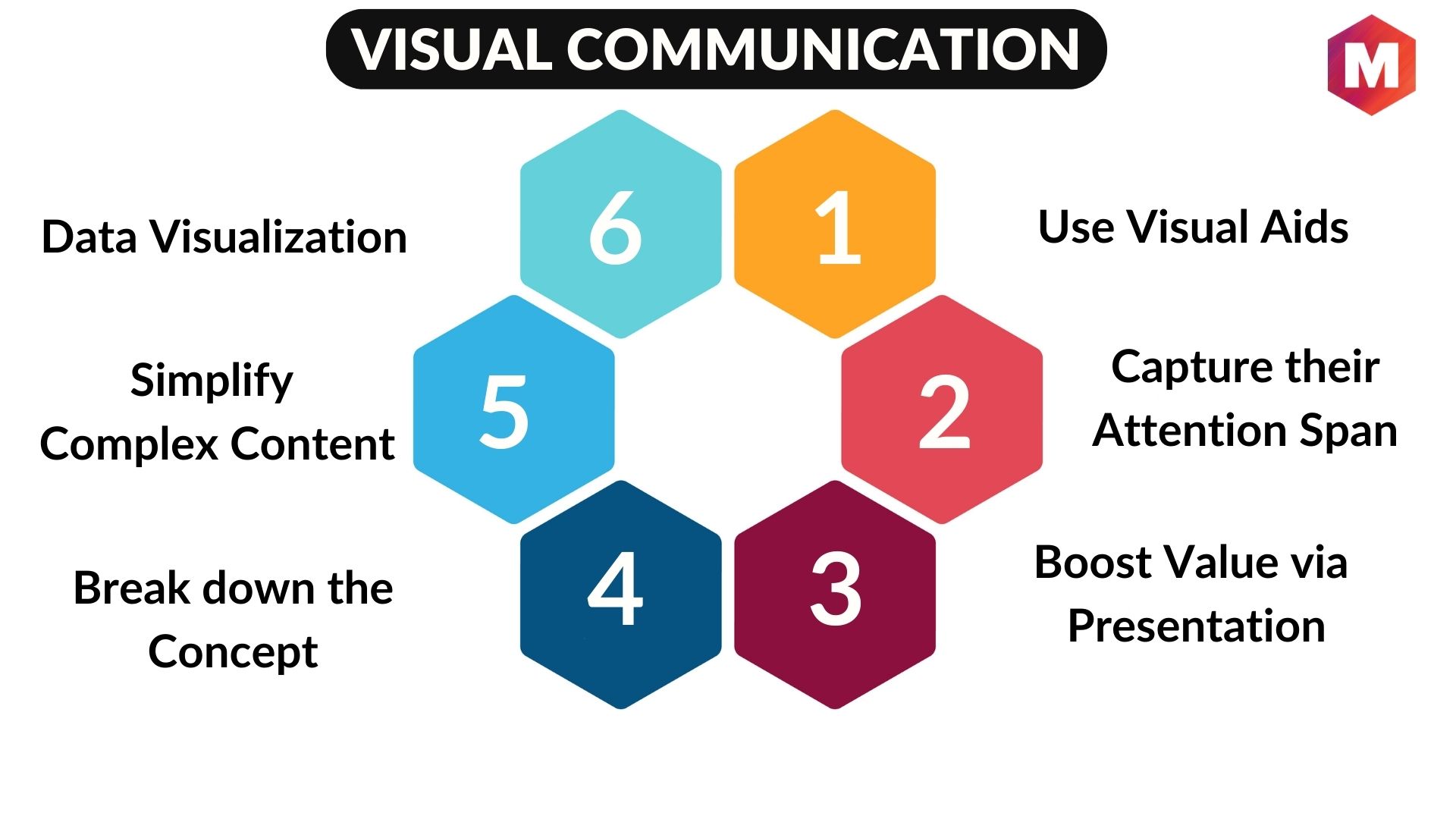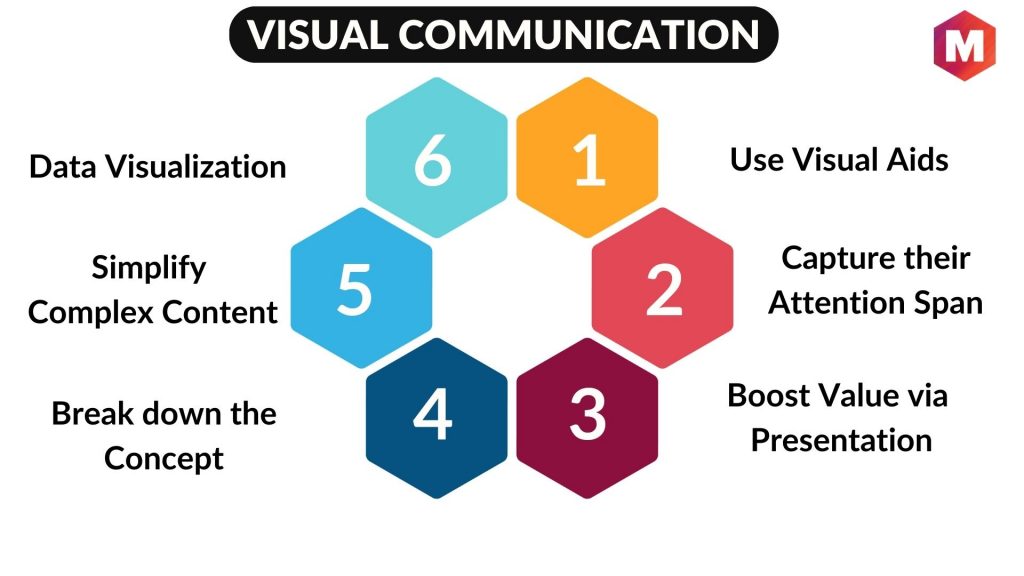 Visual communication is an important tool that can be used in the following ways-
Use Visual Aids – Create content with help of visual aids so that the new topic becomes interesting. Several industries like healthcare, engineering, finance are taking the help of this type of communications so that they can make the information interesting. Stylized icons incorporating visuals will make technical information and data accessible and the audience will now find it easy to relate and understand it. Use of various visual elements, metaphors and infographics will give the content a fresh look and encourage deeper thinking.
Capture their Attention Span – Target audience has a limited attention span and this type of visual communication strategies have proved successful in overcoming this problem to a greater degree. Use visual aids to correlate with the topic so that the people can maintain focus on the main content. It is an important key that can be used for solving issues related emotional response to boredom and distraction
Boost Value via Presentation – Organizations can use visual presentations to boost the value of their services or products. These presentations can explain more about the product and services to customers and thereby impart more value through an understanding of different features and characteristics of the product or service. It is a means of making contact with new employees, creating awareness and imparting knowledge to customers
Break down the Concept – Use visuals to communicate improvements and in realigning with process changes. Show both high and low-level changes by breaking down the content into smaller sections and words. The specific details in the process documents help the team members to be on the same page of the story. It acts as a reference point for the team so that viable action plans might be taken with ease. Presentation slides may also be used in or after meetings to discuss company updates and clarify changes. Use Checklists to provide information about complex internal processes and remove the anxiety as well as unclear expectations.
Simplify Complex Content – B2B organizations and healthcare companies are using visual communication to simplify complex content and communicating strategies and information quickly. Use of size, colour, borders, lines and shapes in external communications have proved a blessing in drawing attention to major content and focus keywords on social media.
Data Visualization – Use of right charts helps in data visualization so that you can relate to the end game of complex information. Healthcare providers are using icon arrays to communicate risk and bar charts for handling large data work and making viable comparisons between various data sets.
Here is a video by Marketing91 on Visual Communication.
Challenges of Visual Communication
Visual communication is not as easy as it seems. People often face a lot of challenges in communication design and their content needs help. Some of the challenges of visual communication are as follows-
Creating and using visual aids is not a piece of cake.  It is a time-consuming process that needs additional effort.
If the visuals are not up to the mark even it can go against you and prove distracting. The use of ineffective visual aid in visual communication may ultimately impede the concept and prove harmful
Communicating through visuals is a challenge as the techniques and tools required in this process are expensive and every individual or team might not be able to afford it.
Visual information in itself is incomplete. It has to be used along with other forms of communication to provide a definite meaning
An organization will need employees with special knowledge about the use of design, data, imagery, visuals to deal with the concept of visual communication. Wrongful portrayal may often lead to ineffective search results.
It is difficult to express all the topic information through visuals and this is why sometimes people are unable to understand the concept and story behind it clearly.
Examples of Visual Communication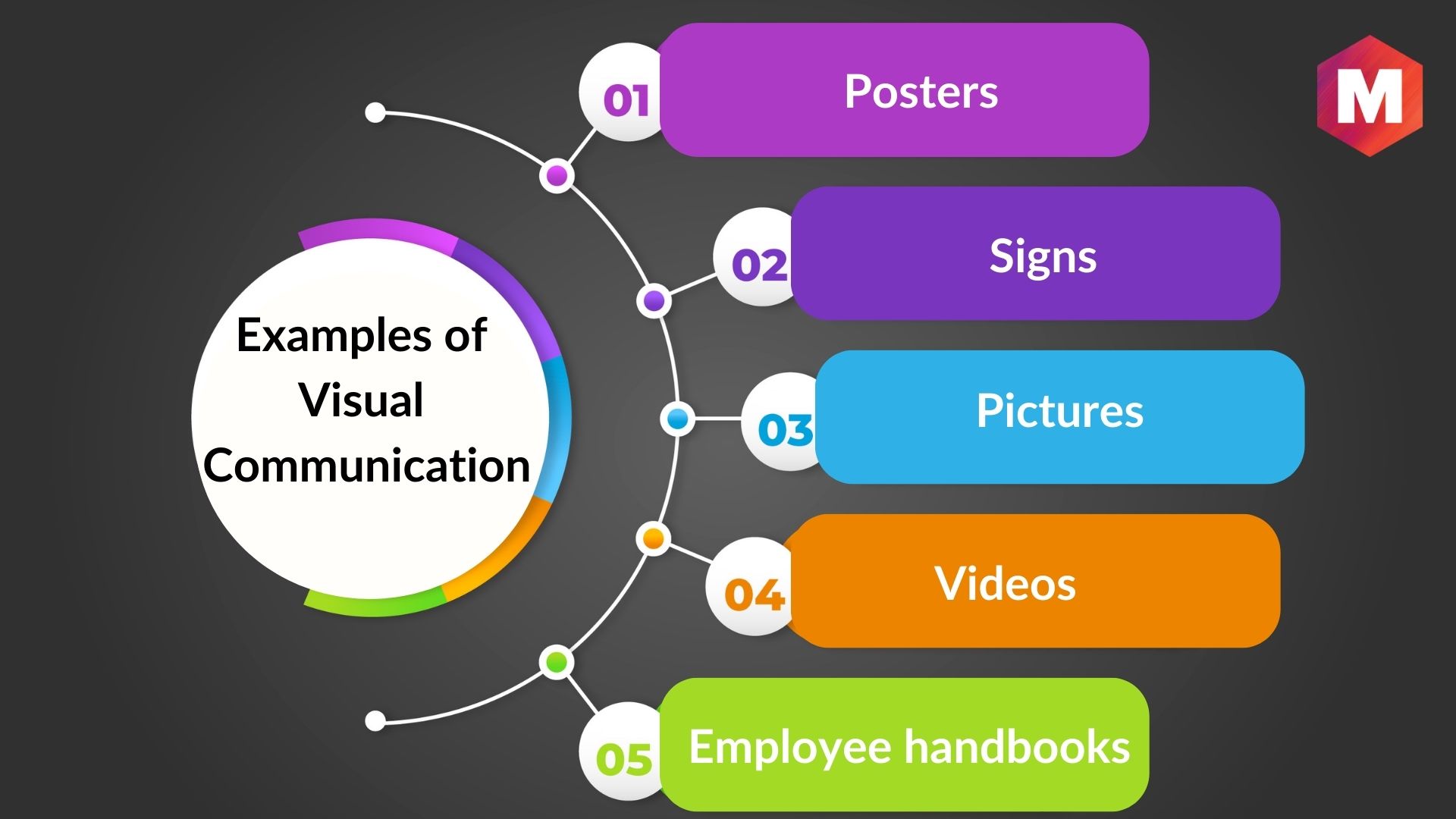 Visual communication is a powerful tool in the workplace. It's used to convey messages, encourage certain behaviors, and make employees feel like they're part of something bigger than themselves.
Here are some examples of visual communication that we've seen:
Posters – these are used to advertise events or new products, and also for employee education about company culture.
Signs – these are used to direct traffic or inform workers about things like breaks or changes in scheduling.
Pictures – employees are often given pictures of their families as a way to remind them of what's important when they're working hard on a project.
Videos – these are used to celebrate achievements and share information about new products or services.
Employee handbooks – these are used to explain company policies and procedures, as well as provide guidance for employees in their day-to-day tasks.
The use of visual communication in business is a great way to get your message across. It's a quick, easy and effective way to communicate with employees and customers alike.
Visual Communication Tools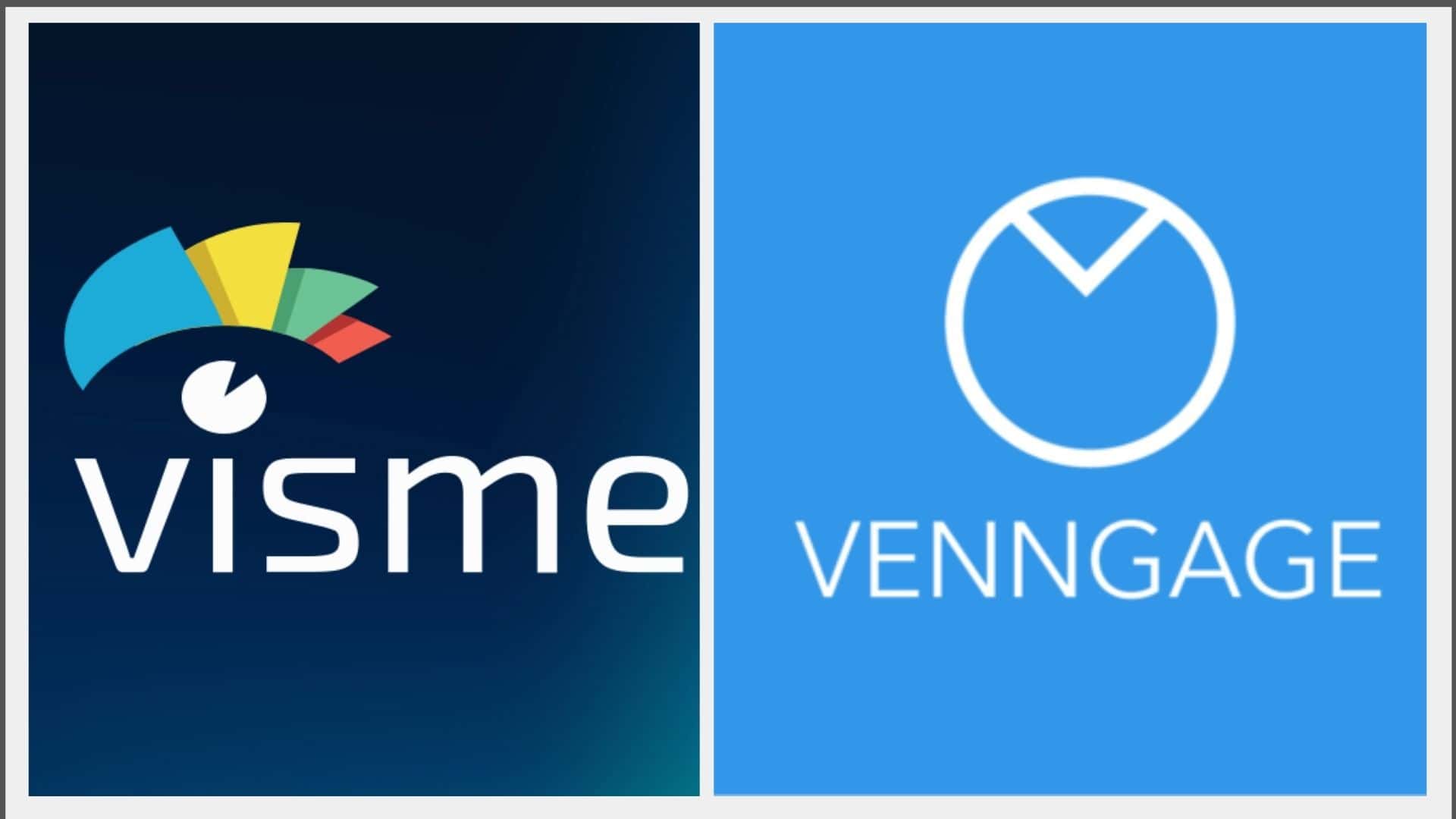 If you want the best graphic design, tools and imagery of visual communication to engage audience then look no further than platforms like Venngage and Visme.
1. Visme is a cloud-based social media platform for creating strong visual communication content. Infographics, presentations, graphics, imagery, videos and documents are some important tools that have helped it in reaching across new horizons. The online media platform boast of 900+ slide layouts, dozens of charts, thousands of customized icons and innumerable communication design and visual images to show stunning visual communication presentation.
2. Venngage is one of the most popular online social media platforms that offer beautiful templates and designs to create memorable and stunning content for its audience. The highly renowned visual communication site makes it possible for graphic designers to create professional infographics with help of a few clicks. Users may choose from premium design and visual images, infographics, brochures, flyers, charts and ready-to-use templates to search and create high-end visualizations and content.
Summary
Visual communication can embed itself deeply in all forms of communication so that organizations, as well as individuals, can use it to gain maximum benefit. The onus of a visual communication strategy is on creating informative as well as beautiful content, conveying core message in the best possible manner, and increasing data-driven results.
Liked this post? Check out the complete series on Communication