External Communication is the transfer or exchange of information with external audiences such as customers, prospects, investors, suppliers, shareholders, target niche, leaders, banks, public, government offices, insurance companies, etc. It is used for sharing the marketing mix with the world outside the organization.
When a business wants to achieve business goals by communicating with other people or businesses outside the organization via some forms of external messaging, it utilizes external communications strategies such as advertising, networking, branding, sales materials, slides, presentations, etc.
What is External Communication?
Definition: External communication is defined as a type of communication that occurs when organizations communicate with entities outside the organization for building brand awareness and creating a favorable company image in the eyes of the target audiences and society at large.
Each business needs to maintain a good relationship with other organizations or persons to achieve its aims. They transfer, share or exchange some information with external entities via external communication channels.
External communication objectives are to promote and simplify cooperation with some groups like investors, suppliers, and stakeholders. It dispenses a good image of the firm to the actual and potential customers. Various mediums are used for external communication, such as print/broadcast media, face-to-face meetings, electronic communication (by internet).
Difference between Internal and External Communications
External and Internal communications are two very important resources of effective communication in organizations or corporates to build brand awareness and successful functioning.
Internal communication is defined as an information exchange that occurs inside the organization with the internal audiences. In internal communication, messages are communicated via personal contact, emails, telephone, intranet, etc sorts of communication channels.
Internal communication exchanges information in different manners such as vertical, downward, upward, horizontal, and diagonal within the organization. It enables employees to know their jobs and responsibilities.
It is also used for developing a clear sense of mission and vision within the organization. Managers use it for employee engagement to inform employees and communicate with human resources.
While on the other hand, external communication is used for exchanging information and message with the outside world beyond the internal structure of the organization. External communication plays a crucial role in communicating your brand purpose, personality, and development with the public or your target audiences.
Some of the common internal comms channels are-
Intranet
Emails
Project management tools
Employee newsletters
Private messaging software
Document sharing software
Video conferencing software
Internal podcasts
Internal company blogs
Employee feedback tools
Internal social media
Employee survey solutions
Some of the useful external comms channels are-
Internet
Conference/Seminar
Presentation
Marketing/Advertising
Brand ambassadors
Leaflet/Brochure
Press Releases
Customer Newsletter
Forms/Questionnaire
Invitation
Report
Graph/Chart
Presentations/Slides
Digital Marketing Campaigns, etc.
For effective brand identity and company's success, it is important that both- internal and external communication- are on the same page to convey a consistent message internally as well as externally via all the communication channels.
Types of External Communications
External communication strategy can be broadly classified as the formal and informal conveyance of information.
A. The Formal Business Communication
Formal business communication is the first step to create an excellent corporate image for a company. It includes communications like memos, formal letters, presentations, and reports.
The main goal of this type of communication is intimating the quality and work of the products and services of organizations to the external audiences and optimizing brand awareness
Different kinds of formal business communications an external communications agency can use for its business strategy and business success are:
1. Content of websites
Developing valuable and convenient content for websites is vital and falls under advertising strategies. It includes content marketing, search engine optimization (SEO), Social media marketing (SMO), and much more information about the brands/companies.
The websites are beneficial to build strategies for external communications. Through content marketing, brands can be sure of enhancing the visibility of their sites.
2. Emails and newsletters
One of the principal types of formal external communication is the email system. It is used for two purposes:
• For illustrating latest offers to users to increase sales
• For creating a long term relationship with various stakeholders (external)
3. Conferences and Live events
Different types of conferences and live events are crucial types of elements for boosting communication.
4. Social Media
Social media is the most latest and advanced kind of external communication avenue. The different types of social media platforms include LinkedIn, Facebook, Whatsapp, Twitter, and a few more. These are very beneficial for interacting with the external people of a business. In recent times, most organizations choose social media for transferring news and every bit of information outside of that organization.
5. Press releases
Press releases are another valuable type of formal external communication. It helps in improving the reliability and brand image via press releases, press coverages, and media outlets. Press releases ensure a connection with new customers and all the potential investors on various channels.
B. Informal Business Communication
This communication is indirect in approach by an organization or firm. For example, when employees build up knowledge about their organization and work and discuss the same things with the outside environment of that organization. It is an informal type of external business communication.
The goals of External Communications Strategy
The goals of perfect external communication are:
1. Developing community relations
Every organization needs to maintain a good relationship with the community for building brand awareness and achieving organizational aims. For this it needs organizational communication. It acts as a communicative tool and linkage between firms and people. It helps in transferring news and information to stakeholders, customers, and other people.
2. Communicating and Collecting Information
The main goal of external communication is to share key news and information in the target niche, but alongside this, it is also useful in accumulating all the information from the outside world to optimize the brand presence in front of the target audience by the right use of external communicators and media relations.
3. Optimizing external network
Businesses must know the likes, dislikes, and tastes of their consumers for enhancing the sale of the organization's products or services. External communication does this via marketing messages to communicate with the business world outside the organization. Via persuasive communication with external stakeholders, a successful business might try to optimize brand reputation.
Now in this digital era, many digital external communication mediums are available like LinkedIn, Youtube, Facebook, and many more. Through these, businesses can increase recognition of their products/ services to the audiences. These mediums are the most convenient to reach potential audiences. It serves as a cost-effective promotion.
4. Builds Image of a brand
Sometimes, the success and triumph of any business do not always recline only on the sales. It also depends on the image perception among its customers. By external communication, firms can create and establish a good brand image in the eyes of new as well as existing customers.
5. Good relation with the suppliers
Every business or organization has its suppliers from where they collect either finished goods or raw materials for running the business. Through external communication, a good relationship can prevail between that organization and its suppliers.
6. Association with the financial institution
The most primary objective of external communication is about keeping links with banks, insurance companies, and other financial institutions.
7. Association with Government agencies
The organization must follow the rules of the government. By using eternal communications, a company can keep a good relationship with the governmental agencies.
8. Relation with the external stakeholders
The stakeholders own the company or organization. The board of directors and other officers are liable to notify about all the business affairs to the stakeholders. External communication is a brilliant way to do that.
9. Miscellaneous things
External communication is necessary for keeping relations with regulatory bodies and maintaining international relations.
How to improve External Communications Strategies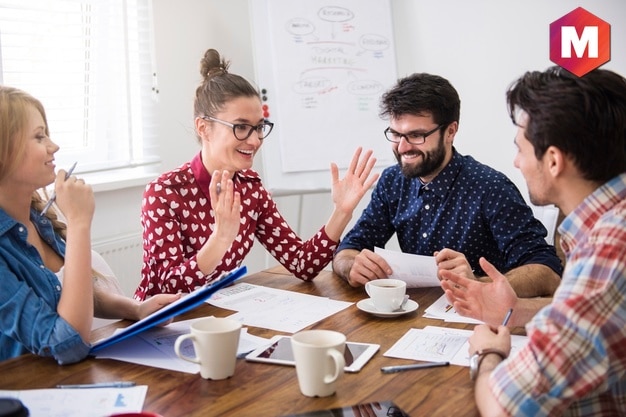 If a business wants to improve External communication strategies, then look at the given tips:
1. Know your Audience
For making an overall business strategy for external communication, there can be different audiences like investors and shareholders, influencers and partners, customers and clients, etc. So, before you design your external messaging strategy, you need to be aware of your audience segment.
2. Pick the right platform
When you know who your audiences are for an external communication campaign, you should do strategic alignment of different platforms that can communicate to different external stakeholders and audiences important for your business growth.
3. Recognize audiences' taste
External messaging of businesses should be designed as per the behavioral preferences and inclinations of their target audience. Many companies target a broader audience market after knowing the taste of the audience to optimize their conversions and success.
4. Deliver the real value
External communications of the brand message should be designed in a way to offer real value to the audiences. Comms professionals need to add value to the lives of target audiences via external messaging campaigns.
5. Adopt a unique voice
To make an effective brand presence in the target marketing, brands' external marketing communications should incorporate a USP to differentiate their messaging and stand out from the competition.
Conclusion!
Businesses have been using external communication channels for communicating with external audiences and optimizing brand presence in the outer world.
Once a business knows where its customers and different stakeholders are, it can build good and effective external communication strategies.
The external mediums of brand messaging can be advertisement, newspaper, radio channel, internet, etc. Some firms provide interesting promotion offers like bonus points and coupons to attract customers and increase sales. Sometimes emails are used too for informing customers about free samples, discounts, etc.
How effective do you consider external communication for building brand awareness and optimizing lead generations and sales?
Liked this post? Check out the complete series on Communication