Definition: Vertical communication is a form of communication that occurs between two individuals who are at different positions of hierarchy within the same organizations. It follows a a linear system where information flows from one individual in organizational hierarchy to the next as per their titles.
What is Vertical Communication?
Vertical communication is a communication process in which information or messages flows between or among the superiors, supervisers, leaders, or manager to subordinates, employees or team members of different levels of an organizational structure in the downward direction or upward direction.
As such, vertical communication may be upward or downward in nature. Some examples of vertical communication include instructions, formal reports, business orders, and work reports. This form of communication may be formal or informal.
Types of Vertical Communication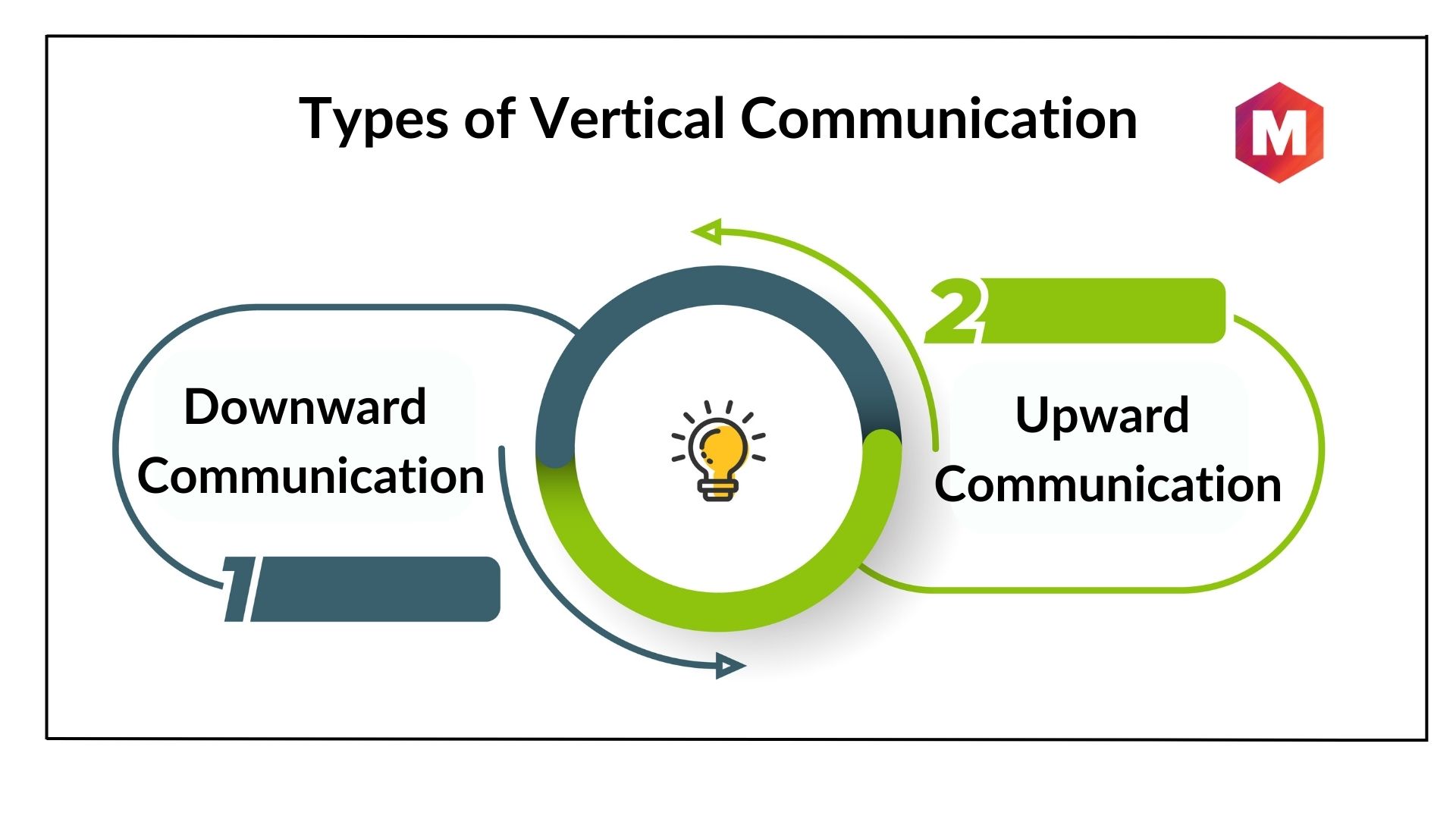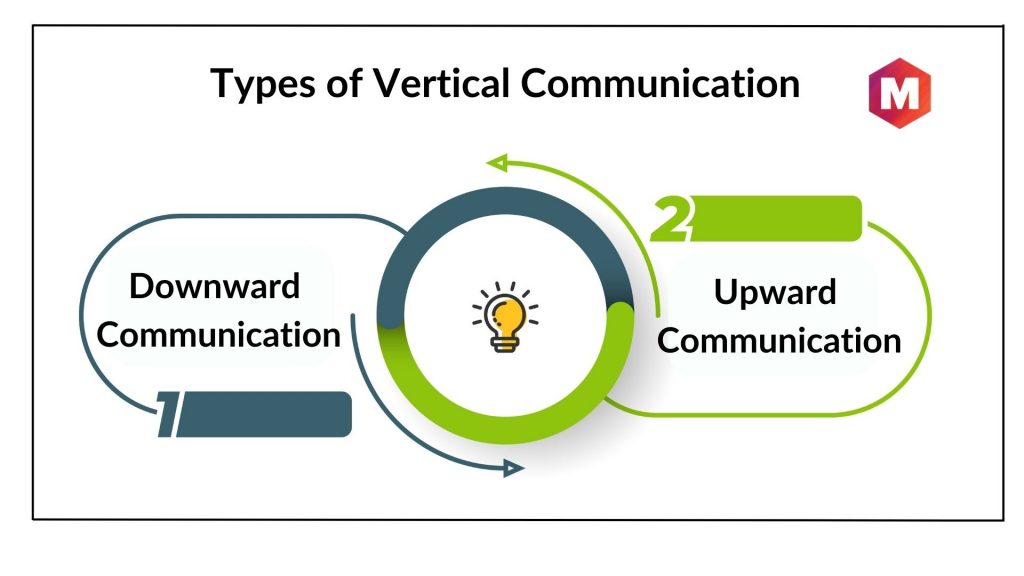 These are the two types of vertical communication structure in business communication.
1. Downward Communication
Vertical downward communication involves the dissemination of information or orders from the senior management to associates. The top management shares information via E-mail, and it's usually not directly shared with the employees.
Studies have shown downward communication to be most effective when the top managers communicate directly with senior managers and the supervisors, who relay the instructions to the staff. Some of the purposes of vertical downward communication may include:
Implementing new objectives and announcing them to the staff.
Explaining new organizational procedures to intern or new employees.
Socializing with the staff and building a friendly and cooperative atmosphere with them.
2. Upward Communication
When the information flows from the associates or subordinates to the senior management, it is defined as upward communication. This is done by the employees to update the supervisors or managers by providing work or performance reports, or to share important information. Some purposes of Upward Communication involve:
Updating the senior management with regards to the difficulties and issues faced by staff members.
Suggesting changes to improve workflow and productivity.
Providing updates regarding results.
Informing the top-level management about any grievances and complaints.
To improve the upward flow of communication, the leader must always be mentally prepared to listen to opinions, make decisions based on suggestions from the staff, and listen to the grapevine to get information about the mood and biases of the staff members.
Purpose of Vertical Communication
The purpose of vertical communication is to relay information from the top of an organization (the CEO, for example) down through its ranks and out to the public.
It's a form of a communication channel that's usually used by large companies to convey important news or updates that are relevant to all employees—for example, when a new CEO has been appointed, or when a company-wide restructuring has been decided upon.
Vertical communication is also an effective type of communication used by small businesses as well. For example, if a new product is being launched or if management is changing hands, it's important for everyone on staff to be informed about what's happening so they can make decisions based on the new information.
Tips for Successful Vertical Communication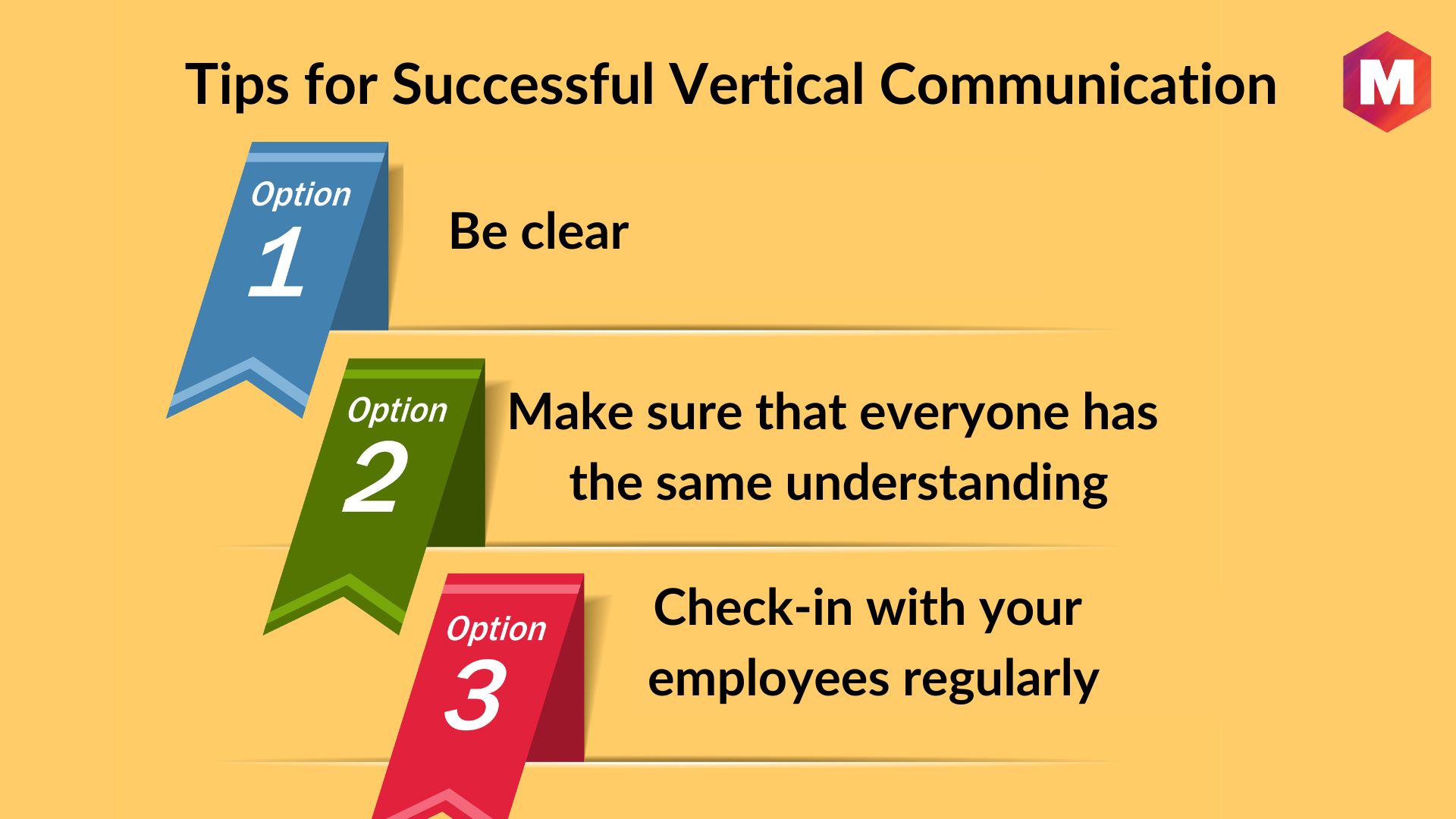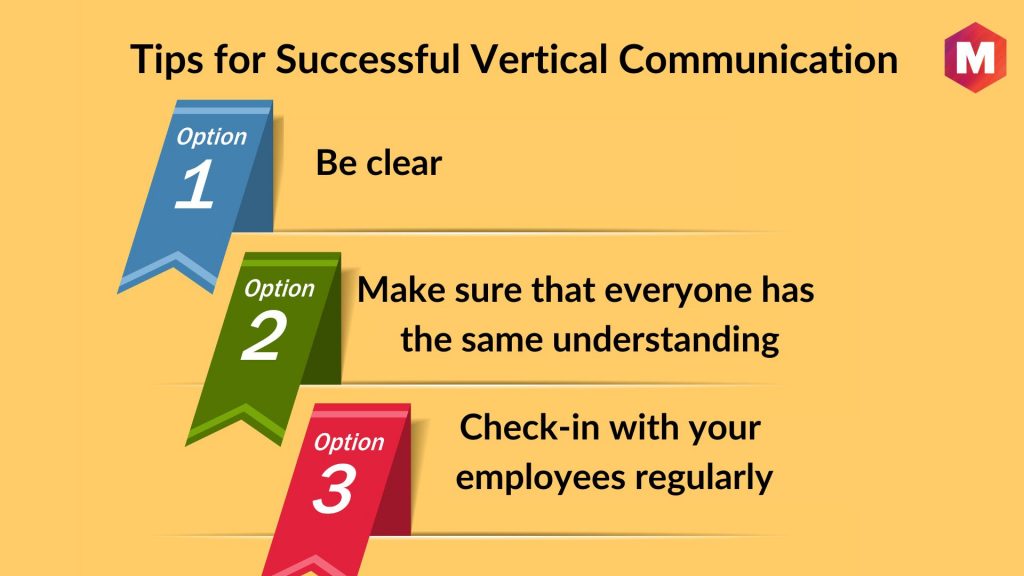 It's very important to be able to communicate effectively throughout your entire organization. Whether you're managing a team of people, overseeing a project, or just trying to get something done, the ability to communicate clearly and concisely is key.
Here are some tips for successful vertical communication:
Be clear about what you want from your employees. Don't assume that they know what you need from them; make sure that you're explicit about it so there are no misunderstandings later on.

Make sure that everyone has the same understanding of what needs to be done; if someone doesn't understand something, they won't be able to do it correctly!

Check in with your employees regularly to see how things are going and whether there are any problems or issues that need addressing right away before they become more serious problems later down the road (e.g., "Are you having any trouble getting all of this work done on time?").
Examples of Vertical Communication System
Vertical communication systems are a great way to improve efficiency and make sure that everyone is on the same page in your organization. They're particularly helpful for large organizations that need to ensure that their employees are on the same page, and can help you manage everything from employee training to information about new products, ideas, or services.
For example, let's say you're managing a huge company with lots of different departments, each with their own priorities, tasks and goals. If every person in your organization has access to information about what's going on in other departments, it will help them keep track of what needs doing, and when. It'll also make sure everyone has the same information about how new products or services will impact their work—and thus how they can best adjust their own work processes to accommodate those changes.
A vertical communication strategy can also be useful if you have multiple locations or stores, as it can help make sure all of your employees have access to exactly the same information so they don't get confused between locations or branches.
Advantages of Vertical Communications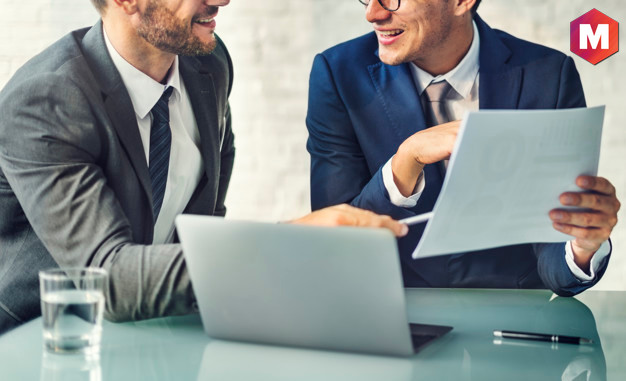 The right way of conveying messages – It helps to convey messages effectively from the top-level management to the bottom-level management or vice versa.

Develops organizational relations for labor-management – It helps maintain good relations between the superior and the subordinates since the flow of information is effective and organized.

Provides a chain of command – It helps to maintain discipline, as there is a chain of command in this system.

Easy explanation of company policies – It makes it easier for the top-level management to convey and explain company policies to newcomers and interns.

Easy reports, feedback and decision making – Information and work reports are easily collected via Vertical Communication, and so the senior associates and the supervisors are greatly aided in decision making.

Effective delegation of duties – This form of communication is useful to delegate duties to the staff and avoid too much authority to be concentrated within the hands of a few individuals.

Resolves miscommunication issues – Since the top-level management and supervisors communicate directly, there is no mismatch of messages or any confusion whatsoever.

No by-passing of information – The top-level management can easily share confidential information with the supervisor instead of the whole organization at once.

Optimizes organizational discipline – Respect is maintained since the staff has to report to the respective superiors, and everyone understands each other's positions.
Disadvantages of Vertical Communication
Vertical communication may cause employees to become too complacent, as they may operate under the belief that their work will be checked and corrected before finalization.
There may be misinterpretations and conflict due to the sender's tone and body massage.
Lower level employees of the hierarchy may feel neglected as there is too much of a barrier between the top-level management and the staff at the bottom.
This method is tedious and can cause delays, thereby disrupting workflow and overstepping deadlines.
If the staff lacks respect for the top-level management, the chain of command and discipline is likely to be broken. Reputation is, therefore, crucial.
Since the information is passed from the in a lengthy manner, it may become distorted on the way to the top.
Lack of efficiency can damage the relationship between the supervisors and the subordinates.
There is a tendency for the board of management and the supervisors to neglect the subordinates due to the chain of hierarchy.
Horizontal Communication vs Vertical Communication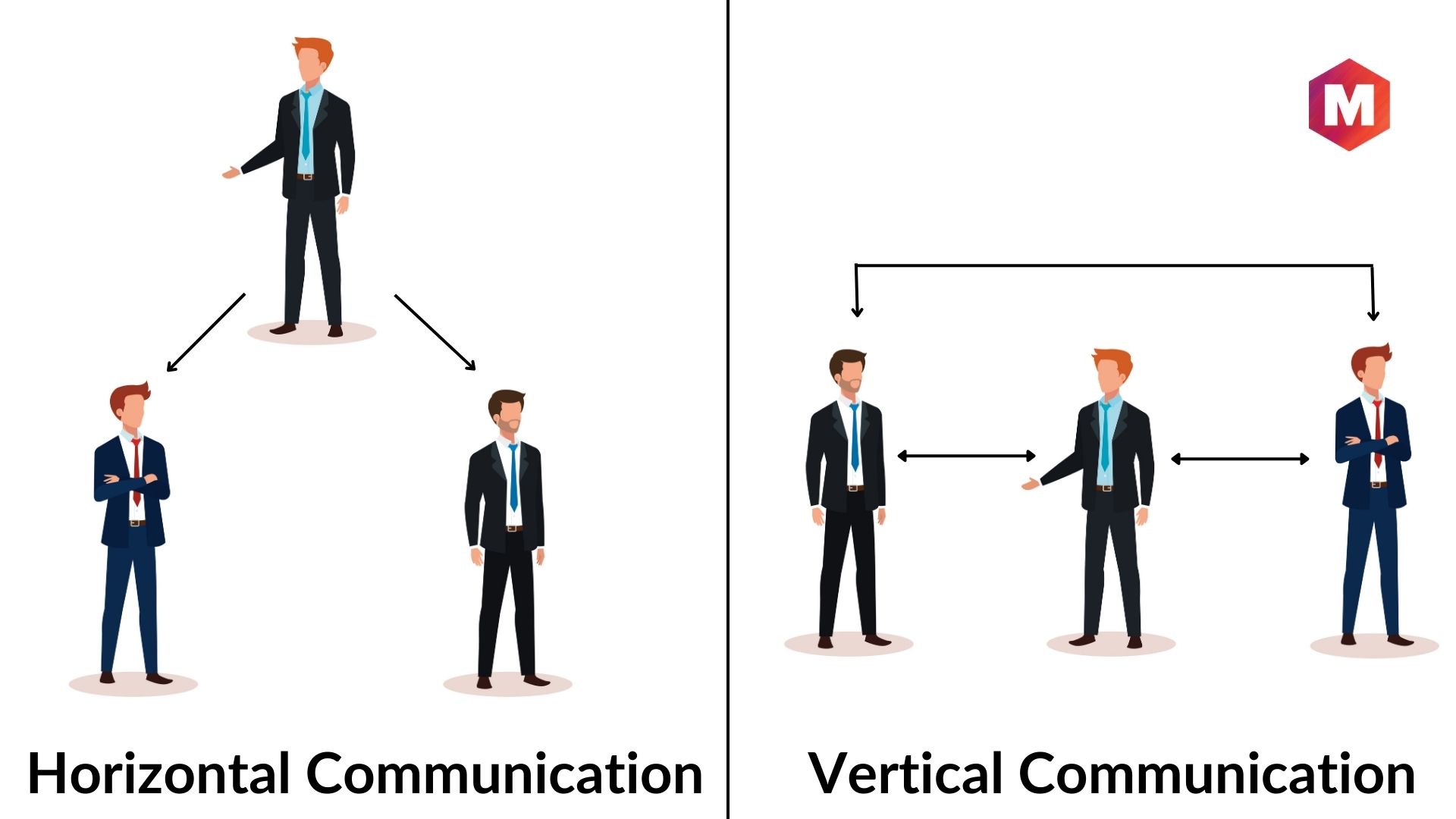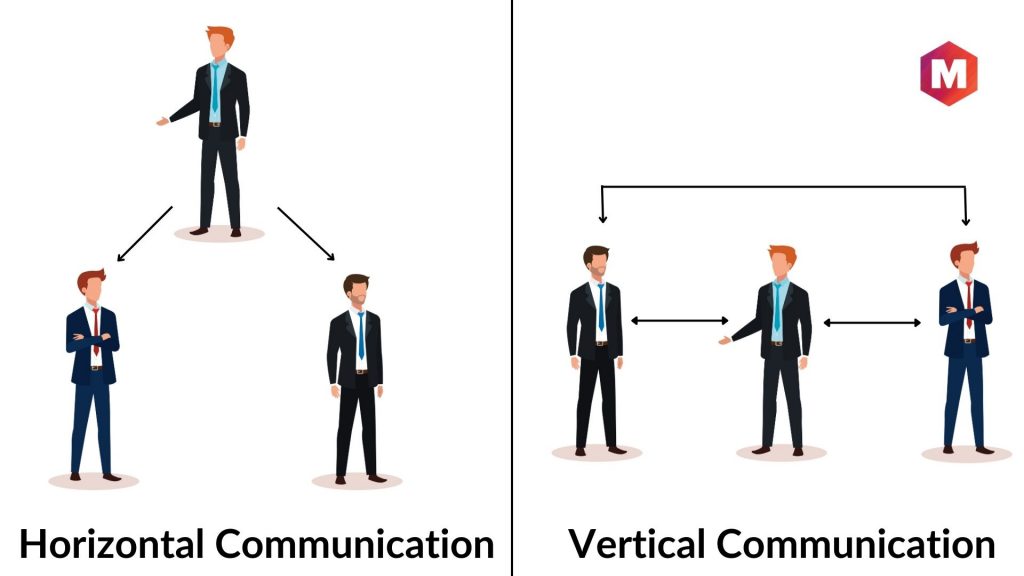 You've probably heard the term "vertical communication" used before. It refers to the way a company or organization is structured, and how information flows through that structure.
Vertical communication is when information is passed from one employee to another, up the chain of command. It's how bosses communicate with their subordinates, and how vice presidents communicate with presidents. Vertical communication tends to be formal and official, since it's an established hierarchy of authority.
Horizontal communication, on the other hand, is when employees communicate with each other based on their shared interests or goals. In horizontal communication, it doesn't matter who you are: if you're working towards something together, you're equal partners in that effort—and you can talk about what needs doing without worrying about who has more authority than whom.
Horizontal communication refers to create a culture where people feel valued and respected, so that they can work together toward shared goals. In this way, it's an important part of building an inclusive business culture.
Conclusion
Vertical communication is a fascinating concept that considers the hierarchy of the various people in the organization and creates hierarchical structures and a chain of command in an attempt to instill discipline and efficiency.
It is clear now that both upward and downward communications set ground for vertical form of communication in the organization.
What are your thoughts about the effectiveness of this type of communication? Share your opinion and share information with us in the comment section below.
Liked this post? Check out these detailed articles on
Topic of Communication
Alternatively, check out the Marketing91 Academy, which provides you access to 10+ marketing courses and 100s of Case studies.