What are Basic Human Needs?
Definition: Basic human needs are defined as the drivers of people's actions or the wants of people for living a healthy and stable life. The basic hierarchy of needs process is one of the major approaches to understand the basic needs of human beings at the different stages of their lives.
Basic human needs are the requirements people need for attaining a level of functioning that fulfills the given ethical origin of good human life. These needs are vital components to produce normal human behavior.
As per humanist psychologist Abraham Maslow, our actions get motivated via the accomplishment of five needs- Physiological, Security & Safety, Social, Esteem, and Self Actualization needs.
Abraham Maslow's Hierarchy of Needs
"A Theory of Human Motivation," a paper written by American psychologist Abraham Maslow in 1943, speculated that human decision-making is dependent on a hierarchy of psychological needs. In his paper earlier and the following book titled Motivation and Personality published in 1954, Maslow stated that five essential needs form the base of human behavioral motivation.
Abraham Maslow, a renowned social scientist, and psychologist established a theory of motivation built on the hierarchy of needs.
As per the theory given by Maslow, our needs are of five types that are physiological needs, safety needs, social needs, esteem needs, and self-actualization needs.
The core idea behind this theory is that the individual's behavior is powerfully determined by the importance of the requirement the individual would take efforts to satisfy. He would satisfy his most crucial want first, and as soon as it has been attained, it would no longer encourage him. Thus, he would move forward to fulfill his other requirements.
Maslow's Hierarchy of Needs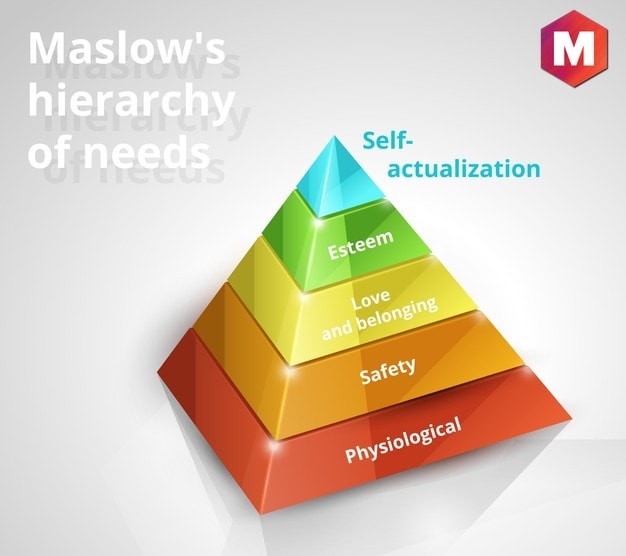 Maslow's hierarchy of needs revolves around five different needs in the shape of a pyramid in which the most fundamental needs are at the bottom and the self-actualization needs are at the higher level. For leading a successful life, basic or lower-level needs must be met before fulfilling the higher-level needs. Let us have a look at Maslow's Hierarchy of Needs from lower level to the upper level-
1. Physiological Needs
These are biological necessities for human survival; examples include air, food, drink, housing, clothing, warmth, sleep. If these requirements are not fulfilled, the human body won't be able to work efficiently. Maslow stated physiological needs as the most important of all the other wants. Others become subordinate until these requirements are seen.
The first of the minor needs on Maslow's hierarchy are physiological needs. These most basic human survival needs include food and water for nourishment, a sufficient amount of relaxation, clothing, and housing, and good health. Maslow says that these basic physiological needs must be given priority before individuals move on to the next level of satisfaction.
Some of the common examples of physiological needs which are considered as lower-level needs are-
Air
Food
Water
Sex
Sleep
Health
Clothes
Shelter, etc
2. Safety Needs
Once the physiological needs are fulfilled to a certain extent, the safety requirements come into the picture. For example, job security, old age pension, insurance plan, reimbursement for cost-cutting. While selecting a job, security needs have an essential role.
Safety requirements include protection from violence and theft, emotional steadiness and well-being, health and financial security. Safety needs are met when you fulfill all your requirements related to-
Personal security
Emotional security
Financial security
Well-being
3. Love and belonging needs or Social needs
The Social needs on the third level of Maslow's pyramid are about human interaction and are the end of the lower needs. Amongst these needs are friendships and family relations, both with genetic family (parents, siblings, children) and chosen family (husbands and wives).
Physical and emotional understanding is necessary to achieve a feeling of a formal relationship. Furthermore, membership in social groups adds to meeting this need, from belonging to a co-worker team to falsifying an identity in an alliance, association, or troop of hobbyists. Some of the love needs are-
Family get-together
Connection with friends
Need to feel intimacy, etc.
4. Esteem needs
The higher needs on the pyramid, starting with esteem needs, are ego-determined. The main elements of esteem are self-respect (the belief that an individual is valued and deserves respect) and self-esteem (confidence in an individual's ability for personal growth and activities).
Maslow precisely notes that self-esteem can be broken into esteem founded on respect and acknowledgment from others, and esteem which depends on one's self-evaluation. Self-confidence and individuality shoot from this final form of self-esteem.
5. Self-actualisation needs
Self-actualization describes the satisfaction of an individual's full capability as a person. It is at times named as self-accomplishment needs. Self-actualization needs to rule the top position in Maslow's hierarchy. Self-actualization needs include education and skill development, which means improving talents in areas an individual seeks interest in, such as singing, dance, playing football, cooking, and designing.
Compassion for others and wider goals like learning a new language, traveling to new areas, and attaining prizes. Individuals may observe this need precisely. For example, one person may have a keen desire to become a good parent.
The other would want to become financially rich and stable. And others would not mind following their passion even if they don't receive the expected salary.
Why Maslow's Hierarchy of Needs is Important
Maslow's hierarchy of needs emphasizes three basic components associated with the needs that we human beings have in our lives-
1. Needs of a man is more and more
Human beings are social animals. They always crave for more and much more. The needs of a man are of many types but not being clear about- which needs should be fulfilled at a specific stage in life- will only cause confusion, frustration, and despair. By using Maslow's hierarchy of needs, you will have the clarity to fulfill your needs in a step-by-step manner
2. Sequential order of needs
The hierarchy of needs guides human beings to move ahead in a sequential manner without any haphazardness. The needs are properly arranged in sequential order of preference. For an individual, when the lower level of needs are fulfilled and satisfied, then only the higher level of needs arrives. A person whose stomach is saturated then becomes conscious of any other needs than food.
3. Unsatisfied needs act as a motivator
A satisfied need never acts as a motivator. Only the needs which are unsatisfied and not fulfilled can work as a strong motivator. This unsatisfied need can influence the behavior of human beings. It will motivate the person to constantly crave something to live a blissful as well as a fulfilled life.
Growth Needs vs. Deficiency Needs of Maslow's Hierarchy
Maslow has referred to "growth need" to be self-actualization. He has separated the growing needs from the lower four levels of the hierarchy made by him from "Deficiency needs". According to this theory, failing deficiency needs can bring unpleasant or harmful results. The conditions range from starvation by loneliness, sickness, some self-doubts. These all are by-products of deficiency needs.
Growth needs make human beings much happier, but when these needs are not fulfilled, one cannot get harmed. So the growth needs always become the priority only when the other foundational needs are satiated. Maslow has termed growth needs at the highest level of the pyramid.
The Importance of Hierarchy of Needs
1. Virtues
The basic needs theory provides practitioners and theorists few advantages. Firstly the theory allows conflict solvers to create a valid differentiation between the struggle, which can be met by employing the conventional force, power-based negotiation, law.
Secondly, on a needs-based map, contradictions persist between dispute resolution and negotiation. The conflict is generated by some problems which are not solved and are political. This process needs analytical understanding and approach.
Thirdly the approach of needs can undermine the conventional notions which cause conflicts. Particularly the ideas that can be destructive and are created instrumentally by some manipulative leaders or by some ideological or cultural differences.
2. No equivalence theory like Needs theory
Not a single theory of satisfiers exists to the theory of Maslow's basic needs. The conflict will always be there but instead of all those conflicts, this theory has been the most effective one in clarifying the basic needs of human beings at the different stages of their lives.
3. Influential theory
Abraham Maslow's theory of hierarchy presents an essential shift in psychology. Maslow's theory did not focus on abnormal development and behavior. The humanistic approach of psychology in his theory focuses especially on the progress of healthy individuals. The needs theory of hierarchy is the most popular and well-known part in psychology or outside the subject.
Research published in 2011 says the theory to be a vital one. It was discovered that the fulfillment of a human being's needs was correlated with gladness. People around the globe reported that social needs and self-actualization are more important than unfulfilled basic needs.
Final Thoughts!
Basic needs are usually considered a factor in determining human behavior and the motivations behind human behavior. Other usages of the concept comprise basic needs to be steps to attain a good and healthy life.
What are your basic needs? Do you also relate to Maslow's hierarchy of needs?
Share what are your thoughts about different needs that you think you should accomplish at this stage of your life in the comment section below.
Liked this post? Check out the complete series on Motivation