What is McClelland's theory of needs?
McClelland's theory of needs is a theory that describes how people in an organization are motivated by the need for achievement, affiliation and power. It states that every person irrespective of demographics, age, or race will have these needs although it may vary from person to person. Some specific needs are picked up during this lifetime and it is life experiences that give them their due shape.
McClelland's Theory of Needs is also known as Three Needs Theory, Learned Needs Theory, Acquired Needs and Achievement Theory of Motivation. It was developed by world-renowned American psychologist David McClelland in the 1960s. It provides in-depth analysis about how and what needs are and how an individual should approach them. It also explains how needs have a powerful impact on the behaviour of a person especially in a managerial context in an organization.
What are the three acquired needs identified by McClelland's theory?
Understanding McClelland's motivation theory is possible by knowing about the three types of needs that the theory refers to achievement, affiliation and power.
Need For Achievement
Need for achievement in the Acquired Needs theory speaks about the urge of an individual to achieve something in life. This is the need that will encourage a person to work, struggle and find success eventually. He wants to be known in his field as a prominent person. Some individuals have a high need for achievement and they are the ones who are constantly innovating and trying to excel at everything.
One of the most common examples of the need for achievement is the son of a cricketer who works doubly hard to make a name for himself as he does not want to be known as his father's son. The desire to be something in his own right urges him to excel and accomplish things that might not be possible for a normal being.
Need for achievement theory states that individuals who are focused on the need for achievement are opposed to risky situations. They do not prefer low-risk situations as they do not find it challenging enough to make the effort and high-risk situations as they consider it more about luck than their effort.
The people who have a high need for achievement will put their onus on constant and immediate feedback on their achievements and progress so that they can learn, improvise and improve regularly. This will help them to understand how near or far they are from their goals.
These type of people are high achievers and love working alone. They believe in a hierarchical structure as it promotes work-based achievements. These personalities do not like to collaborate as it might put them at a disadvantage. For high achievers, satisfaction in their accomplishment is more rewarding than monetary or materialistic rewards.
Need For Power
The need for power is the second need in David McClelland's Three Needs Theory. It refers to the desperate craving of an individual to hold absolute authority over other people. This control is a reflection of the specific needs for personal power and shows the desire to change the decision of another individual to suit personal wants and needs. They are ready to take high risk for personal glory.
People with a high need for power have a never-ending urge to boost their reputation and self-esteem and this proves a driving force behind all their decisions. These are power-hungry individuals who will always give preference to personal ideas and views and would want others to accept it over their viewpoint.
It is an undisputed fact that people with a high need for power are best suited to leadership and management positions. They can prove their abilities very easily by becoming strong leaders. Collaboration is not their cup of tea but the challenge is as they can fight dirty for personal prestige whatever the cost.
There are two types of people with a high need for power.
The first is the one who is part of a personal power motivator group. He will always try to control other people and aspire for recognition and status. Competition and challenges are what motivates him to do better. He will always want to be on the winning side and hate losing no matter what.
The second type of individual belongs to Institutional power motivator groups. He is highly disciplined and will lead his team members to reach set goals and objectives with determination.
Need For Affiliation
According to psychologist David, the need for affiliation refers to the high need of an individual to have both interpersonal and social relationships with people. This is the third need in his Learned Needs Theory and puts the onus on social acceptance and not on achievement where performance is the key driver.
People with a high need for affiliation are the ones that do not like working alone instead prefer to collaborate and work in groups. These type of people favour collaboration over challenge any day. They are team members who like to be social and maintain social relationships.
There is a desire to be liked and accepted by other people and this is why they create lasting and friendly relationships. These achievers motivated by affiliation play by books and do not find a need for change. They often prefer to keep things as it is due to a fear of rejection. Change often is scary for them.
As per the need theory, the people motivated by the need for affiliation will avoid uncertain as well as high-risk situations. In the workplace, they adhere to set rules and norms. They are cautious in their approach and do not like uncertainty and high risks.
Individuals with a high need for affiliation work best in positions that are related to social interactions for instance positions where they have to interact with customers or client service roles.
Using McClelland's theory of needs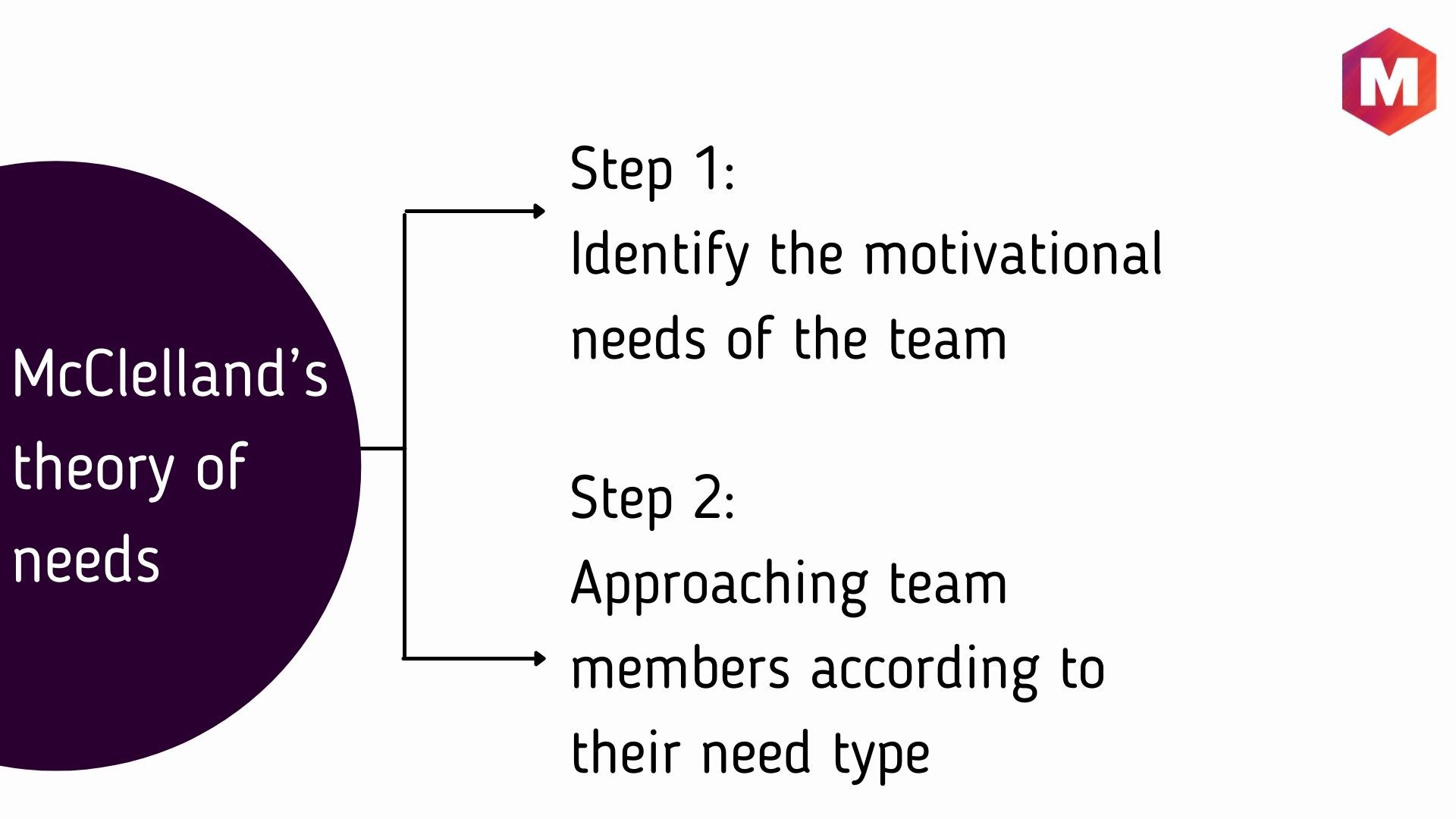 The motivation needs theory of David McClelland is driven by life experiences. Organizations mostly use it to manage the corporate teams by identifying the need of every team member. It also aids in knowing about the dominant motivators in the team. This is very important as it helps the management to set goals, provide feedback and reward, manage and run the team efficiently. In some cases, the human resources team use McClelland's motivation theory to find a perfect fit for various job descriptions. Use the following two steps process to apply the need theory.
Step 1: Identify the motivational needs of the team
When you have a team working on key projects it becomes important for management to know which of the three needs will motivate each team members. Using past actions and personality trait a manager can easily find these needs.
If an individual is constantly driven to innovate and find success then he will belong to the need for achievement, if he is a dominant personality who will try to lead the other members as per his wishes he will belong to the need for power category and if he shows traits for a high need to have social relationships and manage conflicts easily then he is sure to belong to the need for affiliation.
Step 2: Approaching team members according to their need type
After the manager has categorized the needs of every team member to his satisfaction he can use this information to assign projects to all members accordingly. The management will choose simpler projects for people belonging to need for affiliation, challenging ones for people who show traits of the need for power category and innovating people who want to achieve desired success to the need for achievement category
Both these steps are very important for an organization as it helps to monitor and motivate team members and provide feedback. Knowing about their need type also proves useful for the individual as he can work further to enhance his needs.
Comparative Theories
Sirota's Three-Factor Theory is similar to McClelland's theory as both explain the needs.
The point of difference is the types of needs as the former explains about equity, achievement and camaraderie whereas the latter about achievement, power and affiliation.
Another difference is that Sirota's theory states that an employee starts his job with motivation but with time some specific conditions cause them to lose this motivation. McClelland's theory states a specific motivator will help the individual to perform at his best and it is dependent upon his life experiences.
Liked this post? Check out the complete series on Motivation