A mind map is an easy method of brainstorming thoughts without considering or worrying about the order or structure of thoughts. A mind map helps you visualize your ideas' structure, and it helps with recall and analysis.
A mind map can be represented as a diagram that will present all the tasks and words and concepts linked and arranged around a central concept or a subject by using a nonlinear layout. It allows the user to build a framework around a central concept.
With the help of a mind map, you can transform a monotonous piece of information into a colorful and memorable or highly organized diagram that helps your brain and its natural way of doing things.
Here is a Mind Map sample below. As we can see, you can Map your ideas.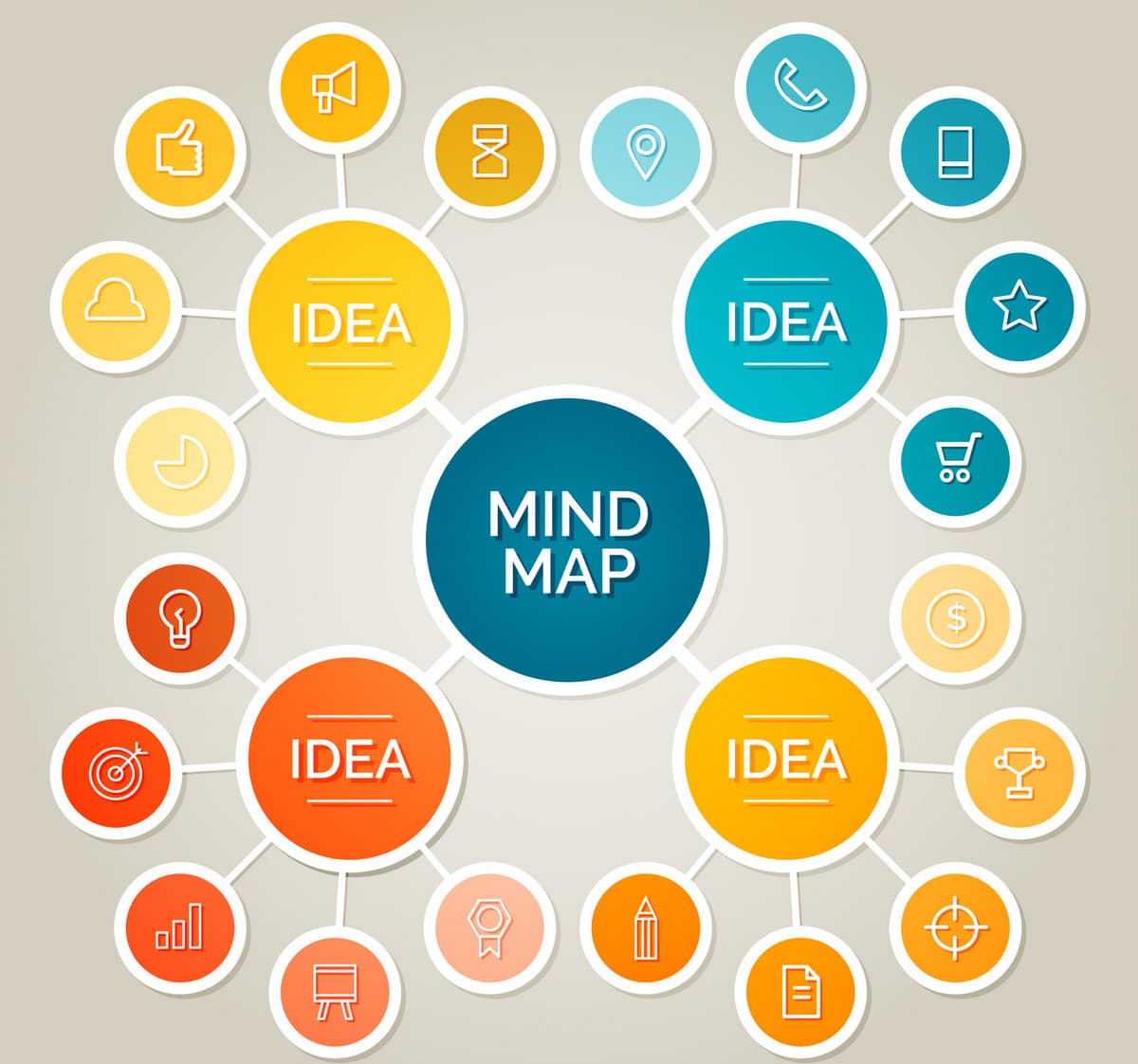 A mind map helps visually organize the information and shows the relationship among different information pieces. It is usually based on one single concept drawn in the center of the blank page.
The associated ideas are drawn and represented from the central concept, and the connection is directly established between them. Different concepts branch out from those major ideas. Usually, the mind map is drawn by hand as notes during a meeting or a lecture.
The theory behind mind maps
Whenever you study your brain functionality and memory system, you will realize that the human brain has extraordinary potential and tremendous capacity in itself. With the help of a mind map, you can entice, delight, and stimulate your brain.
Different facts about the human brain can be discovered along with its function, and we will be able to take major steps to free the mind. A mind map is considered a creative and logical way of note-taking since it maps out your ideas.
It is an effective way to get information in and out of the brain. There are few things in common in every mind map like they have a natural organizational structure that starts from the center. They usually use lines, symbols, color, images, and words which are simple and memorable. It represents your brain's natural way of doing things.
A mind map can be compared to a city map. The center of the city represents the main idea, and the main roads and parts that lead from the center and go to the periphery of the city are the other ideas connected to your main idea.
The secondary roads that sprout from the main roads represent the secondary ideas that take birth from the primary idea. This way, a long and complex structure that is interconnected with each other can be made. Sometimes the connection between two distant objects can also be made.
Let's take an example of a mind map
Write one word in the center of the page. In our case, we will write business as the central word. Four different subtopics emerge from a business, which is marketing, finance, entrepreneurship, and profit.
Marketing will further be divided into Porter's five forces, 4 Ps of marketing, Brand management, advertising, and product management. Out of these some topics, the four P's of marketing are further divided into product, place, price, and promotion.
The price part can be related directly to finance. All these four factors can further be divided into different ideas and related to each other. This way, you can form a big web of your mind related to the term business.
You can also use special images, symbols, or shapes to depict specific important landmarks or topics of interest in your mind map. The relevant ideas should be marked and separated from the test.
A mind map should be considered as the mirror of your natural thinking. This thinking is facilitated by a graphic process that provides a universal key to identifying and unlocking the brain's limitless potential.
Characteristics of mind mapping
Following are five important characteristics of a mind map
The primary idea or subject or the focus is usually written or drawn in the center of the image. This is the central idea on which the entire mind map is based. Different ideas sprout from that central idea, and therefore every sub idea will have connections to the main idea. The primary idea or subject idea can be written, drawn, or presented with a symbol's help.
Different branches emerge from the central idea. These branches have a direct connection to the central idea, and sometimes, the branches may have an interconnection between themselves as well.
All of these branches have one thing in common, which is the central idea. The central idea is the common factor or sometimes the originating factor of all of these branches. The branches usually comprise a keyboard or key image which is printed on its line.
Different topics of lesser importance sprout from these branches, which can be termed as twigs. These twigs may interrelate between themselves, thereby increasing the complexity. Even if two twigs are unrelated, there is always one common factor: the central idea.
A long and interconnected structure is formed, which is connected centrally. All these sub-ideas interconnect themselves with each other, thereby giving a spiderweb-like appearance. Therefore sometimes, a mind map is also called a spider map. The spidery structure has no limitations and can be expanded as much as possible, thereby increasing the complexity and levels.
Tools for mind map
Following are a few of the tools which will help you to summarize and visualize the information. Modern-day mind map requires the use of technology. Most of the tools that are given below are either websites, apps, or software.
1. Coggle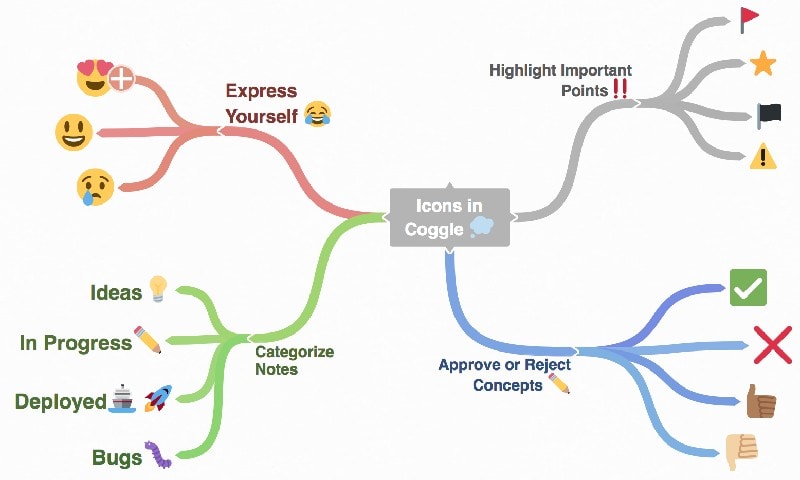 With Coggle, you can produce wonderful notes and brainstorm your mind or collaborate with others as well. The software gives the option of drag-and-drop images in the diagrams.
You can also view the history to keep in mind the changes and edits that you have made. The mind map, when completed, can be exported in different formats or can be made in the form of different things and can be shared on social media.
It also has clickable links. It is free software and can be accessed from your computer or your mobile.
2. Freemind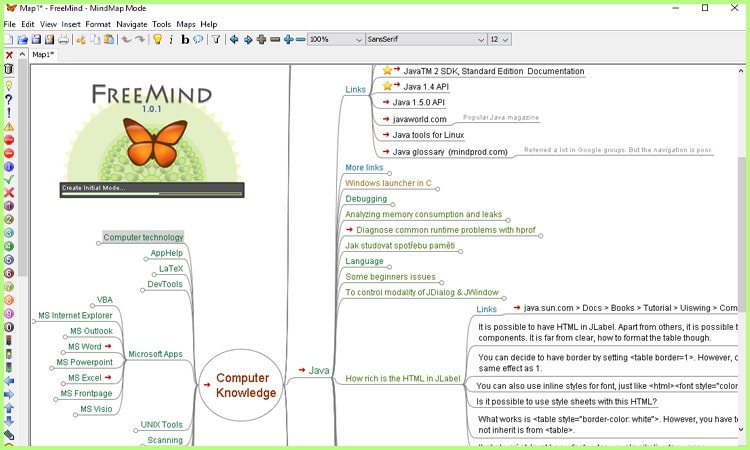 This is an open-source mind mapping tool that is built on the Java platform. It is available in Windows, Apple, and Linux. It has different features and tools, including location-based mind mapping, restoring earlier sessions, and collaboration tools.
You can collaborate with different people and connect your mind map to theirs. It is used to keep track of projects and knowledge base and is a powerful mind mapping tool for complex diagrams.
It can include embedded links and multimedia. You can also export the completed files as HTML or in different readable formats like PNG, PDF, etc. Freemind is free software.
3. Popplet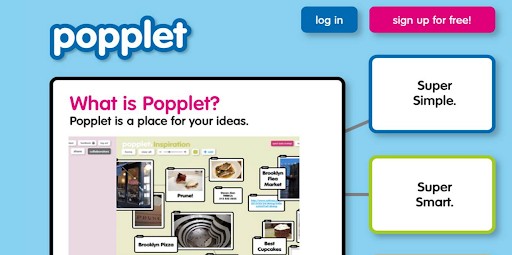 This mind mapping tool is perfect for crafting your ideas and brainstorms in an engaging visual way. You can visualize and record your inspirations for your thoughts and ideas and have the ability to upload images, videos, and text.
The software also gives you the ability to draw on your canvas. This software also allows multiple devices to connect to the same project, which is useful for working in teams. You can also create Popplet presentations with the help of high-resolution images.
This also allows you to create embers for blogs and websites and can include keywords, tags, and categories on all your projects. This makes the search for a particular idea from the larger mind map easier.
It also gives you an accompanying iOS app so that you can access your projects on mobile. However, the android version is not available yet.
4. SpiderScribe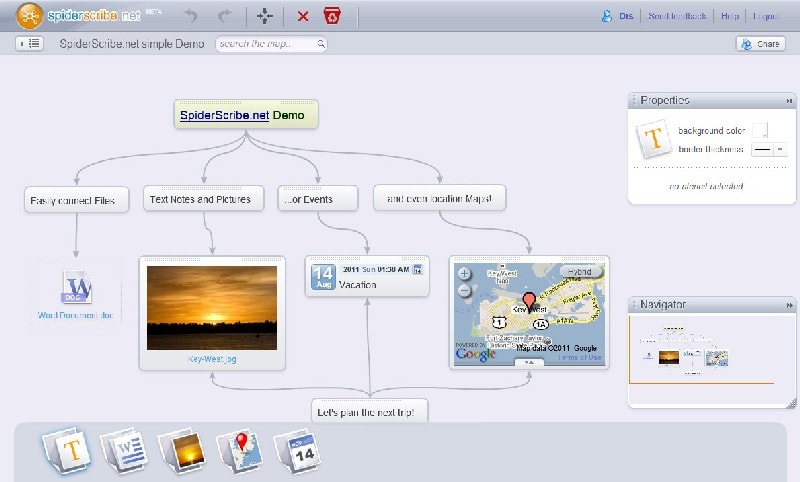 This is an online mapping tool with brainstorming abilities that let you organize your mind's thoughts and ideas. It connects these ideas with the help of notes, files, and calendar events on the map.
You can also create public or private maps and collaborate with others as well. All of the data is stored in the cloud and can be accessed anywhere, which is a plus point for this online mapping tool.
You can also combine different media to create a stencil, and every stencil can be customized and tailor-made by changing size, colors, fonts, and formats. Spiderscribe also gives you the ability to embed your maps on your website. This is not a free tool.
Although the personal accounts are free, the pro account starts at five dollars per month and goes up to $25 per month for a business account.
5. Mindomo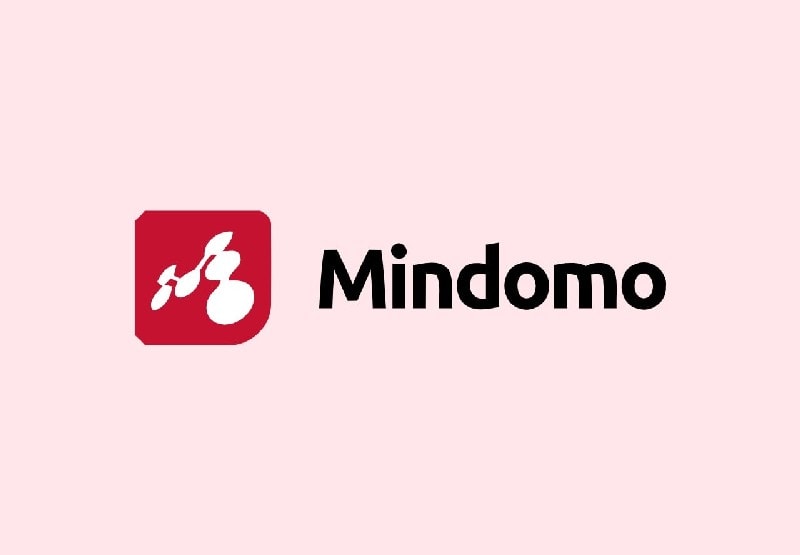 Mindomo can provide mind mapping and project collaboration as well for businesses and education providers. It gives the ability to share resources securely, and the user can also create multiple tasks, mind maps, and securely share them with others.
It is entirely collaborative, and discussions and conversations are enabled in every workspace. Themes can also be incorporated in this; therefore, you can customize and stylize every map individually to make your point better.
You can provide a direct link to your map to anyone so that they can directly access it. There are few free accounts and paid as well. A paid account starts from $29 a month for a team account.
6. Stormboard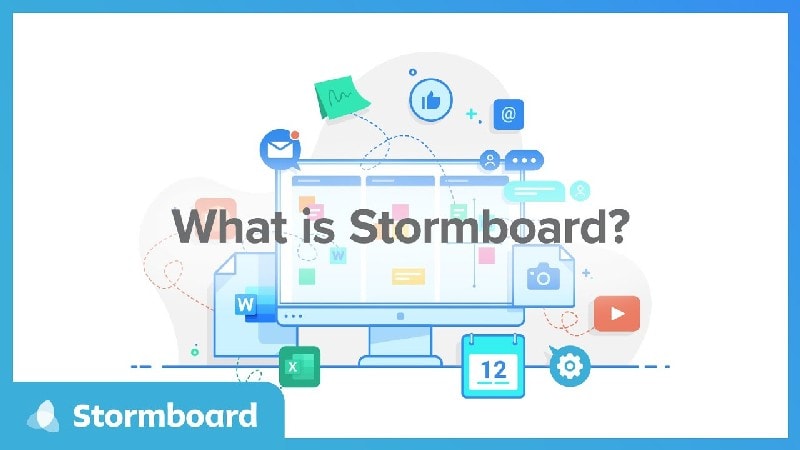 This focuses on real-time brainstorming. It allows you to collaborate and add your ideas, videos, or any other graphics to an online whiteboard, which is usually shared between team members.
This gives you the ability to add and capture ideas, quickly generate them, and prioritize them. You can also vote on them. Every idea in the storm board will have a unique comment thread that can refine, clarify, and debate ideas.
This way, multiple team members can put their knowledge and understanding and share their experience for every idea, which can be used by everyone else. It is one of the best tools for collaboration. It starts from a free account and ranges to $10 per month for a team account.
7. XMind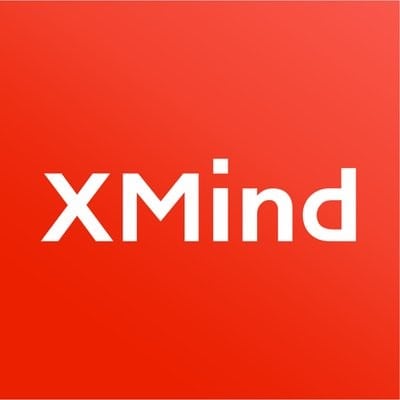 This is an open software mind mapping tool for clarifying thinking. It can also be used to manage complex information and brainstorm as well as organizing your existing thoughts.
It gives you the ability to collaborate and export your ideas in PDF, TXT, HTML format. It also offers tree, logic, and fishbone charts. This provides for your council as well as per accounts for $79 a year.
8. The Brain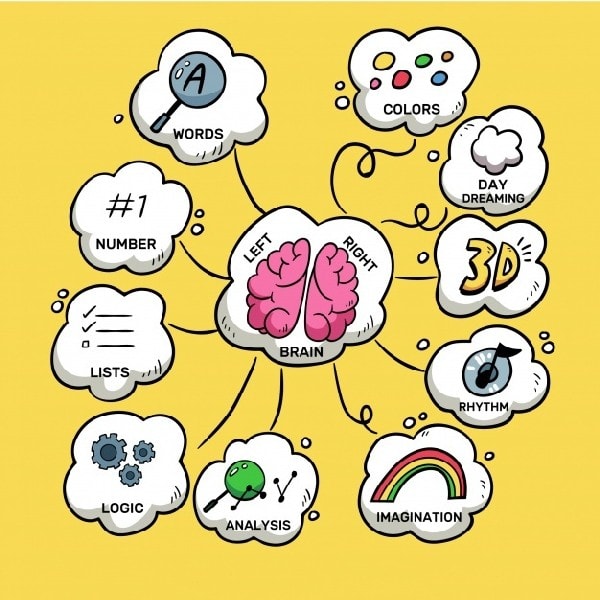 The brain is considered ultimate in digital memory and is available freely for Linux, macOS, and Windows. It helps you visualize your tasks, projects, and ideas and is more than just a mind mapping application.
It also allows you to store your documents, notes as well. Practically an unlimited amount of information can be stored, available on mobile devices and the desktop. It gives you a single drag-and-drop interface that is easier to navigate and use. The brain focuses on assisting you so that you can build meaningful connections.
9. Mindmeister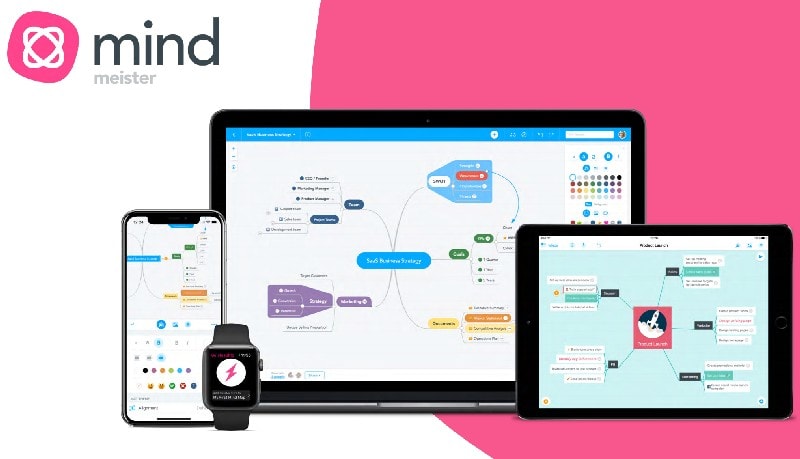 This was built to facilitate and increase collaboration between team members, specifically for mind mapping. It provides an easy to use interface. This software gives you the ability to discuss changes in real-time or over a live chat.
You can also view the change history of the mind map. You can access your projects online or off-line, and it provides a secured data encryption facility as well.
10. MyThoughts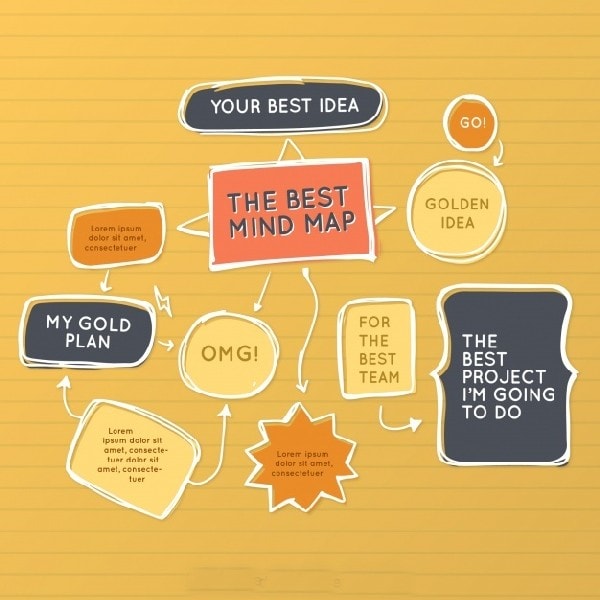 This software offers meaningful and flexible mind maps, which have powerful features. It has a drag and drop facility along with team collaboration. There is also a media browser where you can easily view the information.
You can also outline notes in it and export them in different formats. The interface is uncluttered and user-friendly, which is easy to navigate.
Conclusion
A mind map is an essential process of collecting and organizing your ideas in the present table format. It is also a tool that is used for brainstorming new ideas and idea generation.
Usually, the mind map is connected by one central idea to different branches and twigs. Those may interconnect amongst themselves as well.
Liked this post? Check out the complete series on Management