Business communication entails a continuous & effectively regularized process to bring together both the information sharing subordinates & superiors under one cloud. It is also true for society & organizations in general.
Effective business communication holds the key to a company's success. There are a vast number of organizations that struggle at every hierarchical level to communicate. There are varied methods of communication, from telephonic to personalized as well as through texts. Traditional forms of communication as written correspondences also fall under the bracket.
However, business communications are dependent on several considerations and baritones based on the contents. It might require further adjustments to suit the needs.
What is Business Communication?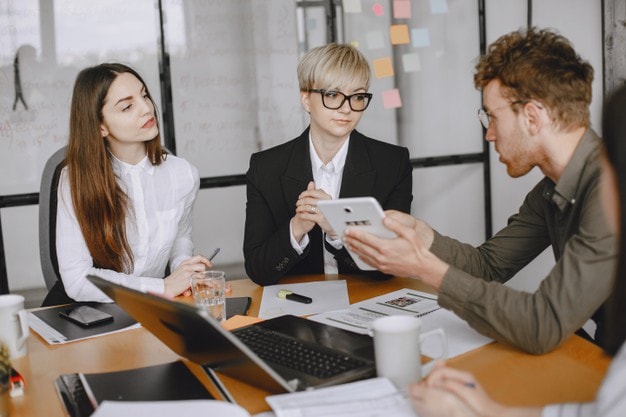 Business communication is a two-way process. It defines the modalities involved in promoting products or services, conveying information within a business organization, and dealing with legal compliance.
Business communication aids team leaders in reaching organizational objectives.
Effective interaction between employees & management assists in reducing errors in improvising core organizational practices.
It enables the amplification of human communication in a professional atmosphere by staying true to its core values and maintaining clarity for every information being relayed.
Business communication should stay true to its core concepts of maintaining consistency, being honest & concise in its deliverance of information.
Business communication encircles a multitude of contexts. It is from consumer behavior to public relations, organizational communication to advertisements, research & measurement processes to managing reputation, etc.
Business communication determines every plausible organization or company's reputation and success story to businesses and is always directed towards goal orientation.
Barriers to Effective Business Communication
Several reasons often lead to ineffective communication. It may be because of the complexity of messages, absence of trust, concealing information, or related to flaws in the chain of command.
Messages should be clear and concise and should not contain complex terms that are too technical to abbreviate. It brings in how clarity is essential in deciphering messages.
Lack of communication can also be accounted for internal competition in an organization, which leads to employees losing trust in one another. Hence open & honest business communication goes a long way in making every employee feel involved.
Some organizations keep certain types of business communication confidential as per the clauses of a company.
However, this information must be made available at every level of the hierarchy for easier access. It is followed by flaws that arise in the chain of command. Often this is due to hierarchical influences that downsize the flow of communication.
Increasing interaction amongst departmental heads and ensuring a continuous flow of communication can help evade this specific barrier.
Categories of Business Communication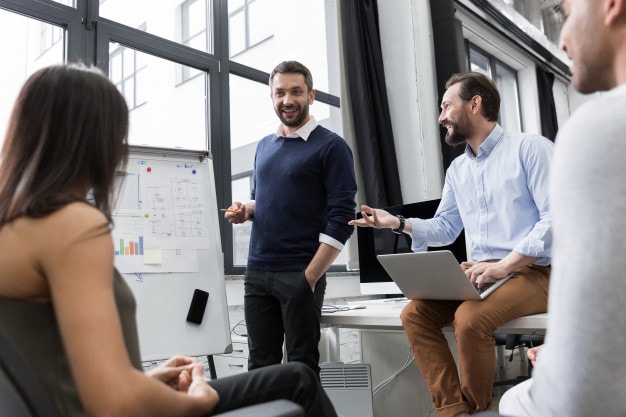 Business communication is categorized into four major types. These being internal-upward, internal-downward, internal-lateral & external communication.
1. Internal-Upward Communication
Business communication directed from subordinates to their managers or individuals in a higher hierarchy order is what internal upward communication is all about.
A company's operations can be gauged to the truest extent depending on how well a leader enables information flow upwards.
Internal business communication entails all communication in surveys, periodic reports to forms, feedback, and templates. This flow of information is charted to assist in aiding internal communications professionals and the employees to remain updated with complete information.
A marketing report is a good example that consists of statistics involving website visits to the social reach and leads generated.
2. Internal-Downward Communication
Business communication that flows from superior levels of hierarchy to subordinates is what is termed as internal-downward communication. This communication is in the manifestation of letters, memos, to verbal directives.
Leaders must ensure that internal downward communication should always be precise & clear when dealing with juniors or subordinates.
A big example of internal-downward communication is a memo. It could be with regards to safety procedures and regulations for a new business entity. There should be no ambiguity & complexity in explaining the detailing.
3. Internal-Lateral Communication
Internal-lateral communication is the communication that is ongoing between the employees in the workplace. This communication is through multiple ways, from chats, emails, messages to verbal communication within the four walls in an office.
Verbal communication could be between employees of internal departments or across departments.
It is the most frequent form of communication that boosts the better employee engagement, & productivity levels in an organization. One of the common examples of internal-lateral communication could be updating status reports & schedules within the same departments.
4. External Communication
The occurrence of communication between external parties is what defines external business communication. These external parties range from customers to partners, vendors, etc.
Communication with regulatory organizations is also clubbed under external communication. External communication does not occur regularly virtual meetings, unlike other types.
External business communication examples are marketing letters. This could be a major draw to attract and forge partnerships with various entities.
The letters should be written precisely to the point based on facts and be engaging enough to generate interest.
5. Media & Mobile Communication
Business communication should be precise to depicting relevant information before a media release, as per se press releases. Clarity and conciseness top the list. The communication should also be free of grammatical mistakes.
A press release demands communication to grab people's attention, and mere definitions do not suit the purpose. The effective ways to tackle the problem should also be aligned.
The advancement of technology has made this generation dependent on mobile communication. These millennials that build up fifty percent of the workforce is adept at tech.
This has lessened the efficacy of mailers and implemented generic modules to fit into the mobile preferences of Gen Z.
The other major factor for the rise of mobile communications is the remote service workforce changing how communication was viewed by streamlining a faster and convenient way out through mobile apps.
How to Set Up a Business Communication Process?
To set up a process of channelizing a business communication and to measure internal communications, it is important to pay heed to the below givens steps…
1. Do auditing of the current  state of business communication in your organizational hierarchy
Here, you need to check the areas of improvement. For instance, if your organization faces low employee satisfaction, lack of information transparency, lack of information tracking, etc., you need to set new goals related to employee satisfaction rate, low employee morale, turnover rate, number of projects done, number of productive interactions, etc.
2. Find out core groups in your company and identify their mutual relationship
You should identify groups that require information to function the whole organization. You need to take note of the horizontal, vertical classification of your organization along with external groups. Then you should find out the right ways of communicationfor them.
3. Incorporate different methods of communication
You should include different methods of communication that best-suit with your business. Some of these methods can be-
Web-based communication
Video Conferencing
Telephone meetings
Face to Face meetings
Forum boards and FAQs
Reports and official documents
Presentations
Surveys
Customer Management Activities
4. Use the right tools
Different tools for optimized communication in an organization that you can use are –
Gmail
Outlook
Google Drive
Dropbox
Slack
Nextiva Chat
Business VoIP phone system
5. Do documentation of the process
The final step of business communication revolves around taking note of everything you do throughout the process and converting that into a shared document. You need to make sure your document is visible to the entire organization.
This will enable employees to refer to an intentionally developed communication plan. Such documents are also useful in helping newly on-boarded employees to grasp all communication practices and tools easily.
Benefits of Business Communication
Here are a few benefits of technical communication and why it is important to understand business writing and internal communications to fix poor communication.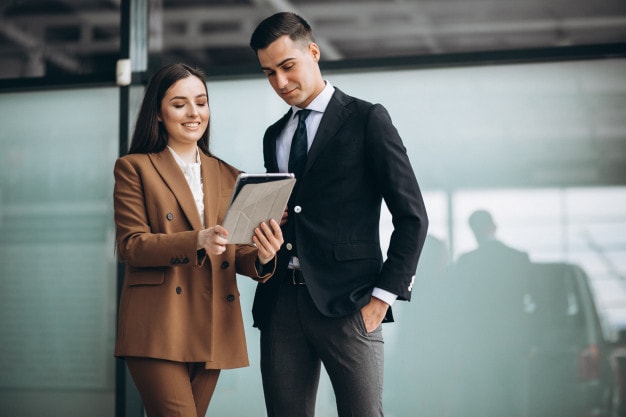 Resolves the issues of email overload and lack of everyday productivity and clarity
Increases employee engagement
Optimizes employee productivity
Improves interpersonal communication
Increases knowledge sharing efforts
Optimizes employee advocacy
Resolves horizontal and vertical communication silos
Eliminates issues of poor communication with remote employees
Decreases employee turnover
Improves customer services, customer retention, and satisfaction
Ensures better company culture
Top 10 Business Communication Skills
Communication skills are first on the demand list of employers, and it is very important to have effective communication skills, especially to get success in the business world. In this article, you will learn about the top 10 business communication skills that one must have in order to establish a stable career in business.
1. Listening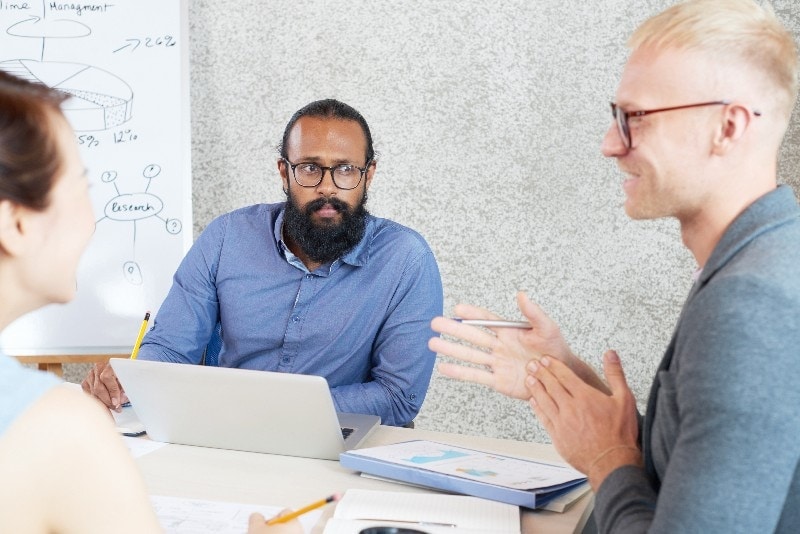 When it comes to working on communication skills, people always focus on skills like speaking skills and the skills of conveying the information. But they forget that communication is incomplete without the skills of listening correctly.
Listening is as essential as speaking in order to make communication effective. As everyone has something to say, but there are very few who are willing to listen. Therefore, people with excellent listening skills are always welcomed and make a good businessman as he listens and retains essential information.
Listening skills are essential for the success of a business. Because it is crucial to listen to your customers patiently and learn about their needs and wants so that the information obtained can be used to prepare selling plans. People feel comfortable talking with people who show enthusiasm while listening and actively participate in the conversation. The active conversation is only possible if you listen and respond accordingly.
A good listener is also not partial and judgmental towards what people have to say. He listens to people without judging them and focus on the vital information and retain it in mind in order to use it later.
2. Body Language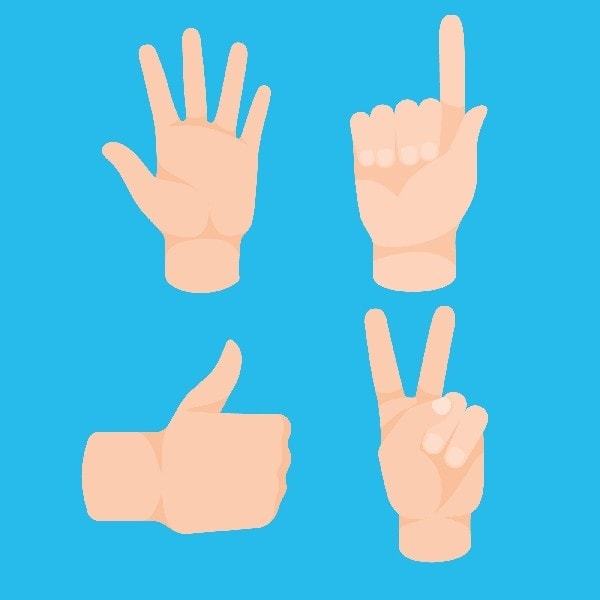 Body language is also an essential part of communication skills. People don't only listen to what you have to say, but they also analyze your body language. Your body language tells a lot about you before you even utter a single word. Body language consists of your way of standing, your facial expression, and your confidence.
No matter how much knowledge you have, your words will mean nothing if you do not look confident and have a right body posture. The right body language is most important to ace in business and selling skills.
Because people usually don't trust businesses or products, but they buy something because they find the salesperson or businessman trustworthy (Especially when it comes to new businesses). But if you don't look confident while interacting, people find it hard to trust you.
The body language can be improved with practice. Your body language will automatically improve when you become aware of your body movements. Making small changes like standing upright, keeping your legs open at the length of your shoulders, and looking straight into the eyes of the person. Look confident and shake hands firmly. You can also improve your body language by practicing in front of the mirror.
Make sure that you don't lean your shoulders forward as it shows your nonseriousness. Talking while crossing your arms shows one becoming defensive, and you certainly don't want to look defensive when you want to persuade somebody.
3. Presentation skills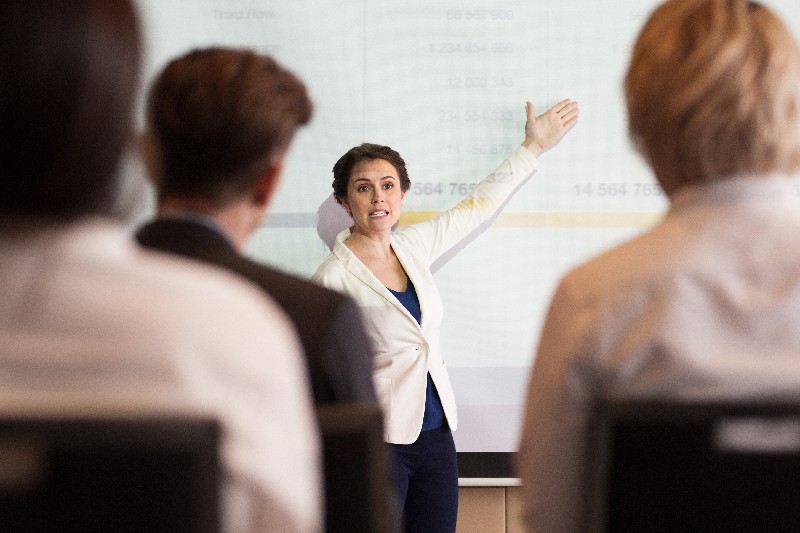 Presentations are an integral part of every business process, and a business person is required to make presentations often in order to present to ides and business prospects. Therefore, a businessperson needs to have effective presentation skills as presentation skills can make or break your business deal.
Presentation skills can be improved with practice and by working on your factual knowledge. A good presenter represents ideas to the audience effectively and engagingly. In addition to this, use examples, stories, and data to the audience to influence them.
People with presentation skills can get the desired outcomes.
4. Written skills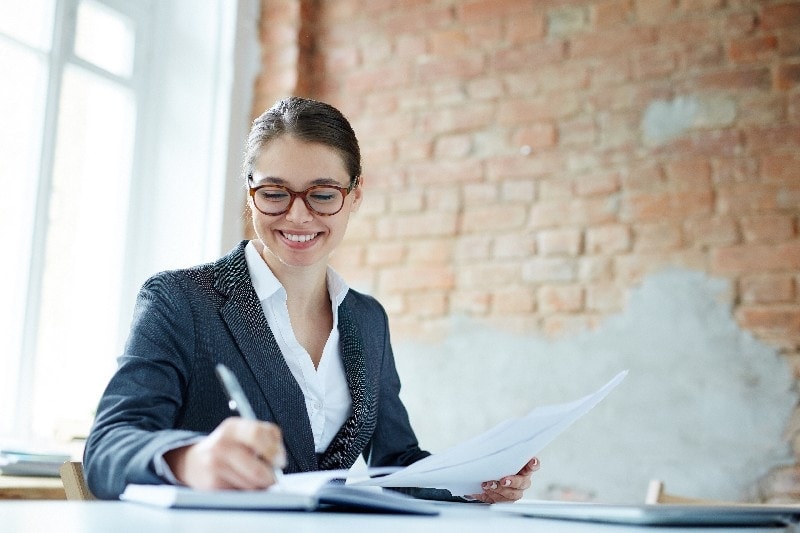 In business, in addition to verbal communication, written communication is also important. Many conversations take place in written form between a sender and a buyer. Therefore, a businessperson needs to have effective writing skills. One is required to have a good hold on grammar and vocabulary of the language.
Make sure that you use professional language while communicating with others. Use factual information and examples to establish your case rather than using emotional and non-factual information. Written communication should be brief but should include every necessary information.
Never leave any loop-holes in your written communication that leave your reader perplexed. Effective written skills also include taking follow-ups timely, which shows your active participation in the conversation.
5. Keep clear and concise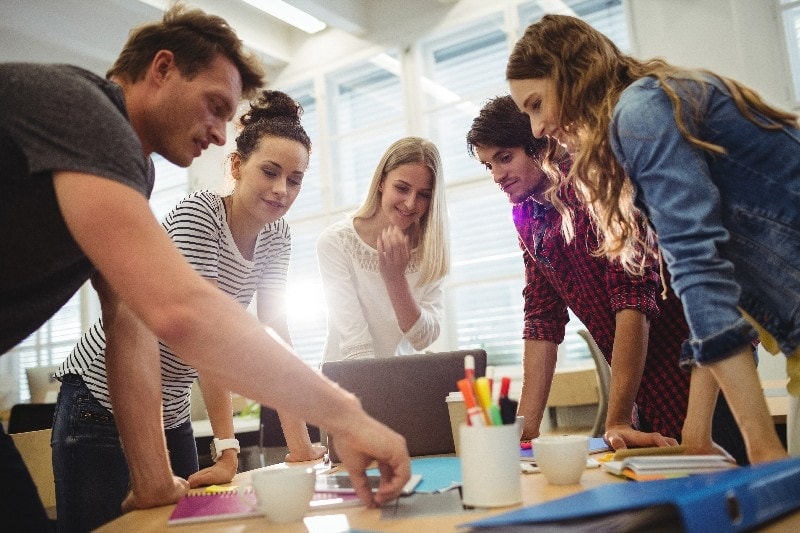 Another important skill of communication is the clarity and concision of the communication. A business person needs to convey the right message using a few words possible. You get one chance and very little time to convince someone to buy what you are offering.
Therefore, the clarity and briefness of speech are a must skill for a successful businessperson. Make sure that you not only improve your face to face business communication skills but also work on your email and phone conversation skills.
6. Emotional intelligence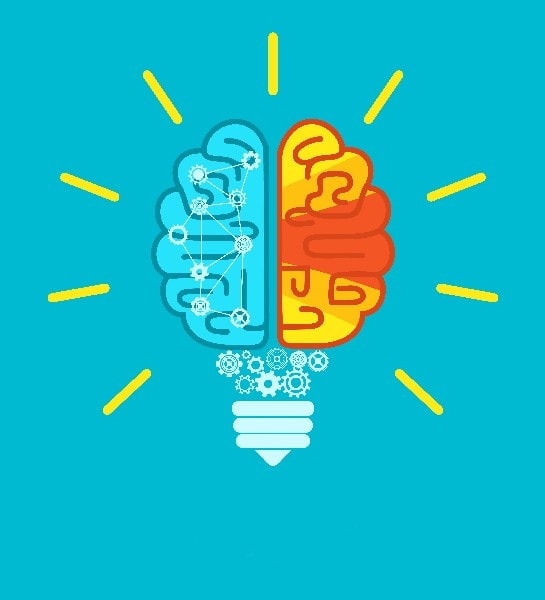 Emotional intelligence is like a sixth sense for a businessperson. If you are emotionally intelligent, then you can interpret, understand, and better respond to the emotions of other people, and this makes you a better businessperson.
Emotional intelligence helps you in understanding what the speaker has not said verbally, and makes verbal communication more effective. As you can modify your speech by observing the reaction of your customer or business partner.
You learn about what a person is thinking by looking at their facial expression, body language, and their mood. An emotionally intelligent person takes to make better decisions about the timing to bring up a particular conversation.
For example, an emotionally intelligent person will never offer a new business deal to a person who is going through a personal crisis.
7. Confidence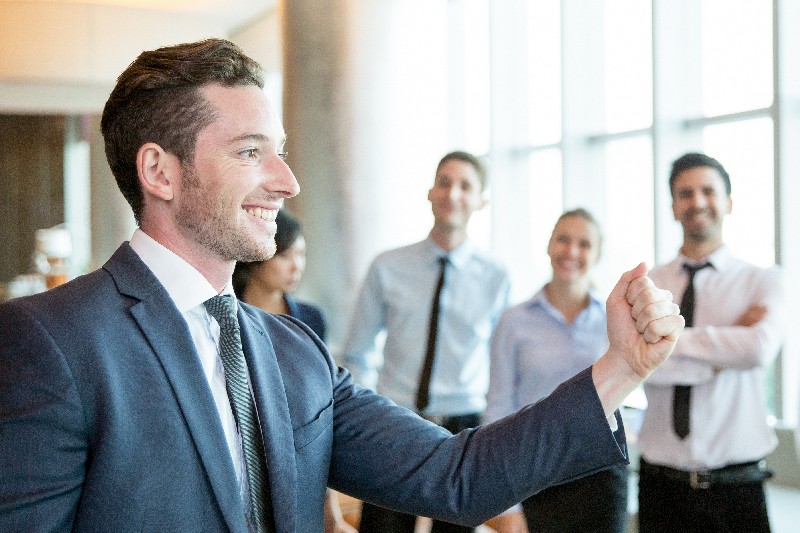 Confidence is not only an important skill for business but also an important skill to get success in any field. You can never convince anyone if you are not confident yourself. Confidence comes with practice and knowledge.
You will automatically feel confident if you know what you are talking about. Your confidence will make your customers trust you and believe that you can deliver what they need. A confident businessperson will keep a friendly tone and look into the eyes of customers while interacting with them.
Having confidence in your abilities is so important that all companies prefer to hire a confident candidate with average grades instead of a candidate with an excellent score but low confidence. Therefore, confidence is a key business skill that every business person should ace in order to get success in the business world.
8. Public Speaking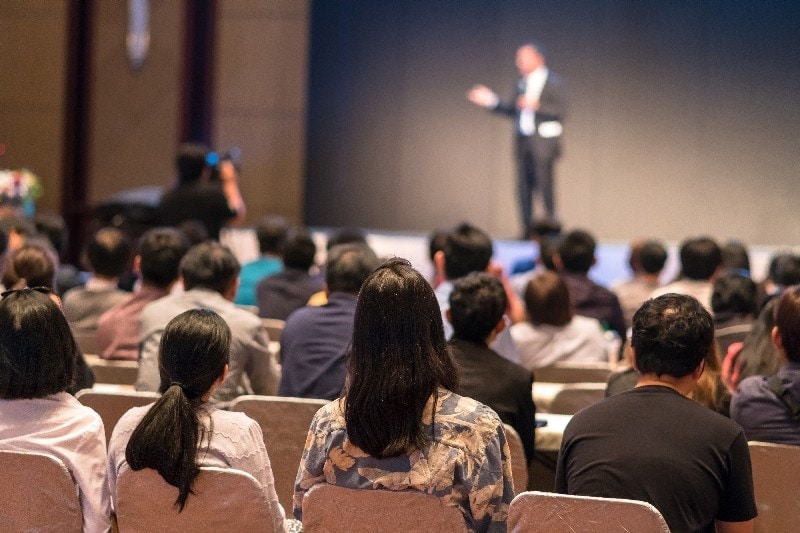 Public Speaking is also an important skill for a business person. There will be many times when you are required to address a group of people. For example, while providing a demonstration of a product or while presenting a business idea to investors, etc.
Public speaking is one of the key business communication skills. One can take a professional course to improve their public speaking skills or can improve their skills by practicing in front of friends and family or in front of a mirror.
9. Optimism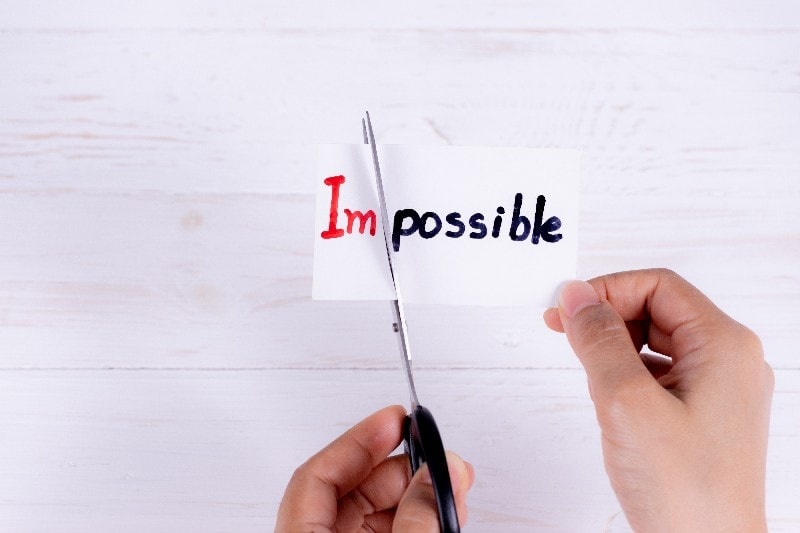 Optimism means keeping a positive mindset while doing business. people will say optimism is not a skill; it is an attitude. I won't say that people are wrong. But in my views like all other skills keeping a positive mindset can also be learned by practicing.
An optimistic attitude is important for a person to get success in business as in business, a person gets more rejection than the acceptance. In addition to this, your positive attitude towards your business gets reflected in your speech that helps in making a positive impression on your customers.
You can make your customers trust you with your positive vibe.
10. Negotiation skills and selling skills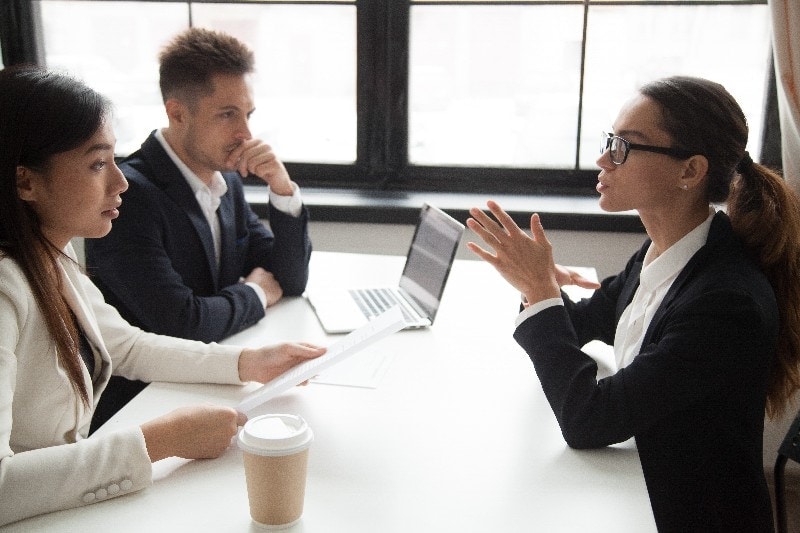 In the last pointer, I want to talk about two skills negotiation skills and selling skills to get success in business. No one can excel at these skills without the skills mentioned above. let us first talk about negotiation skills.
Negotiation means when two or more parties try to reach a mutually beneficial solution in order to resolve a conflict. Negotiation skills are very important for a businessperson. Because in business, a businessperson comes across various situations where negotiation skills are used. You can become a good negotiator when you get what you want by making believe the other party that they too are getting benefits from the deal.
Another skill that a businessperson must ace is selling abilities. Selling is a part of the day-to-day life of a businessperson in the initial days of business. One should have excellent selling skills to convince people to buy products and even better skills to persuade people to buy an idea. Selling skills require various sales skills such as prospecting, cold calling, engaging, nurturing, presenting, negotiating, and closing, etc.
Conclusion
The technological transformations that have digitized everything have put on a new cloak for business communication as well. There are added improvisations at the forefront.
From boosting the productivity to the engagement of employees and advocating awareness for employees through effective business communication.
Business communication aids in accomplishing business goals, fixing communication barriers, and are the ladder that seeds success for an organization. How important do you consider business communication in the effective and successful channelization of a business?
Liked this post? Check out the complete series on Communication