Intrapersonal communication is the way of communicating that we do with our inner self. It takes place inside our heads, for instance solving any complex problem in your head or thinking about what to have for dinner, or analyzing your thought process or belief.
Key Takeaways –
Intrapersonal communication incorporates acts of imagination, self-talk, visualization, recall, and other sorts of internal vocalization. It plays a crucial role in different social as well as personal functions. Let us delve into its world and understand its key idiosyncrasies-
What is Intrapersonal Communication?
Intrapersonal Communication is a type of communication that occurs within oneself. It can be spoken, written, or just random thoughts. It can all occur in your mind. It is like a discussion or a way of reaching out in the mind.
Intrapersonal communication occurs every time. We discuss our well-being, health, happenings, imaginative thoughts, and whatnot. It can be positive or negative with the bubblings of thoughts. All the rethinking and overthinking are intrapersonal communication. Healthy communication can make us feel relaxed and rejuvenate us after a very long, stressful, and tiring day. We sometimes put ourselves in imaginary situations and yes, that is also a part of intrapersonal communication.
What is the difference between Interpersonal and Intrapersonal communication?
Intrapersonal and interpersonal communication are two forms of communication. Intrapersonal involves self-talk while effective interpersonal communication involves talking to someone else. Let's have a deeper look at both –
Talking to oneself is intrapersonal and when talking to others is interpersonal communication. Intrapersonal communication is very common in letting you be aware of your own self, while interpersonal communication lets you connect and communicate with another person.
| | Intrapersonal Communication | Interpersonal Communication |
| --- | --- | --- |
| Who is involved | Just you. | Two or more people. |
| When it occurs | When you want to talk to yourself make a plan or introspect. | When you communicate with others. |
| Media | Mind, audio recordings, diaries, etc. | Phone, PC, TV, in-persons, letters, etc. |
| Associated with | Analysis, awareness, thoughts, etc. | Exchange of thoughts and ideas. |
After being clear about intrapersonal communication and interpersonal communication, let us now delve into different types of intrapersonal types of communication-
Types of Intrapersonal Communication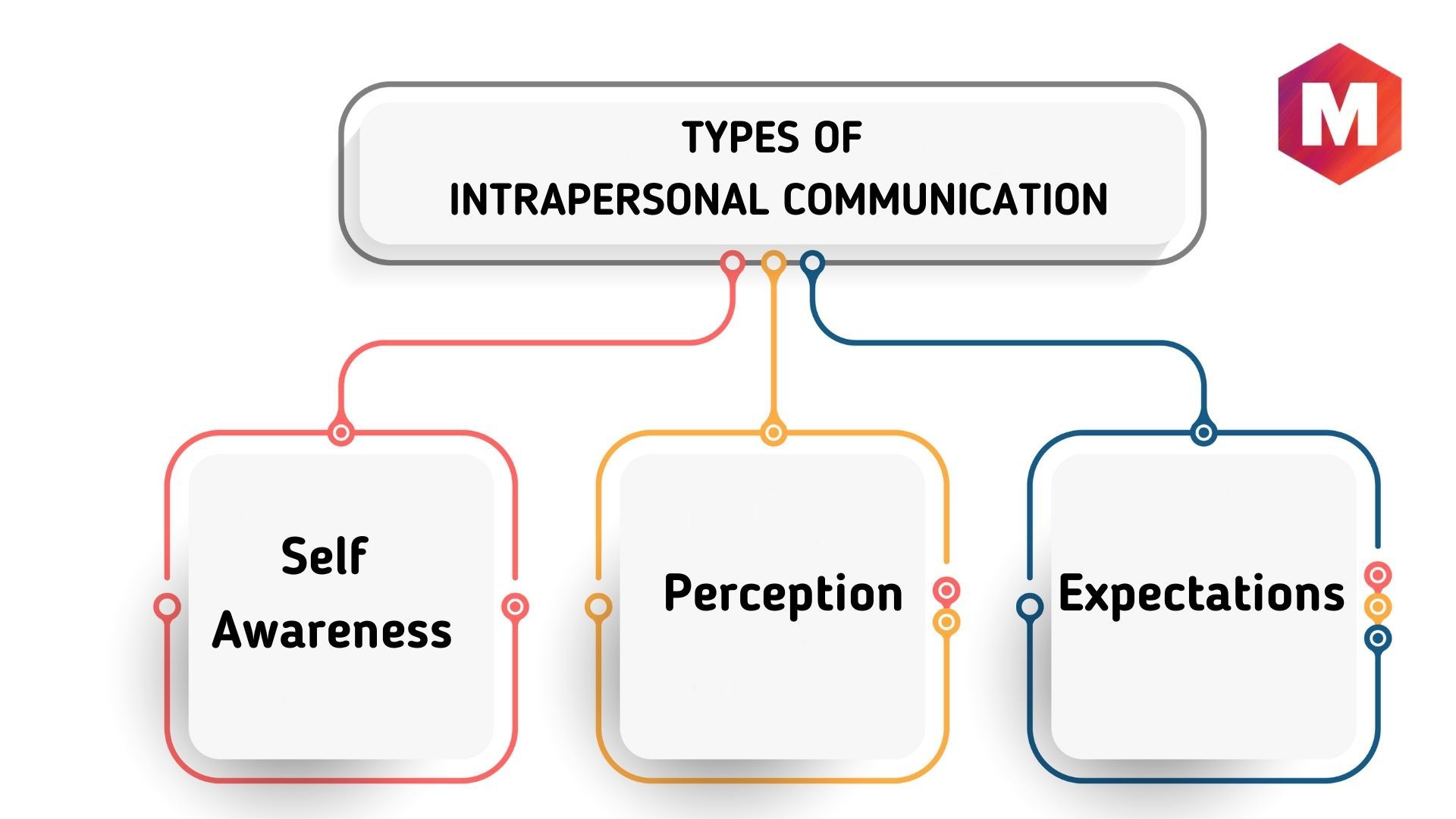 Whether we say something or not, it automatically conveys a message to the persons surrounding us or the communication can be with our self all in mind.
There are three major sorts of Intrapersonal Communication.
1. Self Awareness
It is very important to understand how you see yourself about others. This intrapersonal communication determines your beliefs, ideas, values, and attitudes. It also helps in internal conflict resolution. Your attitude is connected to the values you own. And values are based on your core beliefs.
2. Perception
The perception aspect makes you stand out from others. How you see others and how you perceive others is filtered by your self-concept. We judge ourselves and other people so easily, that's how we do intrapersonal communication. You are supposed to make your own rules and accept yourself with blind eyes. One need not be biased but need to take care of their own identities.
3. Expectations
This is one of the most important intrapersonal communication. We always expect something in our future and also about others' future too. Some people expect something big in life and keep working hard for the expectations to become reality. Sometimes we expect too much and then it leads to disappointments. Your long-time expectations of yours are the reflections of learning lessons one received from the environment.
These three aspects form a framework to channel your thinking ability to deep dive into your within the self as well as your own rules for how to process things.
Advantages of Intrapersonal Communication
There are so many benefits of being a pro at Intrapersonal communication. In easy words, it is really good to be an intrapersonal person. It leads to so many openings of good possibilities. The advantages of Intrapersonal Communication are:-
Disadvantages of Intrapersonal communication
Intrapersonal Communication Examples
Listed below are a few examples of intrapersonal communication –
Self-Talk: The internal conversations and monologues you conduct with yourself are referred to as self-talk. For instance, if you have a presentation coming up, you may mentally practice your speech, anticipate questions, and prepare responses.

Reflection: Imagine you had a difficult meeting at work, then later you would like to give yourself some time to think. This entails thinking back on what went well, what didn't, and what adjustments you might make moving forward. Intrapersonal communication is the term for this process of reflection.

Dreaming and Daydreaming: When you daydream, you do have a conversation with your inner core by channelizing your subconscious system. One example is thinking about a future trip, when you develop internal plans, envisage various situations, and anticipate potential experiences
Forms of Intrapersonal Communication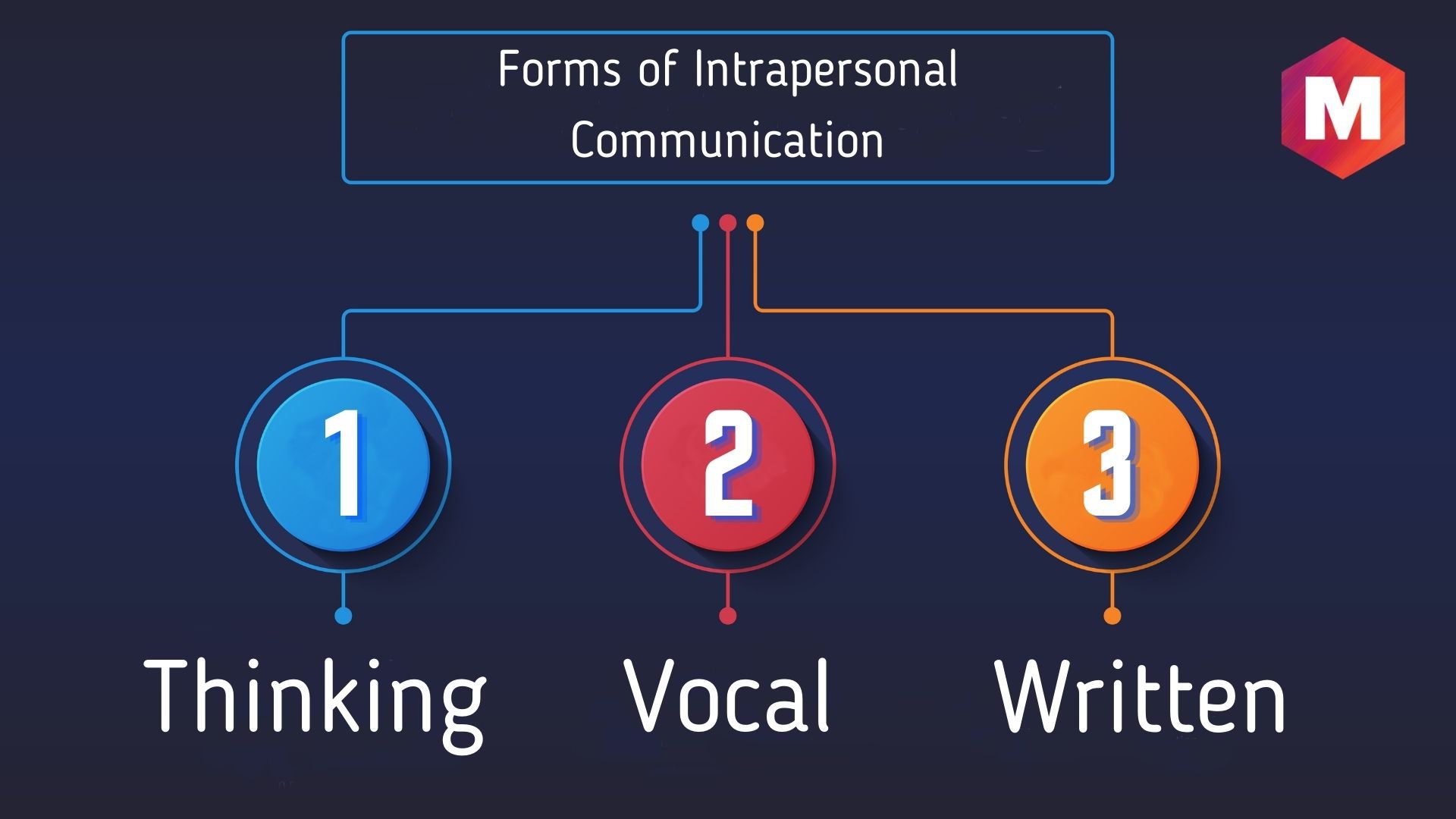 There are three major forms of Intrapersonal Communication
1. Thinking
This process includes thinking and day-dreaming. At the time when you think about something like how you behaved with your wife last night, or how you will ensure competitive advantage for your business, you are involving with your inner core via intrapersonal communication. We tend to think all the time and mainly when we concentrate or contemplate.
2. Vocal
This process includes talking to oneself out loud. This comes into play for replaying or rehearsing any message. You also do this to hear your own emotions or give yourself instructions. This form of communication is associated with self-talk. It is also an interpersonal skill, but then you talk to another person.
3. Written
This process includes all kinds of writings you do for your reading. It can be any personal diary, journal, reminders, shopping list, or notes. The written form of intrapersonal communication takes place in the process of being more organized and productive.
How to Develop Stronger Intrapersonal Communication Skills?
There are so many ways to build or outgrew Intrapersonal Communication. These are not in-built features but with time, it outshines in some. Anybody can start this habit of self-talk.  Communication intrapersonal is effective in optimizing your self-awareness and self-concept.
It is not that tough but it just needs some concentration. Here are some tips which will help you build these habits to optimize your problem-solving and decision-making skills. These are:-
Make and Maintain a Schedule – It is a good personal attitude. Making a to-do list helps you memorize what to follow up next. At the same time, it helps you to do self-talk with yourself

Relive with your natural talents – Not everyone is good at everything. But some do have special talents. It is important to relive those talents which you left behind. It helps you think harder and helps you be better and creative.

Try Meditation – Meditation can relax your body and mind. It can help you in living a peaceful life. When there is peace there comes self-talk. It is very helpful.

Practice Positive Self Talk – It is very necessary to talk to the personal self to clear self-concept. Making positive conversations with our own body and mind is helpful. It cheers you up in every possible way. Don't let negative behaviors affect you.

Consider your goals – Try and understand what your targets are and how it can be achieved. Your goals say about your personality. If you are willing to achieve something great in life go ahead.
Summing Up!
Intrapersonal people are those who are well adept at utilizing the power of visualization, compassion, negativity recognition, decision-making, conflict management, leadership, internal dialogue, self-expression, listening skills, self-interaction, feedback, subjective evaluation, etc.
The most important aspect of internal stimuli of intrapersonal communication is awareness of your own thoughts, your mind, your inner voice, and your own self in different situations. Intrapersonal communication connects both you and your inner selves that involves understanding different forms of human emotions, perceptions, and mental processes.
Here it is important to understand that intrapersonal, as well as interpersonal communication, are equally important for communication expertise.
Do you consider yourself an intrapersonal person?
How important do you find intrapersonal communication in optimizing one's personal interaction?
Also, how would you differentiate between intrapersonal and interpersonal communication? Share your views with us in the comment section below.
Liked this post? Check out the complete series on Communication