Before the commencement of the first World War, imperialism had reached its zenith and there was a high focus on increasing economic efficiency from existing resources as new colonies were hard to find.
Most of the colonies had been subjugated to control by some European power and the tussle to wrest territories from one another led to the commencement of two world wars and thereafter restrictions were imposed on the free flow of men and materials from one part of the globe to another. Business owners realized that they had to do more with less in order to succeed.
Running faster to stay in the same place
This was the typical predicament that business owners found themselves in while negotiating the problems of slow growth as demand dipped due to competition.  Greater success could now be obtained only through higher efficiency and more dedication from employees and to enable this principle like the scientific management theories were implemented. It called for a heavy-handed top-down approach wherein feedback from the lower levels to the upper echelons of the management was minimal and information flow was usually from top to bottom.
How Scientific management theory gained momentum with the passage of time!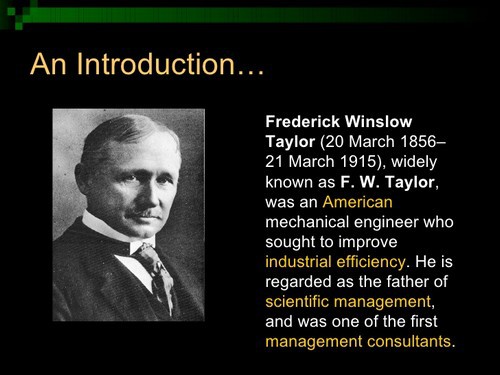 When Frederick Taylor, first introduced this theory, it was termed as shop management or process management. He introduced this theory as he was appalled to see his colleagues deliver less than one-third of their actual potential each day with an amazing sense of regularity. And he set about correcting this anomaly by proposing micro-motion studies using stop-motion cameras to standardize processes.
It led to science being applied to develop and refine the principles of management. "How long should a person take to perform a task?". These and other such questions were answered by unleashing the principles of scientific management theory.
The principles outlined in the theory were first applied to factories and later on, they were applied to the development of industrial psychology. Other leading lights who worked on refining the theory included Frank .B. Gilbreth (1868-1924) and Harrington Emerson (1853-1931). Most of them advocated that public sector organizations could save big in terms of time, money, and resources by employing the principles outlined in the theory.
Taylor realized that workers could triple their output on the shop floor if time and motion studies coupled with micro-motion studies using stop-motion cameras were used to analyze performance and further develop industrial psychology as a discipline.
The principles of scientific management laid down by Taylor captured the fancy of the intellengisia and attorneys began arguing in court that thousands of dollars could be saved each day in state-run corporations if time and motion studies using stop-motion cameras were used to calculate the maximum time needed to perform each job. And this yardstick may then be used to monitor the performance of employees in manufacturing cum mining sectors. The implementation of this theory was met with stiff resistance from workers engaged in the mass production of goods.
1) Basic TENETS
Frederick Winslow Taylor is considered as the father of this theory and him along with many other management gurus outlined four basic tenets took shape.
Determining the one best way to do the job was the first and most important tenet.
Selecting first-class men or an A team to do the job.
Pay per piece in order to avoid leakages and wastages.
Outlining the basic duties of the management
Each of these tenets had to be adhered to strictly in order to achieve the goals of the organization.
2) Salient features
Managers plan on desk and workers execute the plan is the sub-text of the scientific management theories. This theory gained prominence as it synthesizes and analyzes workflows.
The main objective is to improve economic efficiency business owners were forced to do more with less owing to competition from other industrialized powers.
Labor productivity soared after the introduction of the scientific management theories as it was the first instance of applying science to the engineering of processes and management.
3) Standardization
This is the first and foremost principle of the scientific management theories that refers to the speed and rate at which work needs to be done.
The use of the right pieces of equipment and tools that measure to internationally defined standards gained momentum. And customers began accepting only those products that measured to strict quality control standards.
4) Time and task education
These studies were undertaken in order to determine the best way of doing work.
This theory proved very useful as certain industries where each product had to be produced identically to the next one and that too in double-quick time. Stop motion cameras studied the time taken ideally to produce a single unit of the product and the time taken was adjusted against any stoppages due to power failure, bad weather, and the ideal time to complete the task was communicated to the entire enterprise as the ideal standard to complete the job.
5) Higher emphasis on selecting the right resources
As a cultural touchstone, the aspect has still remained intact as top companies have the most challenging recruitment processes. Utmost care is taken by the best companies to choose resources that have the potential to last the test of time and market. It is these resources that prove to deliver winning solutions that can outsmart and outfox competition.
6) Impact of management
This theory had a profound impact on business discourse in the post-world war 1 era. Those were the days before the great economic depression of 1929 when countries like America were experiencing high economic growth due to free trade.
Russia was slowly and steadily organizing itself through Communist principles into a military and economic superpower. Other countries in Europe were slowly embracing either communism or capitalism and were charting their own growth trajectory that ultimately triggered the Second World War.
The popularity of the scientific management theories was so high that even Vladimir Lenin remarked that it was the most widely discussed topic in the business landscape of Europe. Though a lot of other theories were propounded after the release of the theory in 1915, and the theory itself became obsolete by 1930, it still had an indelible impact on the minds of management thinkers and business leaders of that era.
Conclusion: "Scientific system of sweating"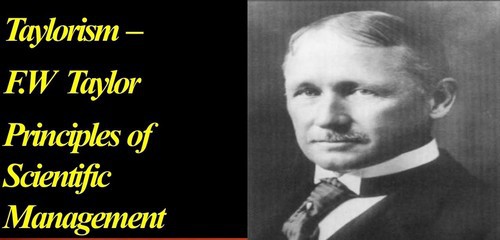 Yes, some critics of the theory did refer to it as the scientific system of sweating as it applied perfectly to manufacturing, mining industries where blue-collar work was more prevalent as compared to the pink collar and white-collar jobs.
Though the ideas and studies engendered certain best principles and skills that are still deployed in management…
Analysis
Synthesis
Logic
Rationality
Empiricism
Work ethic
Elimination of waste
Conversion of craft production to mass production coupled with knowledge transfer between workers and subsequent decantation of this knowledge into tools, processes, and documentation. By following this method, the organization can get a fair idea of its abilities as the competency of each employee can be mapped by knowing the amount of organization-specific knowledge transferred to him or her.
Liked this post? Check out these detailed articles on
Topic of MANAGEMENT
Alternatively, check out the Marketing91 Academy, which provides you access to 10+ marketing courses and 100s of Case studies.