Face-to-face communication refers to the interaction between two or more people where everyone is in direct contact with each other. It is also known as personal communication because people through this type of communication process can send and receive key information one-on-one.
Face-to-face communication is one of the best ways of building strong relationships. It offers both the receiver and sender of messages a viable opportunity to look into the eye, put across their thoughts and ideas, interpret body language and facial expressions, emotions, tone of voice and later reciprocating in the best available manner.
What is Face-to-Face communication?
Face-to-face communication helps people to be on the same page so that they can connect and communicate directly. There was a time when being in the same physical space was known as face interaction but times have changed and with the advent of latest technologies in this digital age it is possible to have face-to-face communication without being in the same physical space through video call or video conference.
Face-to-face communication is considered a strong influencer as it can direct human behaviour as per the demand of the situation. In business, it is one of the most successful ways of putting across your thoughts and convincing the other party to your way of thinking.
Importance of Face-to-Face Communication
The importance of face-to-face communication is as follows –
1. Keep employees in the loop
Face-to-face communication is one of the best ways to keep every employee in the loop irrespective of his demographics. If an employee is in the same building then you can easily video call and connect without travelling to and fro from one office space to another. Work culture has changed considerably in recent years and an organization might have employees working from different locations. The benefits of face communications are that it provides every employee equal opportunity to feel connected with their team, collaborate globally and ensure that they are working as a single unit.
2. Stronger working relationships
When employees can communicate their thoughts through face communications it creates a bond between them. The importance of direct dealing is that there is a sense of togetherness and this sets a foundation for trust. It becomes easy to interact and communicate and ultimately paves the way for a better and stronger working relationship.
3. Employee engagement and innovation
The importance of face communications is that it creates a highly productive and collaborative environment. It encourages employees to participate in meetings and brainstorming sessions. Employees become engaged and their morale and satisfaction levels also increase. When employees are happy in their workspace it leads to innovation in an organization.
4. Enhance productivity
The importance of Face-to-face communication is that it can inject an extra dose of energy amongst the participants. Take the help of video conferencing to schedule virtual meetings and connect with in-office and remote workers through it.  Participation in meetings have become very easy and this collaborative environment has proved a boon for the organizations as employees can clear doubts and exchange information quickly and easily. The benefits of face interaction are that it boosts overall productivity and helps the company to grow in leaps and bounds.
5. Improves reliability and removes misunderstandings
The importance of face-to-face communication is that it is easy to exchange information as both the receiver and sender of messages can interact directly with each other. Sometimes it is not possible to communicate openly and in that case, video conferencing provides an easy, secure and fast option to the participants to put across their thoughts. The benefits of face communication are that it ensures that the entire information is passed as intended without any shortcuts. The best part of a video call is that there is no room for misunderstanding.
6. Minimize travelling expenses
If employees are working from different locations it becomes very expensive and time-consuming to take part in important meetings as everyone will have to travel to and fro from the meeting point. Video conferencing is one of the best ways to have direct communication and save travel time and cost.
How Face-to-Face communication helps businesses?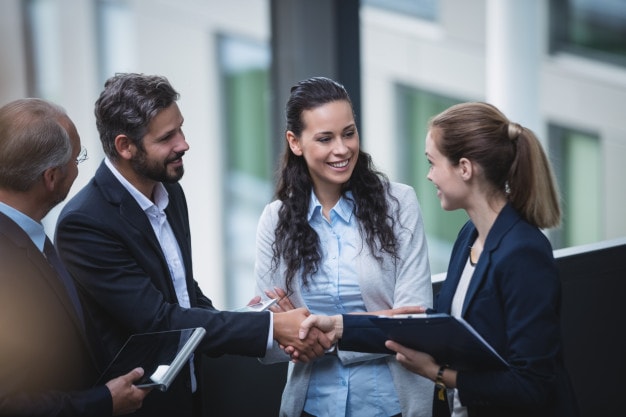 Technology and the digital age has proved a boon for businesses and has helped in better communication facilities. Irrespective of the several available channels face communication is considered the best amongst the lot and is often the most frequent option employees choose for interaction and communication.
1. Face to face communication helps to read non-verbal cues
It is a proven fact that non-verbal communication in most cases is more important than the verbal one. During face communications, it becomes possible to interpret gestures, changing emotions, body language and facial expressions easily. How is the person speaking, is he confident enough are his words being received positively by his audience, is the receiver engaged are some questions that can be easily answered by looking at non-verbal cues. When someone is engaged in a business meeting it is these non-verbal clues that help businessmen to mitigate miscommunications, avoid misunderstandings, come to a decision and respond accordingly.
2. Face-to-face communication improves credibility
It is important to know someone before you can trust him and this is possible through face communications. Email, text message and phone calls are important communication channels in this digital age but they cannot usurp the place of face interactions. Making eye contact, speaking confidently, smiling and aligning your words with action improves credibility in a business setting.
3. Face-to-face communication build relationships
Face communications build rapport amongst the receiver and sender of the message. The direct conversation creates a personal bond that lays the foundation for strong professional relationships. Looking into the eyes of others while speaking, nodding, smiling and listening attentively is the hallmark of an engaged person. What do you feel if you come across a person who seems aloof and disinterested in your conversation? Do you want to interact with him further or want to finish your conversation as quickly as possible? When someone pays attention he will look genuine and this will help in building relationships in an organization.
4. Face-to-face communication boosts productivity
Poor communication leads to conflicts and misunderstanding in the workplace. In this digital age where technology reigns supreme, it is better to have face communications at regular intervals. Suppose you are part of an important project then will it suffice to send information only through email? Is it even possible to convey details minutely through text message and email, field the related questions, get feedback and answer all queries? This is possible during face-to-face communication meeting. The interactions ensure everyone is on the same page and helps to clear any doubts at once. The human connection is a vital part of a professional relationship. More often than not businessmen go with their gut and it is at such times that it proves a blessing in businesses.
Liked this post? Check out these detailed articles on
Topic of Communication
Alternatively, check out the Marketing91 Academy, which provides you access to 10+ marketing courses and 100s of Case studies.