Definition – Cross-cultural communication occurs when people with different nationalities, styles of working, age, race, ethnicity, sexual orientation, gender, sexual orientation, etc. communicate. It tries to negotiate, mediate cultural differences, exchange, and intermediate cultural differences via verbal and non-verbal forms of communication.
What is Cross-Cultural Communication?
Cross-Cultural Communications deal with the exchange of information between people belonging to different cultures. It is not necessary for the exchange of words to be a successful communication or not. Even if both the parties are trying to attempt the same, it will be considered as Cross-Cultural Communication.
Several negotiations take place across cultures using the actions and other sign languages due to the absence of common language barriers. The exchange of knowledge is the priority rather than focusing on other aspects.
Every typical person has a style of communication that signifies the culture he or she belongs to. There is no doubt that we all come across a cross-culture situation where we need to establish a meaningful conversation. Most people often find a need for an intercultural communication across cultures during their working hours.
It is commonly observed that cultural diversity in the workplace usually consists of people having different cultures and backgrounds. This significantly increases the need to prevent a predictable clash between their thoughts and the way of approach.
Cross Culture Communication is expected to reduce these conflicts to promote harmony among the employees. The main goal is to transfer the correct message, followed by an accurate response. Any misleading situation should be prevented, and the cross cultural communication theory level should be preferable by both sender and receiver.
Let us now understand why communication across cultures is significant
What is the Importance of Cross-Cultural Communication Skills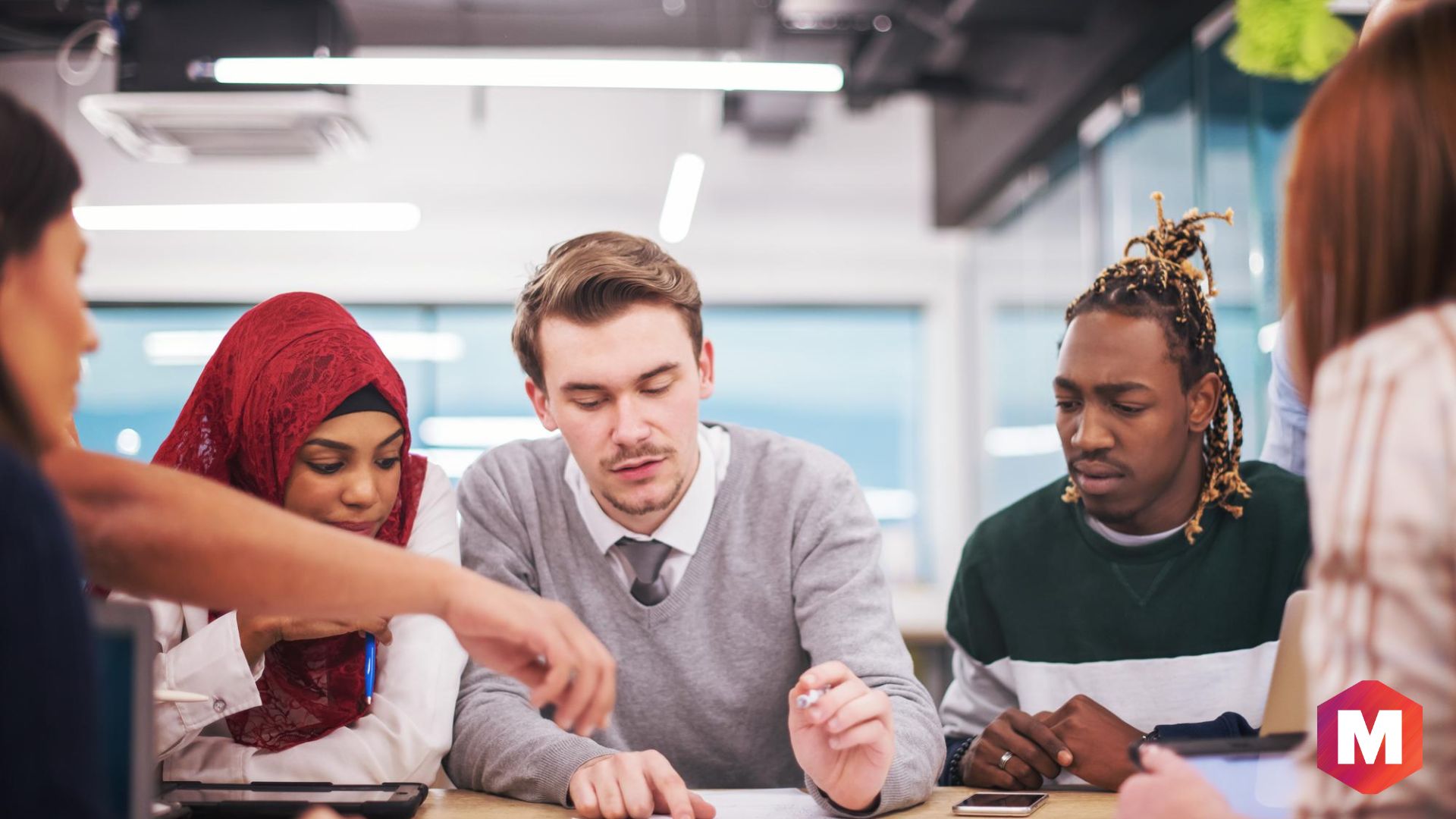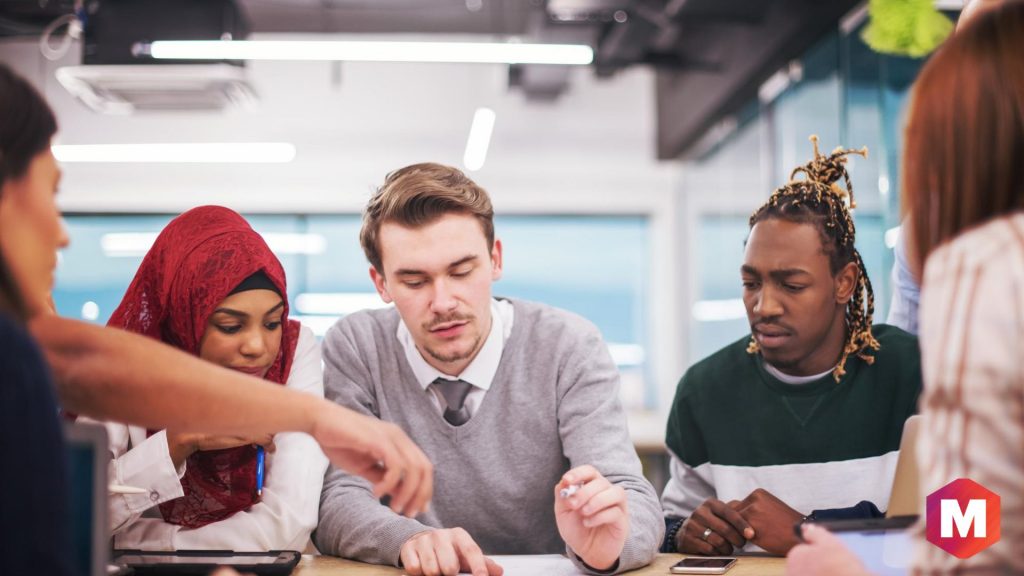 Now you must be wondering that why was there a need to introduce Cross-Cultural Communication at the workplace.
Different cultural ways give people different ways of thinking, analyzing, hearing, accepting, interpreting different things. – This means the same words or gestures in the majority culture of the United States will mean different things to people associated with other cultures.
At the time of globalization, communication across diverse cultures falls within the larger field of communication studies around the world. From businesses to universities to schools, the application of cross-cultural communication along with foreign language education is gaining prevalence amongst people from different societal, cultural, or national setups.
In this section, we will throw some light upon cross cultural communication important and the different ways cross-cultural communication can let you communicate effectively…
1. Better Progress
Every industry is dependent on its employees for better progress and more profit-earning sources. It is quite understood that Cross-Cultural Communication directly influences the relationship between the managers and the employees.
Moreover, the employees are more comfortable while communicating with each other during the project. Hence, a hike in the progress chart of business can be observed in a short while, as it lets employees communicate effectively across cultures despite their cultural differences.
2. Cultural Influence
There is no doubt that cultures play a vital role in determining how we talk with one another. In case there is an absence of harmony and a sense of equality due to different cultural backgrounds, it can lead to a chaotic situation.
The organization will not be able to manage all its employees under the same roof. Cross-Cultural Communication solves this issue and enhances the productivity of the members.
3. Management
Cross-Cultural Communication can be quite beneficial in situations where the business is spread across various parts of the globe. Surely, all the employees working there will belong to different cultures and religions.
The company executives will develop some benchmarks for all of the team. Each member would have to act the same and treat everyone with equality. Any discrimination based on culture should be prohibited.
Factors Affecting Cross-Cultural Communication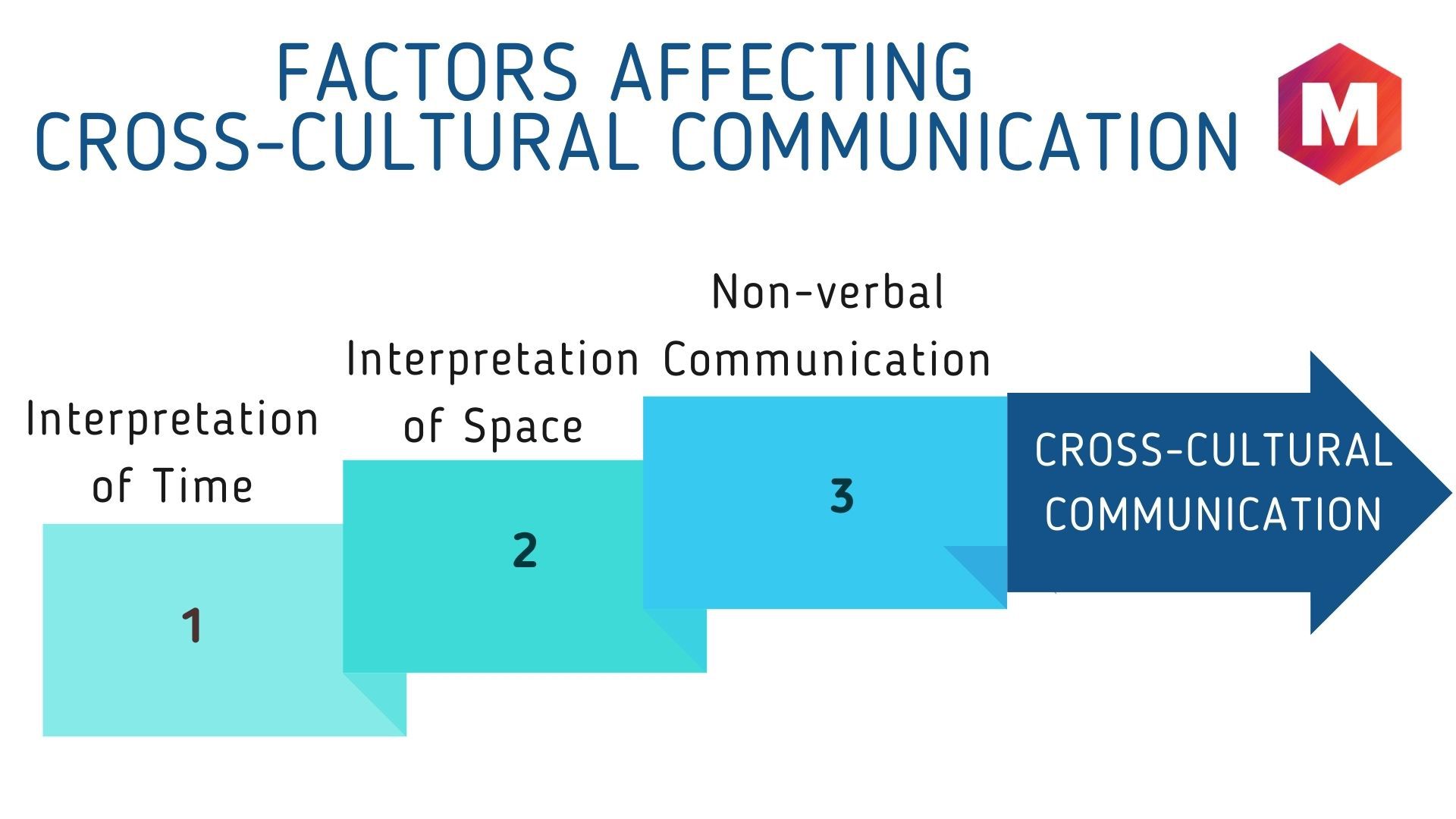 Different factors that might affect such a form of communication are-
1. Interpretation of Time
Different cultures for example Chain and Japan consider punctuality very important, and if someone is not on time, they might find it annoying or humiliating, while on the other, in the cultures of the Middle East and South America, time would not be of that much importance.
2. Interpretation of Space
The personal space of one culture might also differ drastically from another culture. Some of the countries consider it respectful maintaining space while greeting or meeting, while some other countries practice culture may not find it that crucial.
3. Non-verbal Communication
One culture might value content more than context and they are low-context cultures. In such a culture, written words are valuable than oral words. On the other hand different countries, nations or groups with high-context cultures value context more than the written content. Such cultures pay more heed to the non-verbal signs more than the language.
How to improve Cross-Cultural Communication?
There is no way to overcome the problem of communication and cultural barriers in a company other than to improve Cross-Cultural Communication. As mentioned earlier, it has significant importance in every sector with a need for communication.
No matter whether you are a part of the market of the makers, you need an established business communication process or system. Many people are not sure about the ways to tackle this problem and end up destroying their professional relation.
Thus, we bring you some of the finest methods that will help you to improve your overall Cross-Cultural Communication skills.
1. Prefer Meaningful Conversation
It is a known fact that all the conversations made during office hours are quite important. The company looks forward to promoting more meaningful conversations between the employees. The same situation holds valid even during Cross-Cultural Communication.
People with different backgrounds are not comfortable enough to share a word between them. This is not an ideal way to move further or even initiate a conversation. You have to talk to the employees who belong to another culture and get to know them. Of course, this practice can't be implemented overnight and will take some time. But the result would be favorable for both the employees, as well as for the business.
2. Avoid Signaling
This point might not be a big issue, but still, several people don't like someone signaling them, especially the ones from a different culture. The regular use of any non-verbal communication channels can offend people.
Instead, open a direct communication account with them. For instance, people from America find it normal to point at something for a reference or direction. At the same time, other countries like Japan are not comfortable in making the same gesture. They find it to be disrespecting their culture and use the hand instead of the finger.
3. Awareness
In case you are someone who has to deal with people under the Cross-Cultural Communication system, it is better to know them first. There is nothing bad in asking about their culture rather than to create trouble in the later stages.
You should have the basic knowledge about their background and have a personal overview of the same. The organization should focus on these aspects and make arrangements for group discussion. This will enhance the communication skills among the employees, and they will understand each other's sentiments.
Examples of Cross-Cultural Communication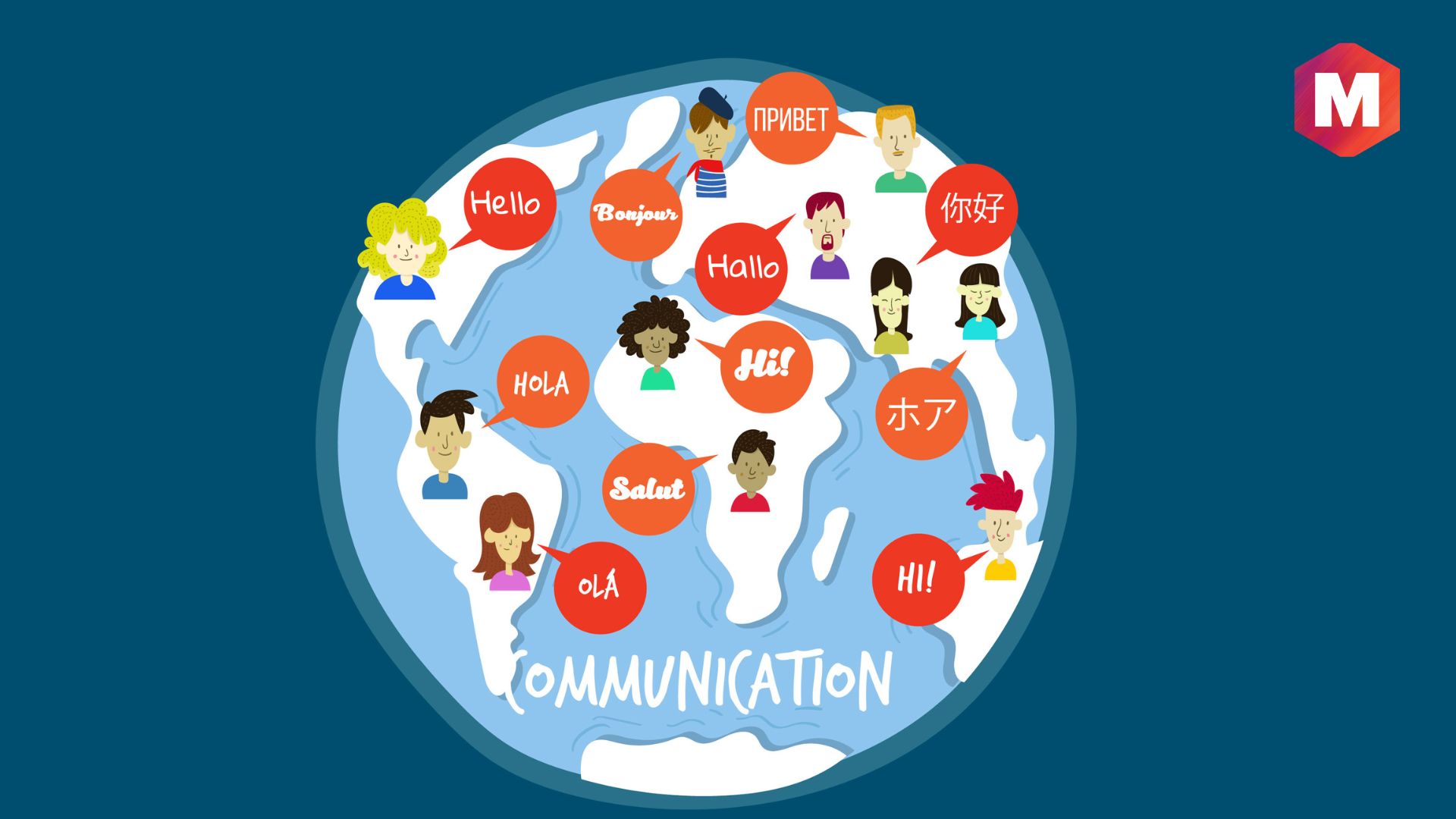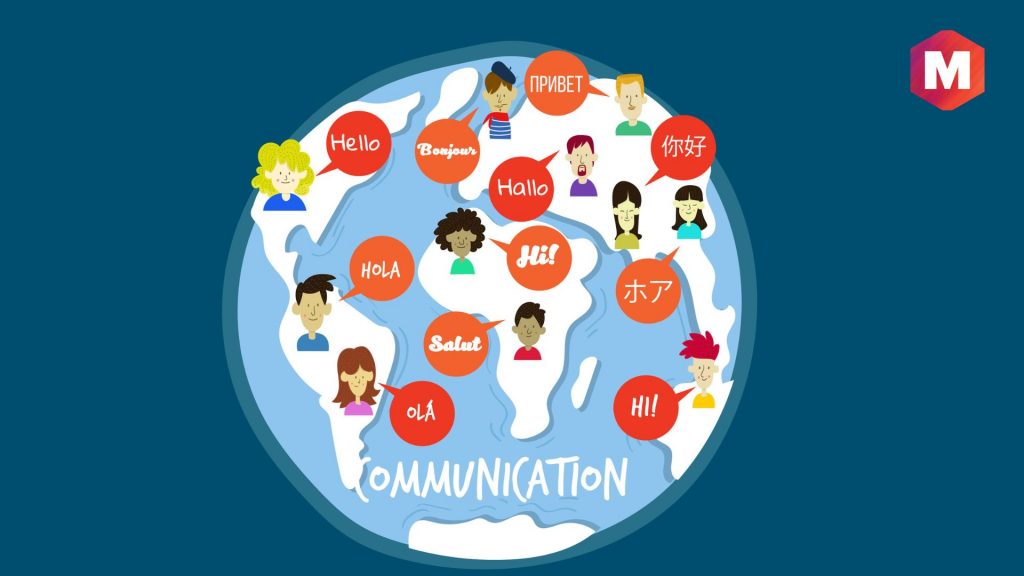 Cross-cultural communication is a difficult subject that can be challenging to master. However, it's also a very important skill to have if you want to work with people from other countries or cultures.
Here are some examples of cross-cultural communication:
When talking with someone from another country, it's important to remember not to assume that anything you say will be understood in the same way as if you were speaking with someone who grew up in your own country.
For example, if you were speaking with someone from France who didn't speak English very well, you might think they would understand the word "bonjour" because it means hello in French. However, this isn't necessarily true because they might not realize what your intention was when using the word—that's why it's important to ask questions instead of assuming anything!
It's also important to remember that cultural differences can affect how people act and react in different situations—so keep an open mind! For example, if you were trying to make friends with someone who comes from a culture where it's rude for men and women to touch each other (like in Japan), don't try hugging them unless they seem comfortable with that sort of thing first!
Tips for Effective Cross-Cultural Communication
Effective cross cultural communication refers to a lot of thought and planning. Here are some tips for making the most of your international interactions:
Don't assume that everyone thinks in the same way you do.

Be aware of cultural differences in body language, gestures, and facial expressions.

Use common sense when communicating with people from other cultures; don't assume they will know what you mean by "you're welcome" or "I don't understand."

Try to find out about the other person's culture before meeting them so that you can respect their traditions and avoid offending them unintentionally (e.g., by making jokes about their religion or race).

Ask questions. This will help you to understand what the other person is saying, and it will also give you a chance to clarify any misunderstandings that may arise.
Sources of Miscommunication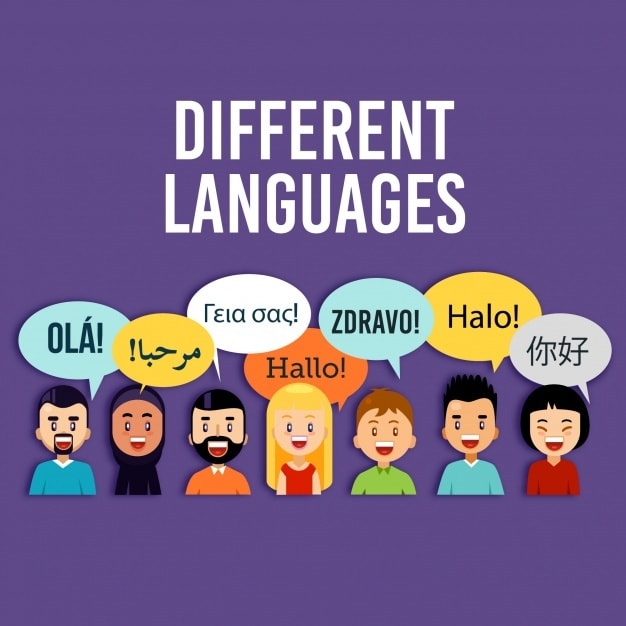 According to the communication theory across cultures given by LarayBarna, six sources might cause miscommunication. Hence, for improved cross-cultural communication, they should be avoided. Let us have a look upon those-
1. Assumption of similarities
This misconception lets one develop the understanding that how he or she behaves, thinks, or acts is also accepted and perceived around the world in the same manner. This way of thinking impeds us to understand other's context and we may have negative views about those who differ from us.
2. Language Differences
Such misconceptions occur when people interacting with each other do not speak the same language. Even in some of the cases, words being spoken in the same language have a different meaning in another context that might cause differences in understanding.
3. Nonverbal Misinterpretation
This form of misconception arises when the meaning of nonverbal signals different in different cultures. Body language, gestures, eye contact, postures, etc. play role in this context for instance nodding the head is YES in some cultures while No in some other cultures.
4. Preconceptions and Stereotypes
Having some sorts of prejudices, xenophobic tendencies, or stereotypes about language, etc also cause differences in understanding. Some preconceptions about a few nonverbal signals may also cause issues. Assuming a fixed set of characteristics that you do not like from all members of a group cause such misconceptions and differences.
5. Tendency to evaluate
Analyzing others' tendencies, communication, verbal or nonverbal ways of speaking may also be one of the key reasons behind misconceptions.
6. High anxiety
Being highly anxious while interacting with people of a different culture may also create a confusing world around you that will cause misconceptions. When you delve into the world anxious through the process, it hampers your natural understanding. Your verbal as well as nonverbal signals will also not support you.
Summing Up!
As we come to the end of our meaningful discussion, it is proved that Cross-Cultural Communication is important. The companies are also not leaving any stone unturned to promote programs that will eventually benefit the employees.
Moreover, the employees should actively take part in these programs and improve their Cross-Cultural Communication skills. It is better to establish a similar environment around you to grasp various cultures and religions. This is not only significant during professional hours but also plays a vital role in your life.
How contemporary do you consider cross-cultural communication in today's global setup?
Liked this post? Check out the complete series on Communication