Adobe Systems Incorporated offers a wide range of software products and services and operates in North and South America, Europe, Asia-Pacific, Africa and the Middle East. In FY2015, the company generated revenue of about 4.795 billion USD, with a growth of about 15 percent year on year. The company is famous for its design softwares which help designers across the globe.
Strengths in the SWOT Analysis of Adobe :
Transition to subscription-based model: Adobe has been a transition of being a perpetual license based model to subscription-based business model. The company has introduced the Adobe Creative Cloud replacing Adobe Creative Suite. The transition to a subscription model has led to an increase in annualised recurring revenue (ARR). The company's subscription revenue has reached to 67% of revenue. The transition will help Adobe a strong top line which will provide the company stability.
Strong Global Presence: Adobe has a diversified presence globally including countries from Europe, Asia, North America, South America and UK. It distributes through a network of distributors, value-added resellers (VARs), Independent software vendors (ISVs) and original equipment manufacturers (OEMs).
Brand portfolio: Adobe offers a wide range of products and services in the digital media and digital marketing segments. It has a line of products for professionals, marketers, enterprises and consumers etc. This allows the company to have a diversified and robust customer base.
Champion of Designers: There is no other software in graphic design at least for images which comes close to Adobe Photoshop. Similarly, Adobe has a plethora of products for web developers, media industry, as well as gaming and video industry. Any graphic design industry you name, will have an Adobe product which they heavily depend on.
Trustworthy and reliable: Adobe products are trustworthy and reliable and the brand is trusted to get the job done. Adobe has been around since the past several years and has slowly but surely captured a major market share of designing softwares.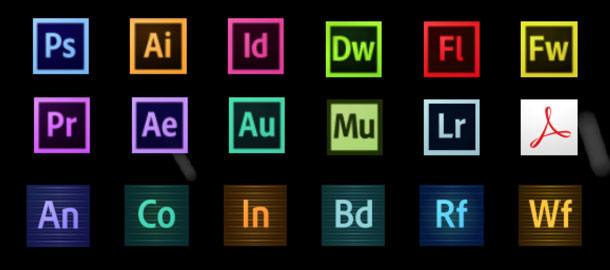 Weakness in the SWOT Analysis of Adobe :
Debt obligations: Adobe has a significant debt obligation. At the end of FY2015, Adobe $1.9 billion in senior unsecured outstanding notes. The debts require a portion of its inflow to service the indebtedness and it also limits the flexibility in planning and adherence to changes in business.
Costly Creative Suits: The creative software packages and suites of Adobe are too costly and hence they are relatively less attractive for the customers. They are sold less in Emerging markets.
360 degree feedback – Many designers over the years have complained that their requirements are not considered by Adobe when bringing out new softwares. If Adobe has 360 degree feedback mechanism involving internal customers, it can come up with many fantastic products with ground breaking innovation.
Poor presence in video animation market: Adobe has very poor presence in the 3d animation software which is dominated by 3ds Max and Sony Vegas. It has Adobe premiere pro but premiere pro is not so good at developing 3d structures as 3DS max or sony vegas (this is a huge debatable topic).
Opportunities in the SWOT Analysis of Adobe :
Growth in Digital marketing: Global digital marketing spend is growing, primarily due to the adoption of mobile phones and penetration of internet. The digital marketing spend is expected to increase at a CAGR of 12% in the next 5 years. Adobe can look forward to increasing its revenue from its cloud-based marketing solutions.
Strong outlook for Cloud computing: There is an increasing demand for cloud computing in the coming years. The demand for cloud solutions is driven by capital and operating cost advantage, resulting from pay per service subscription model. The global spending on cloud computing at a CAGR of 19.4% in the next 5 years.
Partnership with Microsoft: Adobe and Microsoft strategically partnered each other help enterprises embrace digital transformation. With this, Adobe has made Microsoft Azure its preferred cloud platform Adobe Marketing Cloud, Adobe Document Cloud and Adobe Creative Cloud. The strategic partnership with Microsoft is going to boost Adobe's client base, boosting its top line.
Threat in the SWOT Analysis of Adobe :
Piracy – The major threat to Adobe is the piracy of its softwares due to torrent sites and illegal downloads of older versions being present across the internet. In emerging markets and developing markets, there is rampant piracy. CD's of Adobe softwares are sold on the streets for a few dollars.
Open source software – There are several open source softwares launched which are free to the market. Many of these softwares do a good job. GIMP is a very good photoshop alternative for amateur designers. Similarly there are alternatives to corel draw, dreamweaver etc. Open source may not be used by serious programmers, but it takes away a good chunk of market share.
Competition: Adobe's products and services face intense competition globally. Disruptive technology has allowed new entrants to enter the market which has resulted in high competition. This may lead to pricing wars and can impact Adobe's operating profits and margins.
Security threats: Adobe holds confidential information of its customers, which has always been a target for criminal hackers. Also, cyber attackers constantly develop different kinds of viruses and malware for the systems. These are potential security breaches which Adobe needs to take care of to maintain the brand image it has created.
Liked this post? Check out the complete series on SWOT