Zomato is the restaurant discovery app and website by Infoedge. Because of its unique design and user-friendliness, Zomato is loved by its users. The brand has spread fast across the world. Here is the SWOT analysis of Zomato.
About Zomato
Type: Online food delivery and restaurant discovery platform
Industry: Foodtech
Founded: July 2008
Founders: Deepinder Goyal and Pankaj Chaddah
Headquarters: Gurugram, India
Area served: Over 10,000 cities in 24 countries
Current CEO: Deepinder Goyal
Number of employees: 3,800
Major products: Zomato app, Zomato website, Zomato Gold, Zomato Pay, Hyperpure
Strengths in the SWOT analysis of Zomato
First mover advantage – One of the best competitive advantages of Zomato is that it is the first mover in many of the nations where it is establishing itself. Directories and other forms of restaurant ratings might exist. But as an app Zomato is excellent and many countries (like India) have loved the usability of the Zomato app.
Evergreen industry – The restaurant industry is an evergreen industry. Sure, there may be recessions and other downturns which might affect the industry. But overall, this industry is going to stick around at all times and is only going to grow with rising disposable income.
Fast Expansion – It is appreciative that Zomato has expanded so fast. It is already in 24 countries and is expanding year on year.
Fantastic design of the app – Zomato has regularly won awards for its app design and for its user-friendliness. The App design is fantastic and it helps you discover restaurants nearby as well as in an area you are going to visit.
Number of users – Zomato has a huge number of users using their app. At the same time, the site also has 90 million visitors a month approximately. With so many users following the app and site, there are more reviews and hence more chances to find better restaurants.
Focused approach – The brand has a very focused approach and has always tried to bring the most of out of its unique offering. It is well connected with restaurants and regularly takes feedback from customers as well as restaurants. This focused approach has also helped the brand image and reputation of the firm.
Excellent funding available – Zomato has picked multiple rounds of funding over the years and because it is now so well established in many countries, there is a lot of funding available for the app.
Multiple acquisitions – Zomato has acquired multiple companies most of which are software or technology related.
Already turning profits – In April 2017, Zomato was profitable in all 24 countries it was operating in. For a company which is a start-up and has so much funding, it is a big thing to turn profitable because many funded organizations are still declaring losses even after a decade of establishment.
Brand Equity – Zomato is valued at $1.4 billion within 7 years of inception. That says volumes about the popularity and love for the brand.
Fantastic marketing – You can find Zomato working for its own marketing offline as well as online. Its print ads are hilarious and make an immediate connect with the audience. It is strong on Social media marketing and uses a combination of ATL and BTL strategies to attract and retain customers.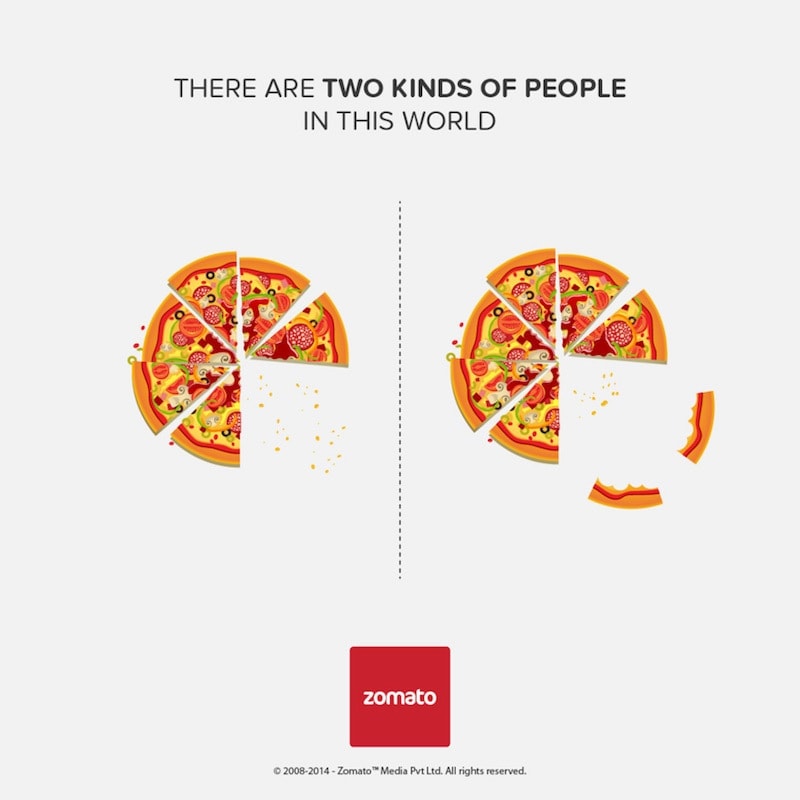 Weaknesses in the SWOT analysis of Zomato
Security issues for the app – A major issue for Zomato in the past has been some security issues due to which the app was hacked and at least 17 million users data was copied. Such security issues are a nightmare for internet companies.
Still a lot of expansion required – Considering that the app has established in 24 countries, there is good expansion. But at the same time, the app has been started 7 years back and with the amount of funding available for Zomato, the expansion can be much faster. It is allowing other services to establish themselves in this niche before it reaches their country.
Word of mouth and Facebook check-ins – Besides such apps, in many places word of mouth still trumps apps and at the same time, Facebook check-ins are a strong competitor wherein people might not need Zomato. Thus, it is an app for early adopters but definitely not for laggards.
Opportunities in the SWOT analysis of Zomato
Further expansion – The number 1 opportunity for Zomato is to expand to more countries and establish its base faster. Service industry has a major problem that services can be copied very fast and very easily. As a result, it is critical for Zomato to establish and expand itself faster.
More acquisitions – There are and were many small players in this space. Zomato can acquire several of its competitors and at the same time, it has to keep an eye on the tech industry and acquire any tech innovation it can get its hands on to keep on rising.
Cloud restaurants – Zomato is coming up with the concept of Cloud restaurants wherein restaurants will not have to get a physical space to actually sell their food products. Instead, they can sell from Zomato.
Creating a community – Zomato does have a huge following but the users do not interact with each other. Creating a forum and a community out of the users already following Zomato can be a huge benefit for the brand.
Adoption of the internet and Smartphones – There is a huge increase in the adoption of Internet across developing and underdeveloped countries as well. Similarly, adoption of smartphone has also increased. Thus more and more orders and research about restaurants can happen online instead of through physical visits.
Threats in the SWOT analysis of Zomato
Google's schema module – One of the major threats Zomato faces right now is the Schema module of Google wherein google locations itself is getting in restaurant recommendations. Even google homepage shows the google maps page where you can search for restaurants within your locality. Google being such a big brand, zomato faces huge competition from them.
Market followers and challengers – In the service industry, it is very easy to replicate the success of another service product or offering. Similarly, marketing followers and challengers can slowly take away the market share of Zomato.
Liked this post? Check out the complete series on SWOT