The company AT&T is responsible for providing telecommunications services. It has massive operations in the US. It is headquartered in Dallas, Texas. It also has operations in other countries worldwide.
Strengths in the SWOT Analysis of AT&T :
Brand Value : AT&T ranks 7th in the directory of Brand Finance. It has a brand value of $59.904 billion. This gives them a very big edge.
Telecom Industry ranking : In the Telecom industry it ranks 2nd in the world. This is a massive strength for the company and shows its coverage.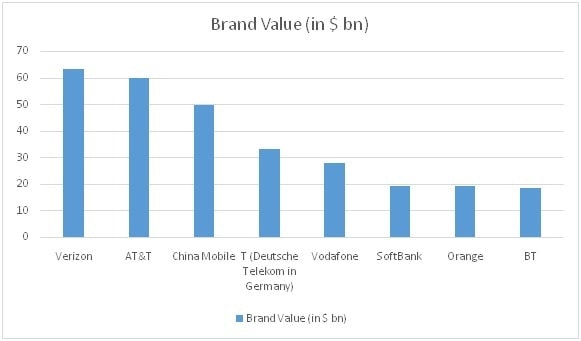 Market Leader: AT&T is a well-established and the market leader in its segment. It has a market share of 34% in the US.AT&T has 120.6 million wireless subscribers, 19.9 million access line subscribers, and 16 million broadband subscribers as of FY2014.
Business Portfolio: AT&T caters to businesses, individuals and government agencies. It has a huge diversity in their portfolio which reduces risk and their dependency on any one segment.
Infrastructure: They have a giant network of wired and wireless access capabilities, world's most advanced internet protocol backbones. This gives them an edge over their competitors in terms of seamless service delivery. The AT&T global backbone network carries around 82.8 petabytes of data traffic on an average business day. The network caters to more than 16.5 million total broadband customers for their telecommunication various needs.
Wireline alternate use: AT&T have made their wireline customers adapt to next generation services offered by the company, versehighincluding advanced IP-based offerings, such as Ethernet, virtual private network very high speed internet access and managed internet services. This gives them a revenue in the age of wireless.
The company is leveraging its wired customers to get high revenues and growth from data, videos and high-end business services.
Weaknesses in the SWOT Analysis of AT&T :
Financials: AT&T had registered a loss of $11.746 billion. A decrease of 65.9% over the last year. This shows a huge fall in financials and a problem for the company.
Decline Voice Calls: In the age of fast internet customers have opted for video calling. The voice calls keep going down. Voice connections of AT&T declined from approximately 18.6 million in FY2012 to 14 million in FY2014. This decline hampers the profits of the company.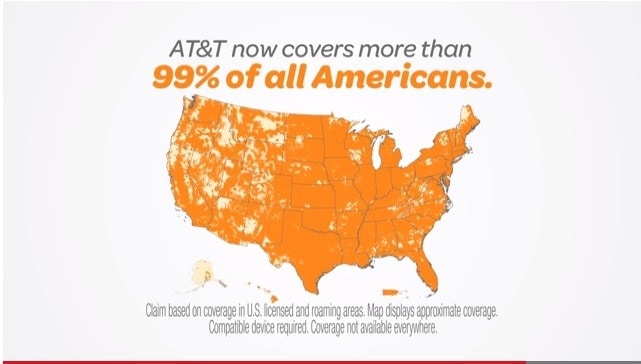 Opportunities in the SWOT Analysis of AT&T :
Acquisitions: For inorganic growth, the company relies on acquisitions. It acquired DIRECTV for pay television services. This would triple AT&T's cable and TV customer base to more than 30 million customers. Nextel Mexico was acquired for $1.9 billion by them for spectrum licences, network assets, retail stores and subscribers.
Cloud Computing: The demand for cloud computing is increasing as the world is going more and more wireless and digital. It is expected to grow at a CAGR of 22.8% during 2014-2018 and reach to a value of around $127 billion in 2018.
Increasing Infrastructure Capabilities: They should focus on cloud computing by improving mobile broadband capabilities, robust IP backbone, VPN capabilities and data centres.
This gives them some room to acquire new customers and expand its market share.
High Bandwidth Mobile Subscribers: Study shows that customers are moving towards high bandwidth for better speeds.Global mobile data traffic is projected to grow at a CAGR of 57% during 2014-19, oftotalto 24.3 Exabyte per month by 2019.Also, connections are expected to account fof totalmobile connections by 2019. Data traffic is the way out of the dropping voice calls.
Internet of Things (IoT):A ccording to industry estimates, the IoT market is expected to reach $7.1 trillion by 2020 from $1.9 trillion in 2013, growing at a CAGR of 21% during 2014-20. Further, it is estimated that 4.9 billion connected things will be in use in 2015 and is expected to reach 25 billion by 2020. AT&T offers a rangeof IoT solutions, including fleet management, cargo management, energy management, connectedcar services, M2X data services, M2M platform, Global SIM, SIM management, and collaborationsolutions. IoT is a strong revenue generator for the company.
Threats in the SWOT Analysis of AT&T :
Saturation:W ireless penetration in the country was more than 110% in FY2014. This showssaturation in the market and no potential for growth. This will only result in price wars and loss in revenues.
Competition:A T&T faces intense competition Verizon Wireless, Sprint and T-Moible and few regional players.More than 98% percent of the US population lives in areas withat least three mobile telephone operators, and 94% of the population lives in areas with at least fourcompeting carriers. This makes the company's environment highly competitive.
Regulations:A T&T has to oblige to the laws and regulation of US for its domestic operations but for international operations it has to follow their county's regulations. There is high irregularities in laws and regulations. This has an adverse effect on the data traffic and company's revenues.
Liked this post? Check out the complete series on SWOT