Reckitt Benckiser is a company that makes health, hygiene and home care products that are headquartered in the United Kingdom.The company which has a total strength of 30,000 people in it boasts of numerous top selling brands such as Dettol. Strepsils, Durex, Harpic, Lysol and Vanish. Through a host of products in the wellness segment, Reckitt & Benckiser envisages to create products that better human life and makes the world a cleaner and healthier place to live in.
The business has operations in a wide gamut of areas and has top sellers in most product categories that it operates in. The company, however, gained a lot of popularity for its home cleaning solutions like Lysol and Harpic and is currently one amongst the global leaders in this segment.
Reckitt & Benckiser was formed by the merger of Reckitt & Colman plc and  Benckiser NV in the year 1999. The company registered an annual turnover of 11.6 billion pounds in the year 2017and has operations in around 196 countries across the world.
Strengths in the SWOT analysis of Reckitt Benckiser
The following are the strengths of Reckitt & Benckiser are:
Successful brands: Reckitt & Benckiser has a successful portfolio of products many of which are top selling brands in their respective categories. Some of these include Harpic, Strepsils, Dettol, Lysol, Clearasil, Mortein, Vanish and Durex. These brands are all household names and have given the company a very high level of brand equity.
Strategy: Reckitt & Benckiser has been trying relentlessly to move higher than the industry average in all their categories and build a leading position in high growth portfolios through ensuring a consistent cash flow in all their products. This is what has helped them build successful brands.
Global leadership in multiple categories: Reckitt & benkinser has the world's top brands in multiple categories. Some of this areHarpic in the toilet cleaning category, Dettol in antiseptics, Woolite in the detergent category, Lysol in the home cleaning category and Durex in condoms.
Focus on acquisitions: Reckitt & Benckiser have made some very intelligent acquisitions focusing primarily on East Asian markets like Japan and China where the company is yet to gain critical mass. They are also focusing on acquiring small yet successful companies in areas where they do not have the presence or leading products.
Focus on depth: Reckitt & Benckiser have been focusing on deepening penetration in existing markets than focus on diversifying into newer product categories. The company has 18 power brands and instead of looking at creating more successful brands they are looking at using the power of the current success to replicate it in markets where the company has no or little presence.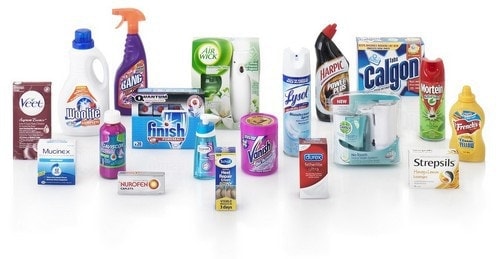 Weaknesses in the SWOT analysis of Reckitt Benckiser
Weaknesses are used to refer to areas where the business or the brand needs improvement. Some of the key weaknesses of Reckitt & Benckiser are :
Leadership problems: Four of Reckitt & Benkiser's top executives walked out of the company in Septemeber 2017 indicating that the company could be facing severe leadership crunch in the following year. The exit of the heads of IT, personnel, marketing and developing markets simultaneously has affected the goodwill of the company and caused negative speculations amongst the stakeholders.
Over-dependence on power brands: Reckitt & Benckiser has been focusing excessively on their 18 power brands and more than 40 % of their sales has been attributed to these brands many of which were launched in the last three years. This is affecting the culture of innovation in the company which will work against it in comparison to more innovative competitors like Unilever.
The takeover of Mead Johnson: Reckitt & Benckiser spent a whopping 18 million pounds to take over Mead Johnson a company which operates in the infant nutrition domain. This move turned out to be a disaster since the company did not have any history in the domain of infant nutrition which is a highly competitive sector in itself.
Opportunities in the SWOT analysis of Reckitt Benckiser
Some of the opportunities include :
Growth in new markets: Reckitt & Benckiser have been ramping up focus on emerging markets like the BRIC countries and also East Asian countries. The company has been gaining popularity in these markets and they show a lot of promise in the future especially in the domain of home care.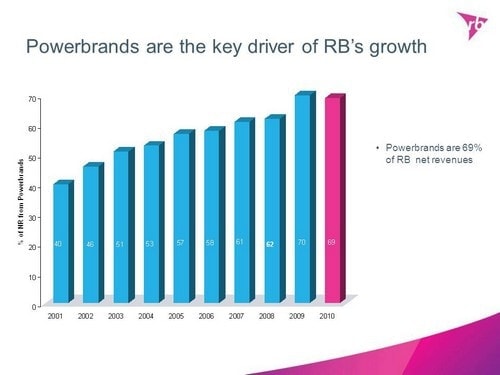 Threats in the SWOT analysis of Reckitt Benckiser
Some of the threats include:
Brexit: Companies which have been headquartered in the United Kingdom have faced severe financial issues because of Brexit and the relatively unstable commodity prices have also escalated the costs of most products. These have become critical threats to the company.
Competition: The company also faces competition from SmithKline Beecham, Unilever, and Procter & Gamble.
Liked this post? Check out these detailed articles on
Topic of SWOT of Brands
Alternatively, check out the Marketing91 Academy, which provides you access to 10+ marketing courses and 100s of Case studies.