Aldi is a group of discount supermarkets owned by Einkauf GMBH. The chain of stores which has around 10,000 supermarkets across 20 countries is popular for its range of discounted and low priced products. The range of products sold by Aldi include wines,  groceries, special buys, everyday collections, and garden products.
The chain of discount stores which was first established by two brothers Karl and Theo Albrecht is now comprising two key division. Aldi Nord and Aldi Sud. In addition to Germany Aldi has operations in the United States, various parts of Europe, Great Britain, Australia, and China.
The company which was launched in the year 1913 as a food shop soon grew in popularity and turned into one of the biggest players in retailing in the region. With a revenue to the tune of USD 70 billion in the year 2015, the supermarket chain has a market share of around 6.9 % globally. The supermarket chain employs roughly around 160, 584 people globally. 
Strengths in the SWOT analysis of Aldi
The following are the strengths of Aldi :
Pricing: Discount store chains like Aldi survive because of the low prices that they are able to give to the customer. Most of what customers use on a day to day basis are sold in these stores at prices that are significantly lower than most other mainstream retailers making them highly successful in their business.
Strong ecosystem: Discount store chains often build a strong ecosystem which has altered most critical parameters of food retailing. Earlier while the only competing point was price, today the discount store owner has added other elements to it like shopping convenience, multiple locations, the assortment of merchandise and low waiting time for customers.
High level of customer support: The discount store enjoys a lot of support from the customer and for their wide range of choices at affordable prices people prefer to shop for most of their daily needs. The chain also has a number of products which are on offer on a rotational basis which is advertised through pamphlets.
Great savings: The low prices of products sold by Aldi Stores offer more savings than most other shopping places can provide. While offering low prices on advertised products on a rotational basis, the stores also have a wide variety of non advertised products sold at low rates always. In comparison to leading supermarkets operating in the same region, discount stores offer more than 50 percent in monthly savings.
Good product mix: Discount stores like Aldi derive their biggest advantage from having a strong product mix. In the case of Aldi, the key component of the product mix is general merchandise which takes up more than 25 percent of the total shelf space. In addition to this, they also have premium brands which are non discounted as well as private label brands. However, the strength of their product mix is highly differentiated products and brands under each product category.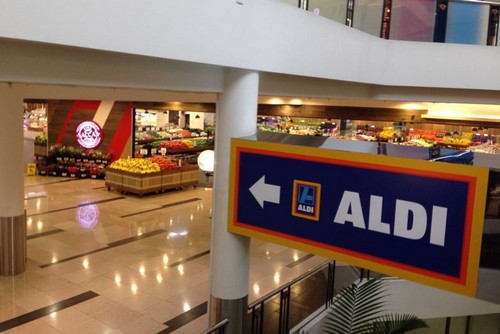 Weaknesses in the SWOT analysis of Aldi
Weaknesses are used to refer to areas where the business or the brand needs improvement.   Some of the key weaknesses of Aldi Stores  are:
Low margins: Discount stores thrive on low margins and thus are heavily dependent on the sales volume. Often they indulge in highly unethical practice like price discrimination and treat suppliers badly in order to ensure that their margins are consistent.
Poor employee satisfaction: Aldi needs to have very high levels of productivity in order to survive in the market. Their employees often need to work in multiple shifts and are paid lesser than most other jobs of similar type. This creates a lot of dissatisfaction amongst employees and the attrition is high.
Poor penetration in high-income groups: Discount stores are a preferred shopping place mostly for low and medium income groups. It is very rare to find high-income groups in Aldi and they are yet to penetrate into higher income segments in spite of being in the market for more than a century.
Opportunities in the SWOT analysis of Aldi
Some of the opportunities include:
Preference for customers: The needs of the customer are growing and so is the propensity to spend, Customers are willing to pay a premium for services and thus even discount stores can charge higher by offering better quality services. There are also a number of new products categories especially in niche products which offer new avenues of business.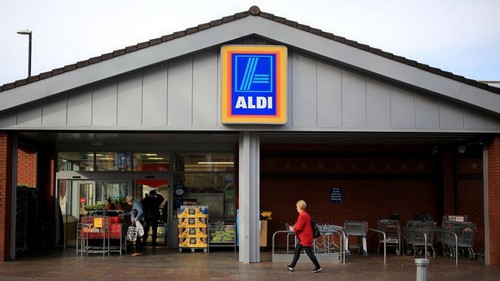 Threats in the SWOT analysis of Aldi
Threats are those factors in the environment which can be detrimental to the growth of the business. Some of the threats include:
Competition: Aldi faces a lot of competition from players such as Walmart, Best Buy etc. In addition to this as e retailers like Amazon move into grocery, they also face a potential threat from them.
Liked this post? Check out the complete series on SWOT