Forever 21 is a specialty clothing retail store that is located in the USA headquartered in Los Angeles.The clothing retail chain which sells its own clothing like under various labels under the nomenclature Forever is popular for its innovative styling and trendy designs for the young adult category.
The specialty clothing store also deals with clothes right from kids to adults and has customers in both genders. The brand also deals with accessories and cosmetics both under its own label as well as leading brands from across the world. Currently, Forever 21 has operations in around 68 countries across the world and is the fifth largest specialty retailer in the USA with an annual turnover of USD 4 billion and over 28,566 employees worldwide.
Strengths in the SWOT analysis of Forever 21 :
Strengths are defined as what each business does best in its gamut of operations which can give it an upper hand over its competitors. The following are the strengths of Forever 21 :
Staying in trend: Forever 21 has positioned itself as a retailer that stays on trend always and true to this it always has the hottest trends for its shoppers in all categories. The fact that Forever 21 is the one to set hot new trends in fashion is its biggest strength.
Something new every day: Forever 21 gives a lot of importance to innovation and a regular shopper always finds something new in the store every day. This eliminates the boredom from clothes shopping and makes Forever 21 a hot favorite amongst its customers.
Affordable: Forever 21 has clothes starting at USD 60 and has something for everyone be it kids, ladies, men, youngsters or even serious adults. The brand is also affordable for most of its shoppers and offers unique pieces of clothing at fair prices.
Customer Savvy: A recent research by Forbes indicated that Forever 21 is one of the country's most customer-friendly brands. Designers who work with the brand vouch that most of their designs come from the customers themselves and the company has a very storing system for recording the voice of the customer and ensuring that feedback is translated into reality in all their designs. The company does not look at high and spends but focuses more on getting feedback from customers and implementing it at the earliest possible instance.
Association with young celebrities: Forever 21 is associated with a lot of new generation celebrities like Justin Beiber, Lady Gaga, and Emma Watson. Thus the brand is seen as a trendsetter by the younger generation and is hugely popular amongst them.

Weaknesses in the SWOT analysis of Forever 21 :
Weaknesses are used to refer to areas where the business or the brand needs improvement. Some of the key weaknesses of Forever 21 are:
Private ownership: Though Forever 21 is a fast-moving brand with stores all over the world and an estimated worth of 4.1 billion USD the firm still continues to be a privately owned business which largely limits its reach to the family only.
Centralised decision making: Forever 21 being family owned relies a lot on the decision making prowess of its promoters and is not too open to suggestions from other stakeholders, This centralized decision-making strategy of the company is said to be creating a lot of dissatisfaction amongst designers.
Excessive focus on teens: Right from its name the company has always been positioned as a young brand.The over association with teens and young adults has created a hesitation amongst older customers to buy clothes from forever 21 and this may eventually become a risk for the company.
Opportunities in the SWOT analysis of Forever 21 :
Opportunities refer to those avenues in the environment that surrounds the business on which it can capitalize to increase its returns. Some of the opportunities include:
Growing need for youngsters to stick to trends: In an urban setting the young adult is not just focused on trends but is forced to dress accordingly primarily because of peer pressure to stick to fashion norms. For a fashion brand like Forever 21 which is all about trendy clothing, this presents a huge opportunity.
Fashion changes: The fashion industry is in a state of perpetual evolution and no trend stays for too long. This means that clothes grow out of fashion sooner and customer tends to shop more often ensuring that their clothes are in vogue with the latest fashion. This is an opportunity for all clothing retailers.
Personalisation clothing: Gone are the days when people prefer to purchase any dress that is comfortable. Especially in higher-end clothing brands people always exercise caution to ensure that they look different from the crowd with the result that personalization of the wardrobe will be critical in the future,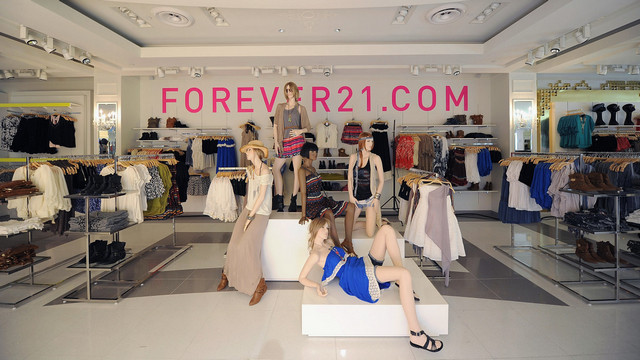 Threats in the SWOT analysis of Forever 21 :
Threats are those factors in the environment which can be detrimental to the growth of the business. Some of the threats include:
Economic Crisis: The recession will reduce the propensity to spend on non-essential items and luxury clothing brands will take a big hit in sales.
Focus on recycling: There is increased importance given to how clothes can be recycled to avoid their carbon footprint and the next huge trend will be recyclable clothes for which costs may be high.
Liked this post? Check out the complete series on SWOT