Consumer buying behavior is the series of steps taken by shoppers, both in person and online before they make a purchase. To achieve your goals, you may explore multiple paths such as combing through search engine results or engaging with social media content.
There is a broad range of strategies that can help you meet your objectives. Knowing this process is essential for businesses as it helps them hone their marketing strategies to the tactics that have proven successful in enticing customers' purchases.
What Is Consumer Buying Behavior?
Consumer behavior is a field dedicated to understanding the decisions consumers make when interacting with products and services. This study looks into the process of how people choose, utilize, and eventually discard items as well as their emotional, psychological, and behavioral reactions while doing so.
The Stackla report strongly indicates that 70% of consumers deem personalization highly important when considering brands, which is a 3% rise from 2019.
New research from HubSpot Blog in 2021 highlighted that more than half of marketers are using personalized messages as part of their email marketing strategy, with an astonishing 72% reporting it to be one of their most successful tactics – surpassing even subscriber segmentation, automated emails, and dynamic content.
To build effective marketing initiatives that can shape consumer decisions, businesses need to comprehend customer behavior. Grasping consumer behavior is essential for any business, as it helps them customize their marketing strategies to reach niche groups, build brand loyalty and recognize current trends in the marketplace.
What are the key Factors that influence Consumer Buying Behavior?
To explore each of the factors affecting consumers' purchasing behavior in depth, let's dive deeper –
Cultural Factors – Nationality may not be the only factor that determines a person's culture. It could also be determined by their affiliations, spiritual views, or even geographic location.
Social Factors – Numerous external factors affect an individual's perception of products, ranging from their surroundings to the opinions of those around them.
Personal Factors – Numerous factors, such as age, marital status, financial resources, beliefs, and ideologies can help shape someone's values and moral code.
Psychological Factors – How someone feels when they are presented with a product can drastically shape their perception of not only the item but its associated brand too.
What are the four types of buyers?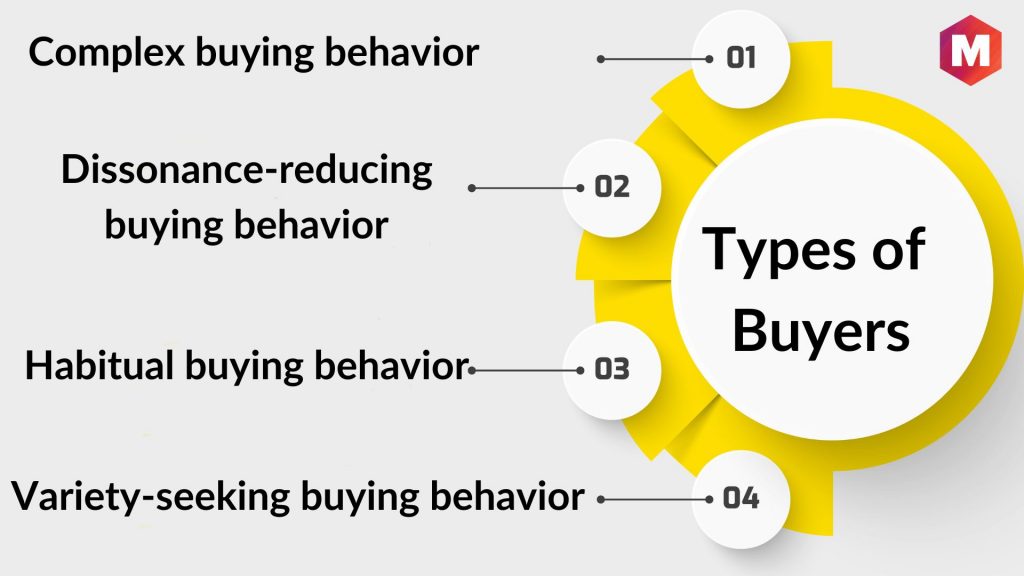 As per the buying behaviors and consumer involvement, buyers are classified into the following four types –
1. Complex buying behavior
When it comes to purchasing pricier items, consumers display much more complex buying behavior. As these transactions occur less frequently, shoppers become deeply invested in the decision-making process. Thus, they will exhaustively research before committing such a large investment.
Purchasing a pricey item or an unfamiliar product can bring out markedly dissimilar behaviors in consumers. When the stakes of purchase are high, people often seek advice from those closest to them and industry professionals before making any investment.
As an example, when a consumer is choosing which car to buy, they often seek the advice of their friends and family.
2. Dissonance-reducing buying behavior
When a customer is deeply invested in the purchase of an item, yet struggles to differentiate between different brands, they are exhibiting dissonance-reducing buying behavior. When a customer is presented with multiple choices, he or she may attempt to quell the mental distress induced by making an unfavorable choice.
As shoppers are increasingly vested in the buying process, distinguishing between brands becomes difficult. This can often lead to 'dissonance', a feeling of anxiety that their decision may not be up to par and regret will soon follow.
For instance, a customer in search of new shoes may be unable to distinguish between two different brands. To avoid the discomfort of indecisiveness, they begin to evaluate both items and weigh their pros against cons until they can choose one with certainty.
3. Habitual buying behavior
People's shopping habits are frequently shaped by routines that have been established over the years. Regular purchasers typically remain loyal to a particular brand or store, regularly choosing one product without exploring alternative options. It is often driven by convenience and familiarity.
When a customer isn't highly involved in the buying decision, they show Habitual Buying Behavior. In such cases, customers don't recognize many variations between brands, and purchases are made without thorough consideration.
For example, a customer may choose to buy their weekly groceries from the same store out of habit and convenience. They may even select specific brands without looking for alternatives, as they've become accustomed to them.
4. Variety-seeking buying behavior
Consumers engaging in variety-seeking behavior often have a low level of involvement and regularly switch between brands due to the notable distinctions they perceive.
Consumers often have the urge to test out new products, no matter the cost of switching. This purchase decision is not based on dissatisfaction with current items but rather a thirst for variety and their inherent curiousness or boredom.
As an example, a customer could alternate between Coke and Pepsi merely because of their differing flavors or the allure of new packaging.
What Are the Five Stages of the Consumer Buying Process?
Find a Problem – Initially, the consumer recognizes a need they wish to fulfill. This could be an outfit for a special occasion or fixing that pesky leaky pipe in their home – it doesn't matter. What matters is that this realization propels them into the next stage of searching out solutions.
Gather Information – Subsequently, shoppers will desire to identify the origin of their predicament and how they could potentially rectify it. Without a doubt, they might access the internet for advice or more particulars about what exactly is triggering this struggle.
Find Solutions – Having obtained the necessary facts, consumers will delve into researching brands and consulting reviews from others to ascertain which product or service is best suited for remedying their issue.
Make a Purchase – At this point, the customer will make a calculated choice and invest in an answer.
Review the Purchase – Not every customer will leave a review after they purchase a product or service, but each person will assess the experience on their own and make an individual judgment as to whether their expectations were met.
Customer Behavior Segmentation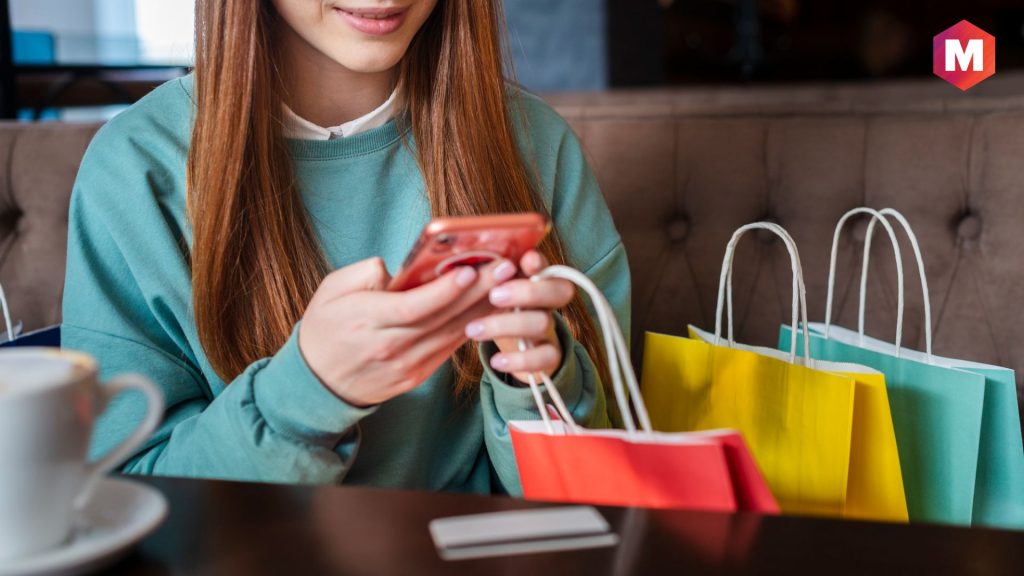 Marketers utilize this technique to gain a greater understanding of Consumer Buying Behavior and effectively apply it in their marketing strategies. Most marketers have relied on six prime behavioral segmentation techniques –
1. Benefits sought
Customers can be segmented based on the benefits they are looking for from a product or service. Through analysis of customers' behaviors, valuable insights can emerge regarding what motivates their purchase decisions—whether it be the benefits, features, values, use cases, or problems associated with a product/service.
2. Occasion or timing-based
By dividing customers based on the occasions they make purchases, marketers can gain insight into what and when consumers are likely to impulsively or seasonally buy. This knowledge proves especially beneficial in helping them reach their target audience more effectively.
3. Usage rate
Through analyzing usage behavior, companies can now better segment customers based on the frequency at which they buy or interact with a product. This is an effective approach to predicting customer loyalty and lifetime value as it's a strong indicator of whether someone will stick around in the long run or not.
4. Brand loyalty status
A business's strongest allies are its loyal customers. They cost less to retain, produce more in the long run, and can spread your brand name far and wide. With faithful clients as part of your team, you'll find that it is much easier to forge ahead toward success! By delving into customer behavior data, buyers can be categorized by their loyalty level (strong brand loyalty or weak loyalty) so marketers have a better understanding of what they require and how to meet those needs.
5. User status
Depending on the nature of your business, there could be several distinct user statuses you might encounter. For instance:
People who have never interacted with your products or services before
Leads and prospective customers
Those making their first purchase from you
Loyal consumers that frequently engage with what you offer
Ex-customers who decided to migrate to a competitor's platform, etc
6. Customer journey stage
By dividing their audience according to the buyer's readiness, marketers can precisely tailor their messages and create personalized experiences that foster conversion at every stage of the customer journey.
Furthermore, this assists businesses in identifying points where prospects are not advancing so they can recognize the most crucial challenges and opportunities to enhance post-purchase behavior. In addition to these typical methods, there's also an RFM model of segmentation.
RFM is a segmentation approach used to analyze customer behavior, where the three letters represent Recency, Frequency, and Monetary Value. By understanding how customers interact with your business across these metrics, you can tailor marketing strategies for maximum engagement.
Conclusion!
If companies want to ensure success, understanding consumer buying behavior is essential. By recognizing their target market's needs and wants and being aware of how they interact with products or services, businesses can efficiently plan marketing strategies that will appeal to them. Identifying customer preferences allows firms to create campaigns tailored specifically for their desired audience.
Frequently Asked Questions
What do you mean by consumer behavior?
Consumer buying behavior refers to investigating the motivations and processes that people use when acquiring, consuming, and disposing of products or services. It is a field of research that delves into how people make purchases and the psychological, sociological, cultural, and environmental influences on those decisions.
How do you identify consumer Behavior?
To gain an in-depth understanding of consumer behavior, it is essential to acquire a blend of qualitative and quantitative data. This can be achieved through customer surveys, interviews with customers, as well as by analyzing their activity both inside brick-and-mortar stores and online.
What are the characteristics of consumer behavior?
Four components significantly shape the behavior of customers: personal, social, psychological, and cultural. These elements have a major influence on how buyers behave and their defining features will evolve as life progresses.
Why are consumer purchasing behaviors important?
For businesses to be successful, they must understand their consumer behavior. This allows them to identify what their target audience wants and needs, enabling them to craft marketing campaigns that will influence consumer decisions. With a thorough understanding of consumer habits, developing effective strategies becomes easier than ever!
Liked this post? Check out the complete series on Consumer Behavior