A consumer takes decisions based on many criteria. However, the triggers of consumer purchases happen much before the actual purchase itself. This is where marketing plays its part. Marketing & Advertising look to change or affect the consumer buying behavior, so that the consumer prefers buying the product of a company he is well aware of (and one which has been well marketed).
However, if you want to look at the consumer buying behavior of the 21st century, you have to acknowledge that consumerism is playing a major role in their decision making. The consumers are getting used to their regular brands and they hardly shift from these brands. Accordingly, there are three levels of involvement of a consumer towards the purchase of a brand. Depending on these levels of involvement, consumer buying behavior may vary.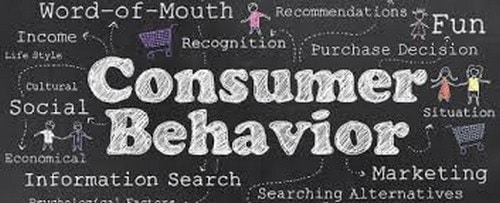 Step 1 of consumer buying behavior – Problem recognition
It all starts when a customer realizes a need or a problem. When you are in college, your need is for courses which throw light on specific subjects. This is why the education sector is thriving. There are specific needs of customers – some requiring science classes, others math.
As you move on from college to a professional life, your needs, wants and demands change. You may want better clothes, a car, a house and all the comfort and amenities that money can provide. When you get married, you will be looking for vacations as well as investment and saving options. So on and so forth, you get the drift.
In all stages of life, humans are customers of one company or another. And they keep having more requirements and needs which have to be fulfilled. These requirements may be low involvement ones, or high involvement ones. The first step of consumer buying behavior starts when the customer realizes that he wants or needs something.
Step 2 of consumer buying behavior – Information search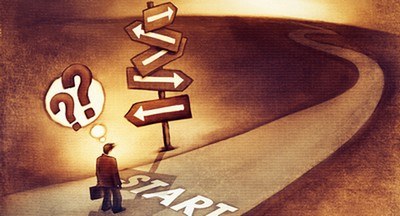 Let us continue the above example to understand the 2nd step of consumer buying behavior. When you are in college and you need extra courses, don't you search for all the alternatives out there? The different classes and tutorials which teach different subjects?
Similarly, don't get me started on the level of options available for youngsters, bachelors as well as married people. Clothes, cars, shoes, whatever product you may pick, has ample options available for customers, in terms of brand as well as in terms of product differentiation.
So the first thing a consumer does when he realizes he needs something is – He sets out to get more information. A person buying clothes will visit all retail stores. Same for a person buying shoes or watches. However, what would a person buying toothpaste do? Will he step out each time he has to buy toothpaste and collect information?
No, he won't. There are products in which the customer gains information for the first time, but after that, because of the low involvement of the purchase, this step is ignored completely. My favorite toothpaste is Colgate. But every time i have to buy toothpaste, i don't check the advantages of buying Pepsodent or Sensodyne. I buy Colgate.
So, the extent of information search depends completely on the level of involvement of customers in the purchase. The major source of information for customers, and the sources which influence consumer buying behavior heavily are – Friends, commercials & advertisements, Public and experience.
Step 3 of consumer buying behavior – Evaluation of alternatives
The best way to explain the evaluation of alternatives is the image below.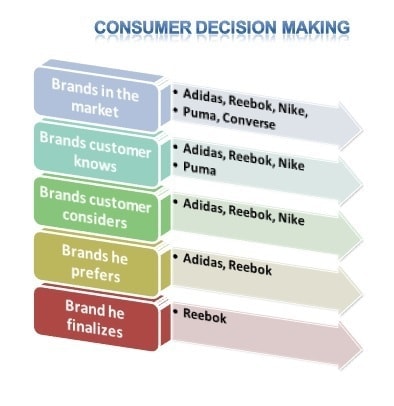 As seen in the image, the total brands considered in the start by the customer are 5. Whereas, he has finalized 1 brand in the end. This means, that there are 80% brands which are rejected by customer. Now this is just a simple example. But this is what is happening in the real market. Brands are being rejected by customers based on a number of aspects such as price, features, color, benefits etc.
So, when a customer has all the information, he starts considering the alternatives and weighs the factors against each other. This is where many of the E-commerce companies benefited in the long run. A store executive, who was not well informed, was unable to give all the information to consumers.
What the E-commerce companies did was allow comparisons between multiple products, thereby allowing consumers to evaluate alternatives while from the comfort of their home or office. Naturally, with such insight into consumer buying behavior, online purchases increased because consumers were able to compare between products, evaluate the alternatives and make purchase decisions accordingly.
It is important that i also mention the various factors which influence the evaluation of alternatives as well. For example – the above image has only sports shoes brands which the customer is considering. However, if the customer wanted to purchase formal shoes, his consideration of brands would have changed. Thus, customers current needs, his financial standing, psychography and many such things influence the alternatives which the customer will consider.
Step 4 of consumer buying behavior – Purchase
This is the simplest stage of the consumer buying behavior. Or is it? If purchase was so simple, there would not be a line of men in a ladies retail store, sitting idly when women make their decision on which dresses to buy. So the purchase decision is not easy.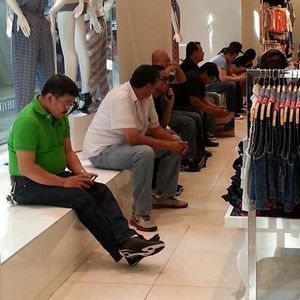 Once the consumer has considered the alternatives of each brand in his kitty, he will then have his own internal stuggle as to factors which are important and factors which are not. So, while buying shoes, one customer might think that the looks of the shoes are the most important, whereas other might think that he needs a light shoe, which is light on his feet and hence can help him while jogging or running.
This purchase is again influenced by many factors which also played its role in the evaluation of alternatives. For example – our dear customer does not have a good financial standing. In that case, he will never consider shoes like Adidas, Reebok or even Lee Cooper. He will consider local made shoes which fit in his budget.
Secondly, if the climate changes and the customer is faced with upcoming summers or winters, then again his purchase decisions will change based on the current situation. In essence, the customer considers all the alternatives, chooses which factors are most important to him as per the situation, and then finally makes the purchase decision.
The purchase of the product, depends on the values, attitude and lifestyle which defines the customer.
Step 5 of consumer buying behavior – Post purchase behavior.
The whole prospect of customer relationship management software's as well as the concept in itself, is based on post purchase behavior. Marketers want their customers to be happy even after the purchase of the product. If the customer is not happy, he is likely to leave the product or bad mouth it. Worse, if there are issues in the product, the customer can go legal and spoil the name of the brand.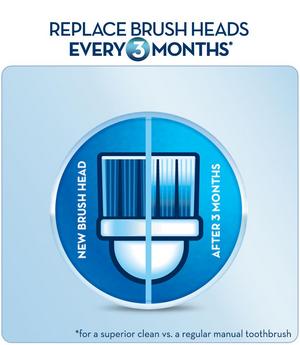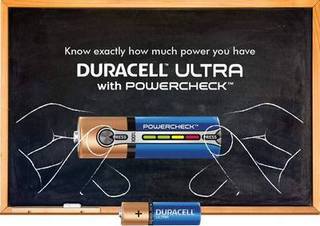 Hence, many companies take proactive steps in keeping customers satisfied or even delighted so that they are happy with the brand and don't switch. Above is an image of Duracell Ultra which allows customers to check their battery levels while using the battery. Similarly, Oral B, has indicators which indicate when the toothbrush has crossed its expiry date.
These are tactics that ensure that post purchase, the customer remains happy. Many automobile manufacturers nowadays have their own second hand purchase showrooms. This is because they know that post purchase, customer will like to sell their existing cars after a certain period of time. At the same time, there are other customers who are ready to buy second hand cars. So why not help both by having an authorized resale counter?
Hence, the use of CRM is very common to influence consumer buying behavior. I love it when i call Domino's and they have my address and number saved. I don't have to repeat it each time. I also love it, when they remind me of any offers that are currently going on (i am a pizza fan).
Overall, these 5 stages of consumer buying behavior are stages each customer goes through when they are purchasing a product. The most vulnerable stage for the customer is the evaluation of alternatives. At this stage, the customer can be influenced the most, and hence most sales people are required to be communicative and charming, so that they can influence customers at this stage.
To take the perfect example, a single line at the McDonalds billing counter, "Would you like to have some fries with it" has given a turnover of millions to the company. Just before buying the burger, the customer is thinking whether he should buy the french fries or not. A poke by the executive, helps him make his decision (And being the junk food addicts that we are, we mostly say yes).
Liked this post? Check out these detailed articles on
Topic of Consumer Behavior
Alternatively, check out the Marketing91 Academy, which provides you access to 10+ marketing courses and 100s of Case studies.