When it comes to consumer buying behavior, there are many factors at play. Factors like brand loyalty, media influences, environmental influences, and even the time of purchase, etc play a role in our buying decisions. These factors are generally classified into five categories and they are-
Psychological factors
Social factors
Cultural factors
Personal factors
Economic factors
Before we investigate each of these factors in depth, it is important to define what consumer behavior constitutes –
What is Consumer Behavior?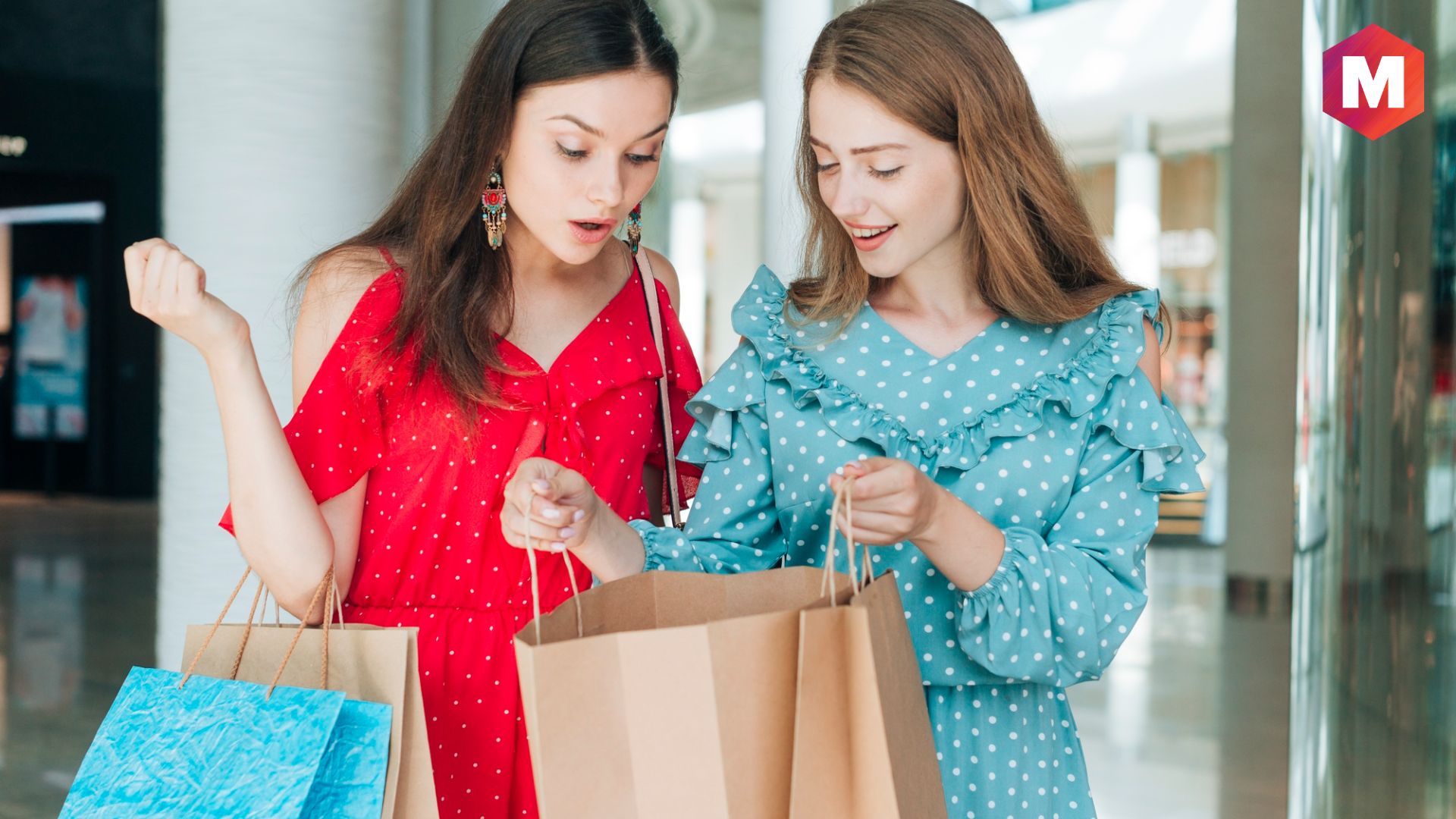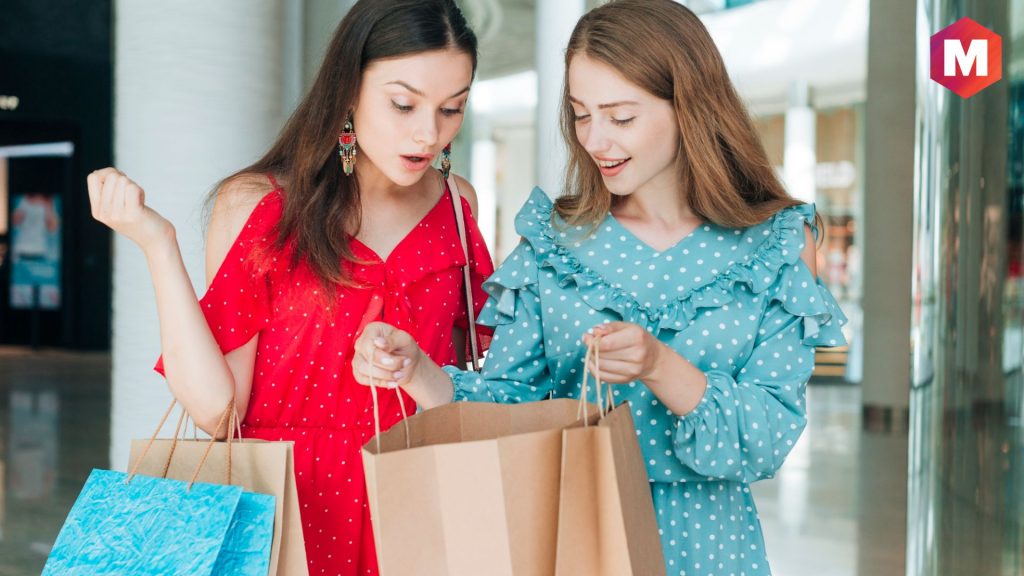 Consumer behavior is an analysis of the selections, purchases, usage, and dispositions individuals or organizations make to fulfill their needs and wants. From products, services, and ideas to experiences – consumer behavior offers a deep understanding of what drives decisions in the marketplace. It involves researching how individuals and groups make decisions when it comes to purchasing, using, and disposing of products or services that satisfy their wants and needs.
Factors Influencing Consumer Buying Behavior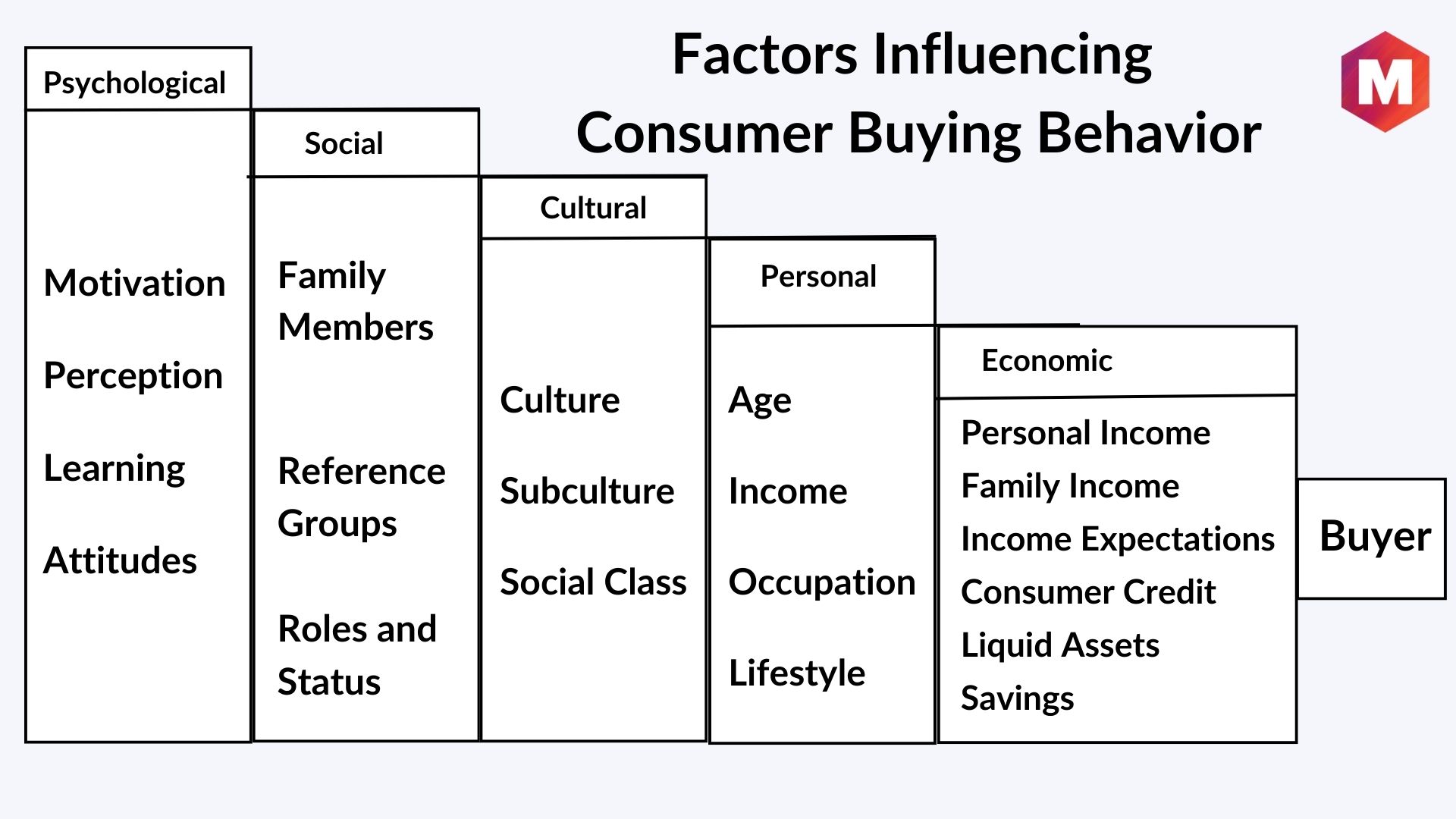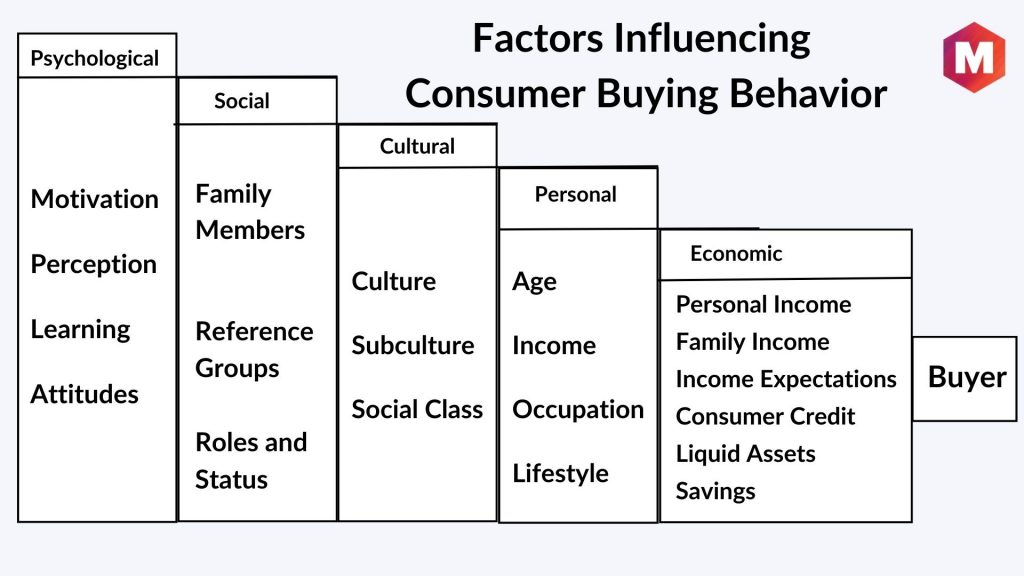 Let's go through the five factors that influence consumer behavior and understand their subcategories with some of the most relevant and easy-to-understand examples –
1. Psychological Factors
Human psychology is an influential, yet elusive force that influences consumer behavior. Understanding its complexities can be difficult to measure and analyze. Consumers' decisions can be shaped by their perceptions, attitude, personality, and motivations sorts of factors. Some of the key psychological elements which influence consumer behavior include:
1.1. Motivation
Motivation can be a decisive factor in determining a person's buying behavior. Maslow's theory of the hierarchy of needs is a widely accepted framework for understanding human motivation. This model outlines five distinct levels, beginning with psychological and safety needs before moving on to social, esteem, and self-actualization requirements.
An example of motivation can be the need for social approval that leads consumers to purchase luxury items or branded goods.
1.2. Perception
Through the compilation of data about a certain product, we can form an opinion that reflects our evaluation and understanding. This helps us create a vision of what to expect from any given item. Advertising, reviews, feedback, and promotions all shape our perception of a certain product. Our interpretations then dictate the decisions we make when it comes to purchasing that item. Thus, we must recognize how influential our views are in this process.
An example of perception can be the way we compare prices and product quality to determine the value for money.
1.3. Learning
With every purchase, we gain a profound understanding of the product through our personal experience. This knowledge is contingent on our skillset, as well as any pre-existing familiarity with it. Factors such as trial and error, reinforcement, suggestion, instruction, observation, imitation, and practice all play a role in the learning process.
An example of learning can be the way we research a product before making a purchase.
1.4. Attitudes and Beliefs
Everyone holds certain opinions or convictions that either consciously or unconsciously drive their buying decisions. Factors such as religion, geography, and ethnicity can shape our attitudes in a variety of ways. Our values also play a role in the items we choose to buy.
An example of attitudes and beliefs can be the way our religious views shape our opinion on certain products such as alcohol or non-veg items.
2. Social Factors
As social creatures, it's only natural for our buying choices to be influenced by the people surrounding us. We often yearn to fit in with our environment, and that involves mirroring other human beings in many ways. Social aspects heavily shape our purchasing decisions. A few of these factors include:
2.1. Family members
Our family members have an immense influence on our buying habits. From a young age, we are exposed to the products and services that our families use and develop either a positive or negative opinion about them as time passes. As adults, many of us tend to stick with these items due to this familiarity.
An example of a family social factor would be when a family member recommends a specific product or service to their relatives, friends, and acquaintances.
2.2. Reference Groups
These are social circles to which we relate and connect. Whether it's a club, school, team of colleagues or friends, church congregation, or simply an acquaintance – reference groups come in all shapes and sizes.
An example of reference groups influencing consumer buying behavior would be people following a trend set by their friends.
2.3. Roles and status
Our idiosyncrasies and buying habits are undoubtedly shaped by the societal roles we play. The further up the ladder one is, often, so too will their influence translate into what they purchase – both in terms of quality and quantity.
An example of roles and status influencing buying behavior would be when individuals with a higher social status purchase more expensive items to demonstrate their wealth and superiority.
3. Cultural factors
All of us possess our own values and beliefs, molded by the society we reside in and the community to which we belong. Our actions, whether done consciously or unconsciously, are all rooted in that particular group's cultural conventions. Various cultural factors play a pivotal role in determining our outlook, and here are some of the most noteworthy ones –
3.1. Culture
We make up our cultural factors through the values, wants, behaviors, and preferences of those closest to us – like family members or role models – being absorbed by us. These habits become essential requirements that shape who we are later in life.
For example, certain cultures may value a minimalist approach to life, which can lead to consumers being more mindful of their purchases and doing research before making a purchase.
3.2. Subculture
Within any given cultural group, there may exist a variety of subcultures. These various units can be composed of people from diverse nationalities, religions, social classes, and locations – yet they still maintain a collective set of shared values and beliefs. This combination is what creates an entire customer segment out of the individual parts.
An example of this would be the "hipster" subculture, whose members may share a keen interest in vintage clothing or unique fashion items.
3.3. Social Class
Social class is a foundational part of our culture, shaped by family background and life opportunities such as education level, occupation, and neighborhood. It's easy to see how social class has far-reaching implications in influencing consumer behavior around the globe.
An example of social class impacting consumer buying behavior could be someone from an upper-class background being more likely to purchase luxury items than someone from a lower-class background.
4. Personal Factors
Everyone has a unique lens through which they view the world, and this translates into varying behaviors. Social, psychological, and cultural factors inform our choices but it's our characteristics that truly shape us. Some of the personal factors you should pay heed to are
4.1. Age
Age leads the way when it comes to what we opt for. Teenagers favor the vibrant and flashy, while elderly people have different inclinations altogether. Middle-aged adults tend to prioritize buying properties, houses, or cars over other things – something that can't be said of teenagers or seniors!
For example, you can observe this phenomenon in the laptop market, where younger buyers gravitate towards models with more advanced sound systems and visuals, while adults opt for something that is within their budget yet still meets their needs.
4.2. Income
Our wallet power or purchasing power is completely determined by our earnings. The more money we have, the larger selection of items that are accessible to us; likewise, when our income dips so do our purchasing capabilities. With higher disposable income in our pockets, it's natural to indulge ourselves with premium goods. On the other hand, an average or limited income forces us to prioritize essentials like education expenses, food items, and apparel.
An example of this can be Luxury cars, such as the Mercedes G-Wagon or Rolls Royce Cullinan, which generally imply that those who own them possess a generous amount of financial resources. These vehicles are often far beyond the reach of most individuals with a modest budget.
4.3. Occupation
Our career path often shapes our purchasing decisions. We tend to buy the items that align with or are suited for, our line of work.
An example of an occupation factor affecting consumer buying behavior is found in the watch industry. Premium watches such as Tag Heuer, Omega, and Rado are particularly favored by professionals like doctors, lawyers, and bankers who have higher incomes.
4.4. Lifestyle
Our lifestyle has a major influence on our decisions, strongly affecting what we choose to buy. Indeed, our way of life is one of the most powerful determinants that shape how we make purchases. If we're looking to stick to a healthy diet, the products that we get should be aligned with our goals. This can include everything from nutrient-rich food items and kitchen scales for portion control, all the way through to protein powders and supplements.
One of the examples of lifestyle factors that influence consumer buying behavior can be seen in the clothing industry. Staying fit and healthy has sparked the rise of athleisure, driving unprecedented demand for activewear. Lifestyle choices have a major impact on purchasing decisions, as evident by this trend's massive growth in recent years.
5. Economic Factors
Consumer behavior is largely reliant on a country's economic standing. The more financially secure and stable the nation, the larger its money supply in the market – resulting in higher consumer power to make purchases.  Consumers are filled with confidence when the economy is steady, but if it begins to falter they will see decreased buying power and opportunities for work evaporate. A few key economic considerations to keep in mind include –
5.1. Personal Income
Our financial ability to purchase goods and services is determined by our income. There are typically two ways of measuring this: disposable income and discretionary income. Disposable income is what remains in our pockets after paying all obligatory fees such as taxes. On the other hand, our discretionary personal income is what's left after taking care of essential living expenses.
An example of personal income can be seen in the 2008 financial crisis – when incomes declined, people had less buying power and more stringent spending habits.
5.2. Family Income
The family income, which is the sum of all our members' incomes combined, is a major factor in how we spend. After paying for the necessities of life and taking into account other obligations, what remains can be used to purchase various items from everyday goods to branded luxuries and even durables.
An example of a family income factor is seen in the rise of dual-income households. When couples pool their incomes, it gives them the financial flexibility to purchase items that they require or desire. This is a tremendous advantage in comparison to single-income households.
5.3. Income Expectations
Not only can our current financial standing influence how we shop, but also what we anticipate earning in the future. It is easy to be swayed by fluctuations in the economy such as inflation, promotions, and changes in economic news. If we assume that our financial standing has a potential for growth within the near future, then it's likely we will be more open to spending money on things.
An example of an income expectations factor is the rise of e-commerce. Consumers now anticipate more competitive prices when buying products online, thanks to the knowledge that physical stores come with costly overhead. Subsequently, this has amplified purchases of digital services and goods.
5.4. Consumer Credit
Credit profoundly influences the way we spend, and it can emerge in various forms. When sellers or financial institutions offer us creative payment plans like EMI schemes, our propensity to purchase items skyrockets as compared to when there are limited options for repayment.
An example of a consumer credit factor influencing consumer behavior is seen in the rise of online banking and digital payment services, such as PayPal or Venmo.
5.5. Liquid Assets
Even our liquid assets affect the way we spend money. To be clear, these are accounts that can quickly turn into cash such as stocks, mutual funds, savings, or current accounts. With ample liquid resources, more money is probably spent on leisure and shopping items. Conversely, having fewer discretionary funds results in less spending on these extravagances.
An example of a liquid assets factor is evident in the rise of online investments. With the sheer number of liquid investment options available now, people can make informed and luxurious choices with just a few clicks. This gives access to purchases that were once only dreamt about!
5.6. Savings
By carefully managing our income, we can significantly impact our spending habits. If we decide to save more of our earnings during a certain period, it will result in lower expenditure on goods and services for that duration. Conversely, if there is less saving from the same salary or wages, then one may find themselves ready to buy more items throughout that time frame.
An example of the savings factor influencing consumer behavior can be a situation when someone has saved money over some time, they tend to be more willing to splurge on bigger purchases such as electronics or cars. This is due to their confident financial footing and the fact that they have extra cash available compared to if there were not any savings.
Conclusion!
To sum it up, Factors Influencing Consumer Behavior is an intricate and multifaceted subject. Cultural background, individual values, technology progressions, financial status, as well as promotional strategies all have a direct effect on how consumers shop.
Businesses must comprehend the ways these components can sway their consumers to design effective promotional plans and launch profitable products. By analyzing the habits of their target audience, businesses can develop products that are more likely to be appreciated and embraced by consumers, resulting in greater success.
Liked this post? Check out the complete series on Consumer Behavior