Be it individuals or corporate, opportunities are always available. As an individual, you have the opportunity to become a sports professional or a management professional. The type of profession you choose, and the variables that you weigh for making your decision, is the process known as opportunity analysis.
Just like you look at career opportunities, and then decide to follow one career of your choice, companies too have many opportunities lying in front of them.  By the use of opportunity analysis, the company can make the right decision, thereby advancing in its goal of earning more profits.
An example of opportunity analysis is the "Stay healthy" frenzy which has gripped many nations. More and more people are realizing that by staying healthy they can have a more enjoyable life as compared to being obese or having the wrong habits. This resulted in the rise of organic farming. Fast food chains like Subway and others came up just to give the customers "Healthy food" like they wanted. Nike and Adidas focused exclusively on fitness. Fitness equipment shops opened up and business of Gymnasiums, Yoga, Zumba etc boomed.
Because of a simple opportunity in the business of "Staying healthy", so many products from so many different sectors were formed. Just so that businesses could profit from this opportunity. This is how opportunity analysis works.
Advantages of opportunity analysis

Growth of company – As more and more opportunities are explored and established, the company will grow.
Better margins – As the company starts growing because of capitalizing on new opportunities, it will start having better margins because it has entered new segments.
Brand building – With better margins and a faster growth, company can easily invest in brand building activities and get a better brand reputation then ever.
Economies of scale – As the business is growing all round, it achieves economies of scale with the fixed costs remaining the same and only the variable cost growing. Thus, the reputation and margins keep on increasing.
However, although there are advantages, there are several disadvantages of opportunity analysis as well.
Taking the wrong decisions – As an individual, many a times we take wrong decisions in the stock markets when we invest in a poor stock just because we are greedy or we dreamt of too much growth. A similar thing can happen in case of opportunity analysis, wherein a company invests heavily in a product which probably will not work in the market.
Loss of reputation – A successful opportunity can lead to building reputation. On the other hand, an opportunity which failed, can affect the company's reputation in a negative manner also.
Dead investments – If opportunity analysis is not done properly, and you invest in a product which does not grow, then the investment is also a dead investment and does not do much in terms of ROI.
Although there are several disadvantages of opportunity analysis, the same can be ignored because no company can survive without moving forward, and for moving forward, it has to keep analysing more and more opportunities.
The best way to analyse and opportunity and find out whether it will be profitable in the long term or not, is a 360 degree feedback. Take feedback from your employees, distributors, channel partners, customers as well as the management team so that the right decision can be taken for any opportunity which has cropped up.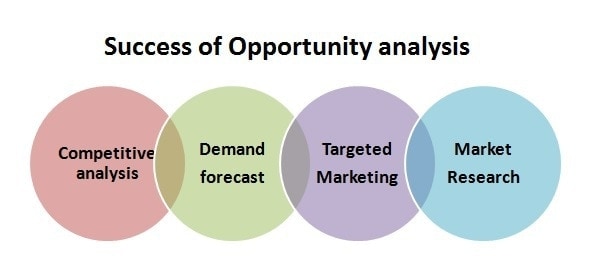 For the success of opportunity analysis, the following factors need to be considered.
Competitive analysis – What if the opportunity you are thinking has profitable, already has many unorganized players and hence wont be profitable in the long run? You need to find out the complete competitive landscape to conduct opportunity analysis properly and for its success in the near future.
Demand forecasting – An opportunity analysis will not be complete unless and until you forecast the probable demand for the product. You can't invest in a product for which you don't know the ROI.
Targeted marketing – Once the opportunity has been analysed, then you need to develop a targeted marketing plan. This is because each customer is different and hence the segment which you are going to target will be different too.
Market research – Market research is an intrinsic part of opportunity analysis as it gives insight in the customers mind and whether or not the customer will adopt this product. It can also give further ideas and features / attributes which can be added to the end product.
Overall, the generation of opportunities is important for any firm. If a firm thinks that there are no opportunities to expand in the market, then it is not conducting a 360 feedback. Any company has employees and channel partner who know a lot about the market. Feedback from these people will always lead to the development of the company.
Liked this post? Check out the complete series on Strategy