In a complete ongoing process of globalization, business is required to keep pace with the fast-changing systems. To remain competitive, companies need to evaluate their competitive advantages. A competitive profile matrix helps in doing such evaluations. CPM lets companies visually compare themselves with their competitors on key search terms related to their industry. This visual representation is a practical way to understand the company's position relative to the competitive landscape.
Various strategic models such as Porter's generic strategies, SWOT or Porter's five forces need to be updated to the current critical success factors shaping the business environment. Therefore, big companies such as Microsoft, Lego, Arla Foods, Nestle, and Ikea, have been basing their strategies by conducting benchmarking. A useful tool that can help in evaluating the strengths and weaknesses of the company is the competitive profile matrix also known as the CPM matrix.
What is a Competitive Profile Matrix (CPM)?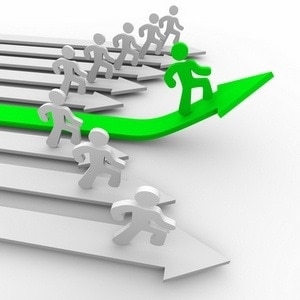 The competitive profile matrix (CPM) is a strategic tool used to compare the performance and position of an organization's products or services against those of its main competitors. It tells how well a company is performing against its competitors. As a competitive performance matrix, CPM helps you analyze both your competitors and your business in a competitive landscape.
Companies must identify their competitors' critical success factors to remain relevant in the market. This process includes pinpointing both internal and external factors that drive their rival's success. These elements, often called key success factors, provide invaluable insights into the market landscape. Over time, companies need to adapt and address more critical success factors to maintain their competitiveness.
Through the competitive profile matrix, companies can find out – which are the areas where they need to be strong, and which are the ones where they need to improve. They can do this by analyzing their main competitors in the market and asses them based on several success-specific factors. These factors, on which the analysis is made, depend greatly on the industry in which the company is operating. Such factors could be market share, range of products, brand reputation, etc.
Key Components of CPM
Some of the key components of the competitive profile matrix are:
1) Critical Success Factors
Critical success factors (CSFs) are the essential areas of activity that must be performed well if you want to achieve the mission, objectives, or goals of your business. They're the factors that are critical to your very survival as a business. Critical success factors defined as a lens to evaluate company performance and guide strategic priorities can be useful in CPM analysis. It's noteworthy how critical success factors differ from industry to industry, and even among companies within the same sector, underscoring the importance of tailoring this assessment to the specific context and goals of the organization.
2) Weighting
In the context of a competitive profile matrix, weighting assigns a numerical value to the importance of each critical success factor in the success of the business. The weighting score typically ranges from 0.0 (not important) to 1.0 (very important). The sum of all weights should equal 1.0.
3) Score
After assigning weight to each critical success factor based on its importance, the next step is to score each one. The company scores each factor from 1 to 4. A score of 1 indicates that the company is weak in that specific factor. A score of 4 means the company is strong in that area. This score is based on the company's effectiveness in addressing each critical success factor.
4) Total Score
The total score is computed by multiplying each factor's score by the weight. The highest possible total weighted score is 4.0 and the lowest possible total weighted score is 1.0. The average total weighted score for a business is 2.5. Any total score below 2.5 suggests that the company is weak relative to its competitors, while a score above 2.5 indicates that the company is strong compared to its competitors. This total score provides a quantitative indication of a firm's overall competitive advantage or disadvantage.
Steps in Developing a Competitive Profile Matrix CPM
If you want to develop a competitive profile matrix, the first step is to define your competitors. Once you have finalized the competitors you are going to focus on, you need to decide the most important factors that are needed to be successful in the respective industry. Once these factors are identified, you need to identify the factors in which your competitors are strong or weak.
Once you have decided on a factor for making the matrix, then for each factor, a weight and a rank is going to be assigned. The weight can range from 0.0(low importance) to 1.0 (high importance) and indicates how important the factor is for succeeding in the industry. The ratings present how well are companies doing in each area and they range from 4 to 1, from the highest strength to the highest weakness. Afterward, the weight is multiplied by the rank, resulting in the score. The company with the highest score proves to be stronger than its competitors.
This identification and the subsequent classification of the factors will give you a fair reading of your competitive profile in the market as well as the competitive profile of other competitors. This will help you define your exact competitive advantages and tailor your strategy accordingly. Thus, the competitive profile matrix paves the way for you to overtake your competition.
Example of using Competitive Profile Matrix
Let's take an example of the competitive profile matrix with the company Arla Foods, which is the largest producer of dairy products in Scandinavia. As the company has been expanding greatly in Scandinavia, holding approximately 85% of the market share in this region, it continued to follow its expansion in Europe and Africa. Africa represents a great challenge for them as the way business is conducted on this continent differs greatly when compared to the others.
One of their current plans is to approach the East African market through milk powder initially. The thing that they have taken into consideration consists in mapping all the potential direct competitors for the small sachets of milk powder. Following market research, they have identified that in Tanzania, the primary focus country, there are two main direct competitors: Cowbell (a Swiss manufacturing company) and Moregold (a Tanzanian milk powder company).
The research was done with the help of a Competitive profile matrix which is shown below. As you can see, the factors selected for the dairy industry were brand reputation, market share, low-cost structure, variety of distribution channels, and others. All of these factors were weighted and a score was calculated. This score showed that both Cowbell and MoreGold were very strong competitors in the market for Arla Foods.
---

---
The competitive profile matrix or CPM matrix is used as a tool in decision making. However, as with many other business models of strategy, the competitive profile matrix has its drawbacks. The main drawback consists in the subjectivity of the person conducting the analysis, as the weights and ranks differ on personal interpretation, assumptions values, and beliefs.
The lack of quantified data is another major disadvantage of this tool, as the disadvantage in one factor can be paid off by an advantage in another one. Lack of information can also create difficulties in this analysis, as gaining access to this kind of private information can prove to be rather difficult. Therefore, the CPM should be used as an orientation tool for getting a bird's eye view of the point where your company is standing as compared to your competitors.
Interview Questions to Ask Customers in a CPM Analysis
What value does my business/service bring to you? How does it compare to Competitor A? Competitor B? And so on? What specific problems do these products address for you?
While evaluating various products or vendors, how do you decide which one to choose? What specific factors or criteria do you consider in your selection process- Buying Experience, Quality, User Experience, Speed to Implementation, Cost, Social Media Presence, Ongoing Support/Warranty, Market Share, etc.?
Could you prioritize those criteria in order of importance, from the most significant to the least significant?
What have been your major successes and failures with Competitor A, in comparison to us?
What do you think makes our company different from the others on the market?
Are there any features/capabilities of our product that you find useful or innovative compared to Competitors A, B, or C…?
Competitor Profile Matrix Template
Company A
Company B
Company C
Critical Success Factor
Weight
Rating
Score
Rating
Score
Rating
Score
Brand Reputation
Level of Product Integration
Marketing
Product Quality
Customer Service
Successful New Introductions
In the CPM table above, the three companies (Company A, Company B, and Company C) are compared on several critical success factors that are essential for the success of a business. These factors include Brand Reputation, Level of Product Integration, Marketing, and Product Quality.
Each important critical success factor is assigned a weight to understand its relative importance. This weight is then used to calculate the overall score for each company by multiplying it with their respective ratings. The scores can then be compared and analyzed visually to determine which company is performing the best overall.
Please be aware that the critical success factors listed in this table are not comprehensive and should be complemented with industry-specific factors that align with the nature of the business.
FAQs
Q1: What are critical success factors in a business?
The crucial elements that a company must excel in to outperform its competition are called critical success factors. Different critical success factors included in CPM analysis are brand reputation, product quality, marketing strategies, etc. Industry's critical success factors affect business success and that is why their analysis is crucial for ensuring success.
Q2: How can a Competitive Profile Matrix help my business?
A Competitive Profile Matrix allows your business to compare its performance against competitors using key metrics. This can help you identify potential areas for improvement and make informed decisions for future growth.
Q3: What factors should I consider when using a Competitive Profile Matrix?
While using a Competitive Profile Matrix, remember to consider both internal factors like product quality, and external factors like economic conditions or changes in regulations.
Q4: Can a minor weakness impact the success of a company?
Yes, even a minor weakness can impact the success of a company. It's important to identify and address these weaknesses to maintain a competitive edge in the industry.
Liked this post? Check out the complete series on Strategy