Whoever said that commerce and art shouldn't mix definitely didn't live in the Internet age. With so many creative people vying for the spotlight in such a crowded marketplace, proper marketing has never been more important. Whether you're a consummate professional or someone who's just starting out, learning how to attract customers to your business is a must.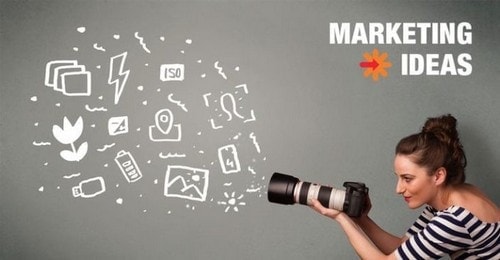 Let's take the photography industry, for instance. The art of telling a story through still images continues to be in demand, yet many world-class photographers are at a loss when it comes to promoting their art successfully. With that in mind, here are a few steps you can take to maximize your online exposure and reap the rewards of your skillset:
1) Photography marketing tip 1 – Know your ideal customer
Learning how to properly gauge and address your potential clients is essential. So start by identifying your ideal customer first and foremost. Everything from age to income level to interests should be analyzed in order to create the portrait of the person who will be using your services. Then map out a strategy that will directly address their needs and concerns. Event photographers, for instance, should always focus on mentioning the exact services they provide in addition to showing off their portfolio.
2) Photography marketing tip 2 – Build a website that represents you
After you've identified the market you're catering to, kick-start your online photography business by building a website you can be proud of. Design and functionality are all-important here, but don't be afraid to imbue your website with a personal touch as well. A wedding photographer's site will look different than one that's focused on fashion shots, to give just one example
3) Photography marketing tip 3 – Attract traffic to your website
In the crowded online landscape, just getting people to visit a webpage they haven't seen before counts as a big achievement. Optimize your website for search engines and learn how to work with the likes of Google AdWords, since these are the things that can make or break your online business. Also, focus on building up your e-mailing list and send them regular messages with the help of the best e-mail marketing service providers available today.
4) Photography marketing tip 4 – Engage in social media
The importance of social media cannot be overstated. Building and maintaining a dedicated online following on Facebook, Twitter and the like is essential for any business, but photographers can benefit the most from properly mastering Instagram and Tumblr. These image-focused social networking sites can create buzz around your art and help you market it directly to your followers. Likes and shares are the equivalent of word-of-mouth marketing in the pre-Internet days, and they can be priceless when it comes to attracting new customers.
5) Photography marketing tip 5 – Consider content marketing
Even if you'd prefer your photography to speak for itself, the way the Internet operates nowadays actively favors websites that are continuously updated to provide new content for their users. So focus on establishing trust and building confidence with your potential customers. You can do this by starting a blog and sharing new images and stories on a regular basis. But remember to always involve your fanbase directly and give them a reason to bookmark and revisit your website.
That just about covers the basics of marketing your photography business online. Of course, as with all artistic pursuits, talent and hard-work are equally important, so make sure you continually invest in honing your skills as well. The reward of earning a living online is a real possibility in this day and age, so it pays to put in the time and effort to get it right.