Jerry Baldwin, Zev Siegl and Gordin Bowker started Starbucks Coffee, Tea and Spice Company in 1971 with a vision to introduce the world with the taste of fine coffees. In the year 1987, Howard Schultz took over the company and recreated it by forming a personal relationship between the coffee and the consumers. Within a couple of years the company grew from a regional and small business into the undoubted leader of the coffee industry.
Starbucks is the largest coffee company in the world and provides an unmatched experience to its customers. Its main mission lies in Fair Trade. They have signed their licensing agreements and purchase their coffee in a socially responsible and ethical manner. They aim to provide their customers with more than just a cup of coffee. Starbucks has continued to grow since the day is has been established, highlighting and emphasizing its management decisions. In today's date Starbucks has over 16,858 cafe's in more than 50 countries.
Product in the Marketing mix of  Starbucks
In order to hold its market position Starbucks provides premium product to its customers with an unforgettable experience. They position themselves in the market by continuously innovating their products and delivering high quality coffee. Understanding the perishable nature of coffee, Schultz made sure to monitor every step involved in the production of coffee. Hence, they bought whole bean and dark roast coffee from places such as Kenya, Sumatra, Costa Rica and Ethiopia. They roasted these coffees in their own plant and sold them through their stores.
To keep up the momentum and satisfy their customers, Starbucks expanded its coffee and food categories, which was 8 and 7 initially. They are innovating their products continuously and have also launched Tazo Tea to attract all the tea lovers in India. Across the world, Starbucks has more then 1000 different variants being offered to their customers. Even though they were a little late to introduce tea, they selected the process of brand localization to make it popular.  Along with this, they also offer customers different products from season to season such as Frappuccino, strawberry cream in summers and different lattes such as gingerbread latte in Christmas. In the Starbucks store you can also find Starbucks cappuccino and coffee makers.
Price in the Marketing mix of  Starbucks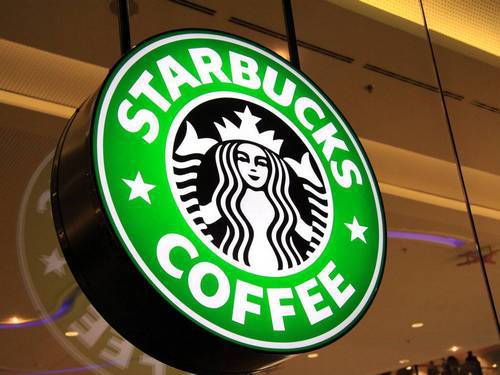 Price is used to find out the value of a product. The company has always put in their best to offer high value products to the customers. They buy the best quality coffee beans and make sure that their staff is efficiently and effectively trained. This is reflected in their price, because a Starbucks coffee is not cheap and it uses premium pricing because of the experience that it offers.
However, to have a competitive edge, Starbucks started with a $1 bottomless cup of coffee, which was not only 50 cents cheaper from their other coffees but the customer could also refill it any number of times they wanted. Starbucks is expanding by opening stores in different parts of the world and so they have included various other value added services such as breakfast pairings for $3.95. This combo was launched especially for the price conscious customers and provided them with breakfast along with a cup of coffee.
Starbucks focused on relative pricing by offering premium items. They sold whole bean coffee in various grocery stores in addition to other low-cost coffee items, such as drip coffees and Seattle's Best line. Even though Starbucks offer low cost products with high price items, they justify the higher price through comparison.
Starbucks works on a simple idea – if the consumers get premium products they wouldn't mind paying a little more. So for them quality is the key. The never compromise on the quality of the products and implements strict and stringent quality control measures along with great customer service to justify its price.
For profit maximization they increase the price of certain drinks and sizes instead of the whole lot. By doing so, they are able to seizure consumer surplus from the regulars who find more value in these upgraded coffees. This makes it possible for the company to enjoy a higher margin from the customers who are ready to pay more for larger cups of coffee.
Place in the Marketing mix of  Starbucks
Starbucks have a clear vision, which is to have a direct and personal relationship with its consumers and thus have direct supply chain from the producers to the consumers. They have their chains all over the world. In the USA, Starbucks is a household name and you can find its store in almost all neighborhoods. They cater to the consumer traffic by opening coffee bars. They are trying to localize themselves by opening stealth outlets, which is street names rather than Starbucks. They invested a lot in the training of their staff to make sure that their customers have an enjoyable coffee experience.
Starbucks uses more than one channel of distribution. They sell their products through company owned stores or a direct retail system. They import coffee beans from the finest garden the processes it and sells it under their brand name. Also, they have agreements with hotels, airlines and office coffee suppliers. This helps them cater to the wider market.
In today's date Starbucks have their teas and coffees available in more than 40,000 grocery stores, 33000 of which are in the USA. Starbucks also launched itself in India in the year 2012.
Promotions in the Marketing mix of  Starbucks
Starbucks did not invest a lot of money on advertisement. While McDonalds spent around 727.7 million dollars on advertisement in 2007, Starbucks only invested 16.6 million dollars. Starbucks used their extra cash on finding and acquiring the best places for their outlets. They organized a huge event in the places where they could open new stores. They also had many other promotional activities, which included printing information on tee shirts and mugs. Apart from this they also came up with the concept of smart partnerships. This meant appointing local representatives as their ambassadors to endorse their brand.
Starbucks had gift cards for their customers. This idea promoted their product not only to their loyal customers but attracted new customers as it helped them with free advertisement. They also provided coffee to various offices without any size restrictions. Even thought they do not have an official slogan they do have an official mission, which is "To inspire and nurture the human spirit–one person, one cup and one neighborhood at a time."
Starbucks have relied heavily on word of mouth, which provided beneficial for them as it increased their brand awareness and brand loyalty. Today, Starbucks have above 27 millions of fans on Facebook and more than 2 million followers on twitter. With its trendiness and creativity freshness, Starbucks has established itself all over the world.