Tesco PLC is the leading brand of Supermarkets in Britain. It has managed to garner so much consumer popularity that its stores have crossed the boundaries of the United Kingdom and reached twelve other countries across Europe and Asia! Founded by Jack Cohen, Tesco started out as a mean bunch of market stalls. From there it has grown into one of the leading supermarket chains of the world with the help of one's man dream and ardour to fulfil those dreams.
So what is the main attraction of Tesco? Why do consumers choose it over the other typically similar grocery stores? – the answer is that Tesco has been  designed to first and foremost fulfil consumer needs. It provides the cheapest prices, it develops with the times and thus, has numerous online stores and more importantly it maintains a reliable brand image that manages to reap customers loyalty
Product in the Marketing mix of Tesco
Tesco provides a wide range of products that include food, clothing, electronics, financial services etc. This ever expanding, product line caters to every possible need of its consumers and has thus expanded into the online marketing sector too! It offers grocery delivery service and free music downloads besides the other 40,000 or more product lines that its retail stores exhibit.
Within each category also, Tesco provides a wide variety of choice ranging from brand, regional produce, type, international cuisine in food and other choices that don't leave the customer lacking when it comes to choice.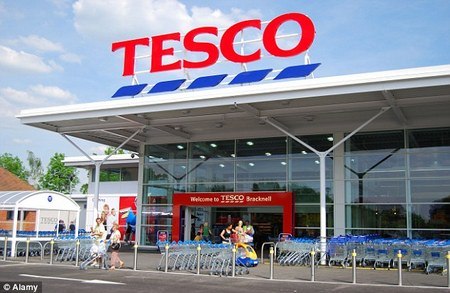 Price in the Marketing mix of Tesco
Tesco attempts to maintain as low prices as possible without reducing the quality of its products or running itself in loss. In order to pass all cost advantages to its customers and keep them happy, it uses a number of measures which includes the economies of scale it enjoys.
Tesco's strategy of low prices is what has recommended it to customers over the years, making it possible for Tesco to surpass all expectations and become the leading supermarket chain in Britain leaving all old brands like Sainsbury behind.
Many people expected it to raise its prices once it became well established and as energy cost kept increasing, it continued to stymie their expectations by maintaining the lowest costs possible. It primarily believes in the strategy that 'every little counts'. It thus, has large stores where prices are further lowered and smaller stores where products cost a little more due to higher overhead costs.
In addition to this, Tesco uses a club card system to allow its customers to gather points for its purchases, which can be converted, to money at a later stage. This serves as an excellent price-promotional strategy of providing loyal customers with extra discounts. This kind of pricing strategy helps reduce prices further, thus increasing sales without affecting profits much.
Place in the Marketing mix of Tesco
It is headquartered in Chestnut, Hertfordshire, England. Its stores are spread far and wide in the world. It employs two main channels of distribution for its products and services – online and offline.
Its offline forum has stores of six different kinds – Tesco Express, Tesco Extra, Tesco Metro, Tesco Compact, Tesco Homeplus and Tesco Superstore. Tesco's studies show that all customers are not comfortable with big stores like Tesco extras nor is it possible to set up so many of them. Thus, it makes use of smaller stores for easier accessibility. Its online forum Tesco Direct comprises of its official website www.tesco.com .
Promotions in the Marketing mix of Tesco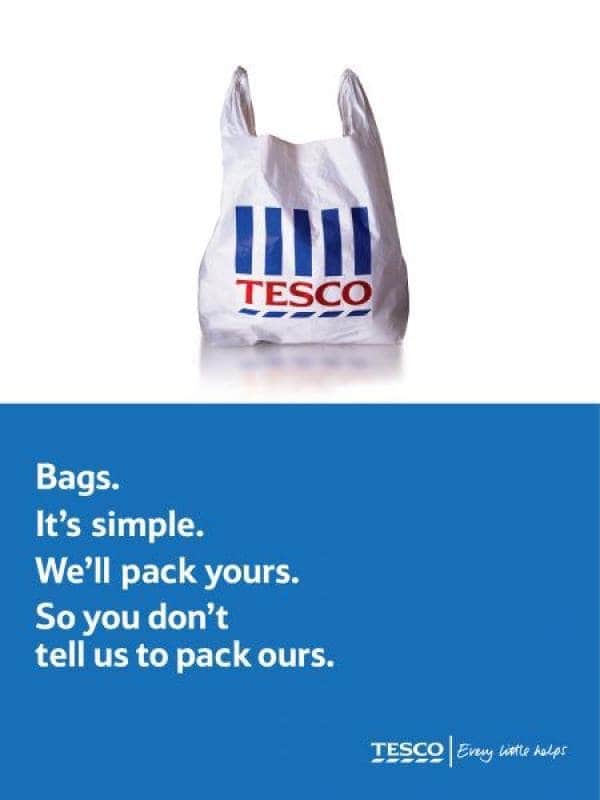 Tesco's biggest advantage is its low prices. This is what sets it apart from other supermarket chains. And this is what it uses to enhance its brand image. Its major objective has always been to improve its brand image by reducing costs and being true to its words, while maximizing its profit. To this end, it makes use of television advertisements, offers promotional discounts, sponsors charitable events, uses point of sale strategies and so on.
All of Tesco's advertisements focus on one thing – its low prices. It also provides a lot of attractive offers to its customers all year round. It is very easy for any customer roaming the lanes of this grocery store to find offers like 'buy one get one free', 'half price' etc. It strives to make its customers purchase more, all the while feeling like they've saved so much.
Additionally Tesco uses the Clubcard service to provide customers with additional discounts as has been mentioned earlier. This service helps Tesco study the demand patterns of its customers and thus, helps it know its market well. This allows them to segment their market and formulate strategies appropriately.
Easy accessibility and availability has also helped Tesco acquire more loyal customers. It online services have been much appreciated and has received excellent responses. The payment procedures are simple in both the offline and online forums. Its stores have both till payment and self-service options. Online purchases are generally cheaper than offline ones. This may not work out as well for the store s they had expected, since it will reduce their revenue considerably as customers do not have as many choices online as they have offline. It also becomes difficult to tempt customers into buying more stuff if they can't see these displayed in a tempting manner before them.
Physical evidence in the Marketing mix of Tesco
The Tesco stores are not overly elaborate like those of Sainsbury and other grocery stores. This is because Tesco doesn't see the point in spending more than the necessary amount of money on furbishing its stores. Having said this, all its stores are clean attractive. They are easy to navigate with all products well categorized and easy to find. Offers are also placed such that they lure customers into buying more than what they need, all the while feeling that they are in fact conserving their financial resources. The Tesco Website is also simple and easy to operate.
People in the Marketing mix of Tesco
Tesco's excellent sales assistants are also greatly responsible for its success. It uses programs such as Colleague Privilege card, Save As You Earn, and Buy As You Earn to gain the loyalty of its workers. Its employees are highly competent and well compensated for their contributions in making Tesco a success.
Process in the Marketing mix of Tesco
The Process aspect of a marketing mix in Tesco's case refers to the process of keeping its customers happy by speedy billing services and easy acquirement of product in its stores offline as well as online. Tesco achieves this by employing competent staff and paying attention to customer grievances and addressing issues that create them.