Marriott is a publicly traded company of American origin. It is associated with tourism and hospitality industry and deals with resorts and hotels. Marriott was founded in the year 1927 by J. Willard Marriott. Marriott believes in global expansion and this has led to its presence in most countries of the world. It faces competition from several hotel chains like-
Taj Hotel
Starwood Hotels and Resorts
Hilton Hotels and Resorts
About Marriott
Type: Hotel Company
Industry: Hospitality
Founded: 1927
Founders: J. Willard and Alice Marriott
Headquarters: Bethesda, Maryland, United States
Area served: Worldwide
Current CEO: Anthony Capuano
Number of employees: Over 370,000
Major products: Hotels, resorts, and timeshare properties
Product in the Marketing Mix Of Marriott :
Marriott is in the hospitality sector and manages a broad and diversified portfolio of resorts and hotels. It believes in constant upgradation and has evolved over the years with impeccable services and comfortable settings.
Marriott owns and has operations with nearly 30 hotel brands belonging to Classic Luxury, Classic Premium, Distinctive Luxury, Classic Select, Distinctive Premium, Distinctive Select and Classic Longer-Stays. Some of them are The Ritz-Carlton, Sheraton, Delta Hotels, Renaissance, Le Meridien, Westin, Aloft Hotels, Bulgari Hotels and Resorts, Fairfield, Residence Inn and Courtyard. Marriott offers personalised and premium services to its esteemed guests.
It has furnished and air conditioned rooms with homely surroundings and equipped with several amenities like comfortable bed, side table, telephone, refrigerator, free newspaper, free room service, payable laundry-service and tea/coffee maker in every room. Hotel services include conference rooms equipped with the latest technology, banquet bar, courier services, baby-care facilities, fax options, medical facilities, 24*7 internet, wake-up alarm, money exchange, secretary-on-demand, satellite TV and credit card facility.  It has a number of restaurants that offer diversified cuisine options to meet the varied food interests of its guests. Marriott has entered into a partnership deal with Sun Line and has successfully entered the cruise business.
Place in the Marketing Mix Of Marriott :
Marriott has a global presence that has spread to 110 countries with nearly 5,700 properties. It has its headquarters base in Bethesda, Maryland. First Marriott hotel was opened at Arlington in Virginia and the second in Rosslyn neighbourhood of Arlington and since then it has opened its hotels besides the United States in places like India, China, Pakistan, Dubai, Argentina, Thailand, Venezuela, Indonesia, Malaysia, Peru, Canada, Spain, Turkey, Sri Lanka, Bangladesh, Portugal, Mexico, Switzerland and the United Kingdom.
All its hotels are located at prime locations to maintain its distinctive quality and include strategic places like highways, near airports and in central and vital parts of cities. Marriott has a capable and trained workforce that helps in direct dealings with its customers. In the year 1995, it became the first in the hotel business to offer the option of online facilities for reservations.
Price in the Marketing Mix Of Marriott :
Marriott is a multinational company that has targeted upper class, corporate, families, honeymooners, and travellers like premium, business and leisure as its target customers. It believes in serving with integrity and excellence. Its estimated revenues at the end of the financial year 2015 were 14.486 billion dollars and its net income was declared 859 million dollars.
Marriott believes in good food, good services at fair prices and has adopted a premium pricing strategy because it offers value-based prices and services. It provides its distinguished guest's best possible services and hence charges premium rates accordingly. As it has targeted high-end customers it has been confident of its pricing policies because its guests demand immaculate products and services and are willing to pay for the privilege.
Promotion in the Marketing Mix Of Marriott :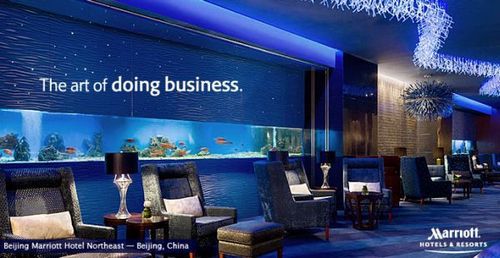 Marriott occupies the position of market leader in global arena because of its high brand recall. It offers innovative incentives to its clients in order to maintain and reward customer loyalty. Marriott offers free merchandise, vacations, gifts, bonus, upgrading of the room and its facilities as a part of its loyalty program for frequent customers titled Marriott Rewards.
The company has launched high-impact ad campaigns and targeted specific customers to increase its brand awareness. It has received several accolades in recognition of its services and special features. Marriott Marquis Hotel Dubai in the year 2012 was acknowledged as tallest hotel building of the world and Marriott Marquis Hotel Dubai is said to have the highest library by Guinness World Record.
Liked this post? Check out the complete series on Marketing Mix