MTV is associated with Media and Entertainment industry as it is a television channel related to satellite and cable network. Music television has been initialized to form MTV and it is of American origins founded in the year 1981, 1st August.  It is a subsidiary of its owner company Viacom Media Networks that in itself is a division of its parent company Viacom. Some of its competitors are as follows-
UTV Bindaas
Channel V
Internet music sites
9xM
Zoom
About MTV
Type: Television channel
Industry: Television
Founded: August 1, 1981
Founder: Bob Pittman
Headquarters: United States
Area served: Worldwide
Key people: Shari Redstone (Chairman) and Bob Bakish (CEO)
Number of employees: 1,000
Product in the Marketing Mix Of MTV :
MTV channel started its operations by airing music videos hosted by famous personalities known as VJs or video jockeys. First music video on this channel was Video Killed the Radio Star by The Buggles and followed by You Better Run by Pat Benatar.
MTV's effect was immediate as local record stores started selling music aired on its channel. Channel aired rock bands, classic rock acts, pop music and promotional videos. MTV has also covered live global events and concert series like Live Aid and introduced electronic acts like The chemical Brothers and The Prodigy.
Later besides music its programs started including original drama, comedy, animated series and reality shows like Beavis and Butt-head, The Real World and Road Rules, Clubland, Hip Hop POV, The Week in Jams, It's on with Alexa Chang, MTV First and Behind the Music Remastered. MTV launched a game show titled Remote Control, a dance show titled Club MTV and a news show related to fashion titled House Of style.
Place in the Marketing Mix Of MTV :
MTV is an American channel that is viewed in every part of United States with its headquarters base at New York City. It has spread its network to the international arena via several associated channels in nearly fifty countries like Canada, Argentina, Austria, France, India, Spain, Thailand, Sweden and Romania. In the United States MTV has several sister channels like VH1, MTV Live, MTV2, mtvU, MTV HD and CMT and by the year 2015, July it was viewed by nearly 92,188,000 households in America.
It has adapted itself to meet the local demands and tastes of a particular country with affiliated channels depending on that country like MTV India for India, MTV Korea for Korea, MTV China for China and MTV Japan for Japan. It has used local dialect as well as employees in its channel to make it more popular in the domestic market. It has an official website MTV.com and airs online versions of programs shown on its channel.
Price in the Marketing Mix Of MTV :
MTV has a global viewership as it has positioned itself as a channel targeted at younger generation like students and teenagers who like raw and reality shows and trendy music. It has implemented a penetration policy to reach every part of a country where its channel can be viewed by including local language, employees and programs.MTV is a pay channel and has adopted a mid-premium pricing policy to earn revenues because it is income and gains that help a channel to move forward. Advertisers are one of the main mediums to earn revenues and MTV has several like Dells and Domino's Pizza associated with its channel.
Promotion in the Marketing Mix Of MTV :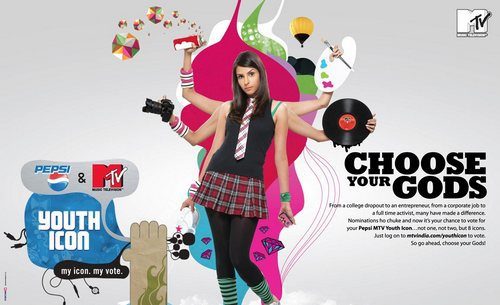 MTV is one of the most popular and watched channels in the world and it has utilised the electronic and digital media beautifully via sponsoring trendy shows in television. It has launched several ad campaigns to create positive brand awareness. Its iconic campaign I Want my MTV was launched on television in the year 1982 and featured celebrities and popular artists like Madonna, Adam Ant, Lionel Richie, Peter Wolf, Mick Jagger, Peter Townshend and Pat Benatar encouraging viewers to add MTV channel in their lineup.  MTV also has adopted strategies related to increasing brand visibility via promotion through mobile applications and interactive websites.
As part of its promotional activities it started, MTV Music Video Awards show in the year 1984 with a live performance from Madonna, Spring Break Coverage, an annual event in the year 1986 and MTV Movie Awards since the year 1992. These annual events have become most-watched broadcast in the world.
Liked this post? Check out the complete series on Marketing Mix