Gucci Marketing Mix gives high importance to product placement, product portfolio, pricing strategy, promotional activities and physical evidence of the Gucci brand. Owning Gucci products and other accessories is a status symbol and this is why buyers are ready to purchase from the premium brand.
An important aspect of the Gucci marketing strategy is maintaining the visually appealing look of the company in the target market. The marketing objectives behind the Gucci marketing mix framework are to maintain its high status, connect with Gucci's customers and achieve business goals.
Introduction of Gucci
#Gucci
Origin Country: Italy
Founder: Guccio Gucci
Previous Creative Director: Alessandro Michele
Current Creative Director: Sabato de Samo
Parent: Kering
Founded: 1921
Headquarters: Florence, Tuscany, Italy
Brand Value in 2023: 18.1 billion USD
The Italian fashion brand Gucci from Guccio Gucci is one of the most coveted luxury brands in the world. The brand name is synonymous with high-end quality, a status symbol and an exorbitant price tag. If one is to describe the company then the words that come to mind are innovative and influential as the luxury brand has reinforced its position in the global fashion industry as one of the most desirable fashion houses of all times.
The product offerings and services provided by the luxury brand are unsurpassed for both quality and attention to minute details. Gucci's product portfolio is Italian craftsmanship at its best and this is why the company is a hit amongst its target audience.
Who is Gucci's Target Audience?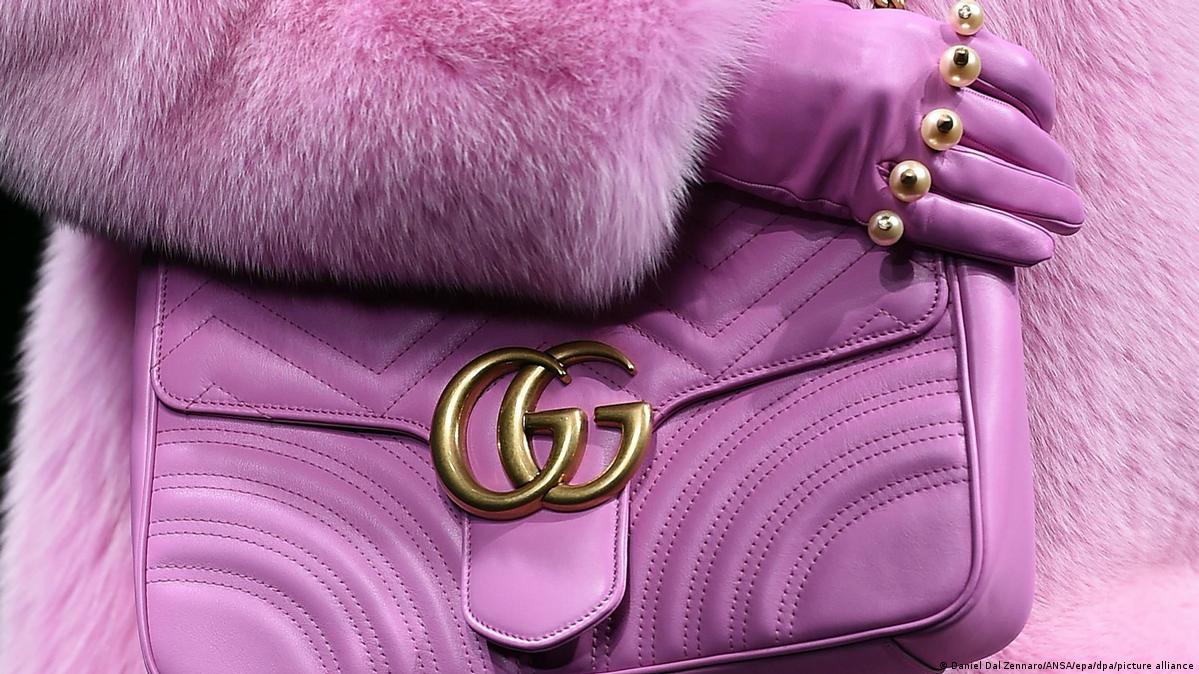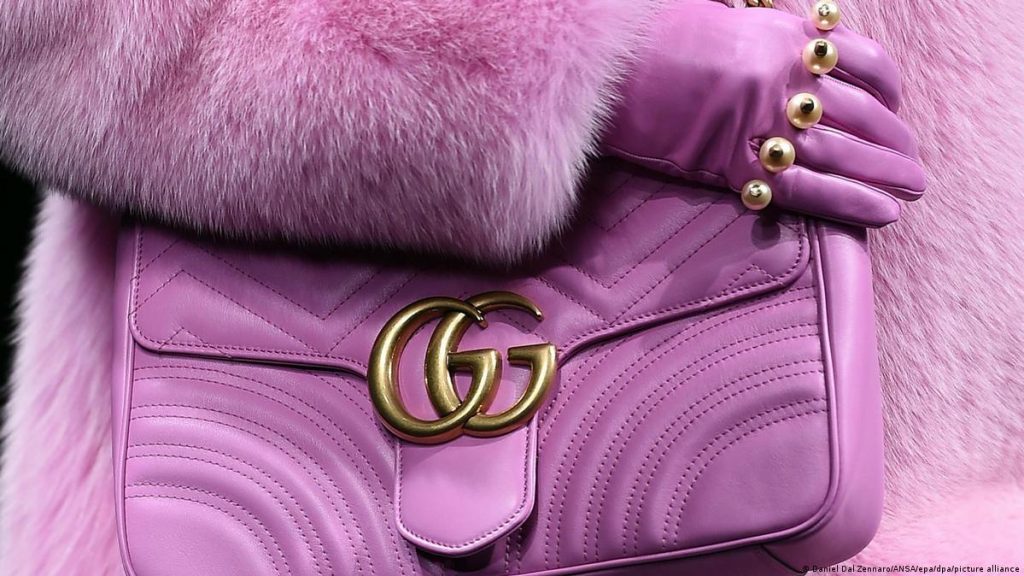 Gucci from Guccio Gucci is a luxury brand that believes in product innovation and superior quality products. The raw materials are some of the finest in the industry which automatically increases product prices.
When you have premium products then you have to keep the elite class as a target audience. This is what Gucci has done as part of Gucci's marketing strategy. It has focused its sight on celebrities, high-profile personalities and the upper class as its target audience who do not worry about the price tag while selecting products.
Marketing Mix for Gucci – Add Value to the Brand
The brand image of Gucci has been in the hands of its creative director from the beginning. Alessandro Michelle the creative director from 2015 -November 2022 helped to boost the image and visibility of the Italian brand through several collections over the years. The Aria Collection in 2021 is a prime example of adding value as it helped to maintain the brand position in the market as one of the most valuable luxury brands in the world.
Gucci Product Strategy: Marketing Mix of Gucci
Gucci started its journey as a manufacturer of leather goods and since then has become one of the prestigious luxury fashion brands worldwide. The Italian fashion brand is a major player in the personal luxury goods market. One-third of its market value is because of sales of other accessories like handbags and luxury watches.
Marketing mix Gucci framework has positioned the brand products at the top because of product innovation, premium design and quality materials. The brand with help of Gucci's marketing strategy has made sure that Gucci products appear extremely expensive and superior to the customers as this will help in maintaining the tag of a visually appealing premium brand in the fashion world.
Product Mix in Marketing Strategy of Gucci
The product mix in the marketing strategy of Gucci puts the focus on both Gucci products and services provided by the fashion house.
Luxury fashion product offerings include footwear, ready-to-wear, leather handbags, home decoration and other accessories. It licenses the Gucci brand name to Coty Inc under Gucci Beauty for cosmetics and fragrances.
The leading fashion label has a wide range of Gucci products for men, women and children in all sizes. Gucci product categories and related product offerings include-
Handbags
Gucci is well-known all over the world for handbags made from leather goods and precious materials as diverse designs and signature lines feature prominently in the collections. The handbags product portfolio in the Gucci marketing strategy includes shoulder bags, mini bags, top handle bags, clutches, belt bags, everyday bags and tote bags.
GUCCI BLONDIE TOP HANDLE BAG
OPHIDIA JUMBO GG MEDIUM TOTE
Travel
In the travel product category, Gucci products include travel bags, trolleys, travel accessories and hard-sided luggage.
GUCCI SAVOY LARGE BOWLING BAG
GG MARMONT COSMETIC CASE
Ready-to-Wear
The ready-to-wear category in the Gucci marketing strategy includes outerwear, knitwear, skirts, activewear, denim, swimwear etc.
WOOL CASHMERE FORMAL JACKET
STRIPED JACQUARD WOOL COTTON DRESS
Shoes
Gucci is one of the most famous luxury fashion brands of footwear in the world. Gucci products include boots, ballet, flats, sneakers, mules, loafers, pumps, sandals and dress shoes.
WOMEN'S PYTHON PRINT PLATFORM SANDAL
MEN'S GUCCI RUN SNEAKER
Accessories
Gucci's marketing strategy focuses on its accessories as it is one of the highest revenue earners of the luxury fashion brand. Products include wallets, pouches, card holders, belts, hats, jewellery, socks, tights, scarves and eyewear etc.
GUCCI BLONDIE THIN BELT
MINI BAG WITH DOUBLE G STRAWBERRY
Décor
The décor category in the Gucci marketing strategy includes items like furniture, wallpaper, textiles, home accessories and tableware
FREESIA FLORA PRINT BASKET CANDLE
ROSES PRINT WALLPAPER
Lifestyle
The lifestyle section in the Gucci marketing strategy includes loungewear, sporting goods, leisure pieces and stationery
DECORATIVE GEOMETRIC G PRINT SET
GG CASCADE PRINT PENCIL CASE
Pet Collection
The pet collection segment in the Gucci marketing strategy includes pet homeware, pet clothes and pet accessories
EXTRA SMALL PET COLLAR
RADURA FEEDING MAT
Beauty
Beauty products in the Gucci marketing strategy include lipsticks, eyeliner, blush, nail polish and foundation etc.
BLUSH DE BEAUTE
GUCCI BRUME DE BEAUTE
Services Provided by the Gucci Brand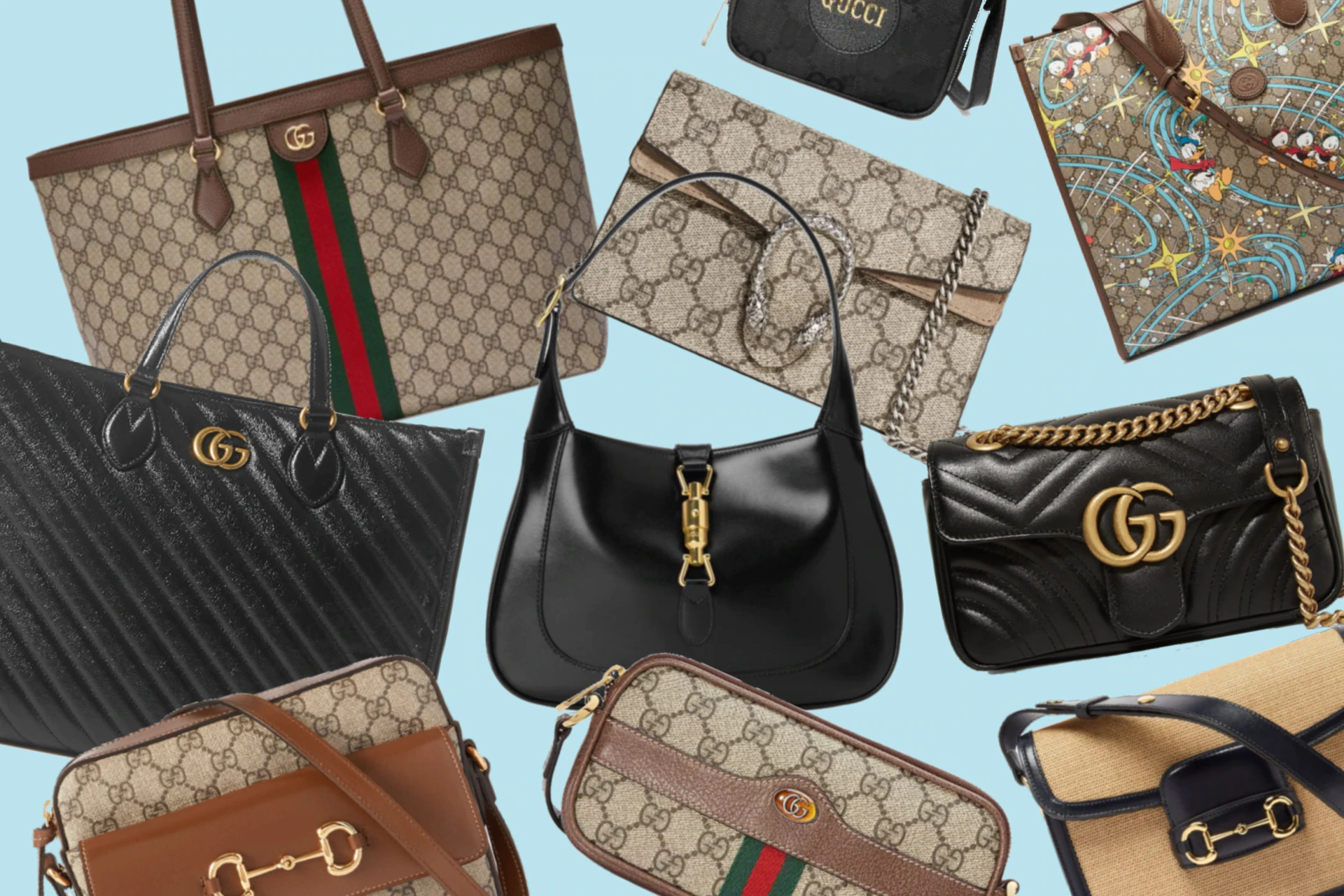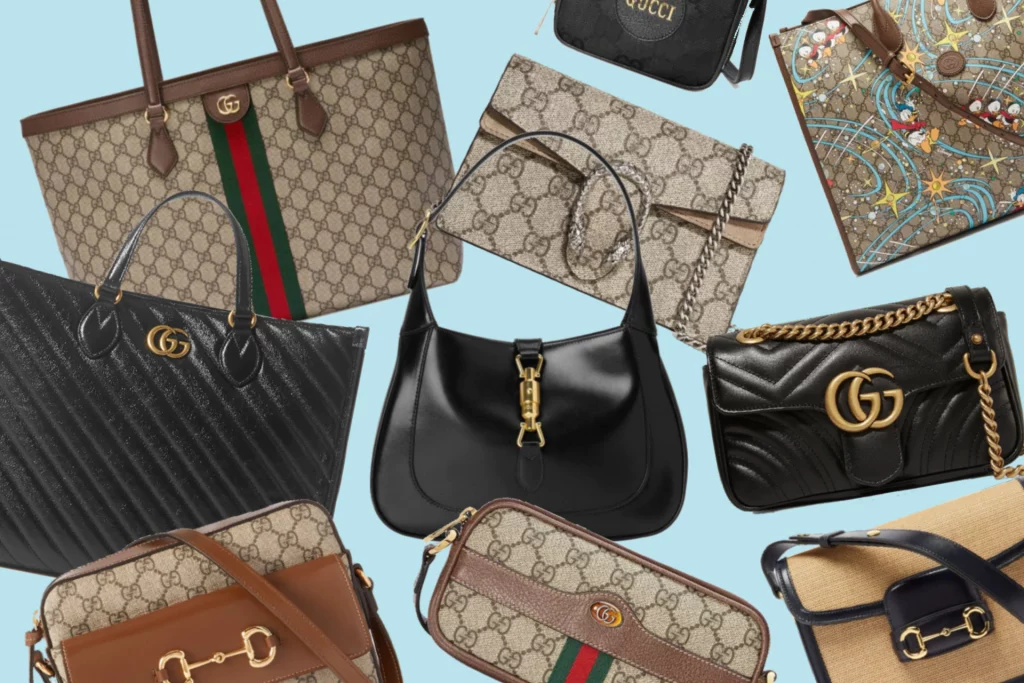 Services provided under the Gucci marketing strategy include
Personal shopping
Personal shopping experience by booking an appointment with an expert
Online stores
Checking out the portfolio in online stores and collecting the product in a retail store
Gucci advisor
Taking the help of a Gucci advisor for product and product-care queries via email, live chat or phone
Embossing services
Making the final product unique by availing of the complimentary embossing service and adding the customer's initials
Gucci account
Create a Gucci account and discover the latest collection, stating shipping and payment preferences and creating a personal wish list
Premium shipping services
Complimentary delivery
Returns
Complimentary returns or exchange
After-sales service
After-sales service includes tips on product care and repairs
Place in Marketing Mix of Gucci
The marketing mix of Gucci and its marketing strategies puts great importance on the place mix. The company has spread its product presence to an estimated 501 retail or speciality stores in the global market. It has operations in the United States of America, Australia, Europe, Asia and the Middle -East.
Place and Distribution Network: Gucci's Marketing Strategy
Gucci is a renowned name in the luxury fashion brands industry. The company has optimized its existing place and distribution network to drive sales and growth.
Gucci's supply chain helps in delivering products to the end customers. The physical evidence of its vast place and distribution network includes-
Direct Sales via Specialty Stores
Gucci's marketing strategy encourages direct sales to the target audience via 501 company-owned boutiques or speciality stores. The creative director of Gucci has been quite vocal about strategic marketing management through its stores because these boutiques are physical evidence of the company.
The stores are located at high-end locations to attract upper-class clientele. Gucci boutiques have classic interiors, unique designs and relaxing ambience that appeal visually to their customers. The staff offers personal attention to each customer and handles their order effectively to make them feel special.
Inventory Management
Gucci has introduced automation so that the strategic marketing management team handles inventory effectively. The introduction of the strategic marketing management process has improved speed and efficiency and reduced the margin of errors.
Online Sales
Gucci has directly operated online stores in 25+ markets for online sales. The online stores offer all the facilities of the retail stores and more. Customers can visit online stores to enjoy free shipping and special offers that will drag down the price of the products. Gucci has spread its business operations through multi-brand online platforms as these are very popular amongst the younger generation.
Transportation
The marketing mix of Gucci focuses on cost-effective transportation means for handling deliveries and inventory. The company also uses both an in-house distribution network and third-party transportation to ensure on-time deliveries.
Price Strategy in the Gucci Marketing Mix
As a major chunk of revenues is derived from leather goods followed by shoes and then ready-to-wear clothing the marketing mix of Gucci focuses on its product portfolio to a great extent so that it can capture the target market. The product offerings are categorized according to raw materials used, Gucci's customers and sales figures and then a suitable pricing strategy is decided upon.
As Gucci is one of the top luxury fashion brands in the industry the raw materials used are of top quality. Moreover, the work done on the fabrics also increases the overall costs and results in high prices of the product.
Price Mix: Gucci Marketing Strategy
The price marketing mix in Gucci's marketing strategy is fully dependent upon premium products and keeping Gucci's loyal customers happy. The brand has adopted a premium, penetrative and psychological pricing strategy for its target audience.
Premium Pricing Strategy
Gucci is one of the luxury fashion brands that sell high-quality premium products to its target audience. The brand name is synonymous with quality and premium pricing hence it makes sense for the brand to adopt a premium pricing strategy that will bring in elite-class and high-profile customers looking for high pricing products.
Psychological Pricing Strategy
Gucci has adopted psychological pricing for its products. High prices are often equated with the best quality and lower prices with substandard goods. The company has used psychological pricing for Gucci's customers who are looking for premium products and premium prices. Psychological pricing has been a hit amongst Gucci's target audience and helped the company in keeping loyal customers happy.
Penetrative Pricing Strategy
Gucci has targeted a younger audience as its new target audience. From time to time the fashion house offers discounts as part of its penetrative pricing policy. The younger audience is attracted to quality products at reasonable rates as discounts invariably drag the prices down.
Promotional Strategies in Marketing Mix of Gucci
The promotional strategies in the marketing mix of Gucci focus on digital marketing, social media marketing by using various social media platforms, fashion shows from creative designers, traditional media advertising strategy as well as up-to-the-mark packaging.
In recent years the creative director and designer Alessandro Michele has been fully involved in the advertising strategy of the company and driving the advertisements and digital marketing campaigns forward. He has been credited with making Gucci one of the most treasured luxury brands of its times
Traditional Media
Gucci's advertising strategy puts the focus on advertising through traditional media like advertisements in high-end fashion magazines, billboards and banners. Gucci also takes the help of digital marketing campaigns to boost its brand visibility. Although Gucci has launched several TV advertisements in recent times the brand prefers to use print media rather than tv advertisements in most cases.
Social Media Marketing
Social media is one of the best available advertising tools for brands in the current era. Gucci advertisements and digital marketing campaigns feature on various social media platforms like Tumblr, Instagram, YouTube, Pinterest and Facebook.
As part of Gucci's marketing strategy, various bloggers have been hired for brand advertising and promoting content through their social media pages and various social media platforms. The Gucci Style App launched by Gucci in eight languages includes interactive videos, Geo location tips and fashion etc.
Image-driven Content
The advertising strategy has helped the company to establish its dominance as one of the iconic luxury brands in the industry. Advertisements are the forte of Gucci and the brand has published visually rich content featuring Gucci's campaigns and collections on its website.
Website Redesign and Relaunch
As part of its advertising strategy, Gucci makes sure that all online stores offer a unique experience to the customers. The ready-to-wear collections are curated as they appear on the runway fashion shows. Gucci has a customer service option on every product page of its website so that interested customers can get in touch with salespersons if needed.
Gucci and Celebrities: Gucci's Marketing Strategy
As part of its adverting strategy, Gucci has collaborated with Lady Gaga who sang the National Anthem at Super Bowl 2016 wearing Gucci suit pants designed by creative director Alessandro Michele. Gucci has also collaborated with Harry Styles, Grace Kelly and Tom Ford.
At the BRIT Awards, Harry Styles stole the show with his vintage Gucci Look and managed to grab everyone's attention. It was Grace Kelly who inspired the signature Gucci floral print everyone loves. Who can forget the Tom Ford era which saw Gucci as an unbuttoned button-down in various fashion shows?
Adidas and Gucci's collaboration resulted in some of the best releases and signature athlete silhouettes.
Sustainability and Gucci
As part of its promotional strategies, the marketing mix of Gucci focuses on the company's commitment towards sustainable efforts. it has developed low-impact materials and eco-friendly sourcing solutions to protect nature. For product packaging, Gucci uses a green colour that will reduce the use of inks and is crafted from sustainably managed forest resources. Gucci has also eliminated the use of plastic in product shipment.
Memorable Marketing Campaigns: Gucci Marketing Strategy
Some of the memorable digital marketing campaigns in the marketing strategy of Gucci include
GG Marmont Collection
"GG Marmont Collection" lensed by Dazed has Daisy Edgar-Jones appearing in the ad campaign
GUCCI 25H
In the "GUCCI 25H" campaign Jessica Chastain muses over the concept of time
Gucci Valigeria
Ryan Gosling was roped in to appear in the "Gucci Valigeria" campaign that reflects the brand's vision of travel
Key Takeaways from Gucci Marketing Mix and Marketing Strategy
The Gucci Marketing Mix focuses on theoretical aspects of Gucci's marketing strategies as it wants to maintain the high status of the Italian brand in the fashion industry. It also gives high importance to the 4Ps so that the strategic marketing of the visually appealing Gucci product portfolio helps to boost sales, achieve business goals and most importantly keep Gucci's loyal customers happy.
Key takeaways from the marketing mix of Gucci are
Maintaining the status symbol of the luxury brand
Product innovation and superior quality
Maintaining premium prices
Creating immersive digital marketing campaigns
Collaborations with celebrities, designers and artists
Liked this post? Check out the complete series on Marketing Mix